If you write job descriptions, send emails, or create social media posts to reach potential applicants…you might need a tool for gender writing analysis. These types of tools can ensure your content is inclusive and unbiased.
An Appcast study of 473,742 jobs found:
"Job ads with gender-neutral language result in 67.75% more applications at a cost that is 68.5% less per application in comparison to job ads that use a combination of female and male-coded terms."

source: Diversity Recruiting: A Guide to Best Practice Language Usage
The 7 gender analysis writing tools below can help you remove gender-coded words and create inclusive content to attract more women. Starting with your job postings.
1. Ongig Text Analyzer
Ongig's Text Analyzer is an augmented gender analysis writing tool that flags masculine language and suggests more inclusive replacements.
How does this gender writing analyzer work? Easily copy/paste your text (or upload a .docx file) into the tool, and it scans for gender bias (& other types of bias). The tool flags masculine words with a red underline, so you can click and replace them with words that don't contain gender bias.
Ongig works for SMBs to enterprises with many users (recruiters, hiring managers, talent acquisition, diversity teams, etc.) Pricing starts at $11,997 a year, and you can request a demo to learn more.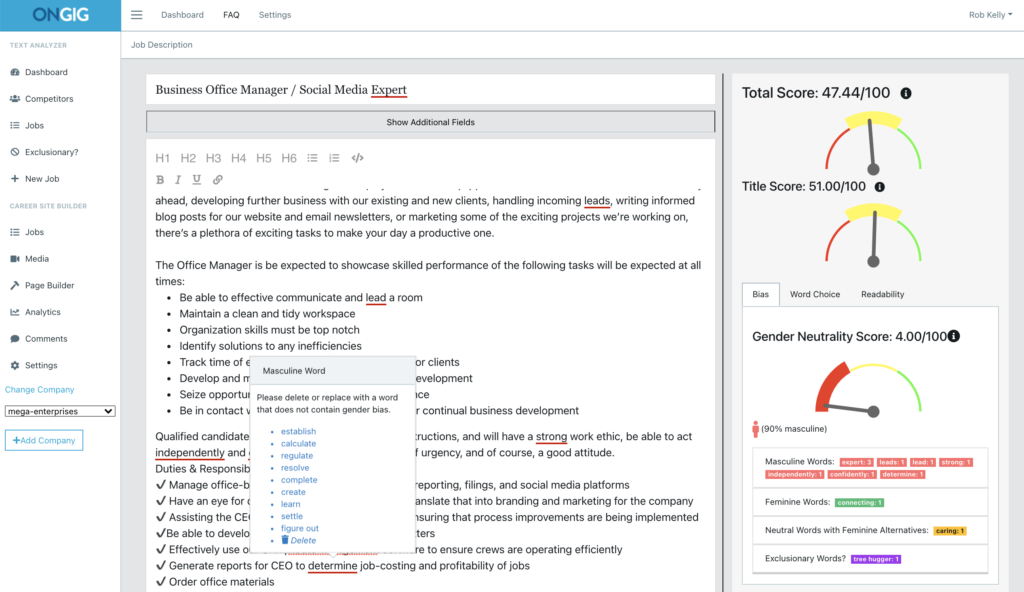 2. Grammarly
Grammarly's writing analyzer finds gender non-inclusive words and offers replacements in its "sensitivity" section.
How do you do a gender analysis of writing in Grammarly? Simply copy/paste your writing into this tool, and it flags words that are not inclusive. Like "manpower."
The cost is free for basic spelling, punctuation, and grammar checks. Professional accounts start at $12/month and go up to $12.50 per member (per month) for accounts with 3 to 149 members.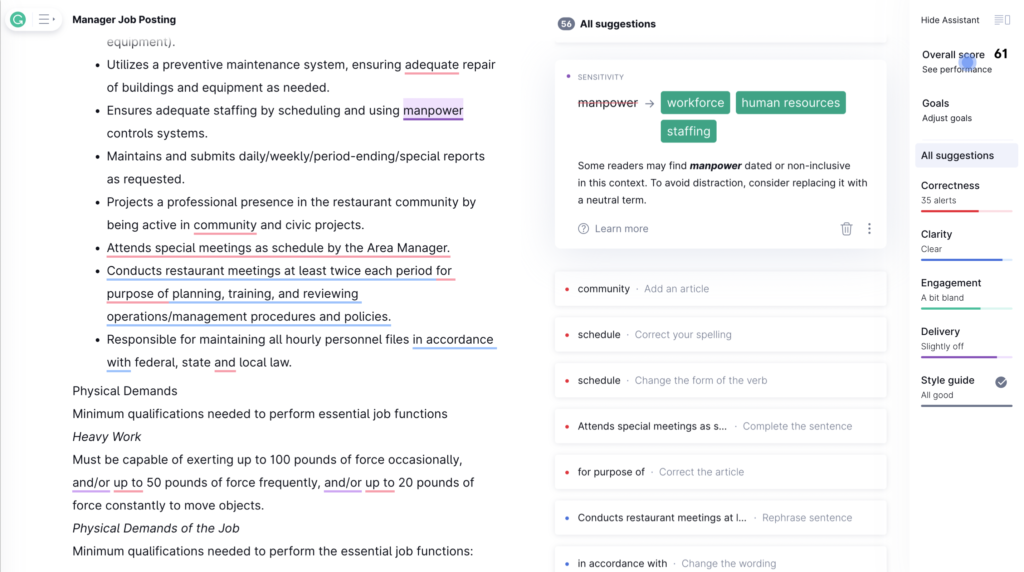 3. Gender Decoder
Gender Decoder is a gender writing analysis tool you can use to create more gender-neutral writing. Just paste your content into the tool; it will analyze the text and list any masculine or feminine-coded words you use.
Gender Decoder's gender writing analysis tool is free to use.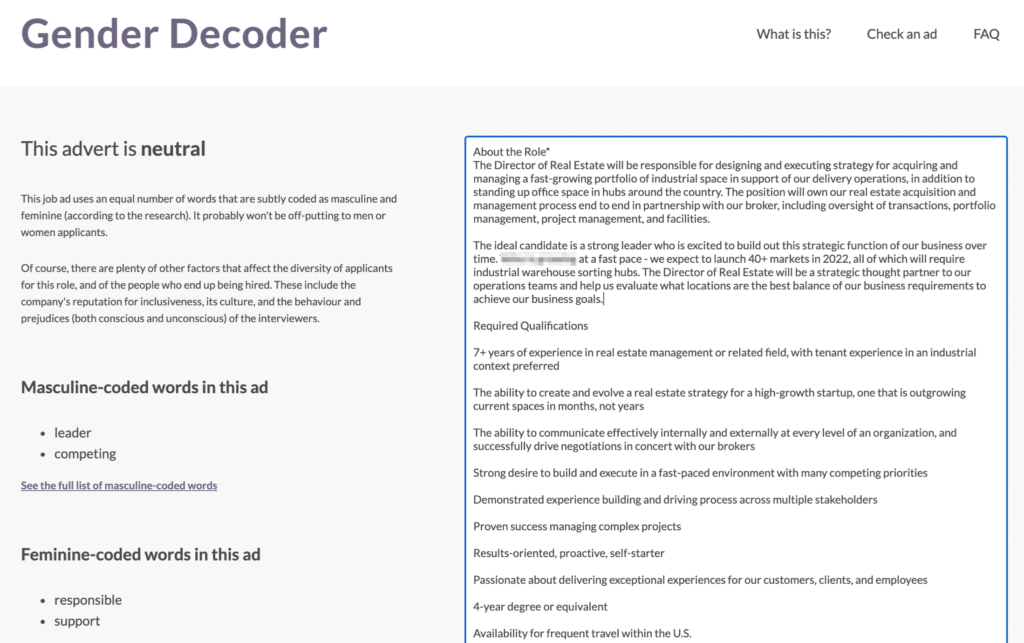 4. Get-Optimal
Get-Optimal is a gender writing analysis tool that scans for unconscious gender bias before publishing your job ads. Book a demo or register for a free job ad report to see how it works.
If you want to do a gender writing analysis for more than 1 job ad, you can buy credits:
5 credits for $282
$10 credits for $494
20 credits for $845

5. Microsoft Word
Microsoft Word's inclusive language checker is another example of a gender writing analysis tool. You can find steps for turning on settings to flag gender writing bias (& other types of bias) in this post, How to Check for Inclusive Language in Microsoft Word.
The inclusive language "gender writing analyzer" is only available in the version of Word that comes with a Microsoft 365 subscription. Pricing varies depending on which plan you choose; visit the website for details.
Note: If you enjoyed these tools, you might also like our post on the Top 7 Augmented Writing Tools for Job Descriptions.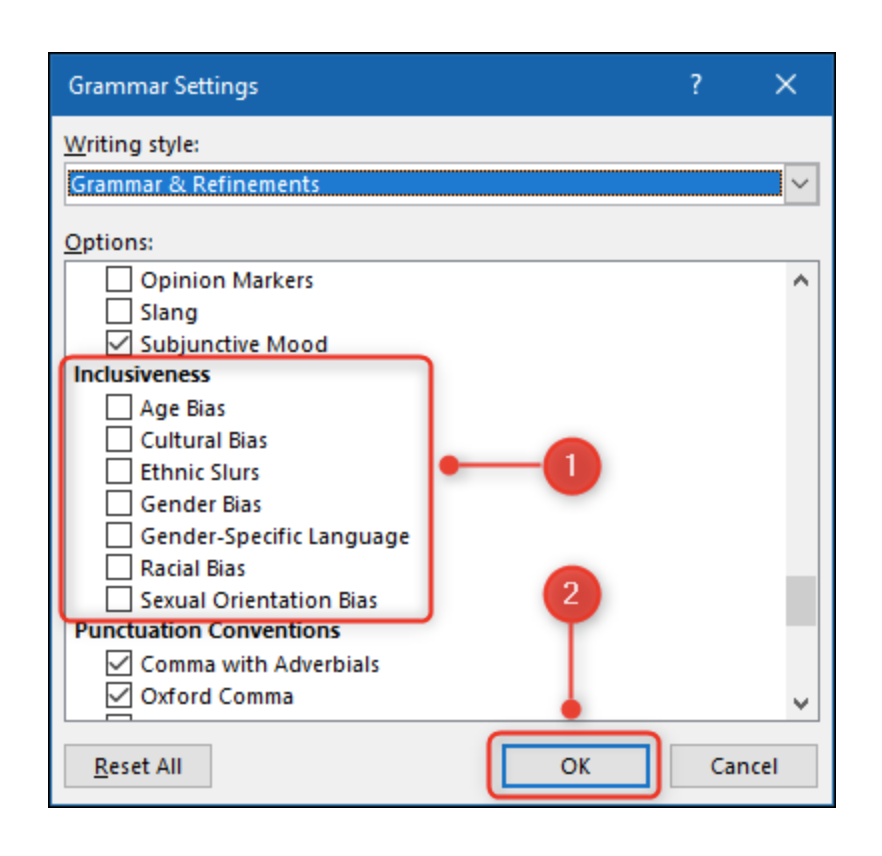 6. Total Jobs Gender Bias Decoder
Total Jobs Gender Bias Decoder is a gender writing analysis tool that scans for gender bias. It's easy to use. Just copy and paste your text in the box, and it highlights female-coded words in blue and male-coded words in red.
Total Jobs Gender Bias Decoder is also free!
7. Applied Text Analysis
The Applied Writing Analysis tool is part of Applied's Job Description tool, which scans for masculine and feminine words so can ensure your text is gender neutral.
Just copy and paste your text into the box, and it scans and highlights gender-coded words. Along with gender-coded terms, it also gives you a report on how long it takes to read your text, your reading level, and your word count.
Applied Text Analysis has a 7-day free trial. All you need to do is sign up with your work email.
Why I wrote This?
Ongig is on a mission to eliminate boring and biased job descriptions. Our Text Analyzer is a gender analysis writing tool (plus more!) that can help you create the most inclusive JDs on the planet. Request a demo to learn more.
Shout-Outs:
How to Check for Inclusive Language in Microsoft Word (by Rob Woodgate)
My Top 5 Augmented Writing and Gender Bias Tools (by Katrina Kibbens)