Successful hiring goes beyond listing requirements, qualifications, and benefits. Adding inclusive phrases to your job descriptions helps attract top talent from a diverse pool of candidates.
Here are 7 examples of phrases to make people from underrepresented groups feel included when reading your JDs, careers sites, diversity pages, and more:
1. "All Genders"
Phrases like "the opposite sex" or "he/she" exclude gender binary people who do not identify as male or female. Saying "all genders" or using personal pronouns like "they" or "them" recognizes every individual's perspective.
Puma uses "all genders" along with other inclusive phrases in the opener of their JDs:
"Applying for a job at PUMA is easy and all genders are welcome."
And, "she or he" phrases are easily replaceable with "they," "you," or "this position," like this example shown in Ongig's software: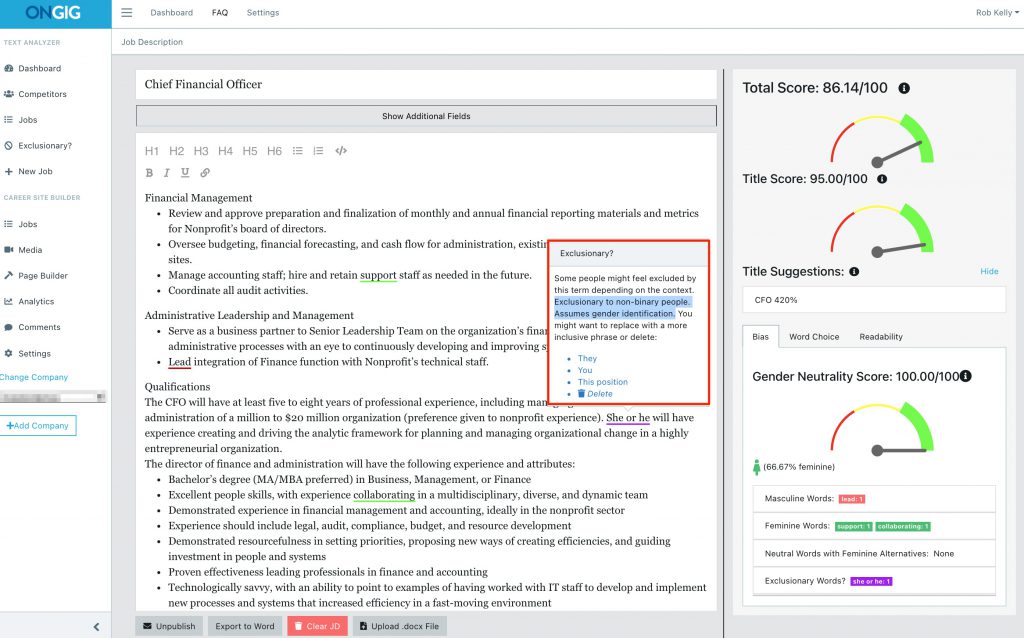 2. "Stay Stationary"
Some roles require employees to stay in one area for a specified period of time (e.g., security professionals and front desk workers). Many JDs for these roles list "must stand for long hours" as a requirement. This might give the impression of ableism and exclude people with physical disabilities.
Using "must be able to stay stationary during shift" instead meets the exact requirement and is more inclusive to people with disabilities.
3. "Older Adults"
Terms like "the elderly," "the aged," and "senior citizens" have become a part of mainstream conversations. But they have negative connotations and separate older people from the rest of society.
If you need to mention something about "senior citizens" in your job descriptions, using "older adults" or "older people" is a more inclusive phrase. It acknowledges the group without discrimination.
Here's a good example of how it's used in a job summary for a Sales & Marketing Director at Encore Senior Living:
"This person will be able to develop relationships with older adults and community members on a daily basis."
4. "We Embrace Diversity"
One of the most popular inclusive phrases in job descriptions, diversity statements, and careers sites is "we embrace diversity."
Instead of just accepting diversity as a practical prerequisite for the modern workforce, "embracing" shows a proactive approach toward creating a safe space for all.
A workplace that "embraces diversity" shows job seekers they support a setting for hires to stay true to themselves and get support in developing their careers.
RBC's diversity statement uses this phrase in their job postings and backs it up with why it's essential for success:
"At RBC, we embrace diversity and inclusion for innovation and growth. We are committed to building inclusive teams and an equitable workplace for our employees to bring their true selves to work. We are taking actions to tackle issues of inequity and systemic bias to support our diverse talent, clients and communities."
KPMG even uses the phrase as a tagline on their careers page: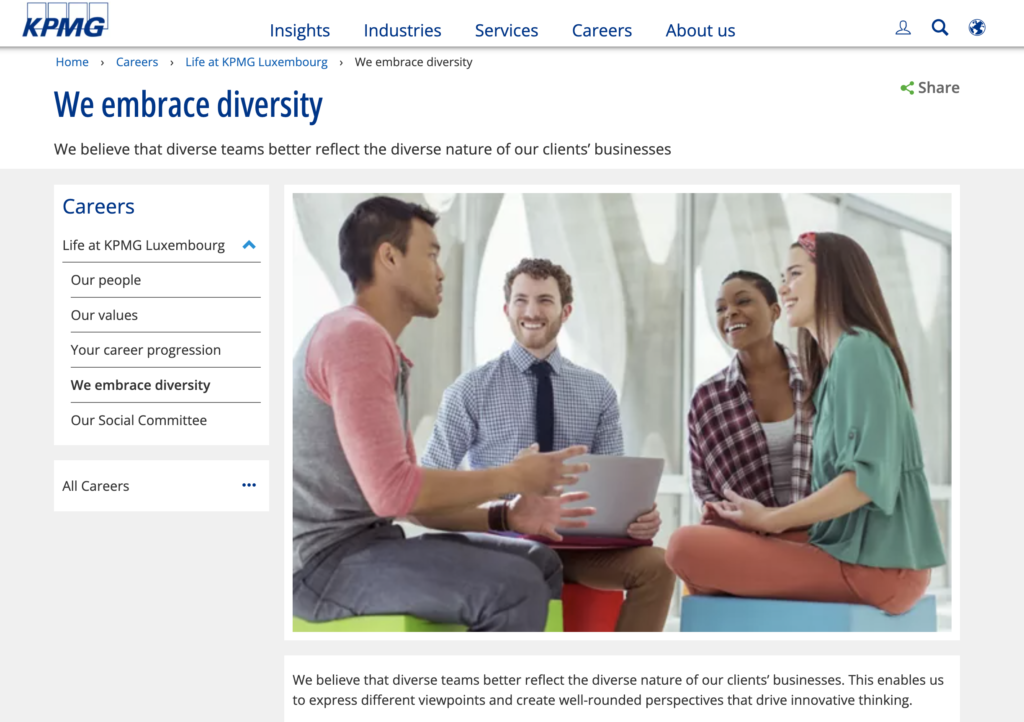 5. "Open to All"
"Open to all" is an inclusive phrase many companies use in their JDs to show they welcome candidates from various backgrounds.
Here's one example:
"Our jobs are open to all regardless of race, religion, gender, age, sexual orientation, or disability, we want you as long as you have a burning passion for all things music-related."
These open invitations show job seekers your commitment to inclusion from the start. Another version of "open to all" is "all qualified applicants are encouraged to apply."
Northeastern University uses this phrase to show their roles are open to all:
"All qualified applicants are encouraged to apply and will receive consideration for employment without regard to race, religion, color, national origin, age, sex, sexual orientation, disability status, or any other characteristic protected by applicable law."
6. "Employee Resource Groups"
Uses inclusive phrases about your "employee resource groups" (ERGs) in your job descriptions shows you support a united workforce.
Along with mentioning ERGs, some brands list examples to be more specific (e.g., veterans, LGBTQ+, working parent communities, people with disabilities, etc.).
These networks are invaluable sources of support and resources for employees and show candidates of all backgrounds they would feel right at home if they apply and get hired.
Here's an example of how Bridgestone uses "ERGs" in their JDs:
"Bridgestone Americas promotes a culture of diversity and inclusion through a variety of Employee Resource Groups (ERGs), which bring teammates and allies together based on shared characteristics, life experiences and interests. You can find information on our ERGs at https://www.bebridgestone.com/en_us/working-at-bridgestone/employee-resource-groups."
Eli Lilly goes even further by listing out specific ERGs:
"Our employee resource groups (ERGs) offer strong support networks for their members and help our company develop talented individuals for future leadership roles. Our current groups include: Africa, Middle East, Central Asia Network, African American Network, Chinese Culture Network, Early Career Professionals, Japanese International Leadership Network (JILN), Lilly India Network, Organization of Latinos at Lilly, PRIDE (LGBTQ + Allies), Veterans Leadership Network, Women's Network, Working and Living with Disabilities. Learn more about all of our groups."
7. "Affirmative Action Employer"
Affirmative Action Employers (AAEs) proactively recruit and hire underrepresented groups. Adding the phrase "affirmative action employer" to your JD shows your company's support of DEI. It shows you go the extra mile to keep an environment where anyone thrives based on merit and values instead of their background.
NC State University says they're an "affirmative action employer" in their job postings, but also on their diversity page shown here: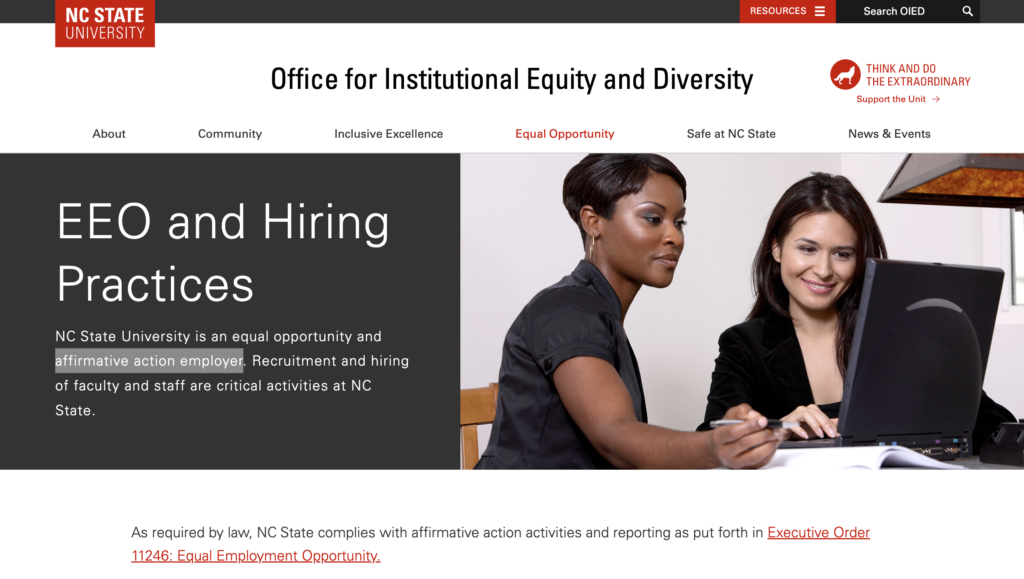 Note: If you position yourself as an AAE, remember to back up the statement with AAPs (affirmative action plans). These should actively amend historical wrongdoings against a specific underrepresented group by offering equal opportunities.
More Inclusive Phrases
This is a small sampling of inclusive phrases you might use in your job descriptions to attract diverse talent. The Inclusive Language List for Job Ads has 75+ examples of other terms to help make your JDs more welcoming for people of color, former felons, people with disabilities, and more.
Why I Wrote This?
Our mission at Ongig is to create effective and inclusive job descriptions. Ongig's software flags and replaces 10,000+ biased words in your JDs with more inclusive phrases, so you attract more top talent from diverse pools.
Shout-Outs: