Diversity language in job descriptions attracts talent from underrepresented groups. And encourages them to apply. So, how do you describe diversity in your job descriptions?
Here are 7 examples of "diversity language" I find in JDs. Some are more obvious than others.
1. Diversity Statement
A diversity statement in your JD shows a company's commitment to inclusion and its impact on various communities. Including underrepresented groups in your diversity statement directly engages with candidates from those groups.
The best diversity statements in job descriptions encourage diverse applicants to apply regardless of physical limitations or identity.
Ziff Davis uses this diversity language in job postings:
"Spiceworks Ziff Davis is a safe, inclusive workplace for people of all backgrounds and walks of life. We strongly encourage you to apply if you are from a marginalized or underrepresented group, particularly in the technology industry. Some candidates may see a long list of job requirements and feel discouraged because they don't match every single bullet point – we suggest, please apply anyway. We're flexible on location wherever possible – we are a Work From Anywhere company. We don't believe in a "perfect" candidate because we believe in our core value, "Evolve and Adapt Quickly". If you believe this is a role that you'll be excited to work in every day, want to be a part of a culture like ours, and will be relentless about pushing boundaries to succeed, please apply."
Ziff mentions "underrepresented groups" specifically.
Other companies go into even more detail. Curology, for example, names specific groups to show their commitment to diversity:
"Curology encourages applications from people of all races, religions, national origins, genders, sexual orientations, gender identities, gender expressions, and ages, as well as veterans and individuals with disabilities. Pursuant to the San Francisco Fair Chance Ordinance, we will consider qualified applicants with arrest and conviction records Notice to Applicants under the CCPA."
2. Age Inclusive Diversity Language
More than 1/3 of workers in America are above the age of 50, while more than 45% of young adults 16-24 have entered the workforce. Older candidates provide your organization with advantageous on-the-ground experience, while younger hires may bring alternative perspectives.
Combining these dynamics helps drive your company to new heights. To avoid deterring valuable talent of all ages, be sure your JDs omit biased language based on age. Avoid statements that allude to energy levels or experience if the role doesn't require these prerequisites.
For example, you might want to replace or remove terms like "athletic," "youthful and energetic," or "ideal for second careers" to avoid trimming down the list of qualified candidates.
Instead, if a role doesn't require a specific type or amount of experience, use inclusive terms like "open to candidates of all ages" or "new graduates and experienced career seekers are welcome" to attract candidates of all ages.
Another effective way of creating age-related diversity is to say there's "no experience required," like this example for a forklift operator: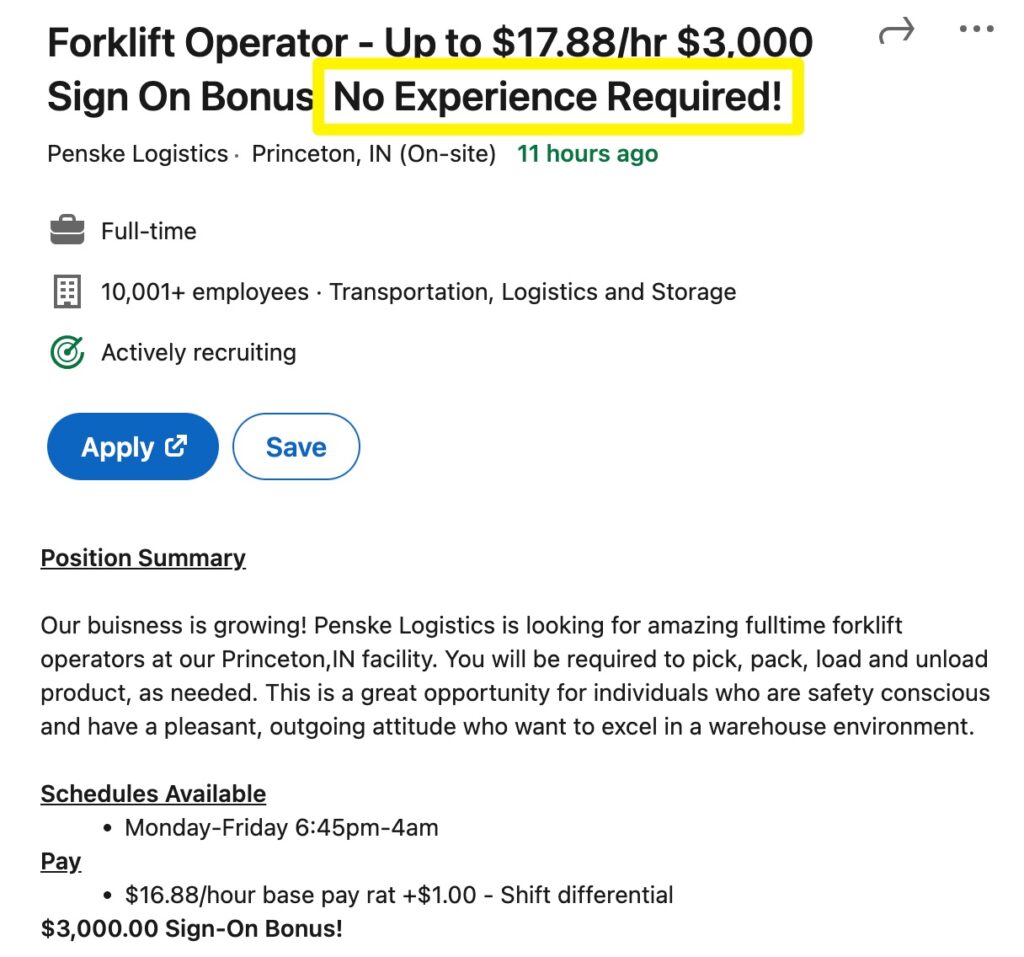 Age is just one example of the types of diversity language you can use in your JDs.
3. ERGs as Employee Benefits
According to Glassdoor surveys, 80% of modern hires prefer additional employee benefits over salary.
Employee resource groups (ERGs) are a strategic addition to job benefits that help fuel your DEI initiatives and attract top talent.
ERGs are usually employee-led groups that provide community, support, and resources for specific groups, fostering a sense of belonging at work.
Mentioning the types of ERGs you have (LGBTQ+, Latinx, BIPOC, and others) in your job postings shows your support for underrepresented groups and attracts diverse talent.
Alcoa lists "ERG opportunities" in their benefits section along with traditional benefits like 401k options, medical benefits, and vacation: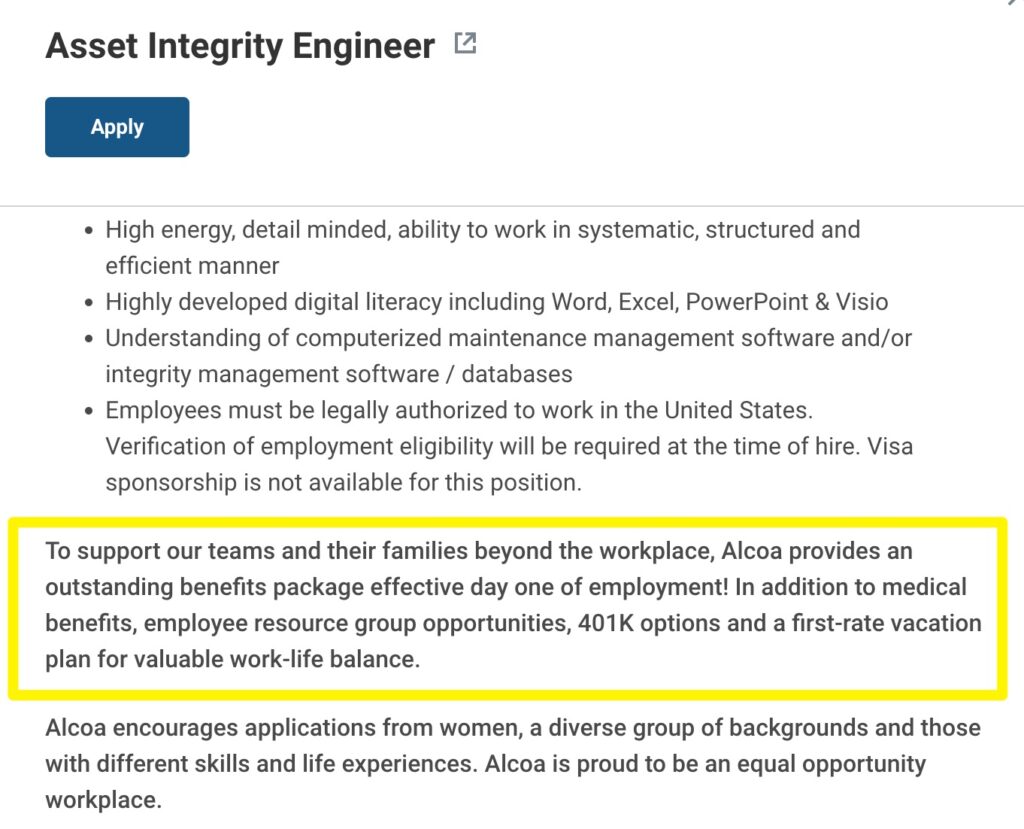 4. A Short List of Requirements
Employers constantly seek efficient workers with an endless set of skills and abilities. But, extra-long lists of requirements in a JD could do more harm than good.
Confidence levels vary across genders. And some studies say that women will only apply for a job if they meet 100% of the requirements (compared to men, who only need to meet 60%). It's best to write JDs with the absolute necessities instead of sticking to a list of 8 or more traits, skills, and abilities for the perfect hire.
If you prefer candidates with specific abilities or knowledge, consider reducing the rigidity of requirements (e.g., say "a plus if you have" or "bonus points if you can."). This helps you win the confidence of talent regardless of their previous work experiences.
Ongig flags long lists of requirements prompting you to start a new section, so your candidates don't get bored or move on: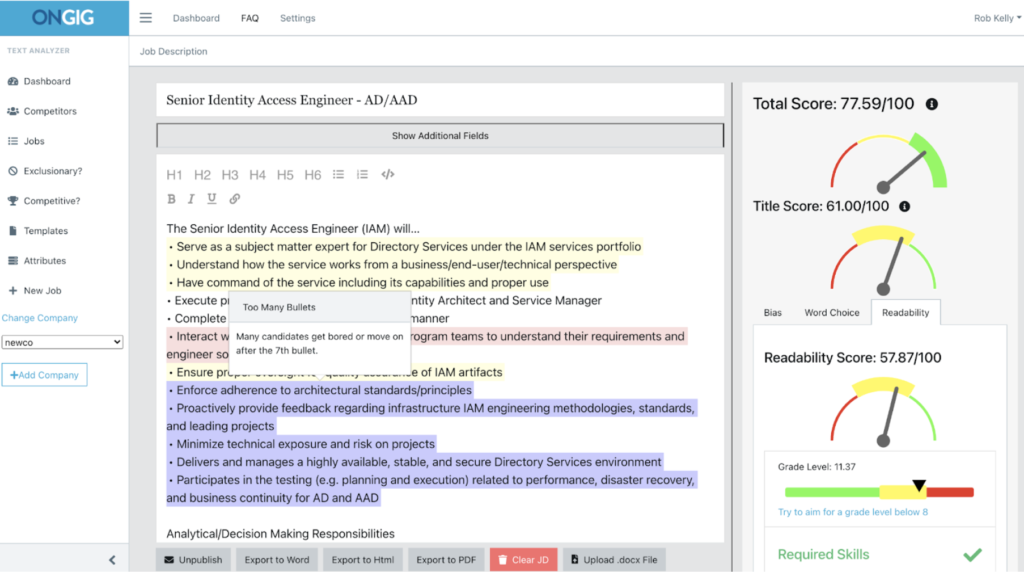 5. Gender-Neutral Titles
Another type of diversity language is found in job titles. Many employers accidentally use gender-biased job titles in JDs.
For example, you name a position "chairman," "policeman," or "cameraman"…
when you could opt for gender-neutral alternatives like "chairperson," "police officer," and "camera person."
Other gender-neutral roles across industries include server, salesperson, crew person, chairperson, flight attendant, developer, and engineer.
You can find more examples in our post, Gender-Neutral Suggestions for the Top 25 Job Titles That Still Use the Word "Man." And, Ongig flags any job titles (or other JD language) that aren't gender-neutral so you can delete or replace them:
6. EEO Statements
It's not required by law (except in certain circumstances) but many companies include an EEO statement in their job postings. The words in your EEO statement are words that candidates measure you by, especially candidates from underrepresented groups.
Some companies (like SurveyMonkey) use short and sweet diversity language in their EEO statements:
"SurveyMonkey is an equal opportunity employer. We celebrate diversity and are committed to creating an inclusive environment for all employees."
Others use a longer version with more detailed diversity language about specific underrepresented groups. Like Dell:
"Dell is an Equal Opportunity Employer and Prohibits Discrimination and Harassment of Any Kind: Dell is committed to the principle of equal employment opportunity for all employees and to providing employees with a work environment free of discrimination and harassment. All employment decisions at Dell are based on business needs, job requirements and individual qualifications, without regard to race, color, religion or belief, national, social or ethnic origin, sex (including pregnancy), age, physical, mental or sensory disability, HIV Status, sexual orientation, gender identity and/or expression, marital, civil union or domestic partnership status, past or present military service, family medical history or genetic information, family or parental status, or any other status protected by the laws or regulations in the locations where we operate. Dell will not tolerate discrimination or harassment based on any of these characteristics."
If you want more examples for inspiration, check out these 16 Samples of an Effective EEO Statement.
7. Salary Information
This example of diversity language in job postings is a little less obvious. But. many co.s are including salary information to show their support of pay equity (and also to be compliant with state-level pay equity laws).
If you are unsure of the exact salary for your roles, listing a range is fine. There's also research showing that:
salary is the #1 part of a job ad that is "helpful", "appealing", and makes candidates "more likely to apply".
Why I Wrote This?
Ongig's mission is to create effective and inclusive job descriptions. This includes giving you in-app tips and best practices for using diversity language in job descriptions to attract top talent. Please request a demo to learn more.
Shout-outs: