DEI culture in your company starts with a solid strategy. Think of this as creating a road map to your DEI goals. If you're not sure where to start, these 5 examples of a diversity and inclusion plan template might be useful.
What is a Diversity and Inclusion Policy, and why is it important?
Before going to the templates, let's quickly discuss why a DEI policy is important. You can think of a company's DEI policy as its solid commitment to diversity and inclusion. Your company's DEI policy:
Reflects your work ethics and DEI position, and how you treat your employees
Addresses discrimination (in all its manifestations) in the workplace, including the hiring and interview process
It's crucial to foster diversity at work because not only is it morally right, research shows diversity can increase the quality of decisions and encourages employees to be creative, diligent and hardworking.
Who should be involved in crafting a Diversity and Inclusion Plan?
Although every company is different, the ideal scenario for crafting a DEI policy should include the company's board, leadership, and other employees. The conversation should be organization-wide. You may want to consider the following people:
Your company's leadership team (this can include the director, CEO, and managers)
Your company's board of directors
A diverse committee with people reflecting the diversity of your company from different levels
A DEI consultant (if applicable)
What should you include in your DEI Inclusion strategy?
There is no right or wrong answer to this question. The critical thing to remember is your action plans for DEI should align with your company's diversity goals. With this in mind, you may want to consider:
How your company defines diversity and equality. Input from your staff is a great help to this.
Using measurable DEI goals. You want to be able to measure how successful your DEI policy is and to do this, you'll want to include measurable DEI goals. For example, you can measure the % of underrepresented groups in your workforce or employee satisfaction with your company's DEI initiatives.
Including your implementation plans. What concrete steps will your company take to ensure you implement your goals? You can include specific programs you'll undertake to achieve your goals.
5 Diversity and Inclusion Plan Template Options
Creating a DEI policy can be tricky, so here are 5 examples of a FREE diversity and inclusion strategic plan template for inspiration:
If you're a non-profit organization, you might find this copy-paste template a helpful starting point in creating your own.
[Arts organization] Diversity and Inclusion Statement
At [arts organization] a diverse, inclusive, and equitable workplace is one where all employees and volunteers, whatever their gender, race, ethnicity, national origin, age, sexual orientation or identity, education or disability, feels valued and respected. We are committed to a nondiscriminatory approach and provide equal opportunity for employment and advancement in all of our departments, programs, and worksites. We respect and value diverse life experiences and heritages and ensure that all voices are valued and heard.
We're committed to modeling diversity and inclusion for the entire arts industry of the nonprofit sector, and to maintaining an inclusive environment with equitable treatment for all.
To provide informed, authentic leadership for cultural equity, [arts organization] strives to:
See diversity, inclusion, and equity as connected to our mission and critical to ensure the well-being of our staff and the arts communities we serve.
Acknowledge and dismantle any inequities within our policies, systems, programs, and services, and continually update and report organization progress.
Explore potential underlying, unquestioned assumptions that interfere with inclusiveness.
Advocate for and support board-level thinking about how systemic inequities impact our organization's work, and how best to address that in a way that is consistent with our mission.
Help to challenge assumptions about what it takes to be a strong leader at our organization, and who is well-positioned to provide leadership.
Practice and encourage transparent communication in all interactions.
Commit time and resources to expand more diverse leadership within our board, staff, committee, and advisory bodies.
Lead with respect and tolerance. We expect all employees to embrace this notion and to express it in workplace interactions and through everyday practices.
[Arts organization] abides by the following action items to help promote diversity and inclusion in our workplace:
Pursue cultural competency throughout our organization by creating substantive learning opportunities and formal, transparent policies.
Generate and aggregate quantitative and qualitative research related to equity
to make incremental, measurable progress toward the visibility of our diversity, inclusion, and equity efforts. Once the content is curated it will be added to our website so others can access.
Improve our cultural leadership pipeline by creating and supporting programs and policies that foster leadership that reflects the diversity of American society.
Pool resources and expand offerings for underrepresented constituents by connecting with other arts organizations committed to diversity and inclusion efforts.
Develop and present sessions on diversity, inclusion, and equity to provide information and resources internally, and to members, the community, and the arts industry.
Develop a system for being more intentional and conscious of bias during the hiring, promoting, or evaluating process. Train our hiring team on equitable practices.
Include a salary range with all public job descriptions.
Advocate for public and private-sector policy that promotes diversity, inclusion, and equity. Challenge systems and policies that create inequity, oppression and disparity.
If you're working with your team to create a DEI strategy, this diversity and inclusion plan template is something you want to check out. It allows everybody on your team to participate in the process. You can assign tasks to people and track progress.
The template is free to use with an email address and some company info:
This copy-and-paste DEI template by Acas is another starting point for creating a DEI policy tailored to your organization. It includes:
The DEI purpose
Your company's commitment to DEI
An agreement to follow the DEI policy
Disciplinary and grievance procedures
You can copy and paste the template or download it for Word or Open Office.
Creative Equity provides two templates – one specific for the television industry (with a focus on creating a DEI policy for talents and freelancers) and a more generic DEI policy. You can copy and paste the templates or download them in Word format.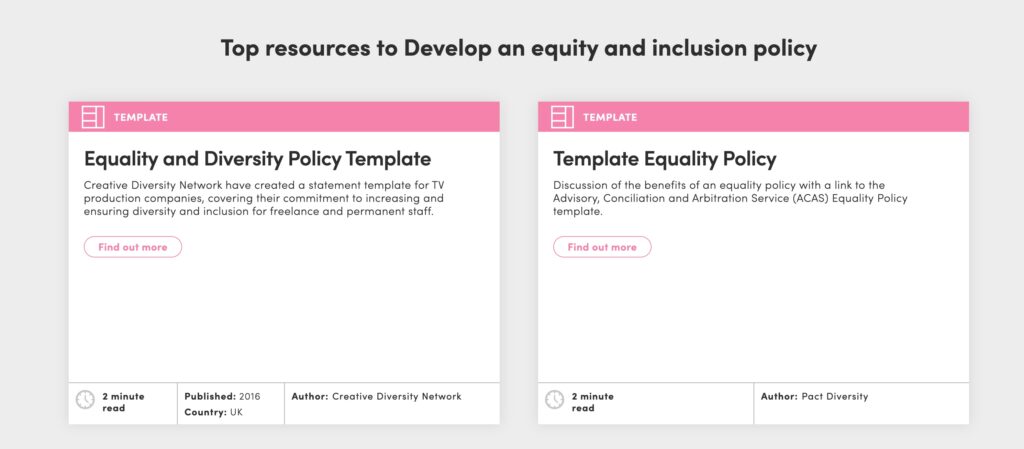 GoCo provides a diversity and inclusion communication plan template you can tweak to fit your company's unique needs. It includes:
A company introduction to DEI
Types of Diversity
Company's DEI initiatives
DEI in recruiting
Supporting DEI policies in the workplace
It's free to use, you just need to provide your email address:
Don't forget to check your DEI policies for Exclusionary Words
After you've created your diversity and inclusion plan, don't forget to check it for exclusionary words. Biased words can make it less effective. You can try to check these words yourself, but sometimes bias creeps in without you evening knowing. Using a program like Ongig's Text Analyzer flags exclusionary words and offers more inclusive options to ensure your DEI Policy is bias-free. Please request a demo to learn more about how Ongig can help you create effective and inclusive content.
Shout-outs:
What is a Diversity and Inclusion Policy and Why is it Important for Companies to Have One (by Tatiana Melchinuk)
How to Create a DEI Policy for Your Workplace (+ Template) (by Jennifer Kiesewetter)
Diversity Wins: How Inclusion Matters (by the McKinsey & Company)