"When it comes to investing in diversity, 71% of talent professionals report that achieving gender parity at their company is a top priority."
I curated some stats and added some actionable tips to help you with your gender diversity recruiting strategy.
1. "Men apply for a job when they meet only 60% of the qualifications, but women apply only if they meet 100% of them." (Source)
Tip: When writing qualifications on your job descriptions make sure your list isn't too long. You can do this by including your vital/must-have qualifications and eliminating some nice-to-haves.
2. "A recent job descriptions heatmap study revealed that knowing how much a job pays is considerably more important for women." (Source)
Tip: Adding salary to your job postings shows candidates you're devoted to transparency and fair pay.  Why? Because you're showing salary regardless of candidate's gender or background.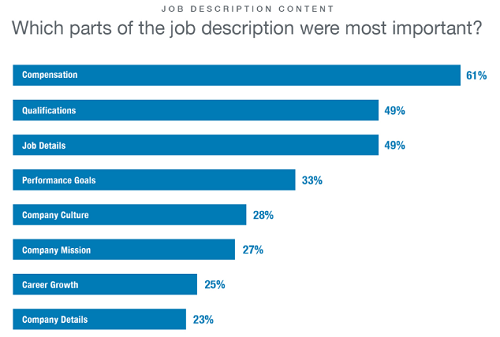 3. "Job ads using more masculine wording were perceived by women to be less appealing than the same ads using more feminine wording (4.16 vs. 4.50 on a 6-point scale), regardless of whether they were male- or female-dominated occupations." (Source)
Tip: Make sure you're using inclusive language in your job descriptions. Ongig's text analyzer gives you a gender score for every job description, while the inline text editor gives you recommendations on how to make your job descriptions more gender neutral.
4. "Gender is the top priority for companies when it comes to focusing on diversity efforts." (Source)
Tips:

Benchmark and track specific gender metrics (company gender split, gender split by departments).
Spotlight women in your employer brand strategy.
Take a more scientific approach when writing your job descriptions (make sure you avoid gender bias copy).
Track source of hire to find out where you are sourcing your women candidates from.
5. "Specific benefits are more significant for women." (Source)
Tip: Benefits including work flexibility, parental leave, healthcare are very important to women when considering a job. Make sure you include these benefits on your job postings.
Why I Wrote This
Gender diversity is becoming a top priority for employers. It's important to start taking steps towards more gender diverse recruiting strategies.