Writing job descriptions is time-consuming, and bias can easily creep its way in with the words you use to write them. That's why using a tool like Textio keeps your written content effective and unbiased (to engage talent from all backgrounds). Augmented writing technology saves your team time writing JDs too.
Why use a tool like Textio?
Recent events like the volatile economy and ultra-competitive job market have made Textio and Textio-like tools a huge resource for improving job descriptions (and hiring processes).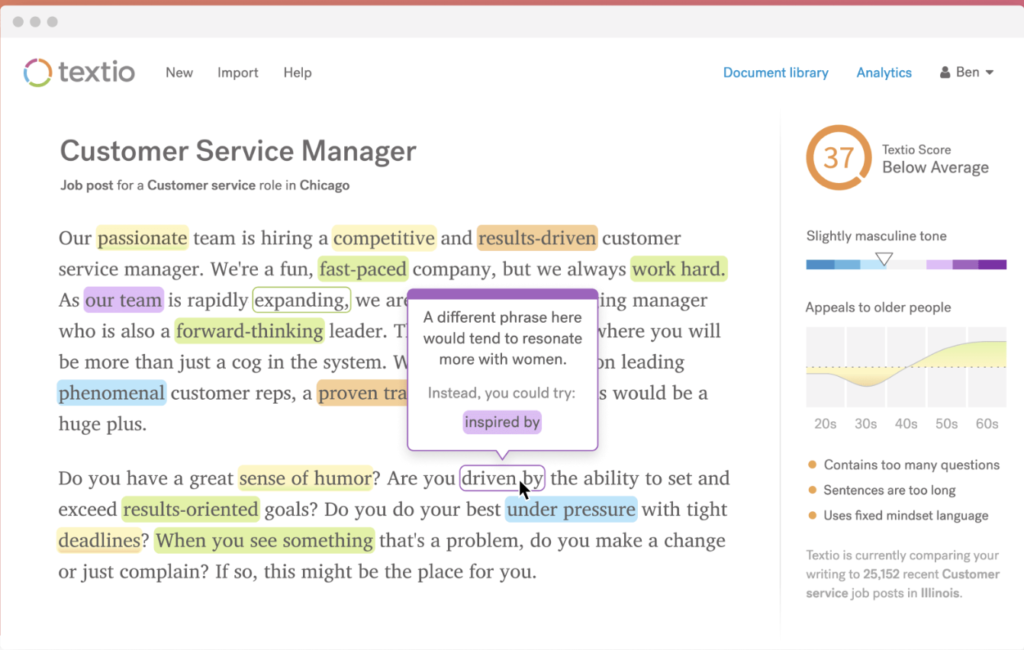 Textio has a well-researched and developed language guide to help tailor your JDs to everyone "so you can see where social bias is hiding—and know exactly how to fix it."
Key Feature: Textio not only helps you eliminate bias in job postings, it also scans "sourcing mail, and employer brand content before it filters out great candidates."
Textio Pricing: Textio offers fully customized pricing, where you choose the software features based on your project needs. Textio doesn't provide free trials or versions, but, you may request a demo from the support team.
While Textio offers a range of user-friendly features, there are similar tools you might find useful too. Here are 7 Textio competitors to consider for your HR tech stack.
Textio Competitors — Recruiting & Job Descriptions
Job descriptions are one of the first things candidates see during their job search. So, you want to ensure that your language is effective (and bias-free).
Here are 4 Textio competitors to help engage top talent with a focus on job descriptions and removing bias in hiring:
Ongig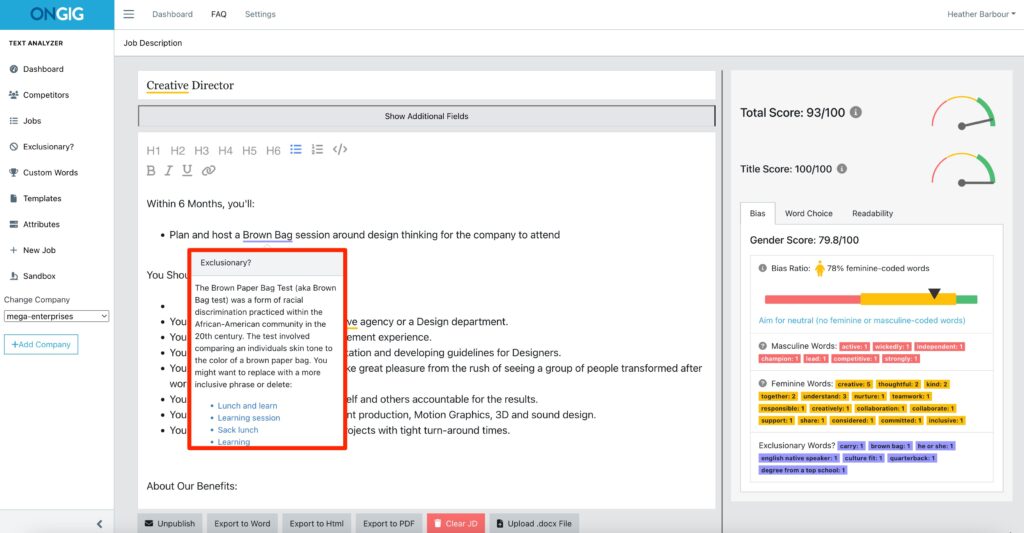 Ongig flags all types of biases (gender, race, age, disability, mental health, etc.) you might find in your job descriptions or other workplace content using its built-in "Exclusionary Words" list (with over 10,000 phrases). Ongig also offers more inclusive synonyms you can easily click on to replace biased words.
Key Feature: Outside of "bias-busting," Ongig also helps you create better job descriptions (and get more applications) through AI elements like:
Ongig Pricing: Unlimited user pricing varies from $17,900 to $219,000/year based on your number of job openings and your chosen commitment period. You can save as much as 20% with a 3-year commitment. Request a demo to learn more about subscription and trial options.
Datapeople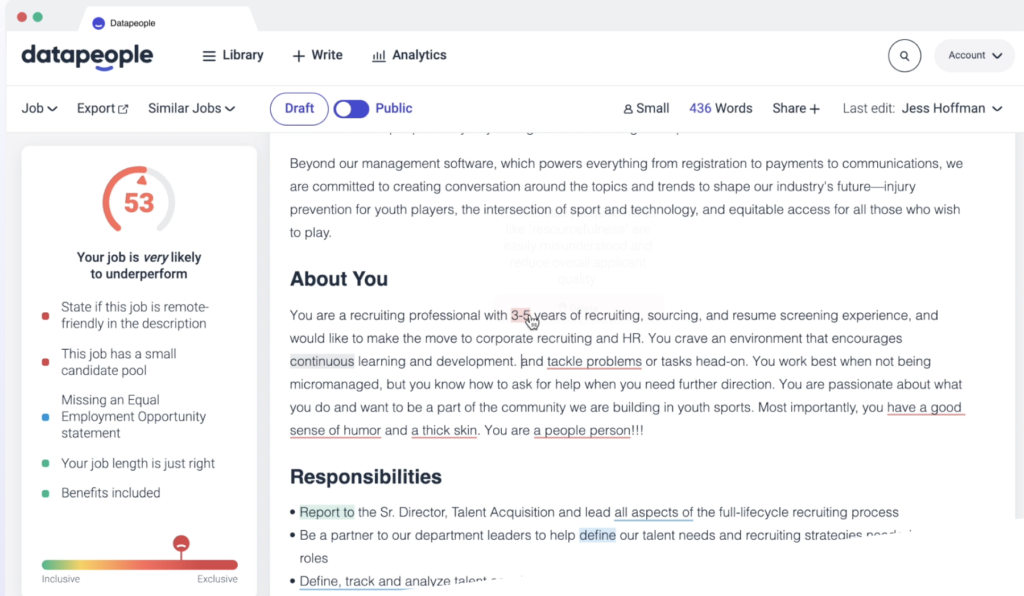 Datapeople optimizes inbound recruitment content with real-time support. Datapeople's user-friendly platform functions like a standard spell-check system by highlighting actionable points. For example, it highlights vague job titles and confusing corporate jargon, and suggests more effective alternatives.
Key Feature: Datapeople uses a single JD performance score for easy reference. Rather than cycling through multiple KPIs, you can refer to this score to predict candidate engagement and hiring success. The platform recommends a minimum language analytics score of 85 for attracting qualified and diversified candidates.
Datapeople pricing: Datapeople offers a free 3-day trial, with custom pricing based on a quotation model.
TalVista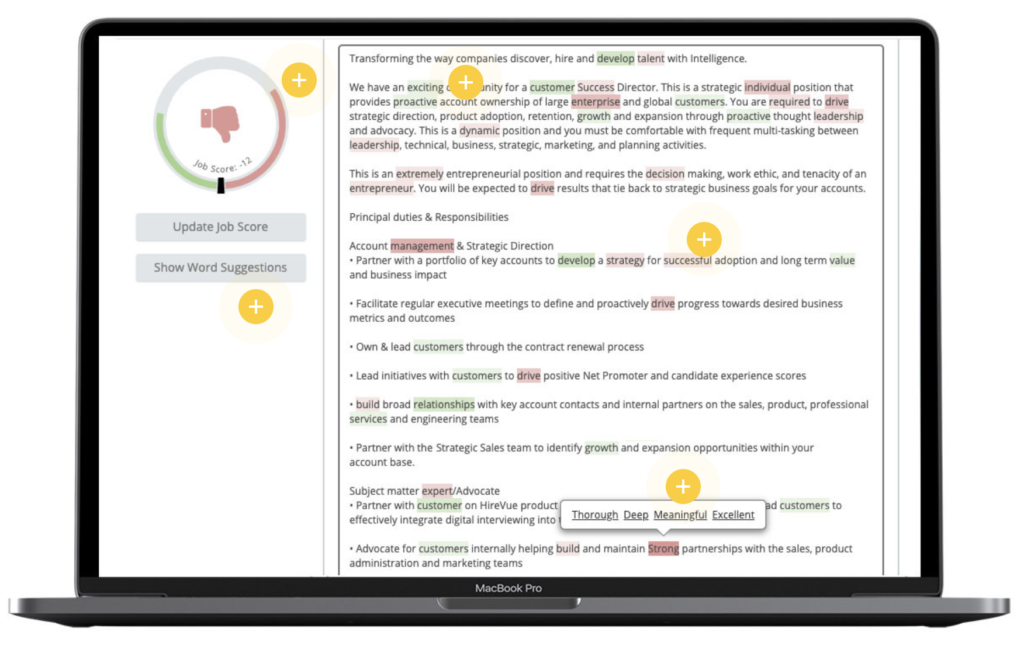 TalVista prioritizes conscious inclusion (over subconscious bias) when hiring diverse talent. The TalVista platform simplifies research-based recruitment and hiring campaigns based on carefully gathered data.
Key Feature: Along with analyzing JDs, TalVista offers a redacted resume screening service. The feature enables recruiters and employers to process different resumes for personally identifiable information. Combining TalVista's redacted resume screening and standardized scoring capabilities helps teams conduct objective candidate reviews without subconscious bias.
TalVista Pricing: TalVista does not provide a free trial or free version. The platform's annual software license range between $15,000-$150,000 each year, according to the number of estimated hires, and is available for unlimited users.
Applied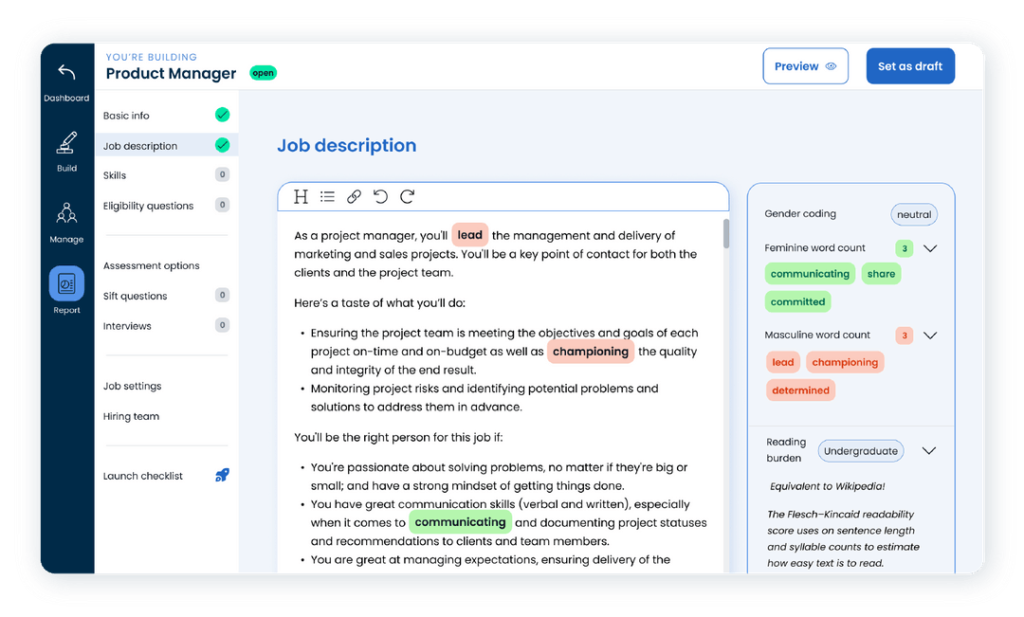 Applied offers a data-driven and ethical approach for creating gender-neutral job descriptions. Applied detects unconscious bias in your JDs and other workplace documents through its gender decoder tool.
Key Feature: Applied offers unique shortlisting technology to help employers and recruiters eliminate low-priority skills, which narrows down to essential job requirements. Concise listing promotes a diverse workforce as industry studies show that women are more selective in job applications, especially with demanding "senior" roles and positions.
Applied Pricing: Applied offers custom pricing based on hiring volume, starting from $420/month. Users can opt for premium add-on options like assessment uploads and global diversity reports.
Textio Competitors — Augmented Writing
Augmented writing technologies have become almost indispensable for modern companies in the digital age. These tools are a hybrid of virtual writing coaches and assistance that help you build more effective JDs, faster.
Here are 3 Textio competitors that shine in the augmented writing department:
Grammarly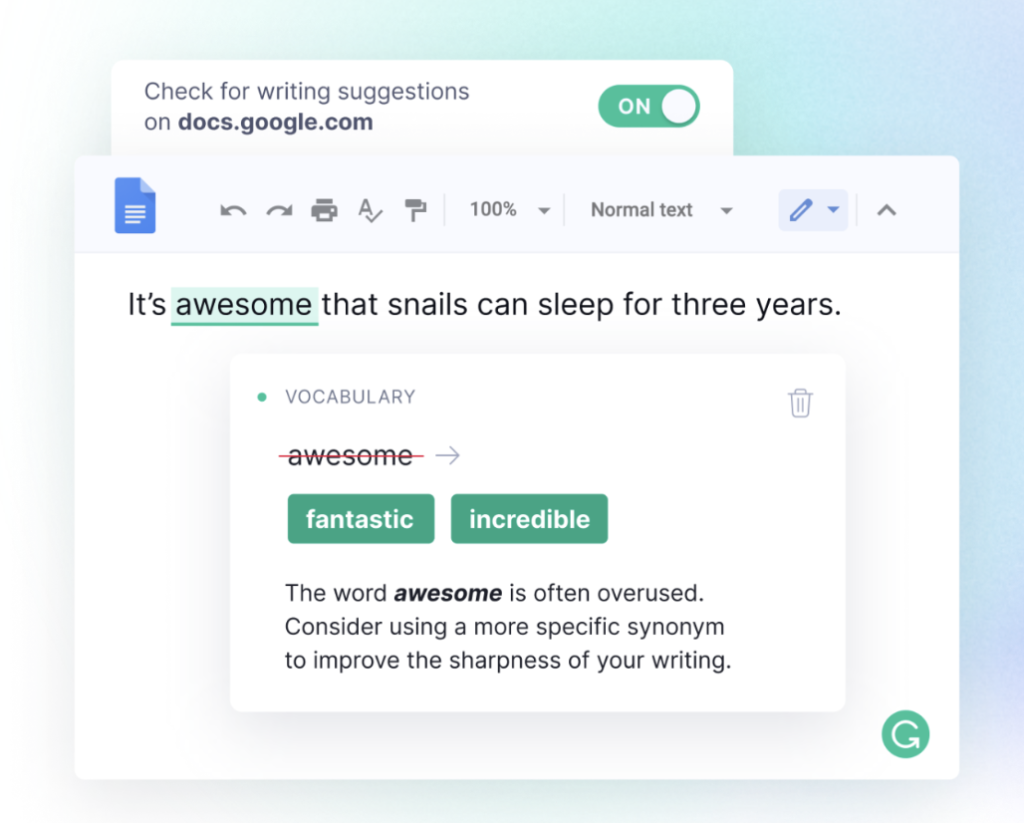 Grammarly Premium (one of the most popular virtual writing assistants today) offers suggested delivery styles, helping you craft engaging and empathetic content that resonates with your target audience.
Key Feature: Grammarly Premium's "delivery" dimension continues to expand, including the latest societal trends and lingos. Grammarly users can efficiently create effective JDs and other workplace content to encourage desired responses. For example, Grammarly frequently updates its LGBTQIA+ terminology suggestions, recommending industry-suitable replacements for outdated or offensive content.
Grammarly Pricing: Grammarly business offers monthly and annual subscriptions for 3 or more teams. Monthly subscriptions go for $25/member, while annual charges depend on the number of users. 50 – 149 seats amount to a $12.50 average monthly cost per member. There's a 7-day trial available for Grammarly Premium.
Ginger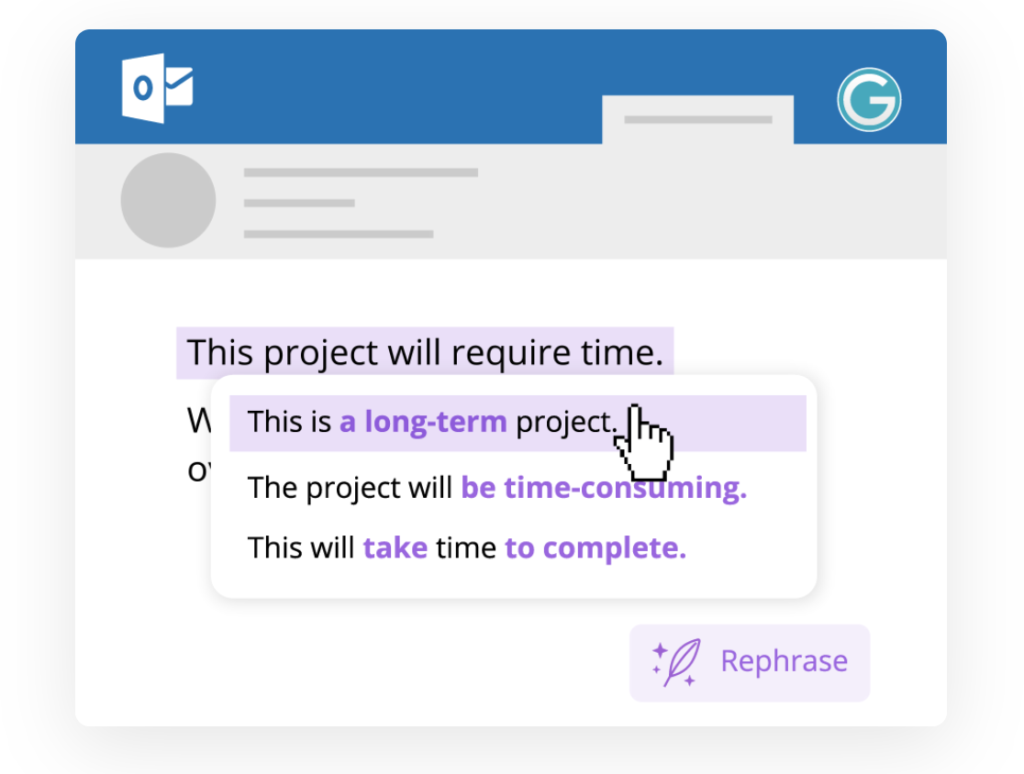 Ginger writing assistant uses AI to help write all types of error-free content. And, Ginger's business version lets you scale the platform's capabilities to support up to 100,000 team members.
Key Feature: Ginger offers flexible augmented writing by integrating with popular marketing, sales, and support applications. Also, Ginger enhances communication among remote teams of international users with an AI-powered translation feature that supports 40 languages.
Ginger Pricing: Ginger's annual fee is $12.48 per month or $4.99 per month for each member under its Ginger Teams offer. While the platform doesn't offer a free trial, there's a free version available.
ProWritingAid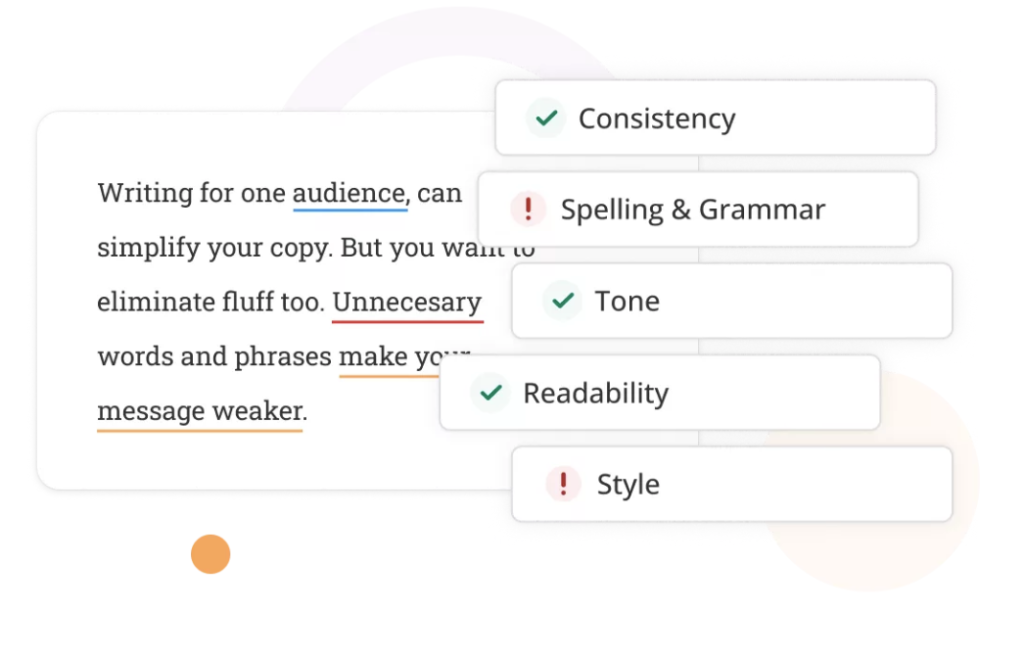 ProWritingAid has a clean and user-friendly UI for quality augmented writing. The platform helps you create error-free content like JDs, reports, and other important workplace documents.
Key Feature: ProWritingAid platform offers integration with online services and device apps, including Zendesk and Salesforce. Also, the software comes with a real-time data visualization feature that assesses and corrects writing oversights (e.g., misspellings or unsuitable writing styles).
ProWriting Aid Pricing: ProWritingAid offers monthly, yearly, and lifetime payments for premium and premium plus accounts. Premium lifetime accounts are $399, while Premium Plus is $500. Alternatively, the annual billing for both plans is $39.50 and $44.50. You can familiarize yourself with ProWritingAid by using the free version that comes with 25 types of writing reports.
Why I Wrote This:
At Ongig, our goal is to banish biased and boring JDs for good through software that makes it easier for you and your team. Like Textio, we aim to make recruitment an intuitive and inclusive process for all.
Shout-outs: