Generic vs. specific job description, which one is better? The quick answer is…a mix of both.
There are pros and cons for each. So how do you find the perfect balance when writing your JDs?
This post will dive into both sides so you can create the best blend for your roles. And, there's a free job description template from Ongig to help you get started.
Generic vs. specific job description examples
What's the difference between generic and specific JDs? Let's start with an example of a generic job description, then a specific one so you can see the differences (and similarities).
Generic job description example — Customer Service Supervisor
Here's a generic job description template for a Customer Service Supervisor from SHRM.
You'll notice it has a basic layout with tips (or examples) for each section. You could easily download this JD, make a few small edits, and post it on your career site. But, it lacks specifics candidates care about (e.g., salary, benefits, a diversity statement).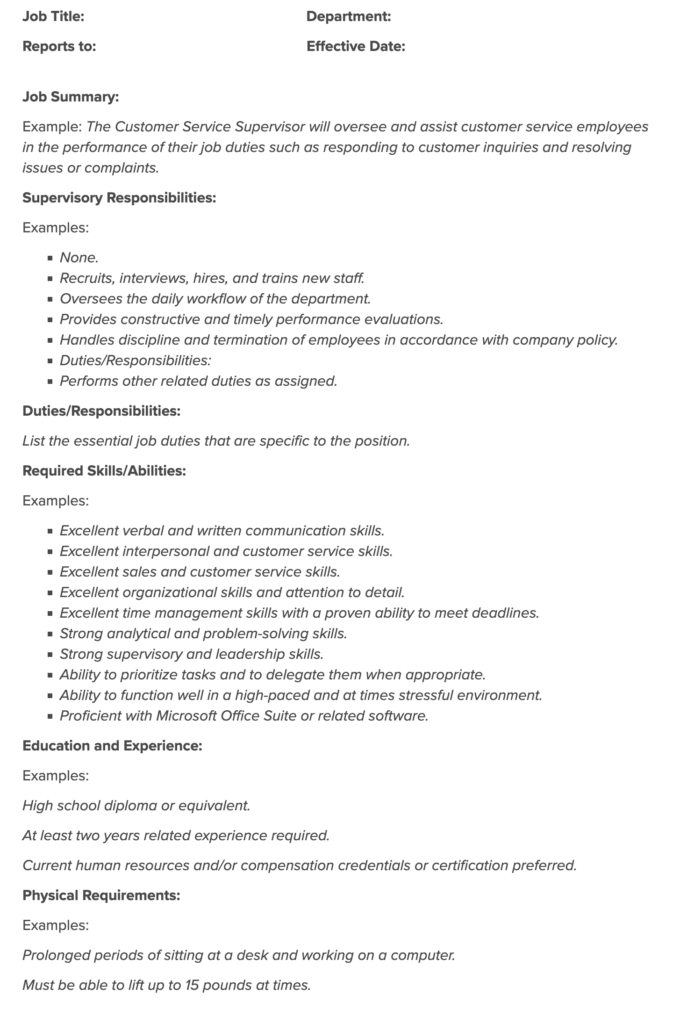 Specific job description example — Customer Service Supervisor
Below is an example of a specific job description for a Customer Service Supervisor from the City of Durham North Carolina.
This JD:
includes generic items for duties and responsibilities (but also lists more specific ones).
goes deeper into the job summary (3 paragraphs instead of a couple of sentences like the generic JD above).
lists salary, benefits, and hours, (3 key things a customer service job seeker will find very valuable).
But, it will likely get less applies for being "too long." Even though there are lots of specifics on what's in it for job seekers, the long list of requirements might deter people who feel they don't meet every single item on the list.
And, it lacks a conversational 1st/2nd person style (e.g., "you" and "your" or "we" and "our") that connects with candidates.


Work, Serve, Thrive. With the City of Durham
Advance in your career while making a real difference in the community you serve.

Hiring Range: $48,185 – $57,822
Hours: Mon – Fri 8:00 am – 4:30 pm

Top-notch management, highly qualified, competent staff and opportunities for career advancement and professional success make the City of Durham's Public Works Department a great place to work. Our consistent and steady work environment sets us apart from traditional construction-related worksites, and our exceptional benefits and retirement plans support your long-term success. We create the foundation on which Durham is built, using innovative methods that support the City's growth and enhance our quality of life. We need innovative, highly qualified talent to do that. If growing professionally while serving your community is for you, bring your skills to Durham!

The Public Works Development Services Supervisor Position (Public Works Front Desk Supervisor) is devoted to providing centralized coordination and customer service for the City's Public Works Department (City Hall Groups – Engineering and Stormwater Services Divisions). Its primary and largest volume of responsibility is for the development review process including receipt, tracking, processing and managing of development-related requests and materials for driveway permits and construction drawing reviews. Its secondary and next largest volume duty is helping to assist customers to reach the appropriate contact point (versus what they request) within a complex process that spans multiple city departments. Seekers for this position will expect to have daily contact with customers and must have excellent people skills including patience, experience with irate customers, and knowledge of municipal services across multiple departments.

As assigned, work may include supervising development services related customer service and intake, including establishing staffing levels for phone and in-person service and overseeing cash batching; assisting staff with escalated customer service issues; responding to customers and staff with information; training employees; and developing and implementing operating policies and procedures. This position is considered a working supervisor position in Public Works where the supervisor is expected to perform essential staff duties (intake, cash receipt, customer service, etc.) in the course of a business day.

Incumbents supervise two paraprofessional and support staff including conducting performance evaluations, coordinating training, and implementing hiring, and discipline and termination. Duties/Responsibilities
KNOWLEDGE OF THE FOLLOWING:
Supervisory principles.
Permit processes.
Cash handling principles.
Customer service principles.
Geography principles.
Recordkeeping principles.
Applicable federal, state and local laws, codes, regulations (based on assignment).
Specialized equipment relevant to area of assignment.
Modern office technology.
SKILL IN THE FOLLOWING:
Supervising staff.
Cash Handling and Cash Handling bookkeeping software (Munis or similar programs).
Prioritizing, assigning, and evaluating work.
Ensuring adequate staffing levels.
Reviewing and processing permit applications.
Interpreting, applying, and ensuring compliance with applicable laws, codes, regulations and standards (based on assignment).
Providing customer service.
Performing data entry.
Reviewing work for accuracy and quality assurance.
Calculating permit fees.
Preparing and maintaining records and reports.
Performing basic reviews of plans and maps.
Skill at utilizing GIS, Google Maps, and understanding basic engineering products.
Coordinating with internal and external agencies to facilitate departmental operations.
Utilizing a computer and relevant software applications.
Utilizing communication and excellent and friendly interpersonal skills as applied to interaction with coworkers, supervisors, the general public and others to sufficiently exchange or convey information and to receive work direction.
Experience with Irate customers and how to diffuse difficult customer relations.
Minimum Qualifications & Experience
Associate's degree in engineering, landscape architecture, building trades or related customer service or business field OR equivalent experience.
Three years of experience in building trades, engineering, customer service, and/or construction that includes one prior one year of supervisory experience.
Experience is in Municipal Customer Service or High Volume Customer Service positions (technical in origin).
Benefits – General Full-Time Employees
11-12 paid holidays per year
12 standard work days of vacation per year
12 standard work days of sick leave per year, which accumulates indefinitely; sick leave may be used toward early retirement
2 weeks paid military leave per year
Medical, dental, vision, and supplemental life insurance plans
State and City retirement plans
Short and long term disability plans
Paid temporary disability leave for specified conditions
City contribution of 10.15% into the N.C. State Retirement System
Paid funeral leave
Employee Assistance Program – personal and family counseling
Paid life insurance equal to annual salary
48 hours for volunteer work each year*
4 hours parental leave each year
Workman's Compensation Insurance
457 Deferred Compensation Plans
Benefits – Part-Time (1,000 hours or more per year)
401(k) retirement plan (5.0% of salary)
State retirement plan
Benefits Part-Time (Average 30 hours per week over 12 month period)
401(k) retirement plan (5.0% of salary)
State retirement plan
Health Insurance
Generic intern job description example
Here's another example of a generic job description. This is for an intern role. The intro, responsibilities, and requirements are all generic. This is an easy copy/paste/post JD, but it lacks specifics about:
the work schedule
the pay and benefits
the detailed day to day tasks
the departments the intern will work with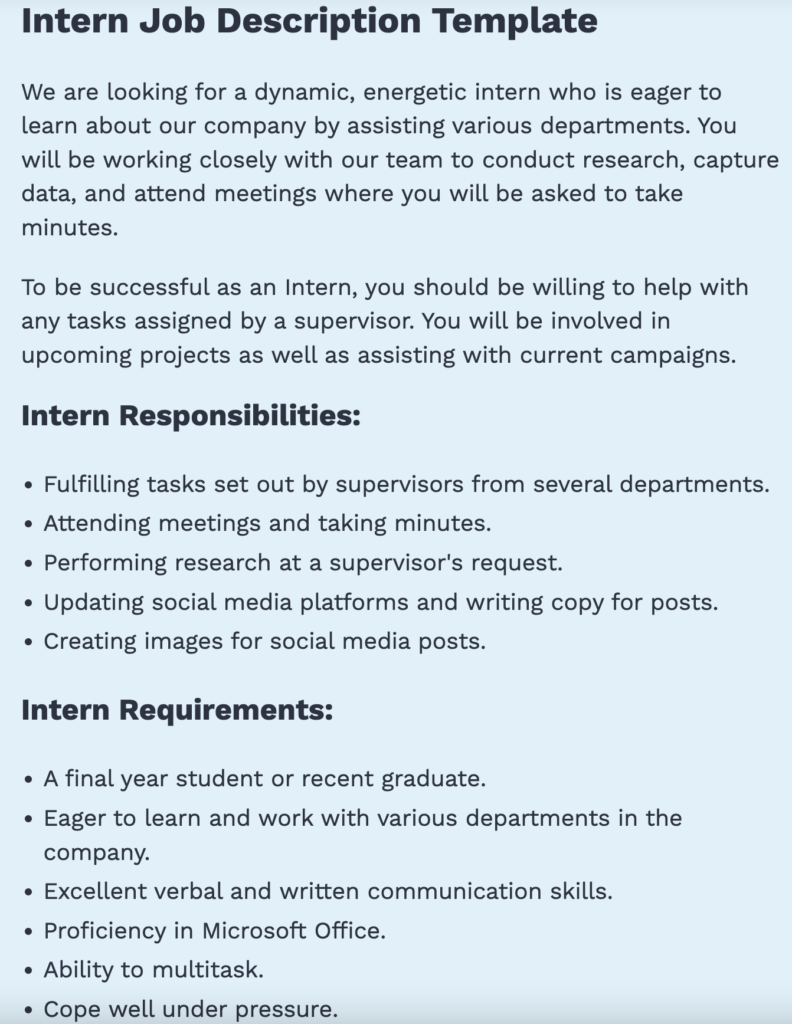 Specific intern job description example
Here's an example of a specific job description for an intern from Epic Games. This JD is specific because:
the title communicates what the role is ("art pipeline engineering")
it lists the types of people the intern will work with (Pipeline Developers, Engineers, Producers, Leads, and Art Directors)
it lists the departments the intern will support (Concept, Modeling, Rigging, Animation, Lighting, FX, Production, and Research and Development)
it outlines actual problems the intern will solve ("problems with fur, clothing, particle effects, animation, rendering, or data flow")
The intern JD also uses conversational 1st/2nd person style (e.g., "you" and "your" or "we" and "our") meaning it will perform better than the more generic one above. The only thing it lacks (to make it even more specific) is a section on pay and benefits.
ART PIPELINE ENGINEERING INTERN (R23361)
Department
Art & Animation
Location Cary North Carolina, United States
Company Epic Games
Requisition ID R23361
WHAT MAKES US EPIC?
At the core of Epic's success are talented, passionate people. Epic prides itself on creating a collaborative, welcoming, and creative environment. Whether it's building award-winning games or crafting engine technology that enables others to make visually stunning interactive experiences, we're always innovating.
Being Epic means being a part of a team that continually strives to do right by our community and users. We're constantly innovating to raise the bar of engine and game development.
Epic Games is looking for an Art Pipeline Engineering Intern to work in our art pipeline building tools, processes, and workflows to improve artist efficiencies. Our Interns are given challenging projects over the work term, and are provided with a meaningful experience with high expectations for performance. If you want to build something Epic, this is the opportunity for you!
The Art Pipeline Team provides critical studio support to project artists and department leads across all Epic projects. A developer designs, develops and implements new tools and processes, as well as supports existing code, for multiple projects, departments, and teams.
In This Role You Will:
Provide support and development of tools and procedures to extend and enhance the pipeline.
Assist leads and artists with troubleshooting of production problems. Issues may include problems with fur, clothing, particle effects, animation, rendering, or data flow.
Support and work with multiple departments, including Concept, Modeling, Rigging, Animation, Lighting, FX, Production, and Research and Development.
Ensure software development follows studio policies and guidelines, and, in some situations, establishing what the guidelines should be.
Work closely with other Pipeline Developers, Engineers, Producers, Leads, and Art Directors to maintain and further the production pipeline.
Testing and fixing tools created by other pipeline developers.
What We're Looking For:
Strong programming skills. Proficiency in Python and Object Oriented Programming required.
Professional and educational focus on the game industry, computer animation, or visual effects.
Focused interest in developing and integrating tools into a production pipeline.
Experience with the Unreal Engine and its workflows preferred
Experience with 3rd Party CG systems such as Blender, Maya, Substance Painter/Designer, Houdini, Shotgun.
Seeks knowledge from co-workers and supervisors.
Comfortable communicating with both technical and artistic groups.
Ability to work within an existing code base, including debugging of unfamiliar code.
This is an internship for 2023 with a flexible start date. Recruitment will be ongoing until teams find an ideal match. For more information about Epic's Early Career Program, visit Epicgames.com/students.
This is going to be Epic!
ABOUT US
Epic Games spans across 19 countries with 55 studios and 4,500+ employees globally. For over 25 years, we've been making award-winning games and engine technology that empowers others to make visually stunning games and 3D content that bring environments to life like never before. Epic's award-winning Unreal Engine technology not only provides game developers the ability to build high-fidelity, interactive experiences for PC, console, mobile, and VR, it is also a tool being embraced by content creators across a variety of industries such as media and entertainment, automotive, and architectural design. As we continue to build our Engine technology and develop remarkable games, we strive to build teams of world-class talent.
Like what you hear? Come be a part of something Epic!
Epic Games deeply values diverse teams and an inclusive work culture, and we are proud to be an Equal Opportunity employer. Learn more about our Equal Employment Opportunity (EEO) Policy here.
Pros and cons of specific vs. generic job descriptions
Now that we've seen some examples of a generic vs specific job description, let's dig deeper into the pros and cons. I've put them into table format for easier comparison.
Pros of a Specific Job Description
Cons of a Specific Job Description
Job seekers know more about the day-to-day of the role (who they'll work with, what tasks they'll do)
Your list of responsibilities and requirements are "too specific" (7 or more might deter people from applying)
Candidates find out what's in it for them if they're hired
(e.g., salary and benefits)
There's just too much on the page (maybe you have too many extra long sentences in each section?)
Your job title is clear and searchable
(e.g., Pipeline Engineering Intern)
Your title might get too specific and not SEO-friendly
(e.g., Pipeline Engineering Intern – Part Time – Denver Office – In-Office Only)
Pros of a Generic Job Description
Cons of a Generic Job Description
They are easy to copy, paste, and post
Your list of responsibilities and requirements is too general
(what are the actual daily duties?)
They are short and easy to read
They don't include all of the important sections candidates care about
(DEI statement, salary, benefits, mission statement, and more)
The job title is concise and SEO-friendly
(e.g., Engineering Intern)
The job title might be too broad
(e.g., Intern)
A free job description template from Ongig (the perfect mix of both!)
If you are on board with creating a "hybrid" generic AND specific job description, here's a free template you can easily copy/paste. Or try Ongig's job description software to create your own custom templates (by department, function, location, etc.).
Each section below has notes on what to include to help boost your chances of attracting top talent and creating the perfect mix of generic and specific job descriptions.
JOB TITLE
[Include a clear and concise title of your posted job.]
Tip: Keep your job titles between 1-3 words and 20 syllables or less. This helps with SEO and makes them easier to read. Check out our Job Title Guide for the most searched job titles.
JOB SUMMARY
[Provide an engaging paragraph about the role.]
Tip: A job summary should concisely explain the role. Remember to include who they'll supervise and any other responsibilities.
ABOUT YOU
[Share more about the desired skills, roles, and responsibilities of the ideal candidate.]
Consider adding sentences on:
Skills required for specific tasks.
Goals and targets.
Workplace collaborations.
Tip: Look at other companies or templates for inspiration.
WHAT YOU'LL DO
[Here is where you list the day-to-day job duties.]
Job duties may include:
Manage day-to-day client support
Facilitate a collaborative team environment
Provide ongoing support for new projects
Coach direct reports
Work with C-suite for strategy planning
Tip: Keep your "responsibilities" lists short. Using more than 7 bullets might make candidates feel underqualified or overwhelmed.
YOUR REQUIREMENTS
[Here is where you list the basic qualifications and experience.]
Tip: Include your preferred requirements here or create a "Preferred Requirements" section if there are more than two.
SALARY
[List the salary or hourly rate for the role here. It is important to keep things transparent as candidates spend a significant amount of time on this section.]
Tip: Even if it's a range, list salary details. Salary is the #1 part of a job ad that is "helpful", "appealing", and makes candidates "more likely to apply".
BENEFITS
[List the perks of joining your company.]
Tip: Each benefit you include in a job ad increases the apply rate by 1% to 5%. The benefits with the most positive impact on apply rate are: Regular Incremental Bonus (+155.1%); Pet Insurance (+37%); Health Insurance (+29.8%); Stock Options/Employee Stock Purchase Plan (+27.5%); and 401(k) (+20.5%).
OPTIONAL SECTIONS
[your JDs may include optional sections that facilitate a job search and application]
Travel requirements
Remote and on-site work requirements
Commission details
Application steps
ABOUT US
[Here, you share more about your company]
Some ideas to include:
Stating the healthcare perks of joining the company
Describing your company culture
Specifying your vision ad mission
Sharing your ongoing corporate responsibility
Tip: I like to save the "About Us" section for the end (even though about 50% of JDs start with About Us). Instead, end your JD with the About Us. That way, you can START your JD about the candidate/role, making them feel valued.
DIVERSITY STATEMENT
[Include an EEO or diversity statement that makes your company accessible and attractive to candidates from diverse backgrounds.]
Tip: Most candidates value seeing a D&I commitment. A diverse population of 764 LinkedIn members in the U.S. said "even a generic statement is still better than no statement." You'll find examples in our blog 25 Examples of Awesome Diversity Statements.
Why I wrote this:
At Ongig, we get lots of questions about job descriptions. One of the most recent was "Which is better, a generic or specific job description?". This post should help answer that question, and give you some context on why we think the answer is…a mix of both.
Shout-outs:
Job descriptions, Specific or Generic?? (by Dr. Bilal H. Ali)
Broad Generic Job Descriptions Vs. Narrow Specific Job Descriptions (by Jessica Ann Marie)