Are your job descriptions attracting the wrong applicants, not getting enough applicants, or getting lost in Google?
Chances are your JDs need improvements. There are job description optimizer tools to help automate the process. Here are 5 examples:
Ongig — Text Analyzer
Ongig's Text Analyzer is a cloud-based software for optimizing job descriptions. Ongig's software:
Scans your job descriptions for bias (age, race, gender, sexual orientation, disability, neurodiversity & more) and offers inclusive replacements
Gives you tips on which titles to choose to boost your SEO
Helps you create custom job description templates you can save and reuse
Gives in-app tips for making your job descriptions more readable (e.g., removing complex words & long sentences)
Scans your job descriptions for missing sections that add value for candidates (salary, benefits, DEI statement & more)
And, after you optimize your job descriptions, Ongig stores them in one place making it easier for your recruiters (or hiring managers) to pull the latest and greatest when it's time to post a new role.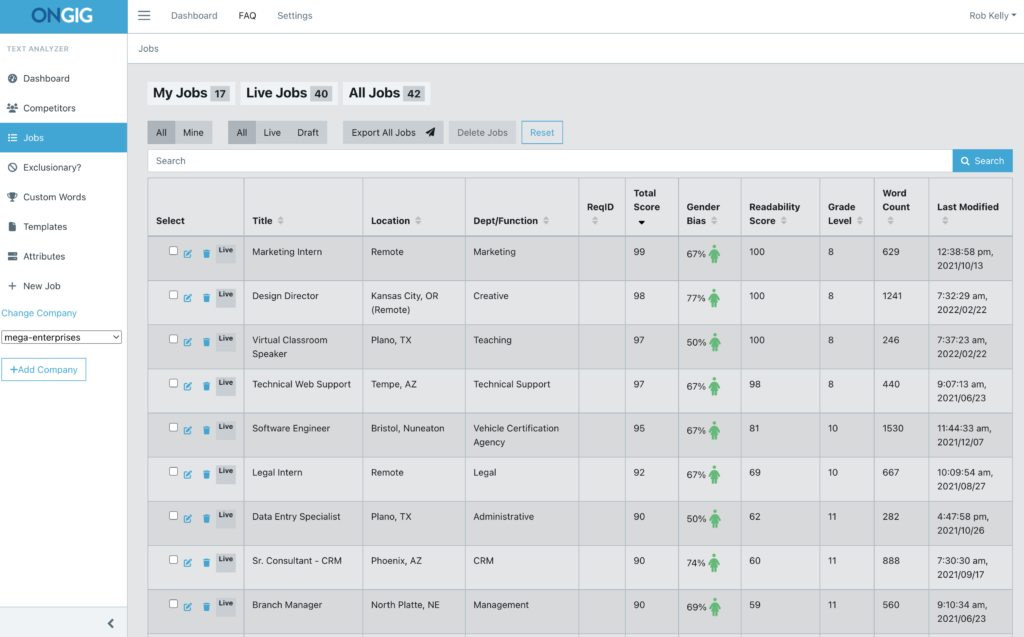 Ongig's pricing varies depending on the number of descriptions you need to optimize. You'll need to request a quote to learn more about all of the features and pricing.
Job Ad Analyzer — Predictive Index
Job Ad Analyzer from Predictive Index is a free service that analyzes your JDs and tells you what kind of applicants you'll expect to attract.
This optimization job description tool does 2 key things:
Tells you what type of behavioral reference profiles your job will attract. (e.g., Analyzer, Controller, Promoter, etc.)
Gives you insight into the aspects of the role your job ad focuses on the most.
To use it, copy and paste the JD you want to be analyzed and give your business email address. The result doesn't auto-populate, but they'll send you a pdf report to your work email. See a sample pdf below:
Job Description Grader — Jobvite
Jobvite's Job Description Grader analyzes your JDs and gives a rating of A, B, or C (with A being the highest) compared to the other similar job descriptions.
It also analyzes your JDs for:
Overall sentiment: Evaluates the tone of your JDs (positive, neutral, negative)
Word count: Compares your JDs length to others in the same category
Readability: Tells you how easy it is to read your job descriptions
Biased Words: Highlights words that come off as "biased" and suggests changing them (but it gives no alternatives).
The service is free to use, but you'll need to fill out a lengthy lead form to see your results.
Eploy
Eploy is a job description optimizer tool that checks for:
Length: The ideal size of a JD is between 4,000-5,000 characters (with this length, conversion reaches up to 15%)
An equal opportunities statement (an essential part of JDs, especially if you're hiring for diversity)
Here's a sample JD analyzed by Eploy:
Eploy is free and easy to use. Just copy/paste your JDs for tips on optimizing them. It won't ask you for other information (e.g., your email address).
Job Page Grader
If you want to know how your job description pages are performing, you can paste them into Job Page Grader.
This tool scans your JD pages, gives them a grade (with 100% as the highest), and analyzes them for:
Engagement: How does it stand out from the competition?
Conversion: How many applicants you're getting?
SEO: Are you using the right keywords so you're visible in job searches?
Performance: Are your page and all of the elements loading well?
For each indicator, there are tips on how to improve your score and performance. Job Page Grader is free to use. All you need to do is enter your JD URL and work email.
Why I wrote this:
Ongig's mission is to create effective and inclusive job descriptions. This means giving you the tools (and tips) you need to optimize your job descriptions for hiring success.
Shout-outs:
Tools to Optimize and Improve your Job Descriptions (by Jonathan Kidder)