What is job description writing software?
Job description writing software helps you write job descriptions easier (and faster) by:
optimizing keywords
removing outdated words and phrases
ensuring that your JD complies with diversity requirements
To save you research time, we've listed 7 of the best job description writing software to streamline your recruiting efforts:
Ongig is a great tool to have in your recruiting stack to write modern and bias-free job descriptions. It helps address the following:
Gender bias — scores your jobs in real-time based on gender-coded words so you can replace them with more gender-neutral phrases
Other types of bias (race, religion, ethnicity, disability, sexual orientation, elitism, mental health, and more) — scans job ads and flags "exclusionary" words, so you attract more diverse candidates
JD length — trims down lengthy job descriptions by eliminating unnecessary bullet points and complex words so they are more readable (based on best practices)
Poor section formatting — helps you stay consistent by making sure you're using essential sections applicants look for (e.g., salary, benefits, and DEI statements)
Ongig also has a centralized repository for job descriptions (that can be accessed by multiple users) and a custom template builder, so you can write and post jobs fast on repeat. These are great features when hiring new employees at scale.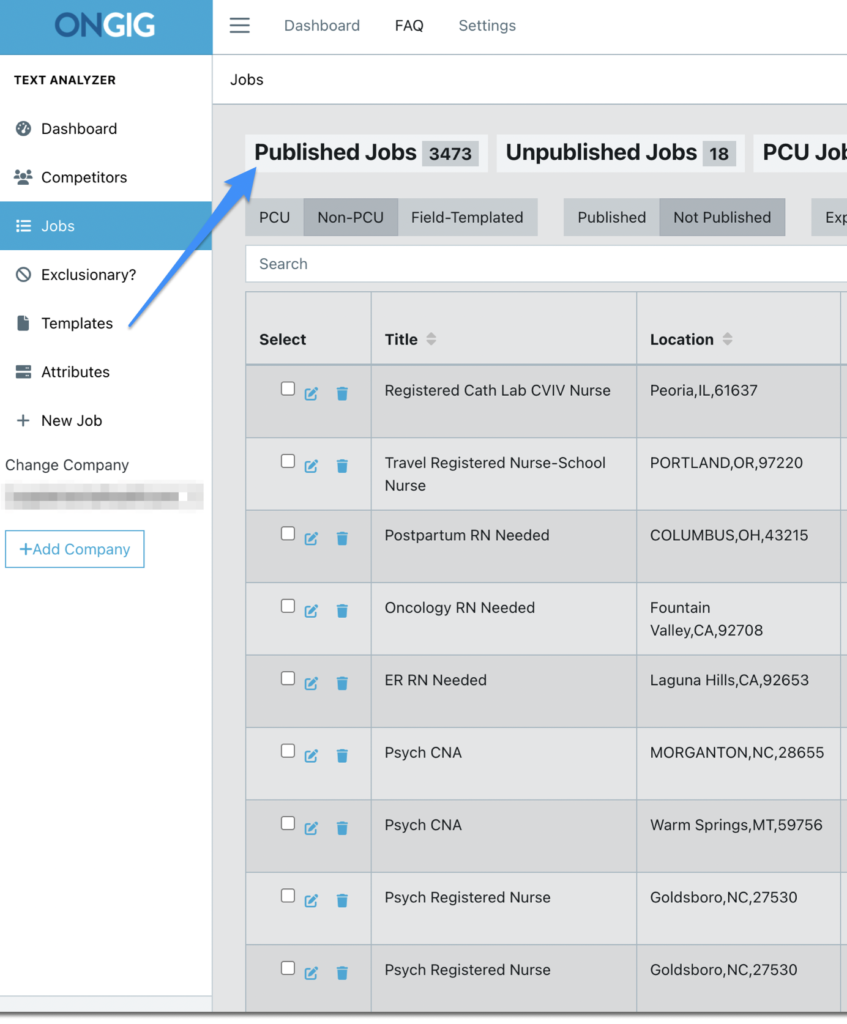 Datapeople has language analytics to help you reach a score of 85+ or higher to attract a more diverse candidate pool.
This tool scores your based on the following:
Job titles — use the appropriate job title that matches your role requirements to avoid confusing applicants
Job requirements — craft clear and fitting job requirements by removing irrelevant education and experience information
The language used — highlights corporate cliches that can create unnecessary barriers for job seekers
Diversity — flags terms that indicate sexism, racism, tokenism, ableism, ageism, elitism, and bias against religion
And, you can create JD templates with saved sections like "About Us" and work perks to standardize JDs.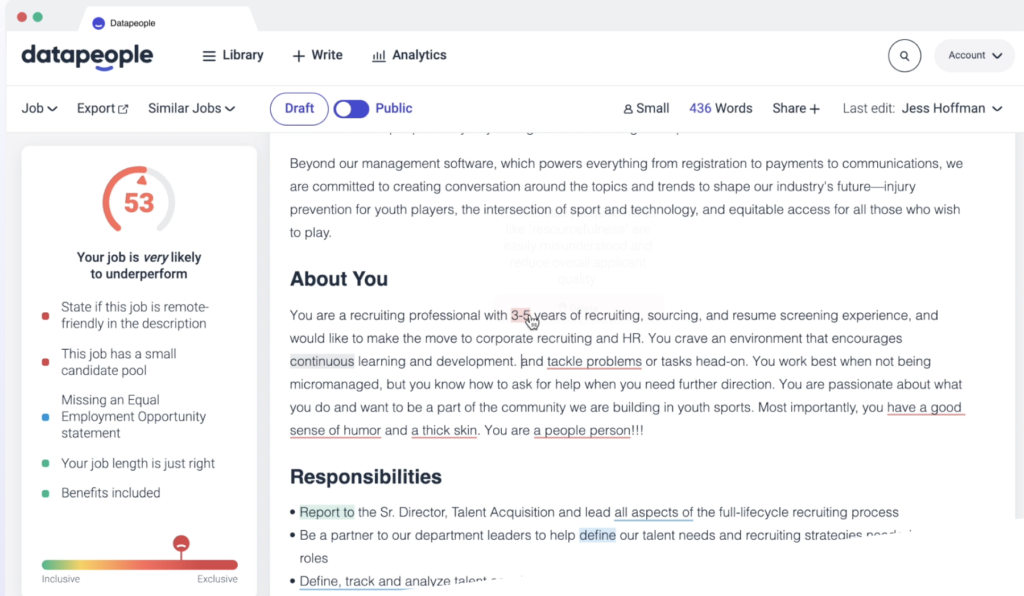 Transparency about your salary offers helps boost your chances of attracting (and retaining) top talent.
CompBldr helps you build a great job description to attract them. It's a job description software tool with built-in market valuation and compensation analysis features, so you map fair and equitable pay in your job descriptions.
It allows users to:
build competency models based on job requirements for effective job performance
create a 360°degree view of job descriptions, factors, hierarchy, bands, ranges & more
receive feedback and stakeholder buy-in in job descriptions with collaborative features
access 1,100+ predefined job descriptions in 31+ categories that you can use as is or customize depending on your company's needs
compare your job side by side, by category, or in matrix format
If your hiring team is searching for top talent, your job descriptions must focus on competencies.
HRSG's Job Description software allows recruiters to:
Find responsibilities for your roles in seconds via AI-powered "Responsibility Suggestions."
Consolidate input and feedback from employees (and managers) with job description validation tools.
Map competencies in your JD fast. And, keep track of the latest version of job descriptions.
Weeding out job seekers who don't add to your organization's culture saves you money on recruitment costs in the long run. Beyond outlining the responsibilities, JobWriter.io enhances your job description by targeting "culture add."
The tool empowers recruiters to tell your organization's history, culture, and insights into the job. Applicants will understand if their personality makes them a natural for the organization.
This job description writing tool also scans for gender bias and improves the attractiveness of your diversity language with a few clicks.

Applied's job description writing tool helps you eliminate unimportant or low-priority requirements, so you emphasize the essential skills. You encourage a more diverse set of candidates with a range of transferable skills. For example, it removes educational background as part of job requirements.
Applied also evaluates JDs based on the Flesch readability standards to help you write job descriptions that are clear to a vast applicant pool: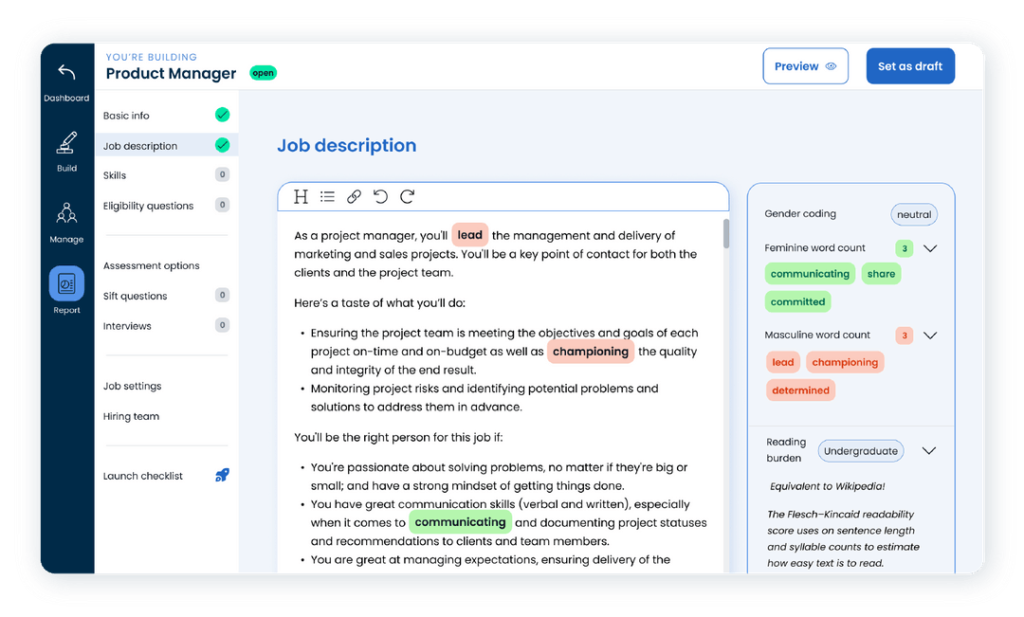 JDXpert has a comprehensive job description content library, with over 4,500 sample job descriptions, to make the job writing process more manageable. This tool:
Helps format your job descriptions with best practice designs tailored to meet your needs
Provides an archive of historical versions of your job, manager attestations, and job acknowledgments to ensure you comply with JD standards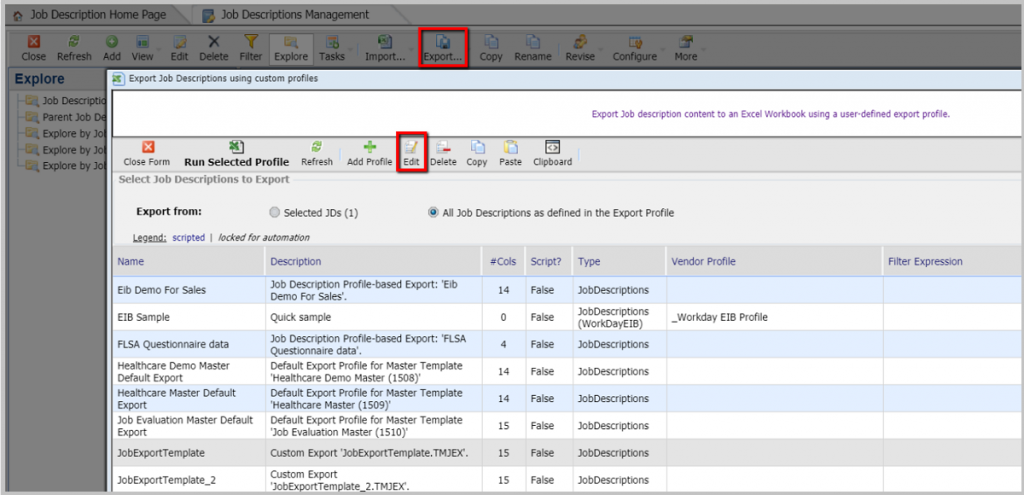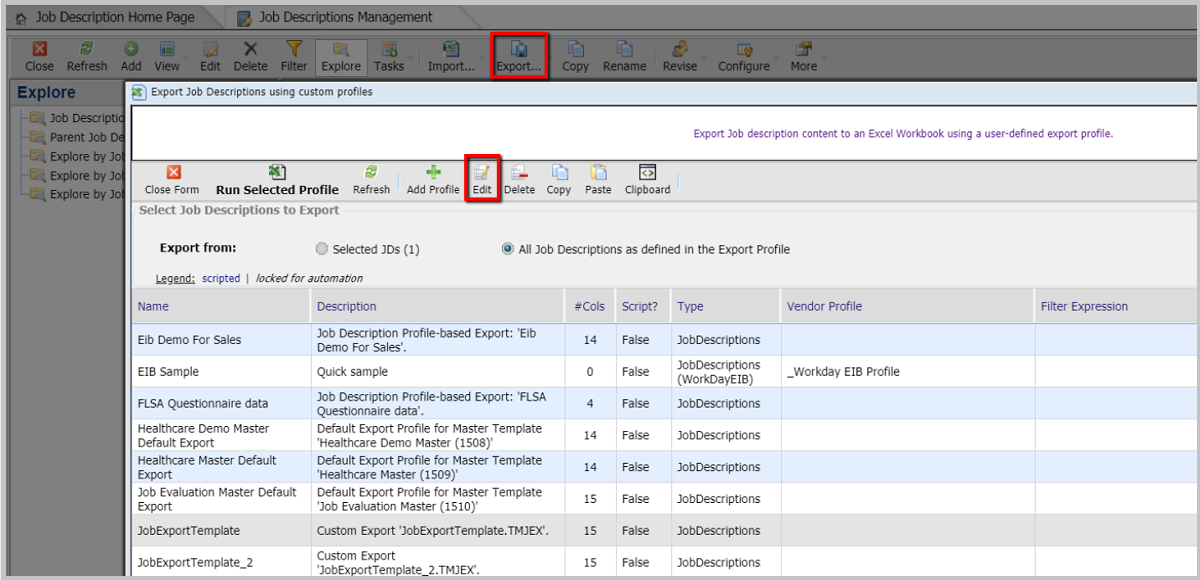 Why I Wrote This:
Ongig's mission is to help you create effective (and inclusive) JDs through the ease of job description writing software. Using these tools helps you streamline your workflow an attract more qualified candidates. Please request a demo to learn more.