"Executive assistant job description" is one of the most-searched JD templates I've seen. This tells me thousands of people (5,000+ a month to be exact!) want to know how to write one of their own.
In this post, you'll find:
7 of the most-common executive assistant duties (to use in your JDs)
7 of the most-searched executive assistant job titles (by candidates)
7 executive assistant job description samples (from Amazon, HPE, Dell & more)
a free (EA) executive assistant job description template (just copy/paste!)
Note: I ran the examples through Ongig's Text Analyzer software to ensure they score 80% or more (out of 100), are gender-neutral, AND have no other exclusionary language (based on race, age, disability, sexual orientation & more).
Now, let's dive in.
Primary Executive Assistant Duties
EA's provide administrative support to C-Level or other senior managers. Here are 7 of the most common duties they might perform daily. (You can use these in your own job postings).
coordinate meetings
arrange appointments
manage the employer's schedule
answer phones
make travel arrangements
prepare and file important documents
perform other essential adminsitrative tasks as needed
Note: You can find 10 EA skills to look for in this blog from Oriel Partners: Top Executive Assistant Skills To Look For When Hiring.
7 Executive Assistant Titles from Top Companies
If you don't know which title to use for your executive assistant job description, here's a list of 7 popular EA job titles, along with the brands that use them.
Executive Assistant (Uber)
Executive Administrative Assistant (Lyft)
Executive Administrator (Visa)
Senior Executive Assistant (YouTube)
Executive Assistant to the CEO (Google)
Executive Admin (Adobe)
Executive Associate (American Express)
This is a small sample of the most-search Executive Assistant job titles. You can find more in our post The Top 20 Executive Assistant Job Titles [with Descriptions].
Now, onto the EA job description examples.
7 Executive Assistant Job Description Samples
Here are 7 sample executive assistant job descriptions from different industries to use for inspiration:
Amazon — Executive Assistant Job Description Sample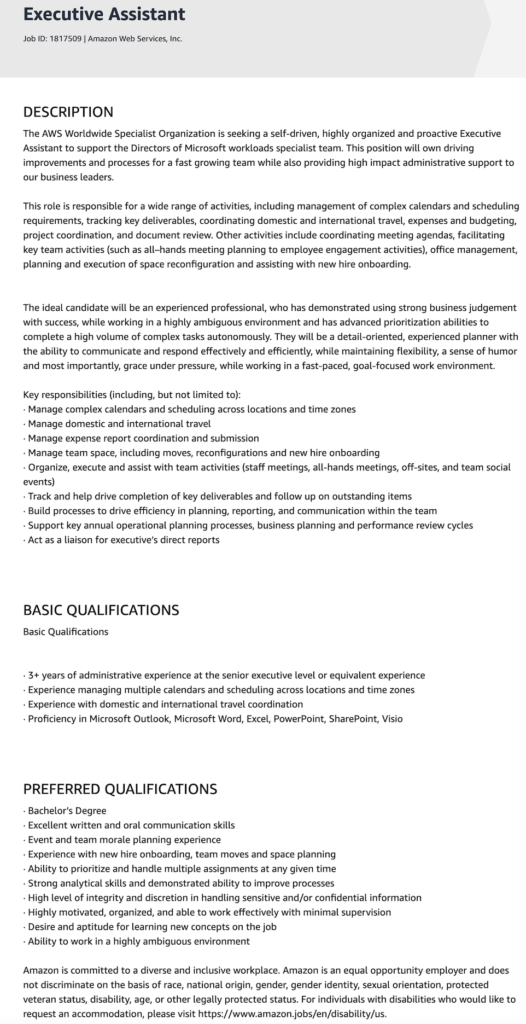 Dell — Job Description for Executive Assistant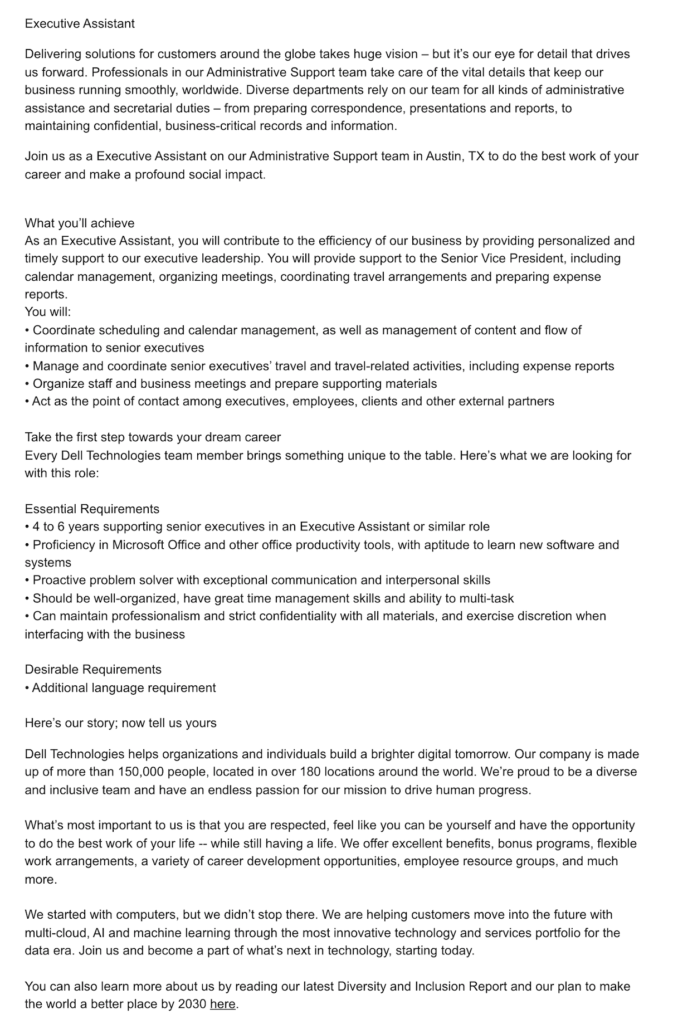 Roku — Executive Administrative Assistant Job Description

HPE — Senior Executive Assistant Job Description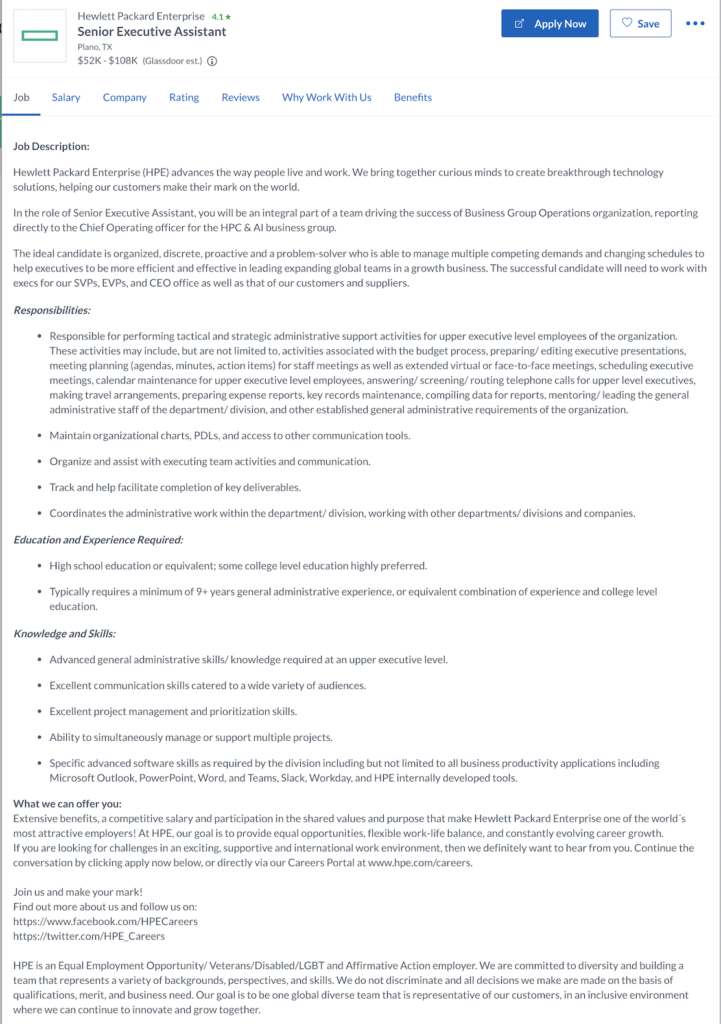 Trusaic — Executive Assistant to CEO Job Description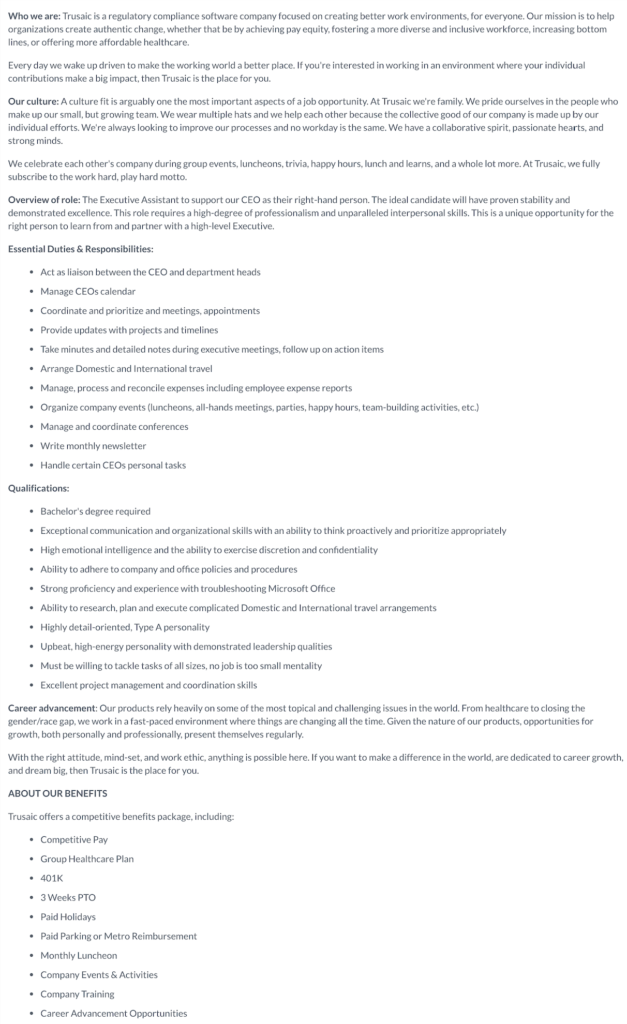 Imperial PFS — Executive Personal Assistant Job Description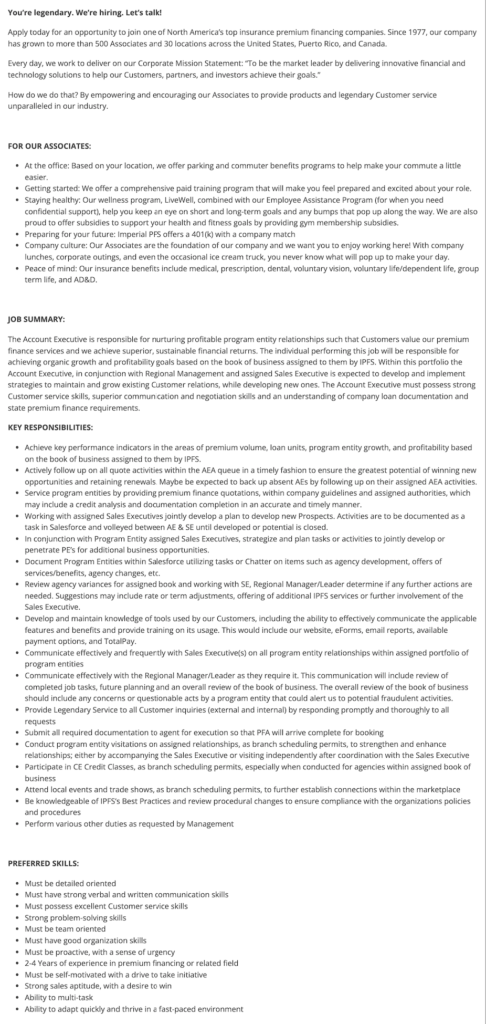 Douglas Elliman — Real Estate Executive Assistant Job Description

And, for even more inspiration, here's a free template (with tips on what to include in each section).
Free Executive Assistant Job Description Template [just copy & paste!]
If you are still unsure where to start, try using this template of a job description for an executive assistant as your guide. I've listed examples so you can easily copy and paste.
JOB TITLE
[Here, you can use "Executive Assistant," or there are other options that might fit your biz better. You can find top executive assistant job titles in this blog.
Tip: Keep your job titles between 1-3 words and 20 syllables or less. This helps with SEO and makes them easier to read. For example, "Engineering Manager" is a better title than "Software Engineering Manager – Growth & Remote Support."
JOB SUMMARY
[This is where you write a paragraph about the role.]
Tip: The EA job summary should concisely explain the job functions for the role. Executive assistant duties can vary (it is a broad job title). Including an executive assistant job summary at the beginning of your JD helps the candidates know what to expect.
Here's an executive assistant job summary example from the NBA:
"The NBA's Global Partnerships group develops and manages marketing and merchandising partnerships with some of the world's most recognizable brands. The department creates and executes marketing and merchandising platforms tailored to driving each partner's business around the NBA, WNBA, NBA G League, NBA 2K League and USA Basketball.

This position will provide executive administrative support to two senior leaders within this group, the Head of Marketing Partnerships and the Head of Media and Business Development exercising a high level of professionalism, discretion, attention to detail, thought leadership and responsiveness."
ABOUT YOU
[This is where you talk about your executive assistant candidate.]
Include a sentence on:
what the candidate will do
some goals they will reach for
how they work with the team (or other teams)
Tip: Look at other companies for inspiration. Here's a good example from BookNook's executive assistant job description:
"The Executive Assistant is a key role in providing comprehensive support to our CEO and other members of BookNook's Strategy Team. The Executive Assistant will be responsible for anticipating the needs of those they support, think critically and creatively, and offer solutions with a high level of professionalism and confidentiality."
WHAT YOU'LL DO
[Here is where you can list your EA duties for the day-to-day of the role.]
Tip: Keep your "responsibilities" lists short. Using more than 7 bullets might make candidates feel underqualified or overwhelmed.
Take a look at Dell's Executive Assistant "You will" section. This is a great example of keeping it short and sweet:
— Coordinate scheduling and calendar management, as well as management of content and flow of information to executives

— Manage and coordinate executives' travel and travel-related activities, including expense reports

— Organize staff and business meetings

— Act as the point of contact among executives, employees, clients and other external partners
YOUR REQUIREMENTS
[This section is where you list basic qualifications and experience that make up the executive assistant requirements.]
For example:
Experience in a senior assistant role
Editing and proofreading skills
Advanced knowledge of Microsoft Outlook, Excel, Word, PowerPoint and Google Drive
Impeccable attention to detail
Tip: Include your preferred requirements here or create an "It's a plus if you have" section if there are more than two.
SALARY & BENEFITS
[List any perks your executive assistant will get if they join the team. Even if they are not specific (e.g., attractive salary or retirement package)]
Here are some examples:
starting salary range of $61,000-$99,000
family health insurance
employee wellness programs
parental leave
paid time off
4-day work week
Tip: Even if it's a range, list salary details. Candidates spend more time looking at it than anything else.
OPTIONAL SECTIONS
[These are some optional sections you might use in your job description for an EA.]
travel requirements
remote work policies
disability accommodations
how to apply
ABOUT US
[Here you can talk about yourself!]
Some ideas to include:
what type of business you are in
how great the company is
your core values
your mission
Tip: I like to save the "About Us" section for the end (even though about 50% of JDs start with About Us). That way, you can START your JD about the candidate/role, making them feel valued.
DIVERSITY STATEMENT
[Most companies have an EEO or diversity statement. You can put yours here.]
Here's a sample one we recommend to Ongig clients:
"We embrace diversity and equality in a serious way. We are committed to building a team with a variety of backgrounds, skills and views. The more inclusive we are, the better our work will be. Creating a culture of Equality isn't just the right thing to do, it's also the smart thing."
Tip: You'll find more examples in our blog 25 Examples of Awesome Diversity Statements.
WHY I WROTE THIS?
Ongig's mission is to transform job descriptions. Click here to learn more about how Ongig's Text Analyzer can help you optimize your JDs (and job titles).
Shout-Outs:
19 Essential Executive Assistant Skills for 2021 (by Angela Robinson)
Executive Assistant Job Description: Top Duties and Qualifications (by Indeed for Employers)