Executive Assistant titles are some of the most-searched roles for an administrative team. After reviewing 50+ assistant titles, here is what we found:
Executive Assistant vs Administrative Assistant

— We explain the differences and similarities.
Executive Assistant Hierarchy — The standard hierarchy of executive assistant and admin assistant positions.
A list of 25 Executive Assistant titles most used by top companies
The 20 Most Searched-For Executive Assistant Titles — A column chart of the top 20 Executive Assistant positions that candidates search for on Google.
Executive Assistant Titles and Descriptions — A list of the top 5 alternative job titles for Executive Assistant and descriptions that employers request.
Executive Assistant Hierarchy
There are different levels of executive assistant roles. Depending on the size of the company, the admin structure can include one support person for executives, or many. In larger companies, a candidate may start as an Administrative Trainee then move up to Administrative Assistant (I, II, or III), then Senior Executive Assistant…and so on. Here's a typical hierarchy of assistant job titles:

Experienced-Level – Senior Executive Assistant, Senior Support Specialist, Executive Assistant to the CEO, Virtual Assistant, Lead Administrative Assistant
Mid-Level – Executive Assistant, Administrative Technician, Personal Assistant, Personal Executive Assistant, Administrative Technician, Department Coordinator, Admin Specialist II
Entry Level – Administrative Assistant, Office Assistant, Office Administrator, Receptionist, Administrative Support Specialist I, Support Assistant, Staff Assistant, Executive Clerk, Administrative Trainee, Junior Administrative Assistant
Executive Assistant Titles from Top Companies
Here is a list of 25 executive assistant job titles used by top companies. Note: Virtual Assistant is the top searched administrative job title by candidates but is often a freelance or consulting position, which is why it is not on this list of 25.
Administrative Assistant (Crowdstrike)
Executive Assistant (Uber)
Receptionist (Old Navy)
Office Assistant (Linkedin)
Office Administrator (Edward Jones)
Secretary (GEICO)
Executive Administrative Assistant (Lyft)
Administrative Coordinator (Airbnb)
Executive Administrator (Visa)
Senior Executive Assistant (YouTube)
Administrative Secretary (Walmart)
Master Scheduler (Johnson & Johnson)
Executive Assistant to the CEO (Google)
Administrative Intern (Kaiser Permanente)
Administrative Associate (Genetech)
Administrative Specialist (Chevron)
CEO Assistant (Caterpillar)
Executive Admin (Adobe)
Administrative Support Specialist (HPE)
Senior Support Specialist (Target)
Admin Specialist (Facebook)
Executive Associate (American Express)
Bilingual Administration Assistant (Amerisource Bergen)
Executive Clerk (Cloudflare)
Junior Administrative Assistant (Robert Half)
Top Executive Assistant Job Titles (Candidates)
Below is a list of the top 20 Executive Assistant titles based on Google queries we found on ahrefs. For more administrative job titles and descriptions, check out our blog on The Top 20 Administrative Job Titles [with Descriptions].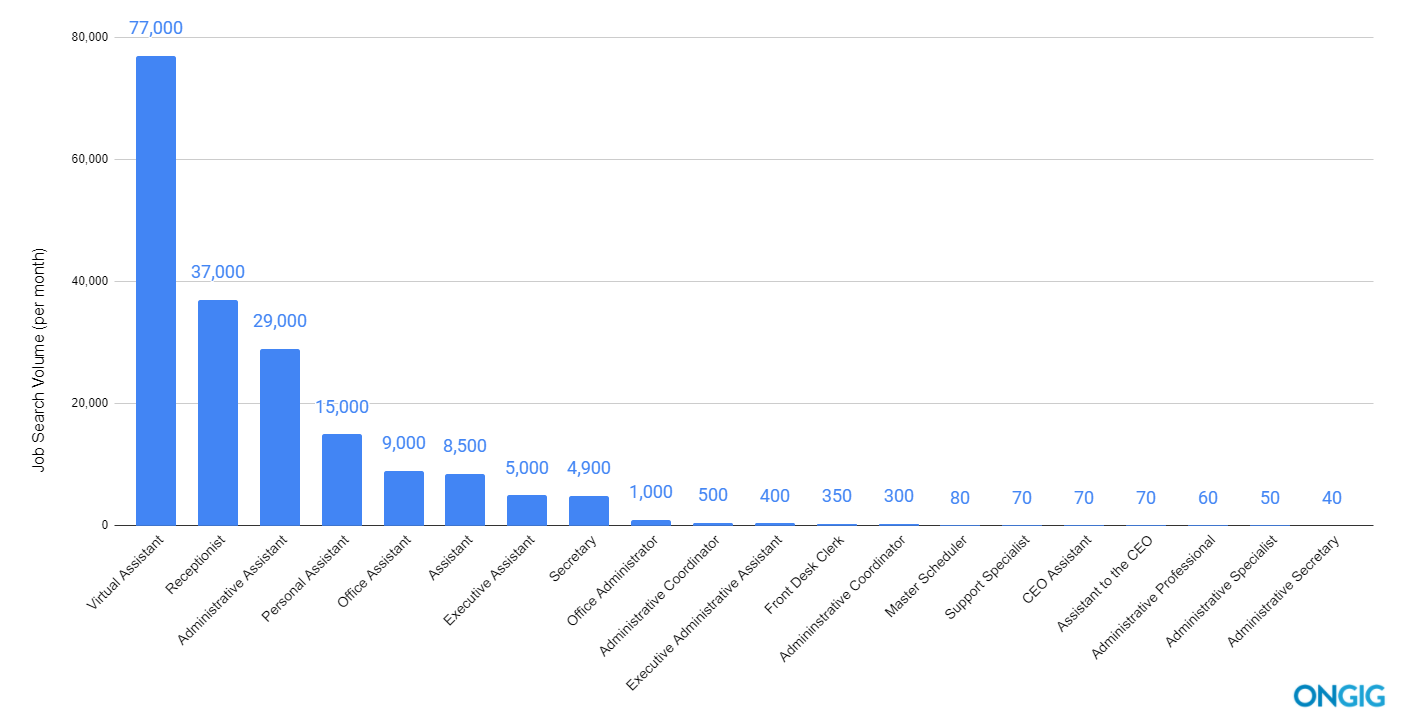 Top 5 Executive Assitant Titles and Descriptions (Employers)
Below are the top 5 Executive Assistant and Administrative Assistant titles employers request job descriptions for on Google, according to ahrefs.
I've included a brief description for each as well as the # of job title searches per month.
Administrative Assistant
An Administrative Assistant works with an executive or team of executives to carry out the day to day tasks within an organization. An Administrative Assistant may answer phones or greet guests, as a Secretary would, but also performs more complex tasks like creating meeting agendas and managing multiple calendars. Other tasks of an Administrative Assistant include:
Keeping an inventory of equipment and office supplies
Coordinating reporting procedures across organizational teams
Providing project support
Monitoring department expenses and accounts
# of job title searches per month: 14,000; Office Assistant: 3,900; Assistant:450
Note: Check out other titles for administrative assistants below in the "Creative Job Titles for Administrative Assistant" section towards the bottom of this article.
Executive Assistant
An Executive Assistant is highly qualified and usually has years of experience in the Administrative field. An Executive Assistant provides high-level support to management in a company. Common tasks of an Executive Assistant include:
Scheduling important meetings
Assisting with marketing research
Managing client or partner relationships
Supervise or train clerical staff
Setting daily schedules for executives
# of job title searches per month: 6,600; Executive Administrative Assistant: 600
Receptionist
A Receptionist, also commonly called a Secretary or Front Desk Agent is the first point of contact for clients and employees when entering an office environment. A Receptionist is usually seated at the front desk or lobby entrance and helps greet and direct visitors when they arrive. A Receptionist also answers the main phone line for a company and transfers calls accordingly. Other tasks of a Receptionist include receiving mail or shipments, scheduling appointments for clients, cleaning reception areas, and assisting with other administrative tasks as needed.
# of job title searches per month: 6,200;Secretary: 2,000; Front Desk Agent: 500
Personal Assistant
A Personal Assistant, similar to an Executive Assistant, helps manage daily schedules and other administrative tasks. A Personal Assistant works side-by-side with one senior-level executive to ensure their calendar is up to date and their organizational goals are met. A Personal Assistant may also be responsible for assisting with personal tasks like scheduling doctor's appointments, or handling other family-related matters on top of coordinating administrative tasks for the organization.
# of job title searches per month: 2,800
Virtual Assistant
A Virtual Assistant provides a variety of services to businesses or business leaders from a remote location. A Virtual Assistant performs many of the tasks performed by an Executive Assistant, but may also act as a Personal Assistant and perform personal errands. Common tasks of a Virtual Assistant include:
Administrative Work (emails, scheduling, booking travel)
Personal Tasks (scheduling personal appointments, making personal purchases, booking personal travel)
Create Content (researching and creating blogs or business-related content)
Manage Finances (Monitoring budget and expenses)
Customer Service (Answering and directing calls)
# of job title searches per month: 500
Creative Job Titles for Administrative Assistant
Some companies look for fancy job titles for their admin roles. We found these other funny/creative job titles for Executive Assistants and Admin Assistants:
Captain of Multitasking (Assistant)
Chief Image Officer (Assistant in charge of making their Exec's image look great)
Executive Sherpa (Assistant)
Indentured Rockstar (Assistant)
Lead Enabler (Assistant)
Manager of Codependence (Assistant)
Manager of Office Operations (Administrative Assistant)
Scheduling Wizard (Administrative Assistant)
Workflow Guru (Administrative Assistant)
There are more examples of funny admin titles (including for Office Manager) here: 100+ Creative & Funny Job Titles [by Department & Position]
Thank you, Executive Assistant Titles Experts!
In addition to the sources cited above, special thanks to these experts on executive assistant titles:
Why I wrote this?
My Ongig team and I share this research on Executive Assistant job titles to help you optimize your own titles. This supports our mission to transform job descriptions. Check out Ongig.com to learn more.