Job descriptions (JDs) are often the first interaction with your company. And because first impressions last, it's crucial to use your best content when editing job descriptions.
Here 5 tips to try when you (or your team) creates JDs:
1. Use inclusive words
The Linguistic Society of America says inclusive language is:
"language that acknowledges diversity, conveys respect to all people, is sensitive to differences and promotes equal opportunities."
Using gender-neutral language, for example, ensures you attract more women to apply for your roles.
When editing job descriptions, inclusive language widens your reach to more qualified, diverse candidates.
Here are some examples of commonly used exclusionary words (based on race, gender, disability, ethnicity, etc.) and inclusive words you can use instead:
| | |
| --- | --- |
| Exclusionary Words | Inclusionary Words To Use |
| Chairman | Chairperson |
| Brown bag session | Learning session |
| guys | folks |
| Criminal background check | Background check |
| Maternity and paternity leave | Parental leave |
| Must be able to stand during the entire shift | Must be able to remain in a stationary position during shift |
| English native speaker | Fluent in English |
| he/she | they/you |
| Recent graduate/new graduate | graduate |
| blacklist | denylist |
| tribe | team members |
| Quick pow wow | meeting |
Sometimes, bias can still creep in no matter how much you try to weed out exclusionary terms in your JDs. Try using tools like Ongig's Text Analyzer to automatically scan your JDs for exclusionary words, so you can easily replace them.
2. Include salary information
While money is not the only thing candidates look for in a job, it plays an essential part in their motivation to apply.
Listing salary (or salary range) is a key part of JDs that many states (and municipalities) like California, Colorado, New York City, and Washington now require you to include when editing job descriptions.
Being transparent about salary not only attracts more candidates but also:
Saves you time and money. Listing salary in your JDs ensures your job seekers are happy with the compensation you offer.
Great for your company culture. Posting salary in your JDs emphasizes a transparent company culture –– another factor applicants look for when applying for a job.
It helps your JDs rank better on Google for Jobs. Salary range is one of the ranking factors in Google for Jobs, so listing it ensures your JDs rank better and are found by more candidates.
3. Use simple language (and remove jargon)
Research shows 38% of job ads contain jargon. This statistic is understandable, especially when you've worked in the same industry for a while.
Jargon or "corporate speak" becomes part of your daily language and often finds its way into your JDs. But, jargon is confusing, especially for entry-level candidates or job seekers wanting to move industries. When you are editing job descriptions, make sure to steer clear of acronyms as well.
Here are 8 common cliches that might hurt your JDs:
And here are 10 HR buzzwords that might hurt your JDs: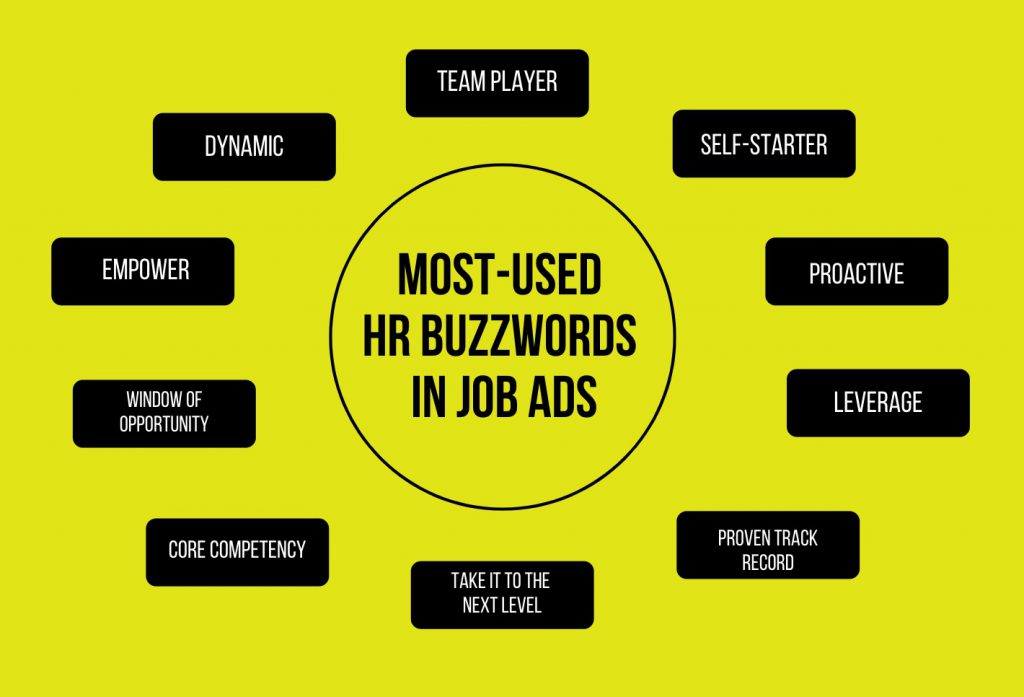 Instead of using these words, try to simplify your JD language. Be simple and specific.
For example, instead of saying you are looking for a team player, you can say, "We are looking for someone who has great collaborative skills and is willing to contribute ideas to the team."
4. Only list "essential skills"
A Hewlett-Packard study shows men generally apply for jobs where they meet 60% of the requirements, while women only apply if they meet 100%.
This statistic means women might only apply to your job ad if you list a few requirements (e.g., 7 or fewer). It's also off-putting to younger candidates still building up their skills and knowledge or neurodivergent candidates who may only apply if they meet all requirements on the list.
If your company is willing to train the candidates to acquire the necessary skills, list only the essential skills they need to start the job. A good start would be to remove "years of experience" from your requirements section. This is because a candidate's time on a job doesn't necessarily equate to their capability to fulfill the role.
5. Be empathetic in your DEI statement
When editing job descriptions, one of the most effective ways to show your company's commitment to DEI is to add your company's DEI statement. Instead of the usual boilerplate "We're an equal opportunity employer" (which is from the 1964 Civil Rights Act), you'll want to write something more empathetic. Custom statements powerfully convey your commitment to DEI.
Here's a great example of a custom DEI statement from Clover Health:
"We value diversity — in backgrounds and in experiences. Healthcare is a universal concern, and we need people from all backgrounds and swaths of life to help build the future of healthcare. Clover's technology team is empathetic, caring, and supportive. We are deliberate and self-reflective about the kind of team and culture that we are building, seeking teammates that are not only strong in their own aptitudes but care deeply about supporting each other's growth."
Their DEI statement is simple, easy to understand, and sounds sincere.
Why I wrote this:
Ongig's mission is to help make editing job descriptions easier. Our software helps you and your team create effective and inclusive JDs. Please request a demo to learn more.
Shout-outs: