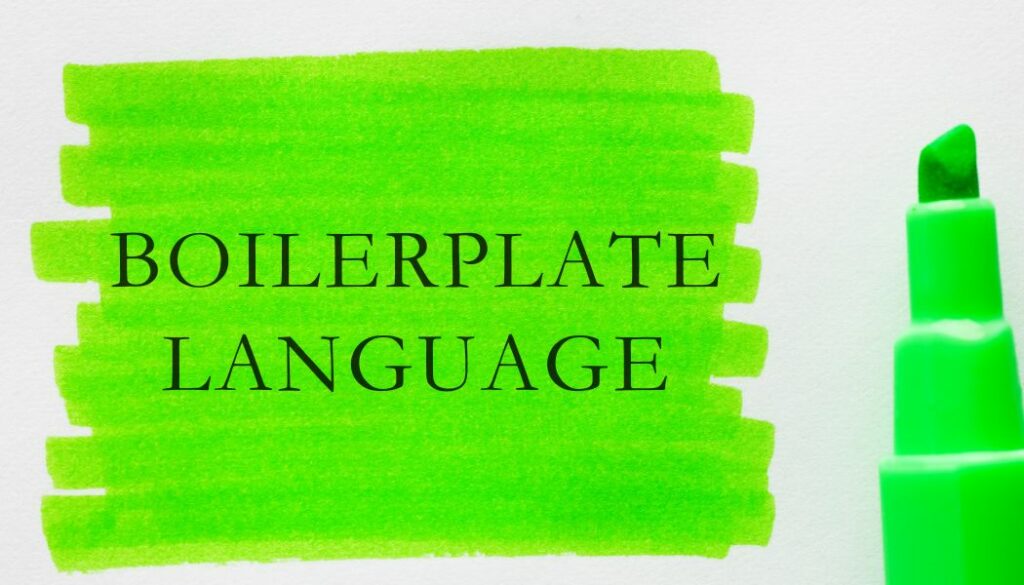 Boilerplate language helps you create job descriptions that are not only effective, but also consistent and legally compliant.
This article will discuss the different boilerplate language examples commonly used in job descriptions.
What is boilerplate language?
Boilerplate language is a uniform message that is usually part of standard documents like contracts. You can also find boilerplate text as a part of job descriptions.
You can benefit from using boilerplate in JDs because they:
Save time and money – you don't waste effort writing the whole job description from scratch. You just update job titles, job responsibilities, and qualifications, then reuse other sections for all company postings.
Provide legal protection – boilerplate text is often already reviewed and vetted by your company's legal team to prevent any legal problems down the line.
Ensure consistency – avoid potential irregularities from one job description to the next
Make job descriptions more attractive – offering information about the company, its goals, mission, policies, and benefits demonstrates how you value employees. Candidates are more likely to work with a company that shows career growth and opportunities too.
Boilerplate Language Examples for Job Descriptions
Using boilerplate language in job descriptions helps highlight standard sections for harmonization and consistency.
Here are a few boilerplate language examples for the different parts of your job descriptions:
"About Us" Boilerplate Language Example
Sometimes called "Company Overview," this section covers information about the company and its operations. It includes details of when it was founded, the types of products or services you offer, and if there are multiple locations.
To have a stellar About Us statement, start with your company's values. Show your size – company's revenue, number of employees, geographical locations. Increase your credibility by featuring the number of awards your organization received, the accomplishments, the number of customers, or the type of big-time clients you partner with.
Example: Intuit
"Intuit is a global technology platform that helps consumers and small businesses overcome their most important financial challenges. Serving more than 100 million customers worldwide with TurboTax, Credit Karma, QuickBooks, and Mailchimp, we believe that everyone should have the opportunity to prosper. We never stop working to find new, innovative ways to make that possible."
"EEO" Statement Boilerplate Language Example
EEO taglines are required by all U.S. federal contractors. Other companies use them too, even though it is not required.
It states your openness to hiring employees of all backgrounds (race, age, religion, abilities, gender, etc.). It is typically followed with a policy statement outlining your company's non-discriminatory practices.
Example: Visa
"Visa is an EEO Employer. Qualified applicants will receive consideration for employment without regard to race, color, religion, sex, national origin, sexual orientation, gender identity, disability or protected veteran status. Visa will also consider for employment qualified applicants with criminal histories in a manner consistent with EEOC guidelines and applicable local law."
"Salary" Boilerplate Language Example
Pay equity laws have mandated some states/cities to disclose salary information in their job ads. The salary range covers the minimum to maximum pay an employer offers candidates during recruitment.
Since the salary range varies depending on position, skills, and experience, you cannot have a boilerplate salary range. But, you can state your company's compensation philosophy, which explains how the company decides on the salary range.
Example: Rippling
"This role will receive a competitive salary + benefits + equity. The salary for US-based employees will be aligned with one of the ranges below based on location; see which tier applies to your location here.

Tier 1: $120,000 – $158,000/year

Tier 2: $108,000 – $143,000/year

Tier 3: $102,000 – $135,000/year

A variety of factors are considered when determining someone's compensation–including a candidate's professional background, experience, and location. Final offer amounts may vary from the amounts listed above."
"Perks and Benefits" Boilerplate Language Example
Perks and benefits are just as important as salary for recruiting and retaining good employees.
A Forbes Advisor survey revealed that 40% of employers say workers leave their job to find a job offering better employee benefits. And, 1 in 10 workers is willing to reduce their salaries to get better benefits.
Design your work perks and benefits list to attract top notch candidates and ensure they'll accept your job offer. You can refer to SHRM's Employee Benefits Survey for ideas.
Example: Blackrock
"To help you stay energized, engaged and inspired, we offer a wide range of benefits including a strong retirement plan, tuition reimbursement, comprehensive healthcare, support for working parents and Flexible Time Off (FTO) so you can relax, recharge and be there for the people you care about."
"Work Arrangements" Boilerplate Language Example
If your organization is unable to offer competitive salary and benefits package, you can offer flexible working arrangements, if the position permits. Flexible work is deemed the most valuable benefit in the SHRM's Employee Benefits Survey.
Example: Barclays
"We're committed to providing a supportive and inclusive culture and environment for you to work in. This environment recognises and supports ways to balance your personal needs, alongside the professional needs of our business. Providing the opportunity for all our employees, globally to work flexibly empowers each of us to work in a way that suits our lives as well as enabling us to better service our customers' and clients' needs. Whether you have family commitments or you're a Carer, or whether you need study time or wish to pursue personal interests, our approach to working flexibly is designed to help you balance your life. If you would like some flexibility then please discuss this with the hiring manager.

We are currently in the early stages of implementing a hybrid working environment, which means that many colleagues spend part of their working hours at home and part in the office, depending on the nature of the role they are in. Please discuss the detail of the working pattern options for the role with the hiring manager."
"DEI" Statement Boilerplate Language Example
While EEO and diversity statements may seem the same, they are different.
EEO means freedom from discrimination based on race, gender, ethnicity, and mental and physical disability. Meanwhile, the diversity statement discusses the organization's strategy and commitment to diversity, equity, and inclusion.
Example: General Motors
"General Motors is committed to being a workplace that is not only free of discrimination, but one that genuinely fosters inclusion and belonging. We strongly believe that workforce diversity creates an environment in which our employees can thrive and develop better products for our customers. We understand and embrace the variety through which people gain experiences whether through professional, personal, educational, or volunteer opportunities. GM is proud to be an equal opportunity employer.

We encourage interested candidates to review the key responsibilities and qualifications and apply for any positions that match your skills and capabilities."
"Our Mission" Boilerplate Language Example
Declaring your mission helps candidates understand the reason why the company exists and your primary objective of doing business.
It also clarifies company values so candidates can see whether there is a match between their values and your organization's. It's proven that matching company and candidate values results in higher employee engagement and retention
Example: Mastercard
"We work to connect and power an inclusive, digital economy that benefits everyone, everywhere by making transactions safe, simple, smart and accessible. Using secure data and networks, partnerships and passion, our innovations and solutions help individuals, financial institutions, governments and businesses realize their greatest potential. Our decency quotient, or DQ, drives our culture and everything we do inside and outside of our company. We cultivate a culture of inclusion for all employees that respects their individual strengths, views, and experiences. We believe that our differences enable us to be a better team – one that makes better decisions, drives innovation and delivers better business results."
How to Create "Custom Boilerplate Templates" with Ongig
Using Ongig's Text Analyzer software, clients have the ability to create "boilerplate" language sections that are easily applied to any job descriptions they're writing or editing.
Here is an example of sections our clients might already have approved language for (through their legal an/or communications teams):
These sections can be "locked" in the templates so they're not editable by hiring managers or recruiters, since they are already approved. These sections can also be scored and reviewed for bias, just like any other JD text that goes into the tool.
And users choose the order of where the sections appear in their JD templates:
Once the boilerplate sections are saved, when someone goes in to create a JD they can click on "Select Template", choose one of the custom boilerplate language templates and it will autofill the approved sections. See below:
Once the template is selected you will see the "locked" sections are already there (I blurred them to protect client company info) and then there's a blank area for "the meat" of the JD details:
Why I wrote this:
Creating boilerplate langauge sectons cuts down your recruitment time and effort so you spend more time on the important parts of the hiring process, like job interviews and drafting job offers. And Ongig can help you write customized boilerplates for your job descriptions. Please contact us for demo to learn more.
Shout-outs:
Employee Benefits in 2023 – The Ultimate Guide – Forbes Advisor
Employee Benefits 2022 Survey – SHRM
What is the difference between EEO , affirmative action and diversity? – SHRM