Who should write job descriptions in your biz? Some enterprise co.s have 17,000+ people writing JDs. Others have only a few who crank out 1,000s per week.
There are also what I call editors and approvers. These people on your team might not write full JDs, but they are part of the process — or give the final OK before job postings are published to your career site (and job boards).
There's no correct answer for who should write job descriptions. It all depends on your company size, workflow, and budget (if you plan to outsource it).
For example, if you look at the job title of the people using Ongig's job description software (source: a poll of 18,468 Ongig users on March 2022), they include:
Hiring Managers
Recruiters (including Recruiting Assistant)
Talent Acquisition (Head/VP, Talent Acquisition Manager)
Diversity Team (Head/VP, DEIB Assistant, DEIB Consultant)
Recruitment Marketing (VP Recruitment Marketing, Recruitment Marketing Consultant)
Employer Branding (EB Manager, EB Consultant)
HR & Comp (Compensation Managers, HRIS Managers)
Depending on the size of your biz (and your job description writing process), writers, editors, and the approvers might all fit into one of the categories above.
The Writers
Here are 5 example scenarios of who writes job descriptions (more on the editors and approvers later).
1. A Combo of Hiring Managers and Recruiters
A Fortune 600 company (with 15k+ employees) has a combo of recruiters and hiring managers who write job descriptions. This is probably the most common scenario. These JD writers focus on one department or function (e.g., Sales, Marketing, Engineering, etc.).
In some companies, hiring managers OR recruiters create job descriptions instead of both. We usually see this in SMBs or SMEs.
If you're the person who writes job descriptions for your company, you might use Ongig to start writing from scratch. You can easily log in, click "New Job," and start typing. Or, create custom templates for your department to speed up your JD workflow:
Note: If you log in as a hiring manager or recruiter, you'll find JDs for your department only. Or job descriptions that are assigned to you as an "Editor."
2. The Diversity Team
In some co.s, the Head of Diversity & Inclusion (or someone on a DEIB committee) writes job descriptions with an inclusion lens — to make sure JDs are bias-free.
This is another common scenario from SMBs up to the enterprise level.
Ongig customers use our software to find gender-coded words and other exclusionary words in JDs that might exclude talent from underrepresented groups: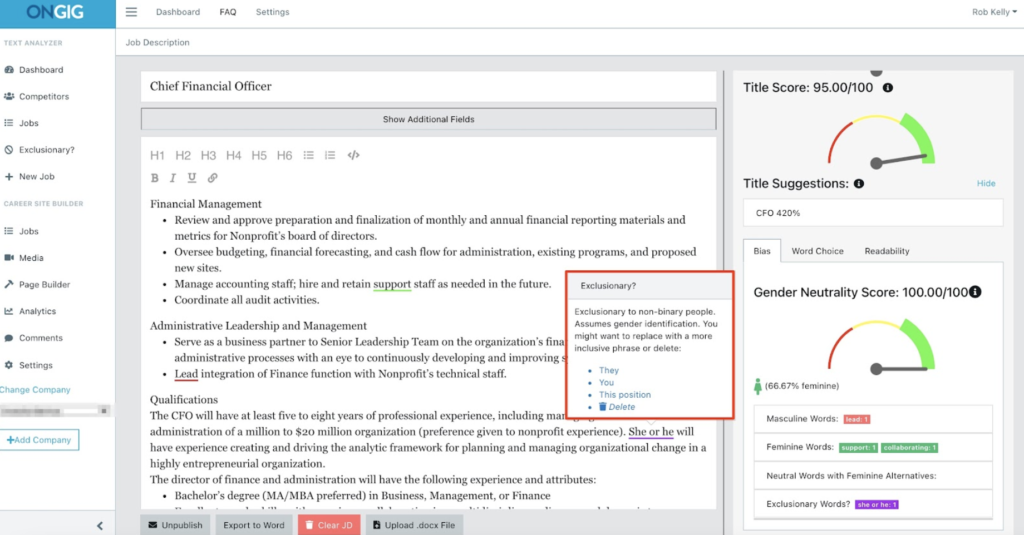 In some cases, instead of actually writing JDs, the Head of D&I might also be an editor or approver. This way, they can scan JDs to ensure they're inclusive before posting.
Sean Cervera from SimpleHealth (formerly at Curology) is a great example of a Head of DEIB who finds value in writing job descriptions with a diversity lens.
Note: You don't have to be the Head of DEIB to review JDs for bias. Any job descriptions loaded into Ongig are scanned for exclusionary language and gender neutrality (whether you're a writer, editor, or approver). And, if you create JD templates, they're scanned for bias too!
3. Employer Branding & Recruitment Marketing
Many companies hire Employer Branding or Recruitment Marketing consultants to create job descriptions.
Some large co.s (e.g., ADP, TikTok, Xerox, Peleton) are lucky enough to have employer branding teams. They often, for example, write job descriptions in template format for 80% of their roles. This way, they capture key sections and use a consistent voice across the board. Once the templates are set, hiring managers and recruiters use them to post jobs fast, and at scale.
Large co.s might also have a Recruitment Marketing team who pick software tools to make all this happen.
Or…they might hire recruitment marketing content specialists like Katrina Kibben from Three Ears Media and others who specialize in writing great job descriptions.
Either way, having a place to store your job descriptions and templates is key. This will save your team loads of time when it comes to posting a new role.
4. The Compensation Team
The compensation team often writes job descriptions, especially for federally regulated companies. For example, medical device or pharmaceutical company comp teams are who writes a job description based on regulatory requirements. Or they might have the final stamp of approval before new roles are posted to ensure they are compliant.
After the comp team creates a job description, it gets passed on to the recruitment marketing or talent acquisition team to "spice it up" before posting it on a job board or career site.
The compensation team ensures job descriptions aren't missing important salary bands, job codes, or required skills. And the TA team ensures the JDs are written in a way to attract top talent.
Once job descriptions are written, you can store them in Ongig's cloud-based repository: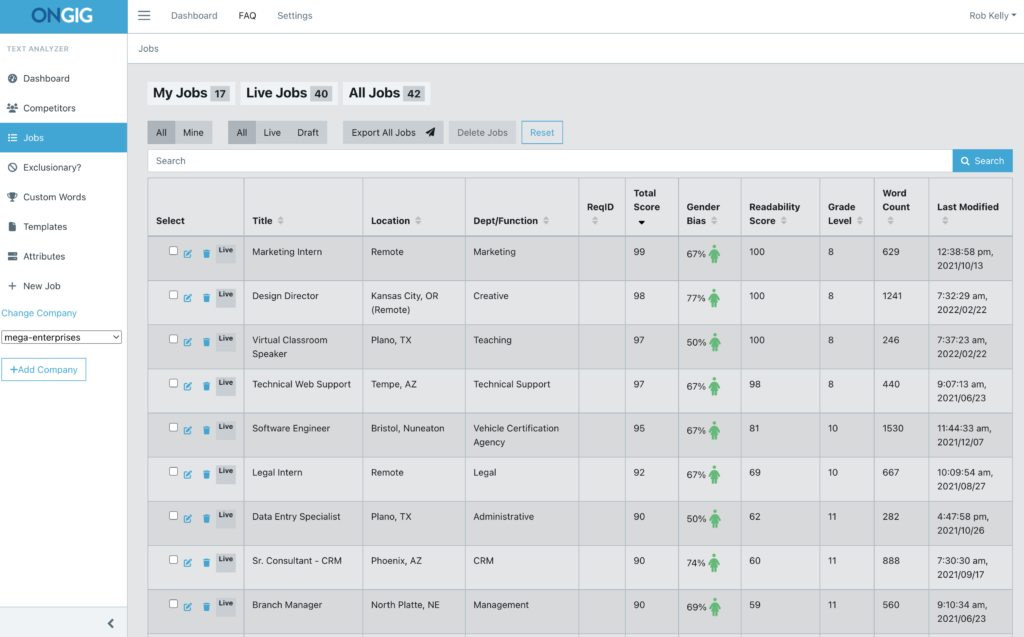 Some hiring managers and recruiters use internal job descriptions (from their comp team) as guidance for creating job postings or job ads for LinkedIn, Indeed, or other job boards.
Note: Here's a great blog on the difference between a job description, job posting, and job ad.
5. A Staffing Company
The above examples are mostly direct employers. Staffing companies can be a bit different due to their job volume. For example, one of Ongig's staffing customers has to post 500 jobs a day. They use 50+ custom JD templates to write and post their jobs.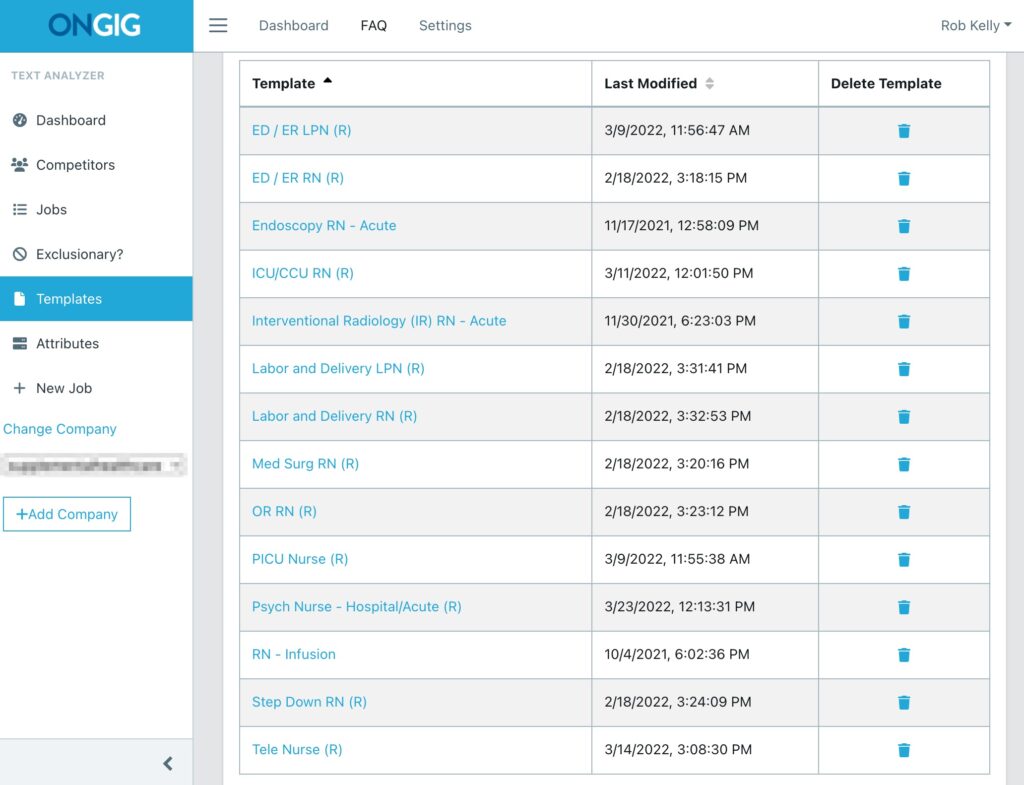 In their case, Ongig's software integrates directly with their custom applicant tracking software (ATS).
Who Writes Job Descriptions in Ongig? [user types]
In Ongig, you can easily assign roles to who is responsible for writing job descriptions (or editing/approving them). Here are some examples and basic user roles and permissions for each type.
| Examples of who writes job descriptions | Common user roles for JD Writers/Editors/Approvers | Examples of user permissions in Ongig |
| --- | --- | --- |
| Hiring Managers, Recruiters, HR Advisors, DEIB Team | Editor (AKA the JD writers) | Upload/Edit/Write Assigned JDs, Export JDs to Word/PDF/HTML (or ATS if approved) |
| Heads of Talent Acquisition (TA), TA Managers | Editor Plus/Administrator | Upload/Edit/Write JDs, Export JDs to Word/PDF/HTML/ATS, View/Edit JDs by Department, Location, User |
| HRIS Managers, Compensation Managers | Auditor | Review JD drafts and give final OK to publish to HRIS, ATS, HTML, or other formats |
Note: Some of Ongig's Fortune 1,000 clients use Single Sign-On (e.g., Okta) to make their login process more seamless and secure.
The Editors and Approvers
Once JDs are written by the "Writers," they'll send a draft to "Editors" and "Approvers." JD editors and approvers are often Heads of Talent Acquisition (TA), TA Managers, Heads of D&I, HRIS Managers, and Compensation Managers.
They review JD drafts to ensure they meet company standards and aren't missing key sections that help increase apply rates (e.g., salary information, mission statement, or DEI commitment).
Ongig uses AI to help these folks find any missing sections in the "Section Finder" feature: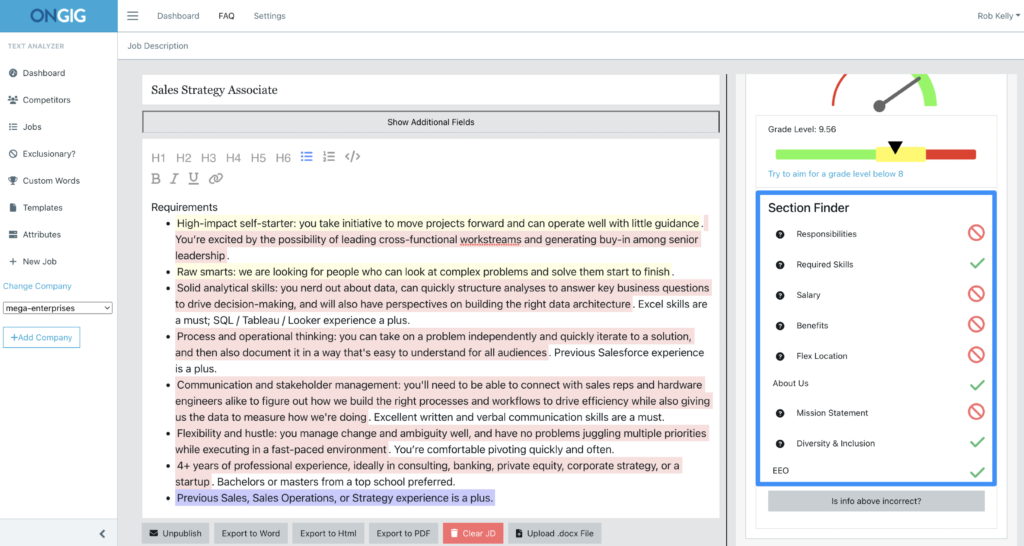 In Ongig, there's also an "Auditor" view, where JDs are marked as "Well-Written" with a black checkmark. This means the JDs are approved and ready to sync with an ATS/HRIS: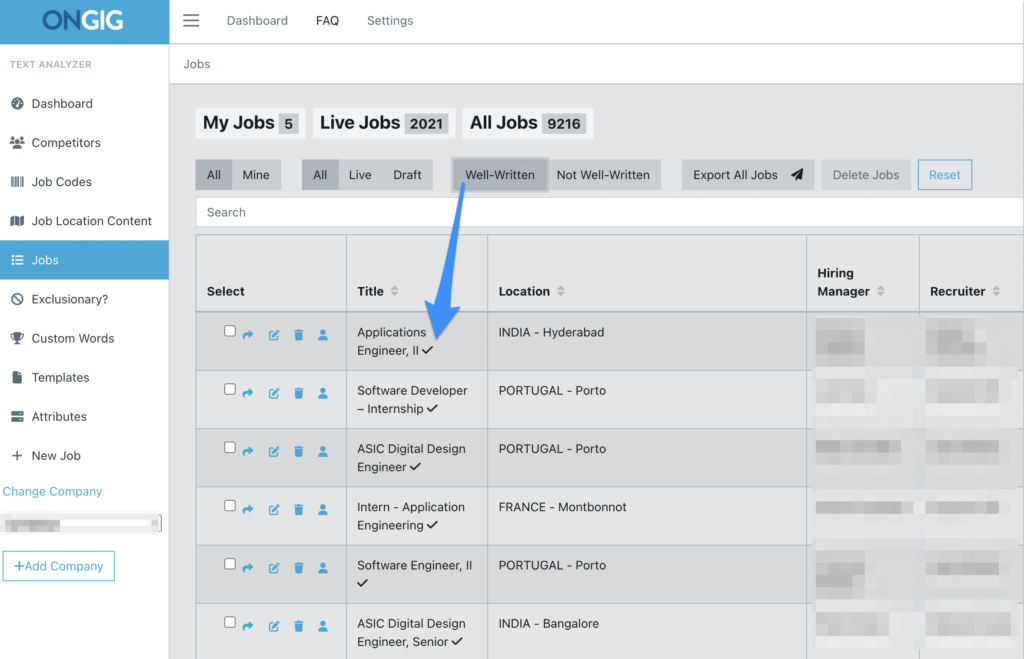 No matter who's responsible for writing job descriptions in your company, creating a workflow helps you with consistency. And saves you time. And user permissions help you keep track of who edits (and approves) your JDs before they go live on your career page.
Why I wrote this?
Ongig's mission is to create effective and inclusive job descriptions. Deciding who creates a job description is one step. Please request a demo to learn more about how you can create a cloud-based JD workflow, with user permissions.