Using sexist language in your job ads might keep women or people from the LGBTQ+ community from applying.
These 3 tools highlight sexist language in your job ads…and give options for replacements, so you can be more inclusive. The best part, while they find sexist language (or other biased words), they also help you craft job ads encouraging diverse talent to apply.
1. Ongig
Ongig scans your job ads (or other hiring content) and flags phrases considered "exclusionary" based on:
sexism gender bias
sexual orientation
race
ethnicity
elitism
age
disability
neurodiversity
mental health
veteran status
and more!
When Text Analyzer reviews your job ads, it underlines words and phrases with exclusionary or sexist language. And, gives suggestions for more inclusive language.
One of the most common sexist language mistakes in job ads is personal pronouns. Using "he or she" assumes gender identification and is exclusionary to non-binary people. Here's an example pop-up with inclusive replacements in Text Analyzer: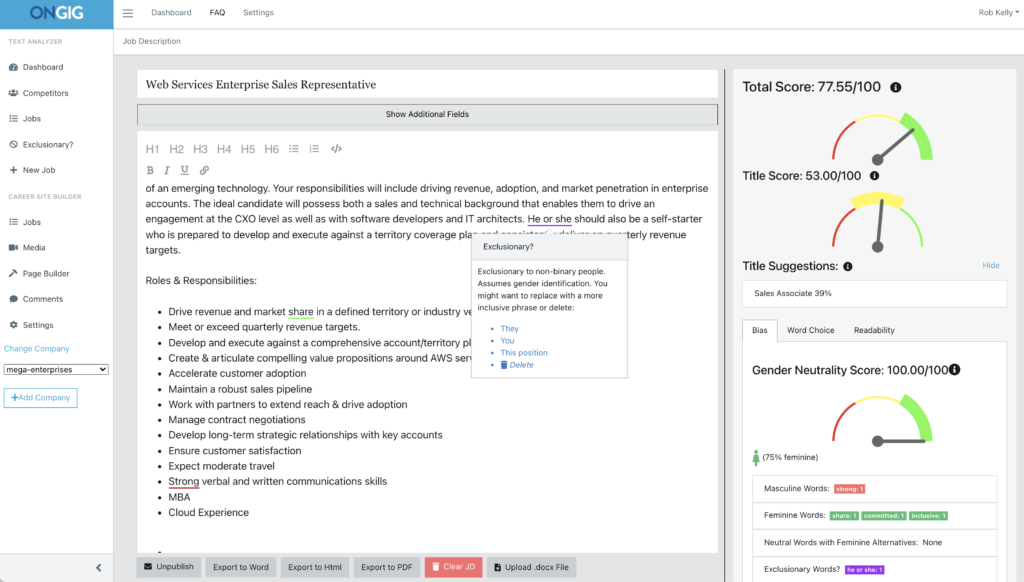 Another example of sexist language is "spokesman" or "spokeswoman". The word "spokesperson" is more inclusive to all genders (and less sexist):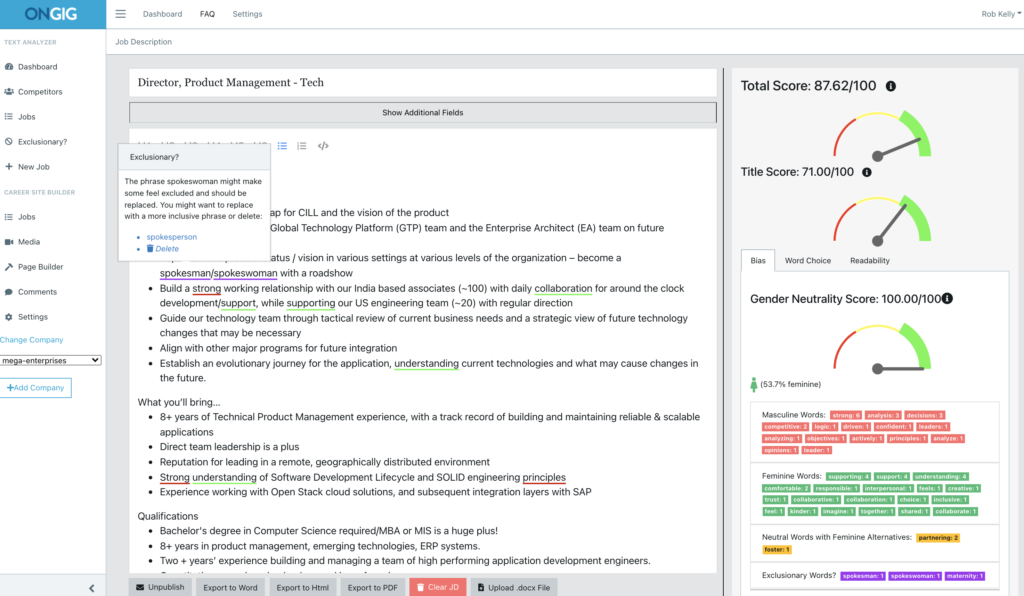 Ongig works for SMBs to enterprises with many users (recruiters, hiring managers, talent acquisition, diversity teams, etc.) Enterprise pricing for unlimited users starts at $11,900 a year. You can request a demo to learn more.
2. Applied
Applied works a lot like Ongig's Text Analyzer tool. It highlights any gender-coded words in your job descriptions or other written content. You can copy and paste your JDs into Applied (or type directly in their editor), and the system alerts you to any sexism gender bias in your writing.
Applied provides an "Inclusion Score" and further examines your text by:
Gender coding
Feminine words (such as she, her, or hers)
Masculine words (such as he, him, or his)
The higher the score, the less sexist language is in your writing. A score of 100 means your JD is gender-neutral: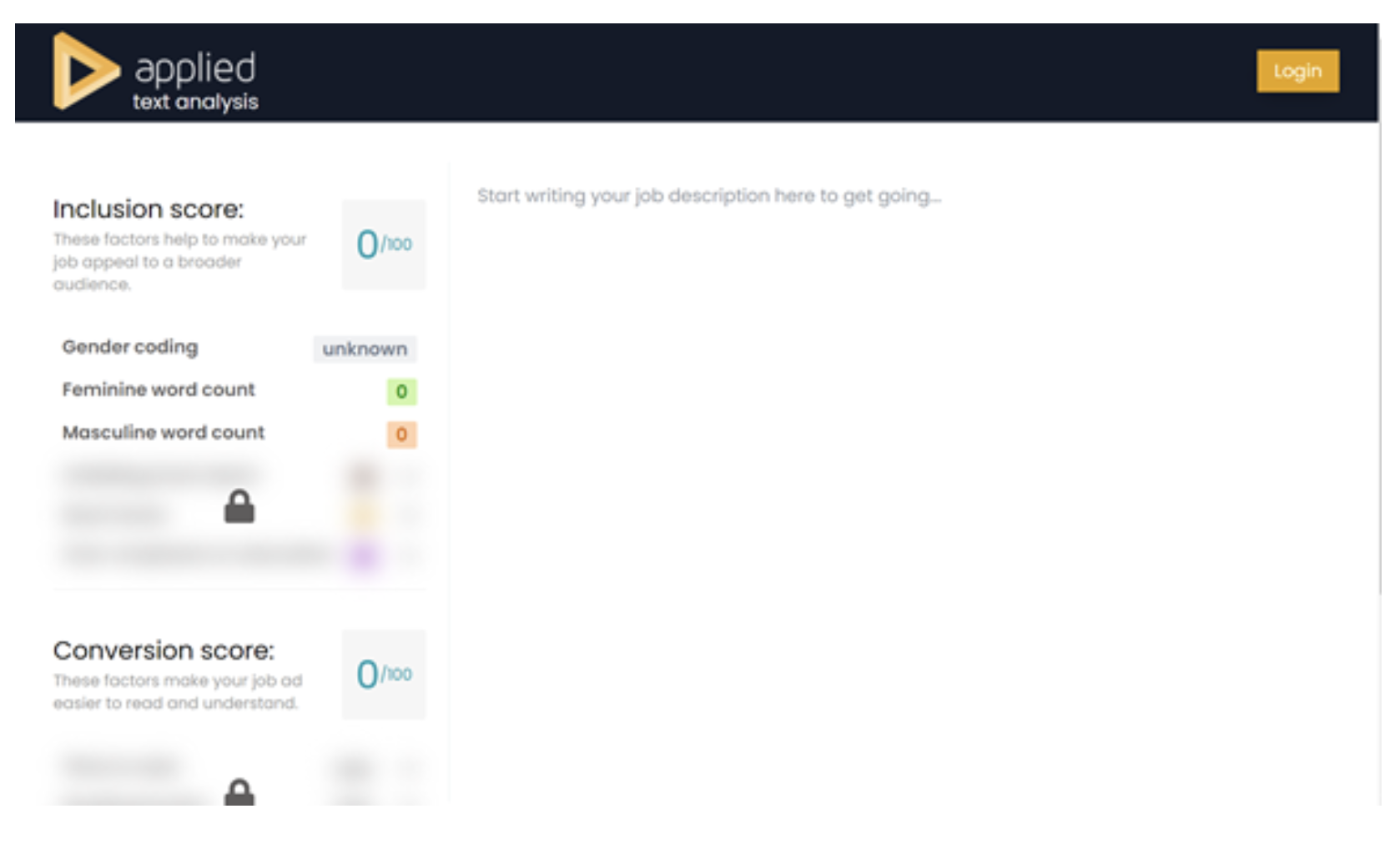 Applied has a free version, but it doesn't offer as much information as their paid plan. You can request pricing to learn more. 
3. TalVista
TalVista's tool helps you uncover sexism gender bias in your job ads, and finds other non-inclusive words.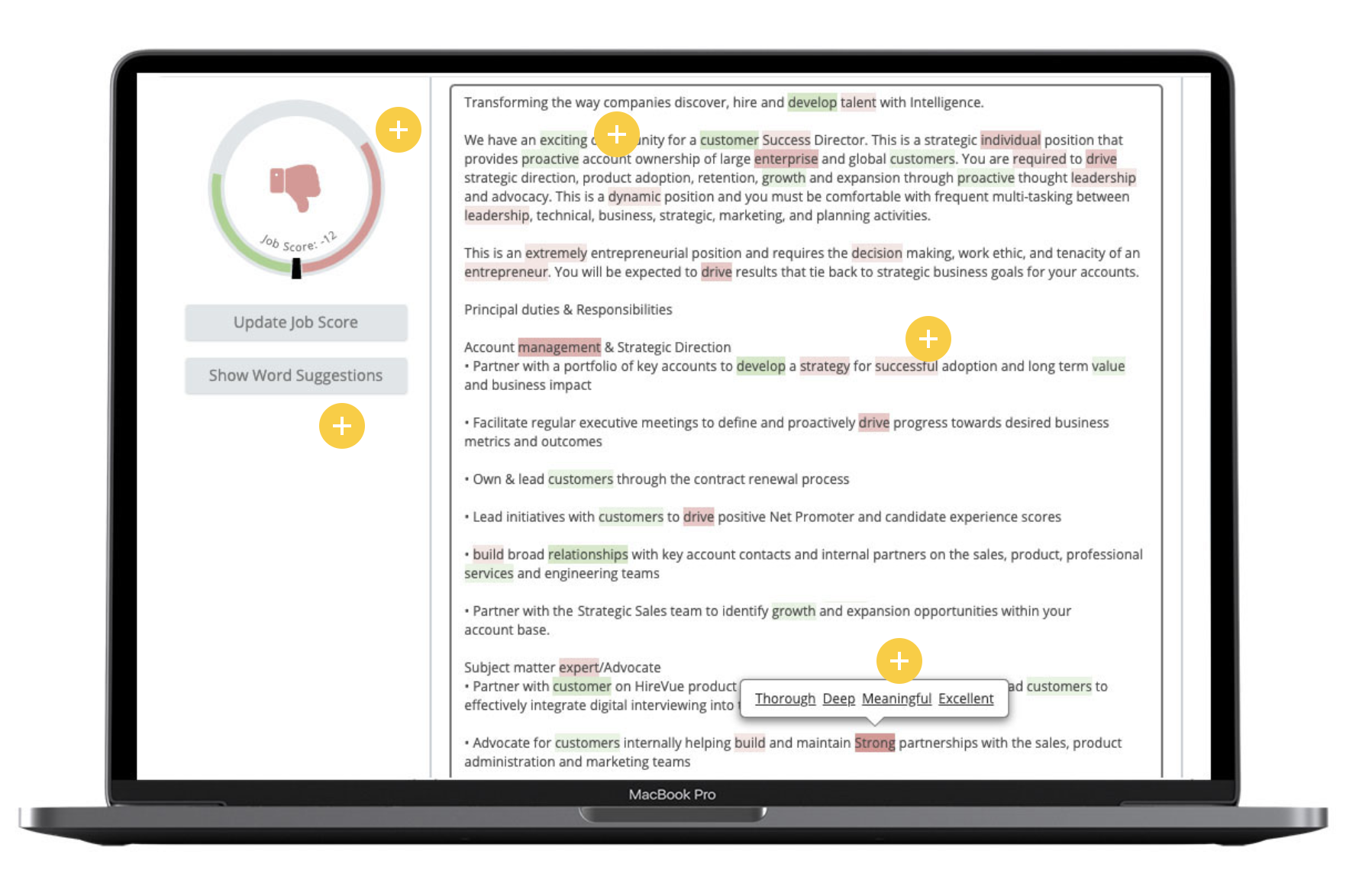 TalVista highlights sexist language in your JDs so you can replace it with more inclusive wording. The real-time feedback in the editor helps you write inclusive job ads that attract underrepresented candidates.
Talvista's pricing starts at $5,000/year based on hiring volume and the # of users. Reach out to Talvista for pricing details.
Note: You can find some other tools to remove sexism in writing job ads here: 5 Easy-to-Use Tools for Gender Writing Analysis.
Why I Wrote This?
How you write your job descriptions matters. This includes eliminating sexist language. Ongig's mission is to help you create effective and inclusive JDs so you can hire diverse talent. 
Shout-Outs:
Feature image (by Sharon McCutcheon)