Are you trying to hire more diverse candidates? A good place to start is revamping one of the first things candidates see during their job search…your job ads. If they're bad, you might miss out on some great talent.
Here are 6 tips on how to make your job descriptions more inclusive (and effective):
1. Use a simple, easy-to-understand job title
A great place to start is with simple, familiar, and specific job titles — they're easier for everyone to understand. Simple job titles are more searchable too.
Many job seekers get confused if you try to be catchy (or creative) by calling a marketing specialist a "guru" or "ninja."
And, "guru" or "ninja" might be culturally inappropriate (or offensive) to Asian applicants. Plus, older candidates might be turned off from applying if they think you're only hiring younger candidates.
When choosing a job title, ask yourself "does this title makes sense for the role I'm hiring."
2. Write in a conversational tone
Writing your JDs in a conversational tone connects with more candidates. Write like you're explaining the job to your friend. But be careful not to sound too casual. You don't want applicants to question if your job is legit.
Try using words that aren't too technical, and be specific. And, short sentences (or paragraphs) with enough spacing in between make your JDs more readable (especially on a mobile device).
A best practice I follow is to aim for an 8th-grade reading level. Tools like Hemingway, Grammarly, and Ongig help with this.
Improving readability is great for everyone but also makes your JDs easier for neurodivergent candidates (e.g., someone with dyslexia) to read.
Note: You can find more tips on hiring neurodiverse people in Neurodiversity: The Definitive Guide.
3. Remove exclusionary words and phrases
If you use inclusive language, you show applicants your commitment to underrepresented groups.
For example, using "maternity leave" instead of "parental leave" might make someone who is gender non-binary feel offended (or excluded).
Or using a phrase like "native English speaker" might make someone who speaks English as a second language feel left out. Using something like "fluent in English" is a more inclusive option.
Tip: Try using tools to help you write more inclusive job descriptions. They automate the JD writing process, saving you time. For example, Ongig flags exclusionary language in real-time and gives you more inclusive replacements: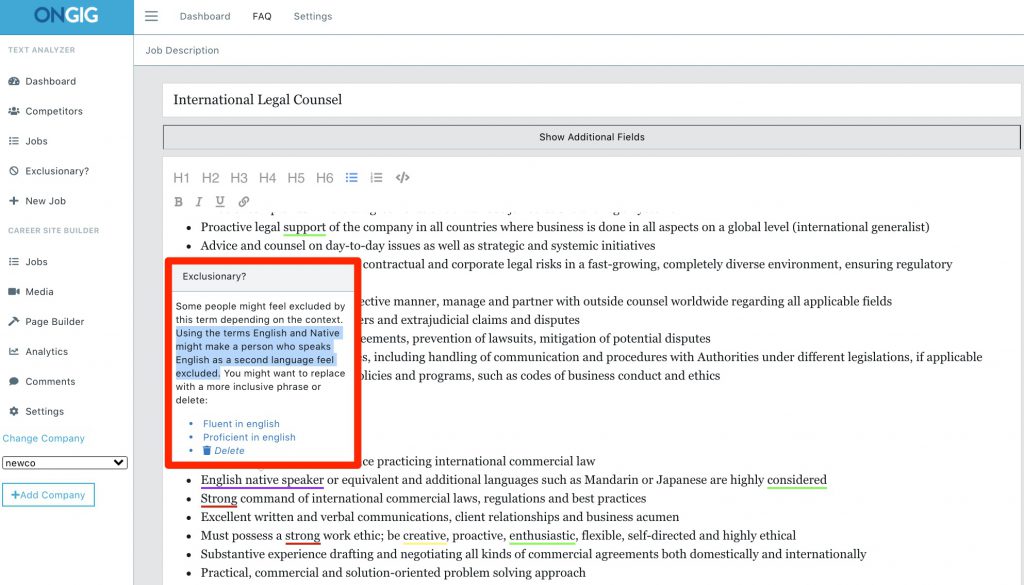 4. Be brief (and clear) on requirements and responsibilities
Be brief and clear when you're writing your JDs. Try not to have extra long lists of responsibilities or requirements, especially if you want to hire more women.
I've found most women apply only to jobs in which they meet 100% of the requirements.
And:
"69% of candidates believe 8 or more role responsibilities (the day-to-day tasks of the role) in a job ad would serve as a deterrent to applying."

source: SEEK
Long lists of requirements might also deter candidates with a neurodiversity. For example, someone with autism might not feel qualified to apply if they don't meet every requirement on your list. Or if the "daily duties" are unclear, they might view them differently than you. Be literal…what will this person do, who on the team will they work with, etc.
5. If being "inclusive" is important, say it
If your company is committed to being inclusive, make sure you say it in your JDs. Many co.s include a DEI statement at the end of their JDs, and on their career site, in case candidates are clicking around both.
Here's how HubSpot shows its commitment to diversity and inclusion:
"We're passionate about building a culture of belonging. We aspire to create a workplace where everyone feels at home. Our diversity programming in HubSpot HQ includes active employee resource groups like People of Color at HubSpot (POCaH), LGBTQ+ Alliance, ParentSpot, and Women@HubSpot. Beyond programming, our office space is designed to help everyone do their best work with facilities like mothers' rooms, a meditation room, a nap room, a fitness center, and flexible spaces."

(source: HubSpot Careers)
If you want to write (or rewrite) your diversity and inclusion statement, here are some great examples for inspiration: 25 Examples of Awesome Diversity Statements.
6. Include a salary range
Most job ads don't include salary details. But they should. It's the #1 thing candidates look for in job ads.
And, pay transparency is key if you want to hire more women or people of color.
A study by the American Association of University Women found women with full-time jobs in the U.S. are paid 83 cents to every dollar earned by men. The salary discrepancy follows into retirement – they receive less in pensions and Social Security. In terms of overall retirement income, women have only 70% of what men do.
Salary transparency draws in underrepresented job seekers because you're sending a message that your company values pay equity.
Why I wrote this?
Part of Ongig's mission is to show you how to make job descriptions more inclusive. Ongig's software ensures your job descriptions are free from gender, race, disability, age, LGBTQ+, or other biases. And, helps you improve readability too. Please request a demo for more information.
Shout-outs:
What candidates look for in a job ad (by SEEK)
Why Women Don't Apply for Jobs Unless They're 100% Qualified (by Tara Sophia Mohr)