75% of organizations say DEI is one of their top priorities, but only 38% of companies successfully build an inclusive culture. Why? Most organizations fail to set up diversity and inclusion metrics to help measure their success.
This makes it hard to prove to your stakeholders the importance of investing in DEI in the workplace.
In this post, we'll dive into 8 diversity and inclusion metrics you should track. Here's a summary of them before we dive in:
recruitment
employee satisfaction
employee retention rate
representation
employee promotion
accessibility
pay and benefits
mentorship programs
What are diversity and inclusion metrics?
Diversity and inclusion metrics refer to both qualitative and quantitative measures.
Quantitative meaning the numerical values. For example, the total percentage of women and men represented in an organization.
And qualitative data are insights into how workers feel about the workplace (e.g., whether it's inclusive, safe, or toxic.)
Diversity and inclusion metrics enable you to get important insights into the groups making up your entire workforce. And, inclusion metrics help you assess your progress to know where you can improve.
Here are 8 examples of DEI metrics to measure for success:
Recruitment Metrics for Diversity & Inclusion
When evaluating diversity in your company's recruitment process, focus on tracking the representation of underrepresented groups in your hiring funnel and using the right hiring technology to prevent unconscious bias.
For example, you can use Ongig's Text Analyzer to easily find biased words in your job descriptions so you can replace or remove them. Doing this creates more inclusive job descriptions that can boost your apply rates (aka diversity and inclusion metrics).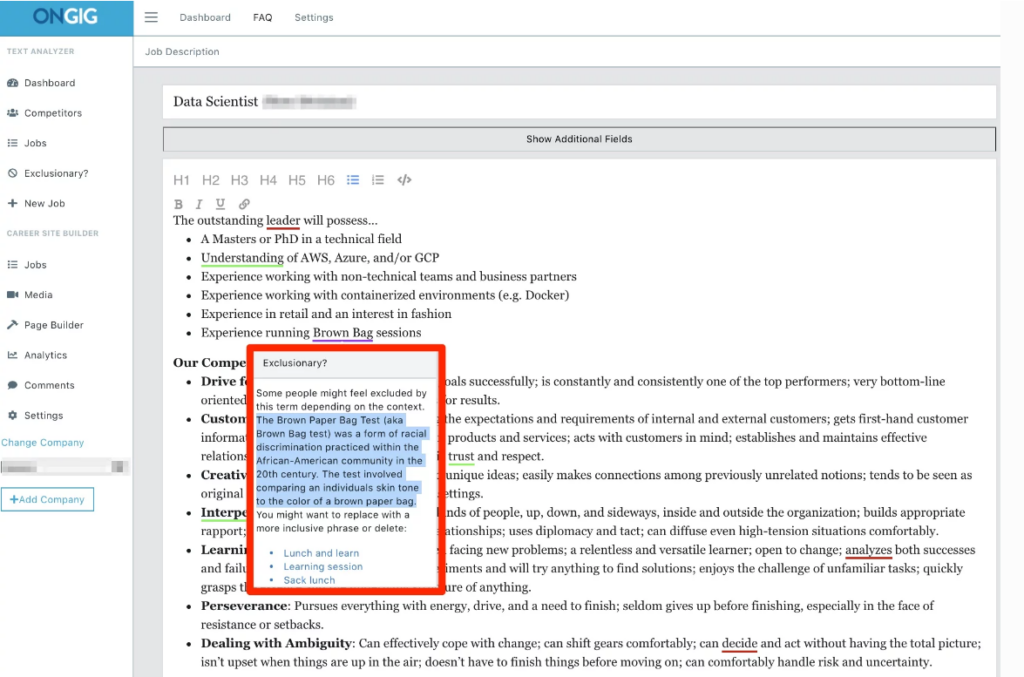 Having a diverse hiring panel also supports boosting your diversity recruitment metrics. If candidates come in for interviews and find people like themselves on the panel, they are more likely to feel a sense of inclusion and belonging.
Matthew Ramirez, CEO of Rephrasely, says:
"Our hiring and interview processes include a diverse hiring panel, trained on DEI which makes it easy to hire workers from different backgrounds, gender, and ages. Each of these groups has a specific and unique value, as well as a different point of view on our services. It's essential for us to get a balanced representation of them.

We also track the number of hires from each group, so we can see how we can hire more employees from the 'left-out' group. This is important not just as a way to measure our success, but because it also helps us realize what we're doing wrong so that we can fix it."
Paying attention to the factors above will help you review your recruitment process. You'll get to know what type of candidates are applying, getting to the interview stage, and being offered positions.
Diversity and Inclusion Metrics for Employee Satisfaction
Your employees' satisfaction directly relates to how safe and comfortable they feel at work. Job satisfaction metrics might come across as difficult to measure, but there are a few methods you can implement:
By using the above methods, you may find that your underrepresented employees are performing poorly because of discrimination or unfair treatment at work.
Employee Retention Rate Metrics for Diversity and Inclusion
Employee retention can tell whether your workplace is toxic or inclusive. If your hiring process helps you hire employees from underrepresented groups, that's great. But your gains are in vain if you have a high turnover rate with these groups.
Monitor your retention metrics to learn:
which underrepresented groups are leaving
the time it takes for them to quit
their reasons for leaving
You'll learn which areas to address in your equity and inclusion efforts from your research.
Allan Stolc, CEO of Bankly, says:
"The average employee tenure is a critical diversity and inclusion metric.

For instance, we leverage average employee tenure to identify if our workplace culture suits everyone regardless of gender preference. Through this, we have found that our environment is more conducive to male employees because they tend to stay longer than female employees.

As a response, we have implemented DEI initiatives like menstrual leave policies to reassure women that our organization understands their unique needs. This has been a game-changer for us because we've noticed that our female employees are now at almost the same level as their male counterparts in terms of tenure."
Diversity Equity and Inclusion Metrics for Representation
When workplaces have leadership from diverse backgrounds, it gives future employees hope that success isn't for a specific type of group.
I talked to Peter Hoopis, the CEO of Hoopis Group to learn how he measures representation. He said:

"Measuring representation tells us the percentage of our employees belonging to different demographic groups, such as gender, race, ethnicity, age, disability status, and sexual orientation.

We collect demographic data when onboarding new employees and update our database regularly through anonymous surveys since the circumstances of some workers can change. For example, a divorce or death of a spouse may change a female employee's standing from being married to that of a single mother.

We calculate representation by dividing the number of individuals in each demographic group by the total number of employees or members. After calculating representation, we set goals for improving diversity and inclusion in areas where underrepresented groups are not proportionately represented."
Creating a process like Hoppis Group's to monitor representation metrics can help guide your DEI goals and strategies each year.
Employee Promotion Metrics for Diversity and Inclusion
McKinsey research shows it's easier for White people to advance in careers than Black and Asian people. And, 86 women get promoted compared to 100 men being promoted.
To determine if your company has inequality in promotions and career advancement options, monitor promotions for diff (e.g., race, educational background, gender, and educational background).
Also, monitor the time it takes for these groups to get promoted. Once you have a better picture of employee promotion metrics in your biz, you can create career advancement opportunities for diverse employees to increase their morale and engagement.
Diversity and Inclusion Metrics for Accessibility
Is your organization accessible to all employees? To measure your accessibility efforts, ask these questions: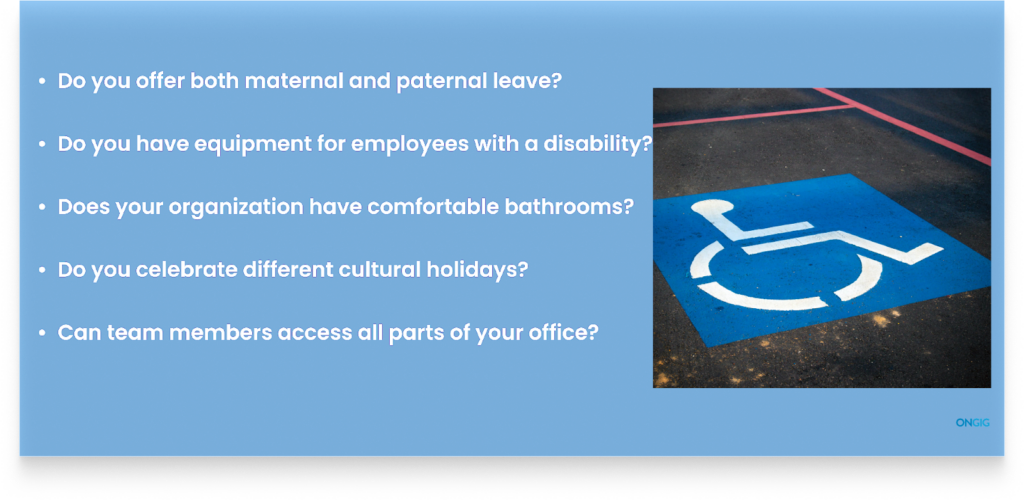 Here are a few other questions you might ask from the US Department of Labor :
Is your organization using accessible technology?
Is the employee's assistive technology up to date?
Is the content that people with disabilities are expected to interact with accessible when using assistive technology?
Have my staff been trained on accommodating their disabled peers?
These questions help you monitor and analyze data to ensure your company is accessible to underrepresented groups.
Pay and Benefits Metrics for Diversity and Inclusion
One way to retain your team members (and keep them happy) is by offering equitable salaries and benefits.
Review your pay and benefits metrics to understand if there are groups who aren't getting paid their worth.
Which groups get professional development to advance their career?
Which groups get the highest salaries?
If there are employees who aren't getting any of those benefits, start making changes to correct this problem. This will help you build a more equitable business.
Diversity and Inclusion Metrics for Mentorship Programs
Research from McKinsey shows that 67% of employees don't have a mentor in their company, even though 87% of organizations have "mentorship programs."
Evaluating and measuring how your mentorship programs are accessible to all your workers is a good way to monitor your inclusion metrics.
To measure the effectiveness of these programs, measure the total number of hours mentees spend with mentors. After that, check how mentees advance in their careers through mentorship programs.
With mentorship in your DEI program, you have a higher chance to:
create an inclusive workplace
achieve your inclusion goals
increase the representation of underrepresented groups in leadership
WHY I WROTE THIS:
Ongig's mission is to support your commitment to creating an inclusive workplace with our Text Analyzer software. Book a demo today to learn how we can help you boost your diversity and inclusion metrics.
SHOUT-OUTS: