Disability bias creeps into your company without you even knowing. Here are 4 tips on how to avoid disability bias in hiring (and beyond).
1. Remove disability bias in job descriptions
Do a quick search on Indeed or LinkedIn, and you'll find disability bias examples in 80% of job postings. The good news is there's an easy fix. Software like Ongig's Text Analyzer helps remove bias in job descriptions, so you're more inclusive of the disability community.
Here's an example of physical disability bias in a job posting for a retail employee: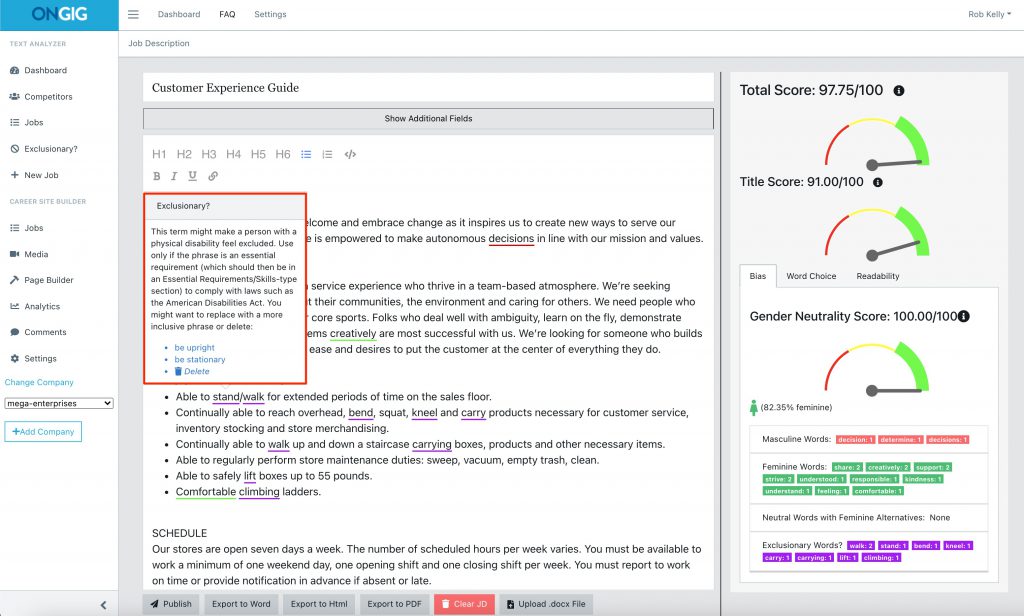 Using words like "walk," "stand," or "lift" might exclude (or offend) people with disabilities. Try replacing them with words like "move," "be upright," or "hold" instead. If these are essential requirements, say that in your JD, so you are compliant with the Americans with Disabilities Act (ADA).
Disability bias also affects neurodiverse candidates. Using complex words, extra-long sentences, or long lists of essential requirements might deter someone with autism or dyslexia from applying.
"Many people with [neurodiversity] disorders have higher-than-average abilities; research shows that some conditions, including autism and dyslexia, can bestow special skills in pattern recognition, memory, or mathematics. Yet those affected often struggle to fit the profiles sought by prospective employers."
Note: You can find more tips on hiring neurodiverse people in Neurodiversity: The Definitive Guide.
2. Design interviews to avoid disability bias in the hiring process
People with disabilities might need a flexible interview process. For example, if you are interviewing someone in a wheelchair, be sure to choose a room that is wheelchair accessible. Other things to consider are:
will the candidate need a quiet place for the interview?
is an interpreter joining them?
will they have a service animal?
Since COVID-19, many interviews have gone virtual. This adds a new level of accommodation for people with disabilities (physical and neurodiversity-related).
Rob Enslin, President of Cloud Sales at Google, says:
"The typical job interview process often puts an autistic applicant at a disadvantage because there are no accommodations—such as extending the interview time or answering questions in a Google Doc rather than verbally over the phone—with which the candidate can use to showcase their strengths."

source: Forbes
Here are some other ways to make virtual interviews more accessible (and disability bias free):
ask the candidate what time of day is best for them (when they are most focused
use a platform with sub-titles or captions
ask attendees to mute their mics if they aren't talking to limit distracting noise
give candidates time to gather thoughts, write notes, and answer questions
use an external mic for better sound quality
Note: My blog on 10 Tools for Eliminating Racial Bias might also give you some ideas for removing disability bias pre-interview (e.g., blind hiring and skills-based quizzes).
3. Host ADA training for employees
Under the Americans with Disabilities Act (ADA), it's illegal to discriminate against a person based on their disability.
"In 2020, there were 24,324 charges of disability discrimination filed through the Equal Employment Opportunity Commission (EEOC)—making up 36 percent of all charges of discrimination."

source: SHRM
ADA training for employees helps your company be inclusive of the disability community (and avoid being sued). Here are some topics to cover if you create your own training:
offering reasonable accommodations (starting from the application process)
making assumptions about a candidate's capabilities (it's not appropriate in hiring or post-hire)
how to discuss "essential" physical or mental requirements (note: it's not acceptable to only ask people with a disability if they can perform a task)
how to handle mental health (concerns about mental health are not an auto-disqualifier for a job)
questions not to ask during interviews (don't okay ask if someone has a disability or personal questions unrelated to the ability to do the job)
You can also use online training like Don Phin's Hiring, Managing, and Separating from Employees — The American with Disabilities Act (ADA) from LinkedIn Learning. Don is a Certified eSpeaker, strategist, and coach. His ADA training for employees is just one of many disability webinars. Some are free, others come with fees. So you might need to account for training costs in your D&I budget.
Note: EARN (Employer Assistance and Resource Network on Disability Inclusion) hosts training webinars on disability bias and accommodation at work. And, their website is packed with employer resources.
4. Partner with orgs that support the disability community
Partnering with orgs like Ablr, Disability:In, WorkWithoutLimits, or The Ability People can help you remove disability bias from your biz. They offer things like:
ADA training for employees
accessibility testing
disability inclusion in the workplace training
accessible events and meetings checklists
neurodiversity at work programs
interviewing tips for people with disabilities
access to a community of disability serving partners
a business network for supplier diversity
ally programs for disability inclusion in the workplace
SHRM is another great place to find disability inclusion resources. They even have a toolkit geared towards Developing an Accessible Workplace. Or check out The definitive guide to disability inclusion in the workplace from Ben.Both are packed with stats, compliance info, and guides for employers.
Note: Posting your job openings to a disability job board also supports hiring from the disability community. You'll find some in my blog 30 Top Diversity Job Boards for Employers [hiring POC, LGBTQ, Latinx & more].
Why I wrote this?
Ongig is on a mission to eliminate boring and biased job descriptions, disability bias included. To learn more about avoiding bias in your JDs and in hiring, please request a demo.
Shout-Outs