Here's a list of top talent acquisition conferences Ongig has our eye on during the rest of 2017. I've included a few bullets on agenda items. I'll keep this list updated as we find more talent acquisition conferences to add (so feel free to bookmark it!).
Enjoy!
ERE Recruiting Conference: The Future of Talent Acquisition (April 18-20, 2017 in San Diego, CA):


Leadership & successful road maps
Future trends, emerging technologies and how to utilize them
Data, predictive analytics, and metrics that matter
TATech Spring Congress (April 22-23, 2017 in Chicago, IL)


The impact of AI and machine learning on talent acquisition in general.
Finding, Selecting & Retaining Top Sales Talent.
Solving the problem of identifying the source of candidates
The Case for Gender Diversity in talent Acquisition technology companies
Introduction of programmatic ad buying in recruiting
HCI: Strategic Talent Acquisition Conference (Jun. 26-28, 2017 in Boston, MA):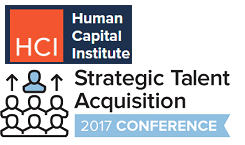 Design Thinking for Recruiting
Balancing the Human Connection with Talent Acquisition Technology
Using a Marketer's Toolkit
Talent Acquisition Summit (Aug. 15-16, 2017 in Philadelphia, PA)


Creating a proactive employer branding strategy
Sourcing high demand candidates
Social recruiting strategies for branding, sourcing, and hiring
Analytics to truly capture your quality of hire, time to fill, and employer branding ROI
Improving the candidate experience: From attraction to onboarding
The Conference Board: Annual Talent Acquisition Conference (Sept. 26-27,2017 in New York, NY):


Explore strategies and innovations you should consider and implement
New Talent Acquisition Technologies
Effective employee branding practices
Increased focus on candidate experience
LinkedIn Talent Connect (Oct. 3-5, 2017 in Nashville, TN):


Agenda and key conference talking points not  released yet.
Human Resource Executive: Recruiting Trends and Talent Tech Conference (Nov.28-30, 2017 in Palm Beach County, FLA)


Automated Reference Systems
Recruitment Management Systems
Sourcing
Staffing
Talent Management
Do you have any killer TA conferences you think we missed?
[starbox]