If you're looking for a list of the best career pages in 2019, you've come to the right place (note: the Part 1 of this is here: The 15 Best Career Pages in 2019).
Here's the deal:
Company career pages are evolving at an astounding rate.
With employer branding and recruitment marketing initiatives taking priority, employers are optimizing ways to attract and engage quality talent.
This typically starts with your career page — aka the landing page of your company career site.
Candidates are searching keywords like:
[name of company] careers
[name of company] jobs
These are 2 of the most common branded searches for companies on Google.
Your career page is usually the top organic results (maybe #2 or #3 in some cases).
This page needs to attract and engage.
Must-Have Career Page Ideas
These are must-have features that build the foundation of your career page.
We're talking the basics like:
Hero Media — Most good landing pages need a hero picture of video
Engaging Headline & Copy — People like headlines so they know what the page is about
Company Color Scheme & Design — Your branding should be clear
Clear Link or Text Box for Searching Jobs — The call to action should be obvious (e.g. search for a job or watch a video about working with you)
"Great-To-Have" Career Page Ideas
Then there are "great-to-have" features.  These ideas are more creative and unique to your company.
You should be experimenting and testing the"great-to-have" features to see which combo has the most impact.
Benefits — Benefits are a proven seller. Do you have a clear way (3 to 5 bullets) to share yours
Employer of Choice Awards — We've preached showcasing your awards on your career for years. It's starting to be a standard to include them on career pages (and job descriptions!)
Employee Content– Testimonial videos/quotes
Company Diversity/Demographics Charts — Sharing data about how diverse you are (or want to become)
Talent Community Opt-In — Some candidates are "on the fence" so give them a way to stay in touch with you
Location Content — Candidates like to picture where they work. Show corporate offices or new offices
Department Content — High priority hiring needs for departments? Showcase one of your teams.
Social Media  — Hashtags, Feeds.
Company Numbers — Stats on # of employees, customers, etc.
Meal/Food Information — Everyone has to eat — is there something unique about your food offerings?
Timelines — Company milestones, growth, etc.
Here are some of the best career pages we've seen recently:
Kellogg's Career Page
What makes it awesome?
Great feature image articulating diversity, Kellogg's different brands, and social media impact (#LifeatK hashtag).
Easy entrance to job search and listings (right below feature image).
Engaging Life at Kellogg's video that shows every department/stage of producing a Kellogg's product (warehouse, distribution, marketing, sales, corporate, and more). One of the best employer branding videos we've seen.
Diversity and Inclusion — They dedicate a section of their career page to diversity and inclusion with a quote from the CEO.
Links to employer of choice awards, careers blog, and values. Each has its own dedicated page.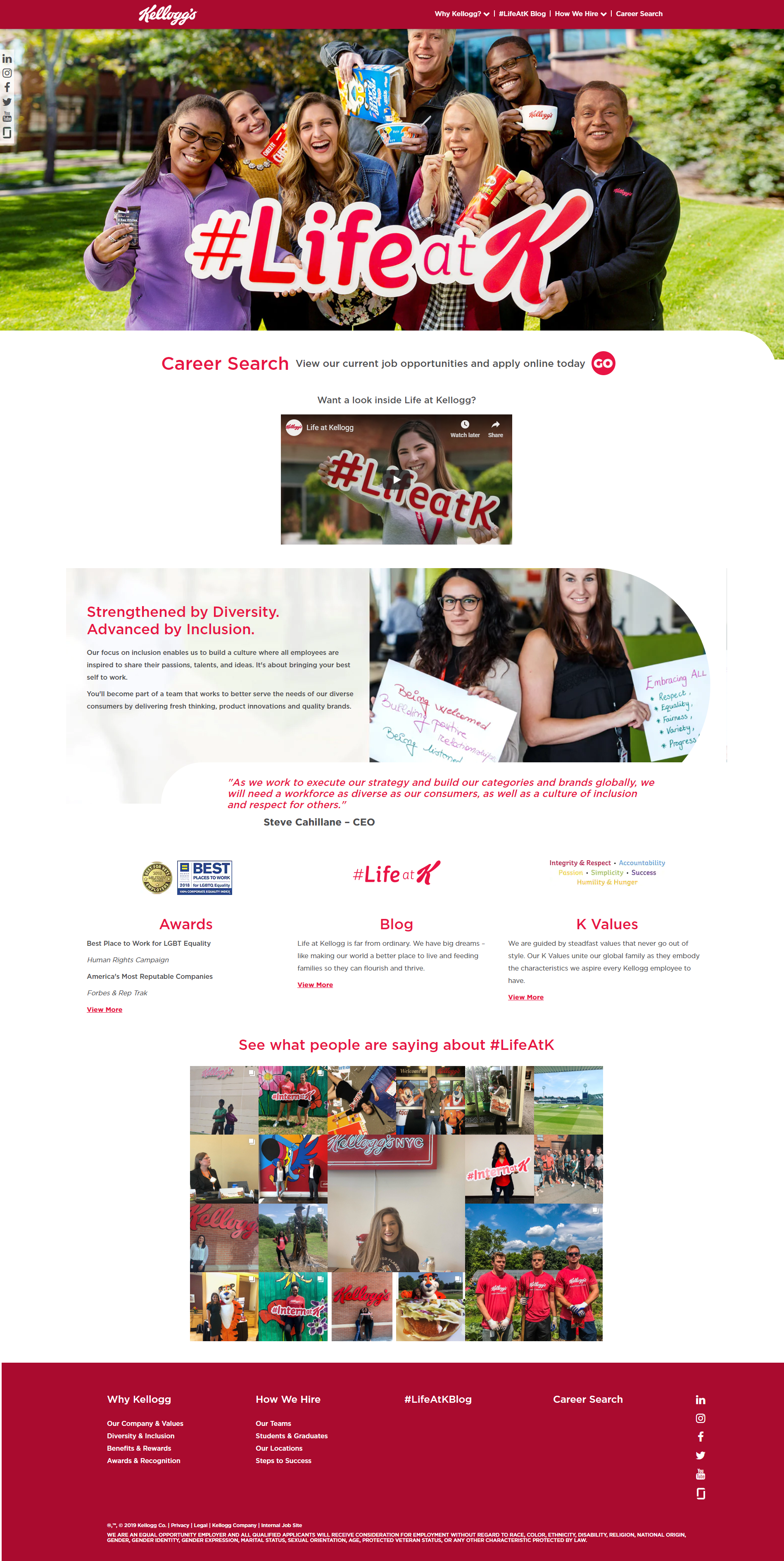 Shopify Career Page
What makes it awesome?
The headline is tremendous. As an employer when you understand it's all about the candidate you start producing copy and headlines that will attract and engage candidates.
Easy to find job locations and the entry point to job openings/listings.
A cool timeline that gives detail on Shopify's growth from 2 employees to now over 4,000.
Employer of Choice Awards — Not just current awards, but a list of awards dating back to 2014.
Quotes from the VP of Product and Director of Culture are always good social proof.

Live Nation Career Page
What makes it awesome?
Live Nation's career page is simple. 4 distinct sections, not a crazy amount of text. Just the important stuff.
They showcase an impressive set of employer of choice awards.
A pie chart of company Male : Female ratio, it's ratio is pretty damn good too. This shows transparency and a balanced ratio a top priority.
Their open roles sections splits into North America and International. This creates a more targeted candidate experience through the career site.

BRP Career Page
What makes it awesome?
Great candidate-focused headline.
If the headline doesn't grab your attention, the feature image will.
Clear call-to-action. I like the twist they add "Find Your Dream Job".
Strong branding, a consistent header that matches the corporate site and also has a great color scheme.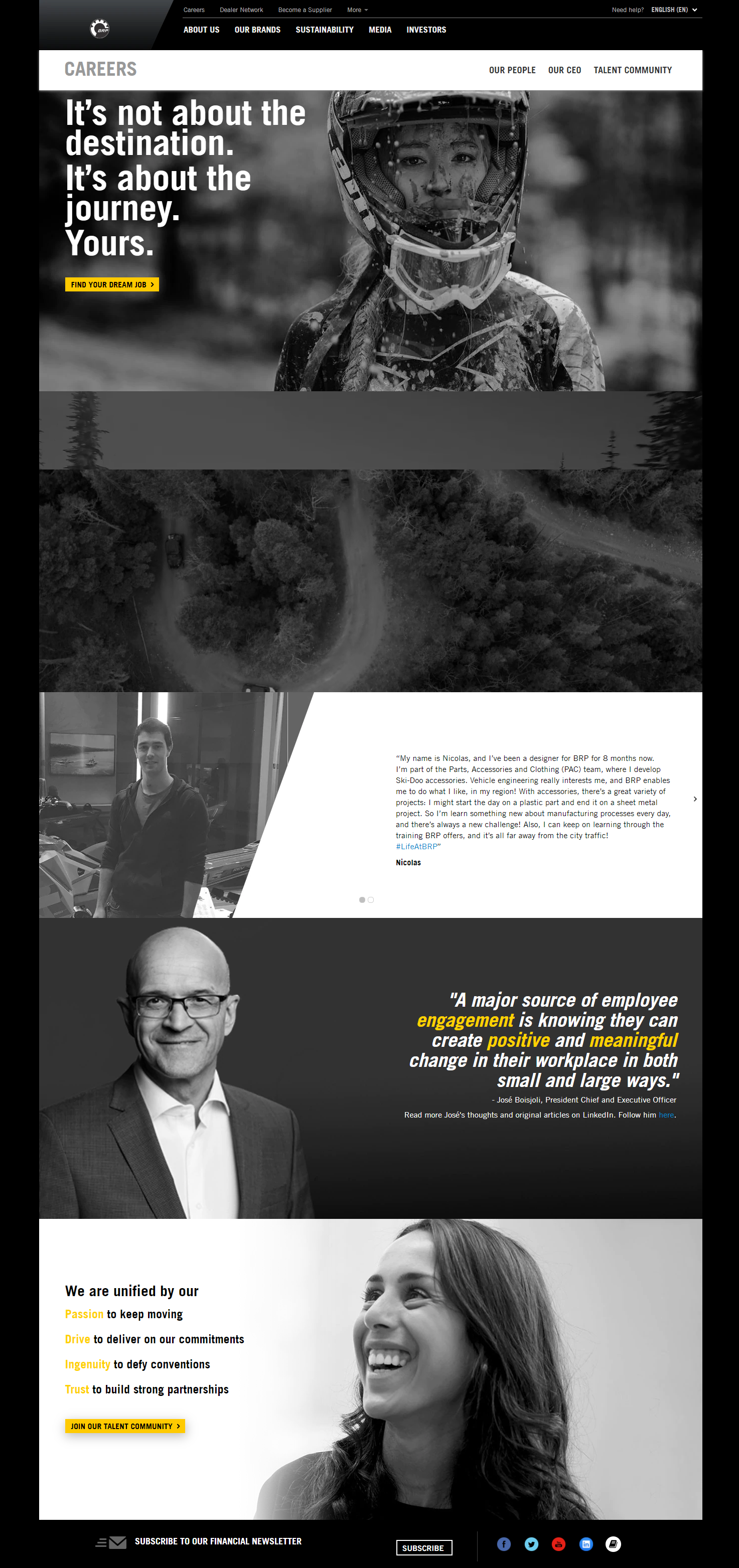 Pepsico Career Page
Happy, smiling people. The recipe for a great feature image.

Focused on younger, millennial age group.

Great use of bright colors for image backgrounds that really make the sections pop.
Students section is great to feature if that's a priority of yours.
Good call-to-actions and buttons. Notice every button is a different color.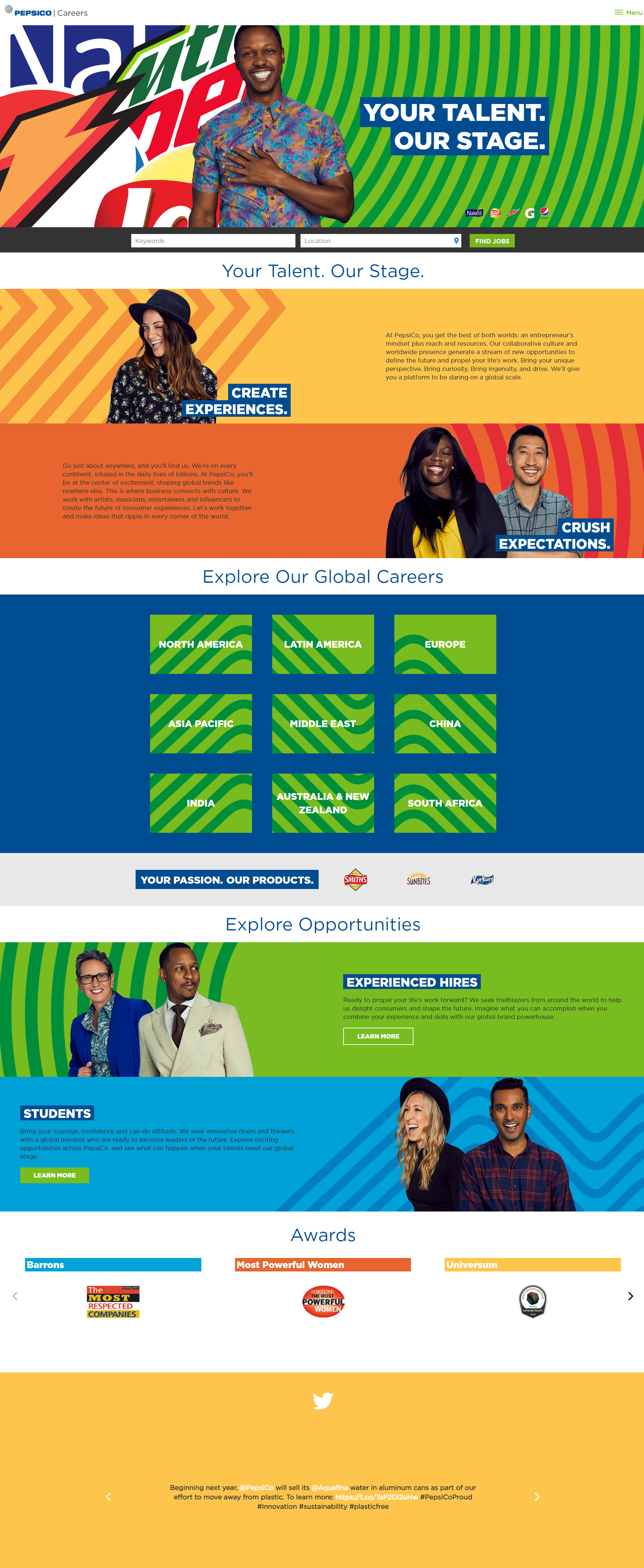 iHerb Career Page
What makes it awesome?
One of my favorite feature images out of the list. You want to make candidates read on, feature some pictures of fun company activities, events. This is a better picture of just showing 2 coworkers playing ping pong right?
Great companies numbers section that gives you a snapshot of size, experience, and offices.
Principles section — Strong principles with good explanations behind them.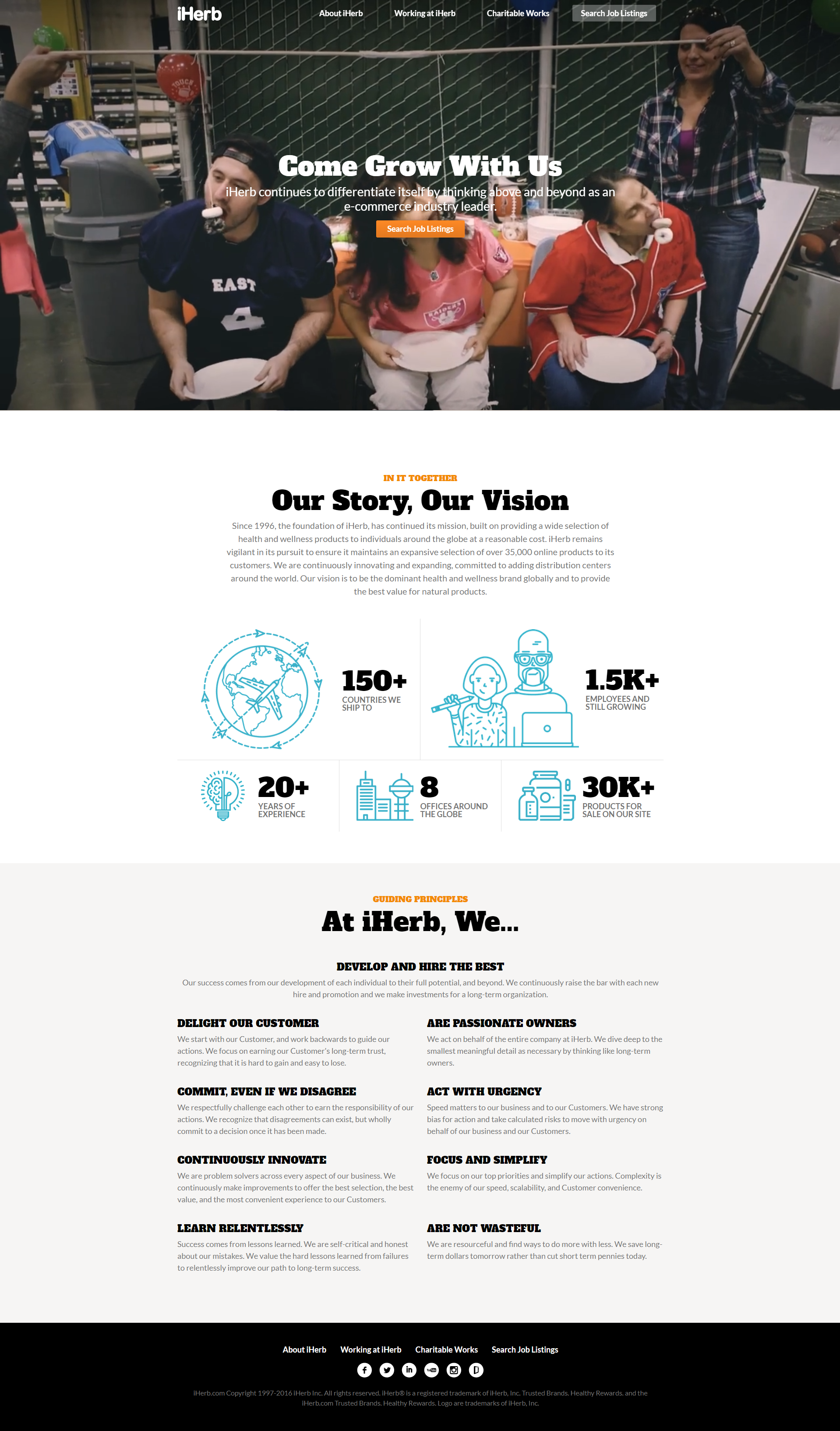 Dollar General Career Page
What makes it awesome?
Another simple career page, but the branding and color scheme really make it attractive.
The focus of their career page is on getting you to a specific department (i.e. retail, corporate, distribution) where they feature tons of targeted content.

Check out how awesome their department pages are:

They also have more pages for culture, awards, and other topics.
Rather than driving all of the value with their careers page, they spread it around the whole career site.

Gusto Career Page
What makes it awesome?
Nice headline, cool fonts.
Meet Our Team section has some great, welcoming pictures. When you hover over each employee an employee testimonial pops up.
Perks, a section every employer should have on their career page. They're very well-written.
They also include their complete set of job openings at the bottom of the page. We didn't include them because the list was so long-running.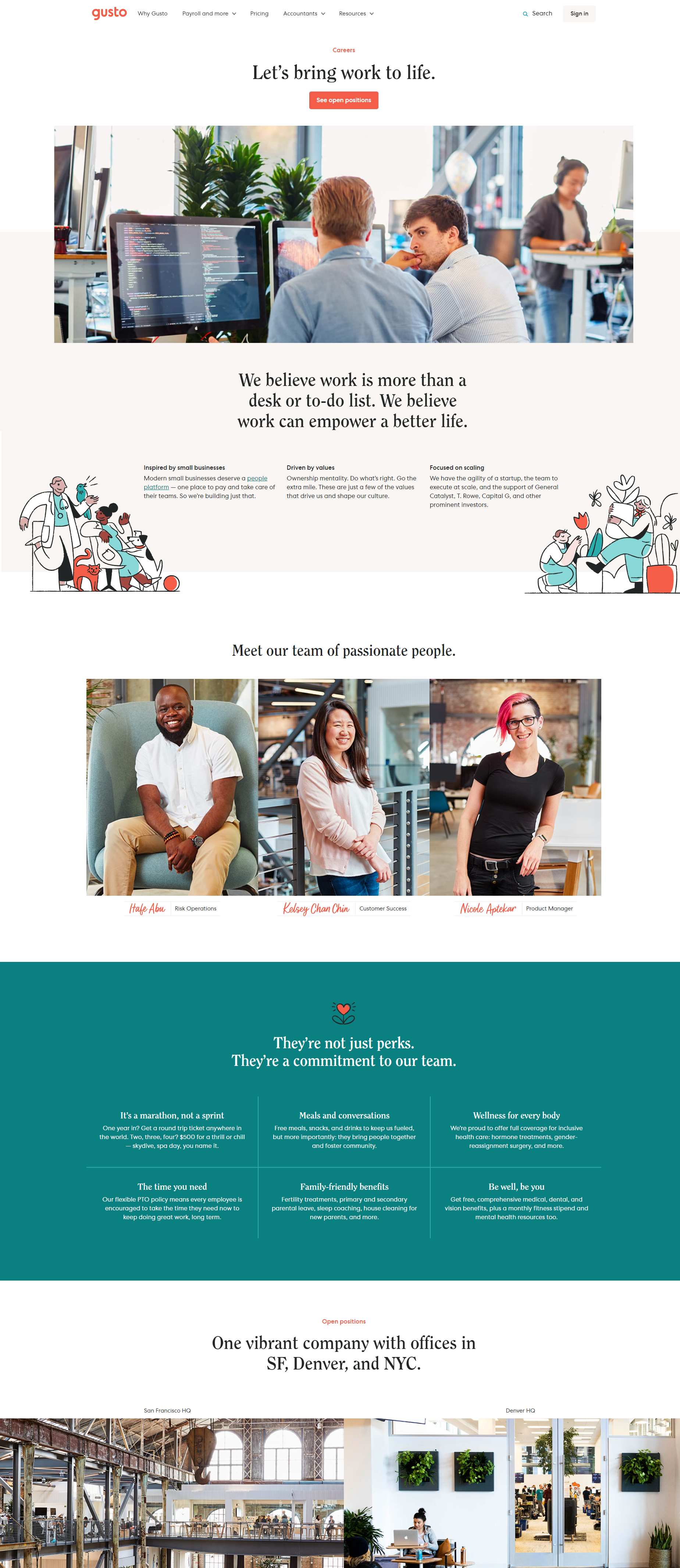 Hubspot Career Page
What makes it awesome?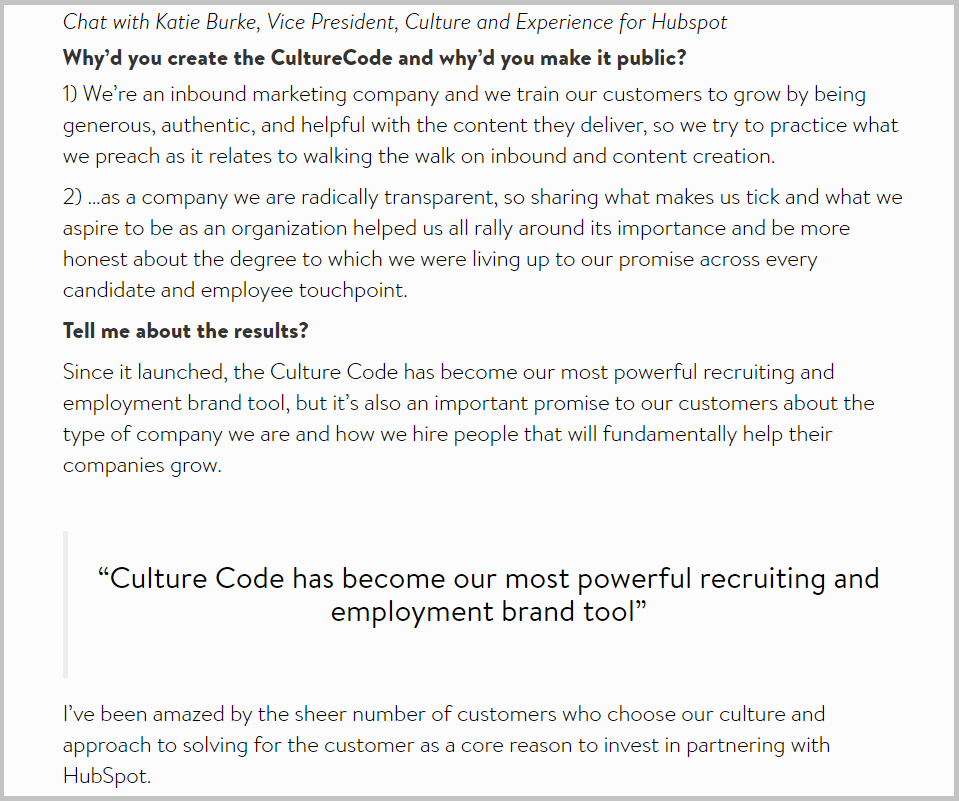 It's great to see they still use it as a key piece of employer branding content.

Why I wrote this?
We here at Ongig are on a mission to give you the best job/career pages. Check out our Candidate Experience solution for more on what you get. And if you like that, please ask us for a demo!