Having the best employees in your organization boosts your brand and profits. And attracting these talented folks starts with well-written job descriptions.
Need to know more? Here are 5 reasons why complete (and up-to-date) JDs are important:
1. You'll hire the right people for your company
Job descriptions are important because they list the critical competencies you need to grow your business. They also help candidates decide whether they're a good fit for your role (or not).
From an organizational perspective, they ensure a complete understanding of how each role contributes to supporting the company's mission and goals.
Examples:
Harver outlines the impact of the Director of R & D People Science position on the whole organization:
"You will collaborate with our customer facing organization and drive current and future state innovations within our product and engineering organization.

Within this role, you will lead a team of researchers and analysts to monitor and improve our current assessment suite, while researching and testing our future solutions.

Within the People Science team, you will collaborate with our consultants and analysts to test solutions with clients and collaborate with our internal team to build enhancements in candidates experience and measurement within our product."
Meetup lists the qualities of an ideal match for their Products Manager, Mobile Apps:
You want to help change a company and position one of the Internet's great brands for explosive growth.
You develop and drive forward the mobile product vision to align with the company vision and help inform product and design team roadmaps and goal setting.
You've held a product role (in-house) at a consumer tech or e-commerce company.
You've launched great iOS and Android apps.
You're obsessed with measuring the impact of everything you ship
You collaborate successfully with designers and engineers.
You're up on all the latest trends in mobile, voice, payments, and other emerging platforms
2. You'll set and manage candidate expectations
Job descriptions are important because they detail how work is completed. Or what it's like to work in a role daily.
Having a clear understanding of a job description helps employees work effectively. Plus, it boosts employee engagement and morale. It is like a roadmap for a potential hire's future.
Note: A best practice is to keep your responsibilities section short (7 bullets or less). 69% of candidates believe 8 or more role responsibilities (the day-to-day tasks of the role) in a job ad would serve as a deterrent to applying.
Examples:
Adobe lists specific daily duties ("What You'll Do") in their Renewals Account Manager JD:
Drive and close renewal opportunities in the Strategic Commercial Enterprise space for our Enterprise Term License Agreement (ETLA) program.
Assist customers in understanding Adobe enterprise solutions, configuration, environment, and how they fit within their current infrastructure and business processes.
Ability to understand complex business environments and uncover customer issues, process problems, and translate needs into business opportunities.
Drive awareness into the account base through regular email campaigns and drive attendance to live and online seminars.
Engage in quarterly targeted call campaigns from designated prospect lists provided by Field Sales Marketing and your managed account list.
Build a pipeline of all opportunities through managed accounts, new leads, and campaigns. Update on a weekly basis.
Maintain up-to-date knowledge of Adobe's competitive positioning in the marketplace
Recruitee shows the potential career growth of their Email Marketing Specialist role by including a 1-year career journey with the company:
3. You'll measure employee performance effectively
A well-written job description serves as a tool to measure employee productivity. It guides managers in evaluating their direct reports' areas of strength and opportunities for improvement.
For the employee, knowing their JD makes them accountable for their performance. Some companies have job descriptions for internal use and job postings for external recruiting.
Here's an example of an internal job description template you might use as a guide for employee evaluation: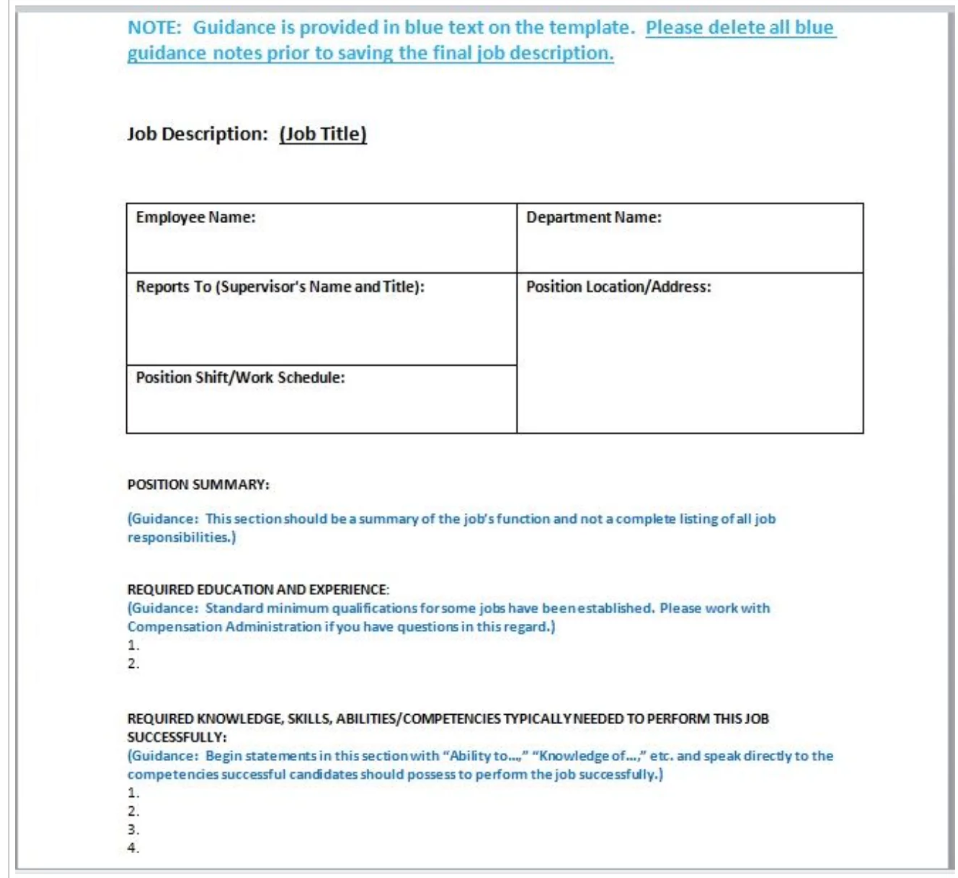 4. You'll show candidates what's in it for them
Job descriptions are important because they give candidates an idea of "work perks." There's value in showing the salary and benefits first.
It's important to analyze the market value of your positions to design fair and attractive compensation packages. And by detailing the duties and requirements after, you justify why a role is compensated in a certain way.
Example:
Firefish Software puts salary and benefits at the top of its SaaS Sales Manager job description right after the job title:
On the other hand, recruitment platform HireVue has a dedicated Benefits page for their US employees that offers comprehensive benefits that justifies the demands of the position:
5. You'll reduce liabilities and risks
If you're hiring for a specific occupation like engineers, architects, and doctors, your JDs should include professional certification requirements. This protects your company (and candidates) from legal issues and keeps you in compliance with public health and safety.
Example:
Mitie lists the licenses and certifications needed by candidates applying for their PCN Rigging Team role:
Rigging experience
Working at Height Medical
MATS Climber & Tower Rescue certification
Manual Handling Awareness
First Aid at Height certification
Asbestos Awareness
RF Awareness
Rooftop Safety & Access
Rigging & Lifting (For MBNL Sites)
Abrasive Wheels Certification
Full driver's Licence with low or no points
Willingness to travel and work away from home
Ability to hold National NPPV 3 Security clearance
Why I wrote this:
Ongig's mission is to create effective and inclusive JDs. We also want to show how (and why) job descriptions are important, so you attract top talent for your roles (and keep them).