Wow, are you are seeing how fast job descriptions are changing these days? Fasten your seat belts as we look at 10 that are awesome — and the reasons why!
You can create job descriptions like the ones below through Ongig's Candidate Experience Software and Text Analyzer. For tips on writing job descriptions, check out How to Write a Job Description — Best Practices & Examples.
If you're interested in how cutting edge companies' job descriptions look these days, look no further than Uber's job description landing pages to attract drivers (after all, they are doing the largest talent rollout in history).
This is an evergreen job (they need tons of people for one role), so Uber invests a ton in such landing pages as the one below for drivers —  and there are plenty of lessons to learn. Some highlights of the Driver job description/landing page are listed below (which they do new versions of all the time):
Headline — They are treating the driver role as a "partner". This reminds me of how Sam Walton referred to all Wal-Mart employees as "associates". They emphasize in the sub-headline (note: sub-headlines are effective in advertising) that you get to "be your own boss".
Hero Media — Showing an attract millennial with a nice hybrid car.
Benefits are Clear — They name 4 clear benefits (money, flexibility, no boss and financing on a new car).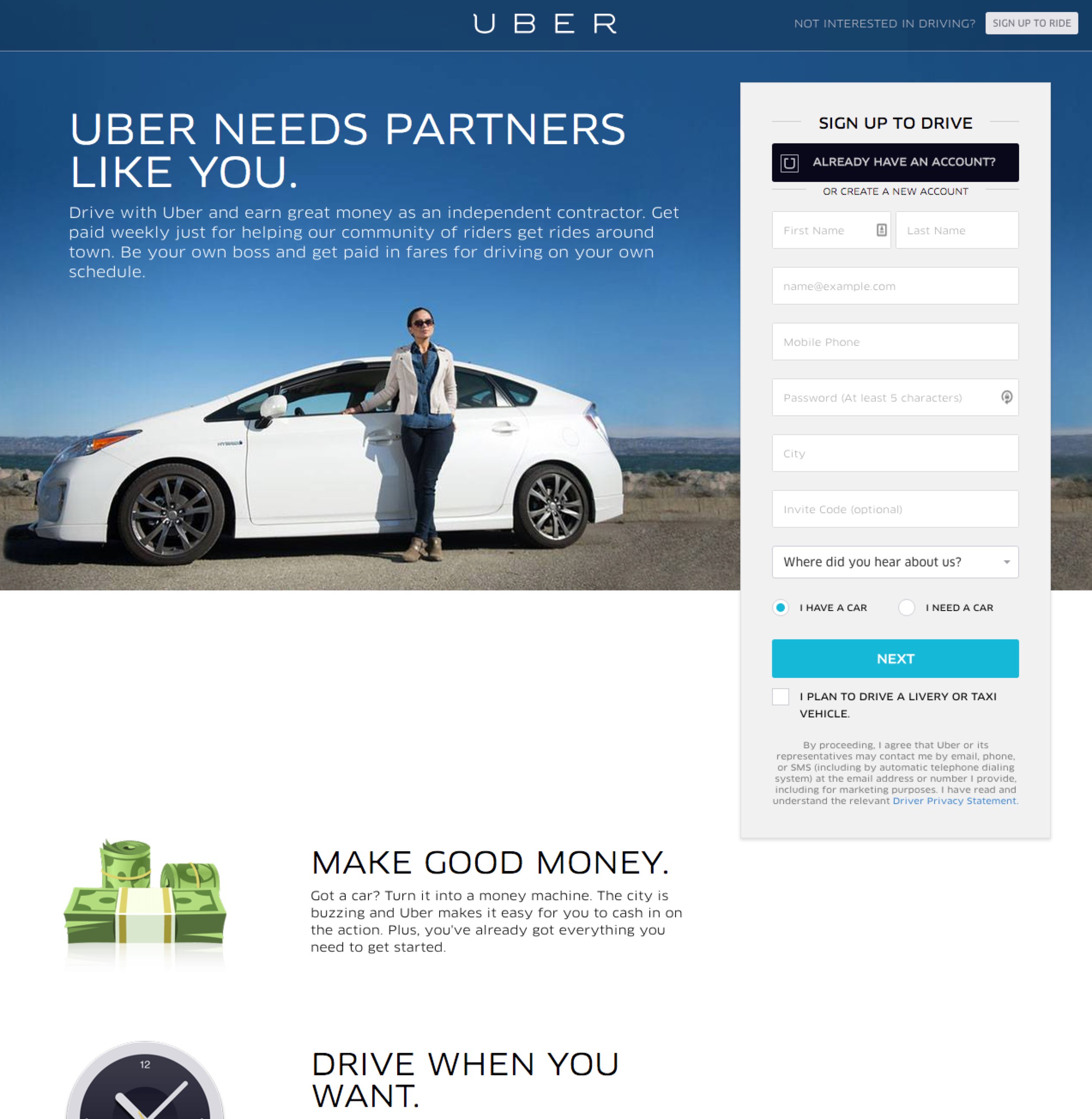 Deluxe's job descriptions stand out for a few reasons:
Recruiter Contact Info — They show the name, picture, and social media links of the recruiter for each job. There is even a YouTube video of each recruiter. Millennials and other passive candidates value this level of transparency. If you have a recruiter owning your job reqs why not show them?
Social Proof Badge — They include a Top 100 Employer of choice award badge on every job description. Social proof is effective advertising for you every time.
Nearby Restaurants, etc. — They have a nifty link to let candidates see nearby restaurants, gyms, schools and airports.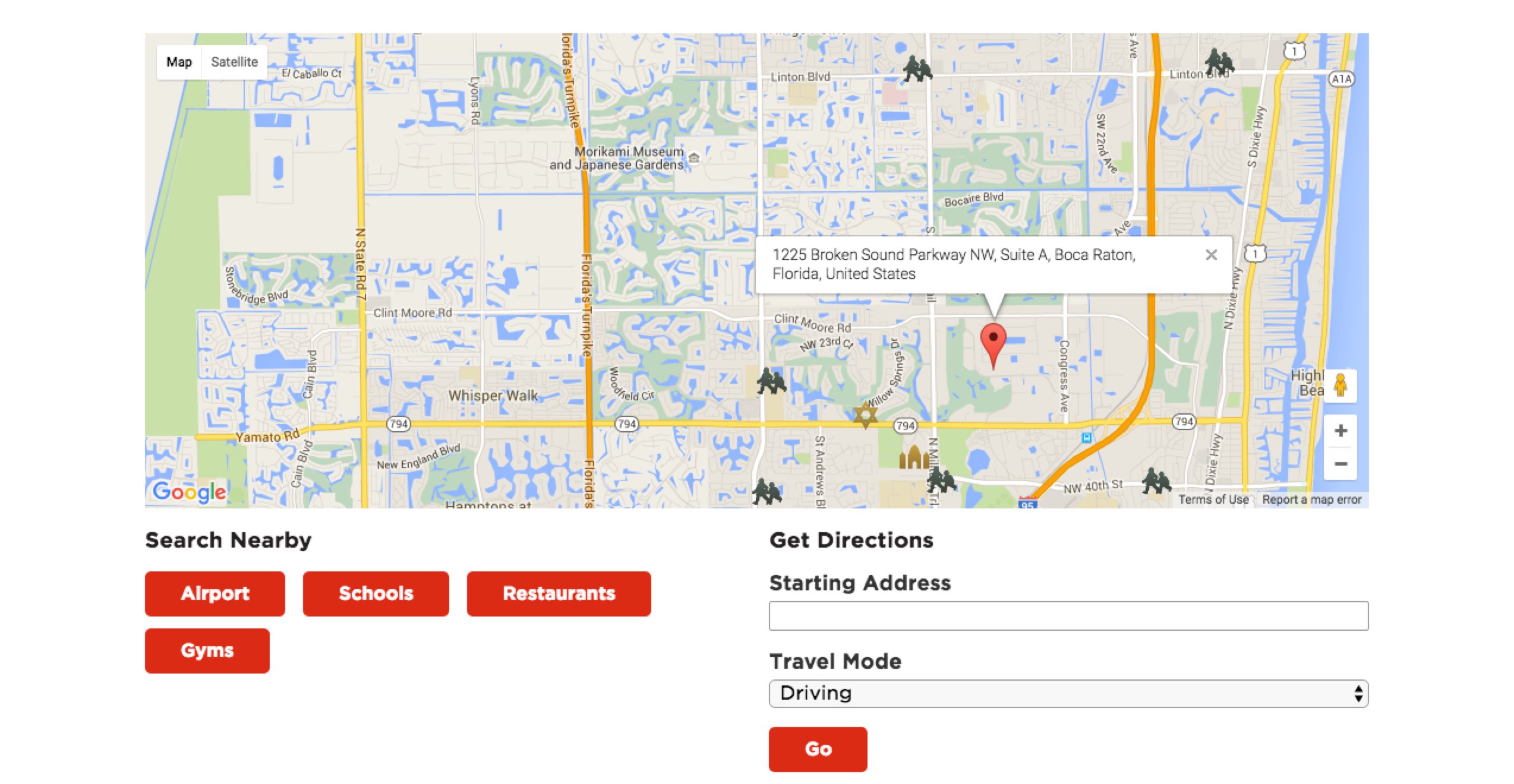 Glassdoor is focused on employer branding and it shows in their job descriptions:
Video — A corporate video is on every job description at the top.
Branding — They emphasize their company name, logo, and color scheme (see the green Apply button).
Talent Community — They include a talent community call-to-action (this is the next best thing to a candidate clicking apply).
Growth Tribe's "Lead UX Instructor or Digital Designer" job descriptions could be the world's first NFT job ad. It is attention-grabbing because:
Clever opener — They make a joke about "sucking at design" and tell the candidate they are short on UX designers.
Colorful design — The NFT job posting on Rarible uses different colors, font types and sizes, and images to grab the attention of candidates.
Unique job posting — They use a new and interesting way to stand out among other similar job descriptions by posting the job as an NFT that can be bid on.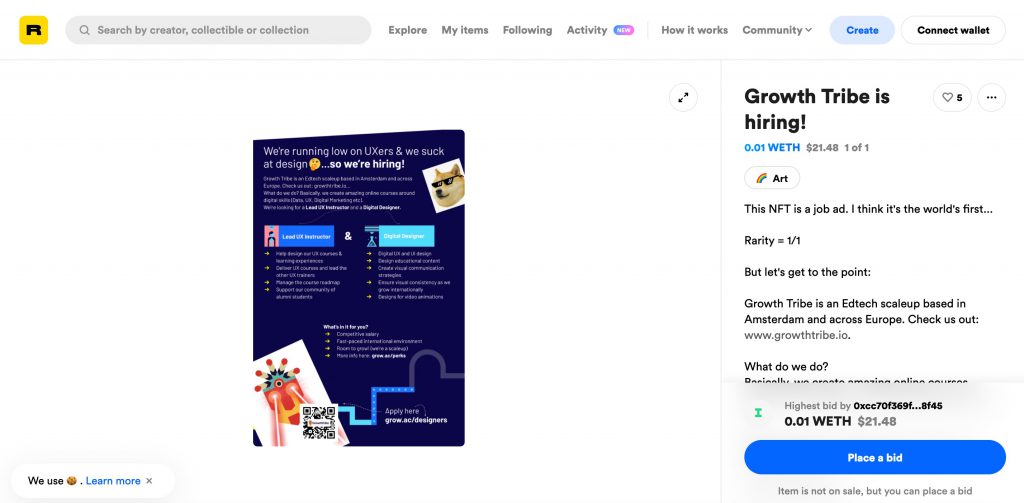 J. Walter Thompson is an ad agency and it shows in their job descriptions:
Attention-Grabbing — Their job description is so different from any other job description that it will certainly stop the candidate in their tracks. If you like mental models (I do), this is leveraging the "Law of Contrast" that all of our brains react to. Show something very different and you're bound to get a little extra look.
Office Pics — They include a pic of the office along with a brief description of it.
Bonus Content — They include a right-hand rail with some extra tiles linking off to pieces about working at JWT.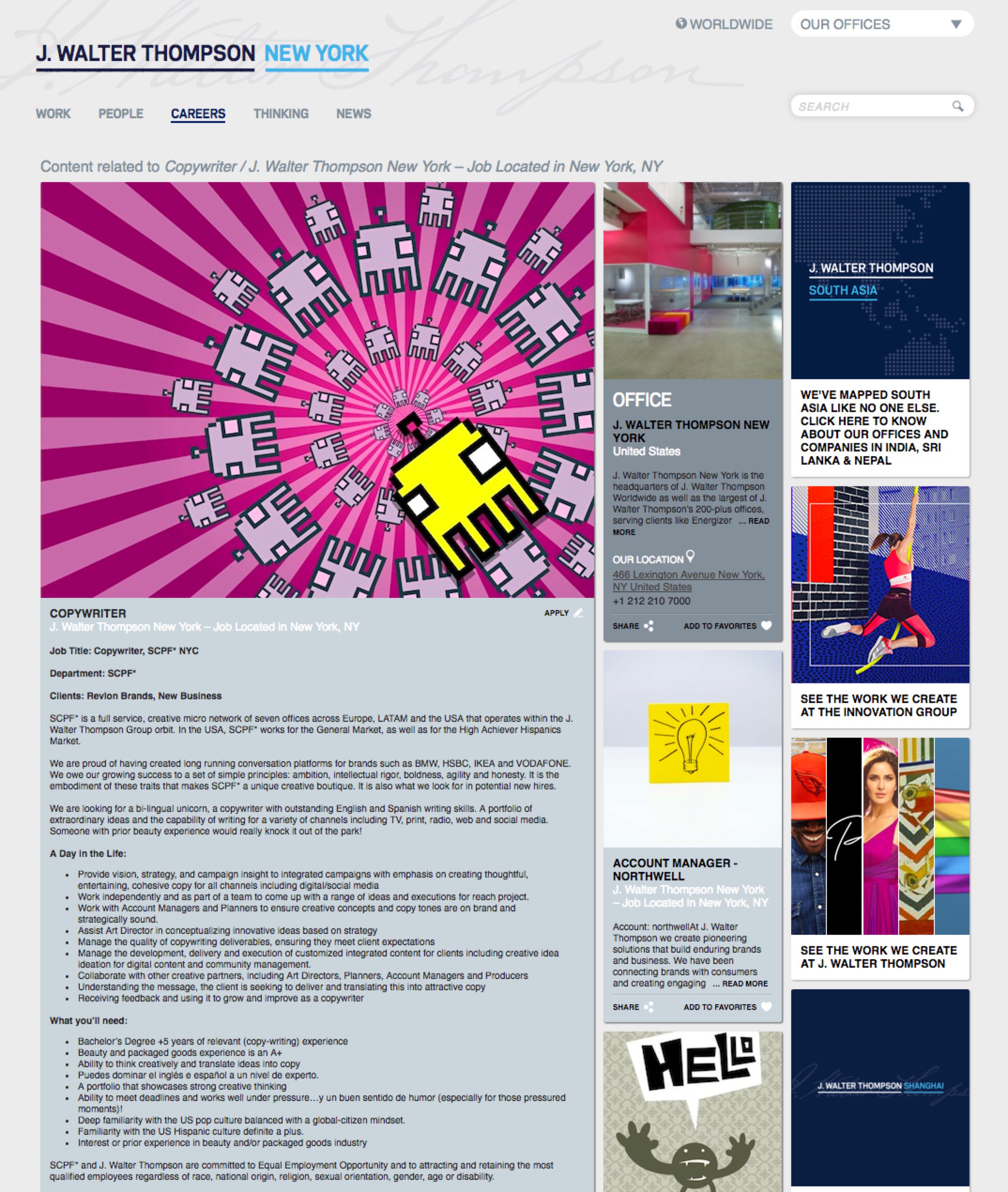 We include Orange for a few reasons.
3-Column Format — You don't see that often. It's more similar to the layout of a story in a magazine (and doing that in an ad (and a job description is an ad!) is a proven advertising technique. The candidate sub-consciously thinks they are reading an article (not an ad) — that's good for you.
Video — They include a corporate video on every job description.
Social Proof — They include employer of choice awards.
Branding — The use the orange color of their logo/brand in the section headings and "Apply" button.
Responsive Design — Notice the second image of the job description below. That's how it looks when you look at the job description on a tablet (it goes to single column).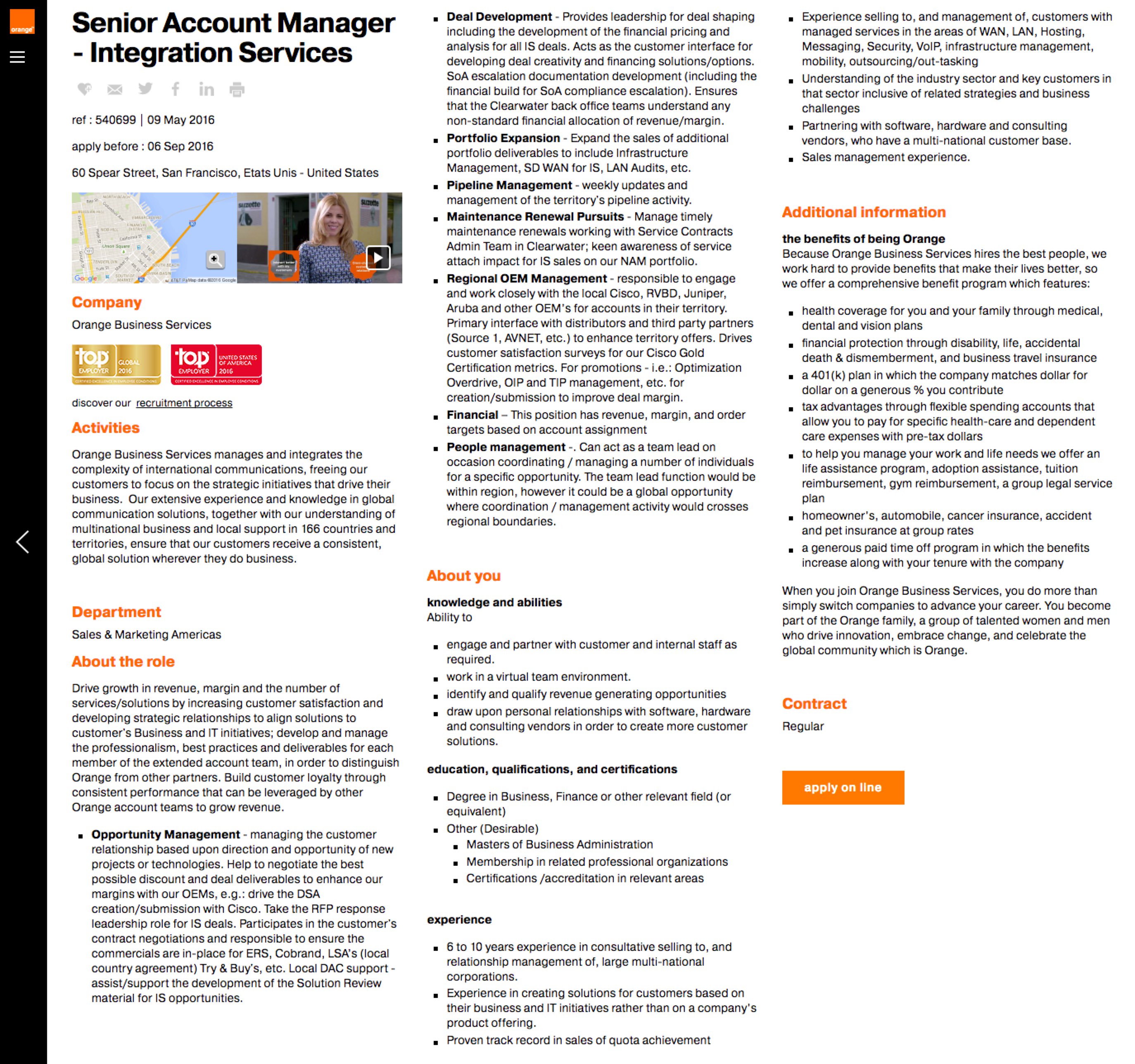 Here is how the job description looks on a tablet:
It pays to watch what big-time brands do with their job descriptions:
Attention-Grabbing — They use a black background while most JDs use a white background. This leverages the law of contrast in which the candidate will pause a bit longer just because the whole layout is different (note: a drawback to this approach is that light text on dark background is harder to read than dark text on light background).
Hero Media — They use a pic of a Pizza Hut worker (or actress). Again, folks, a job description SHOULD be a commercial — it's an ad!
Color Theory — You see a log of red jumping out, don't you. They use the Pizza Hut red in their key calls-to-action such as the job search button and the Apply Now button. If you are wondering if you're call-to-action buttons are effective, do the "squint test" — squint your eyes and see which page elements jump out at you. Pizza Hut nails it.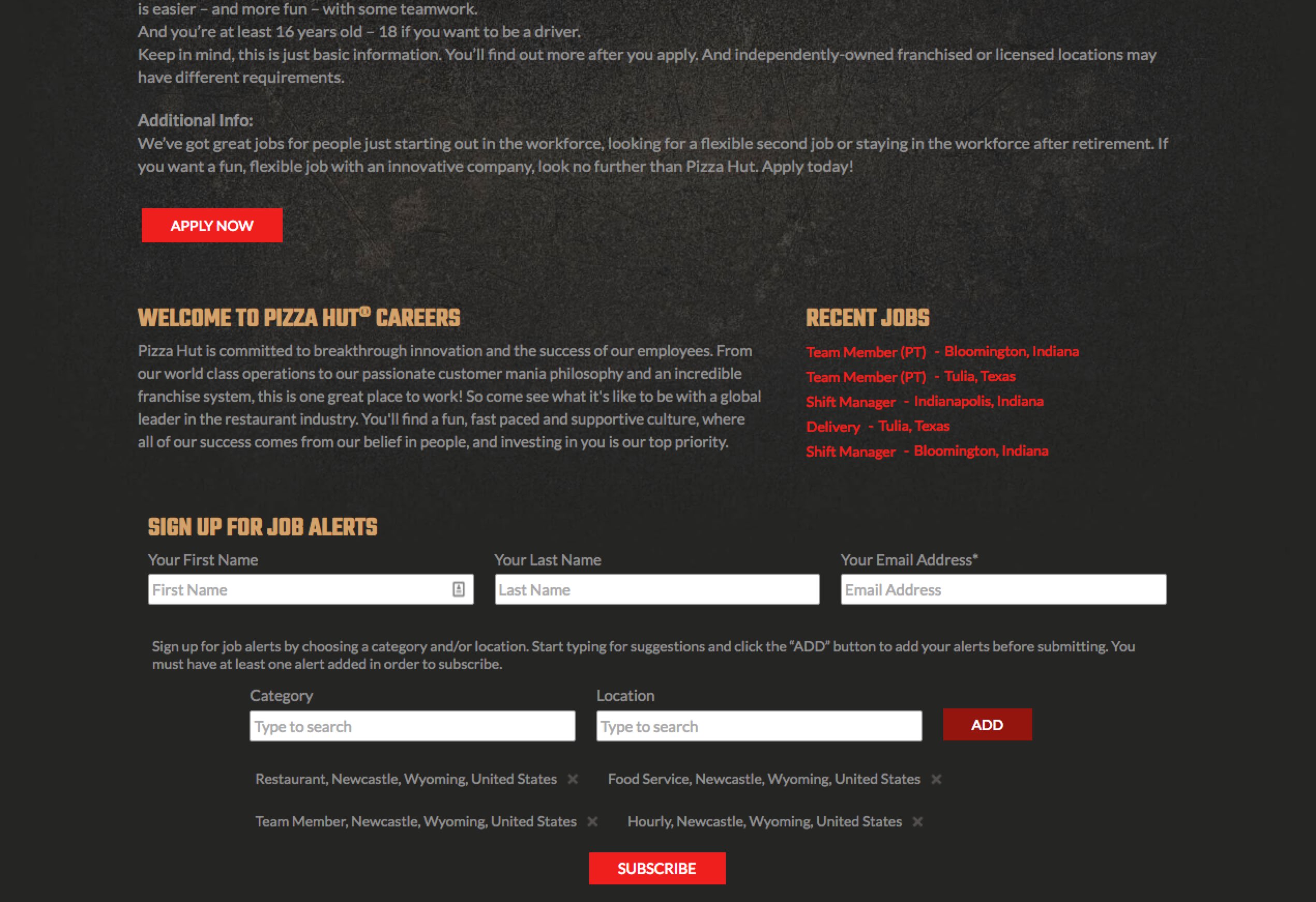 Texas Children's Hospital treats its job descriptions like ads — nursing is one of the most competitive roles in the world:
Job Title — The job title looks more like a headline via large type and white text on red background.
Hero Media — Smiling people is always effective in advertising. It leverages the mental models of likability and social proof — proven winning techniques in advertising.
Color Scheme — They use the brand's red consistently throughout the JD.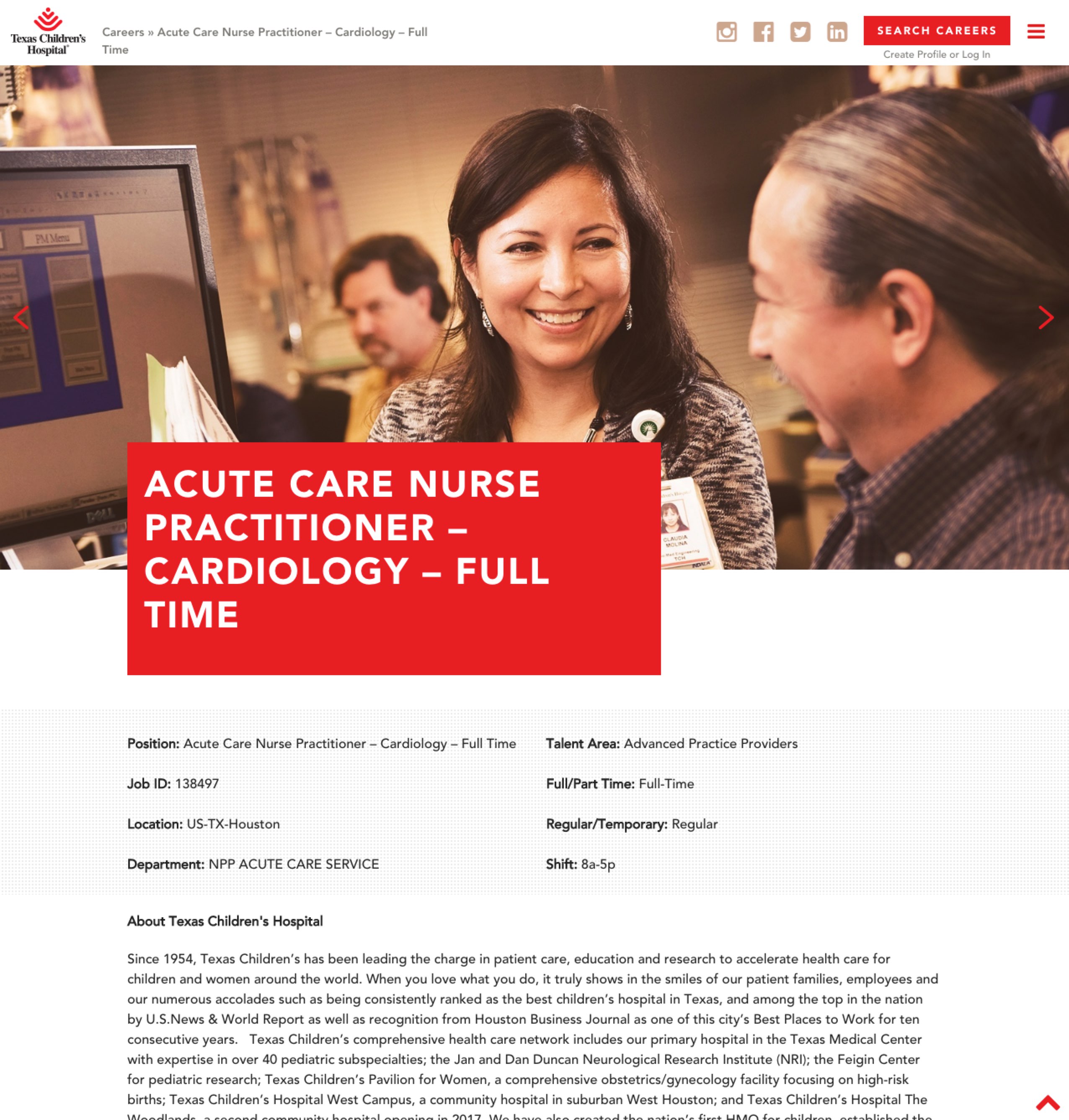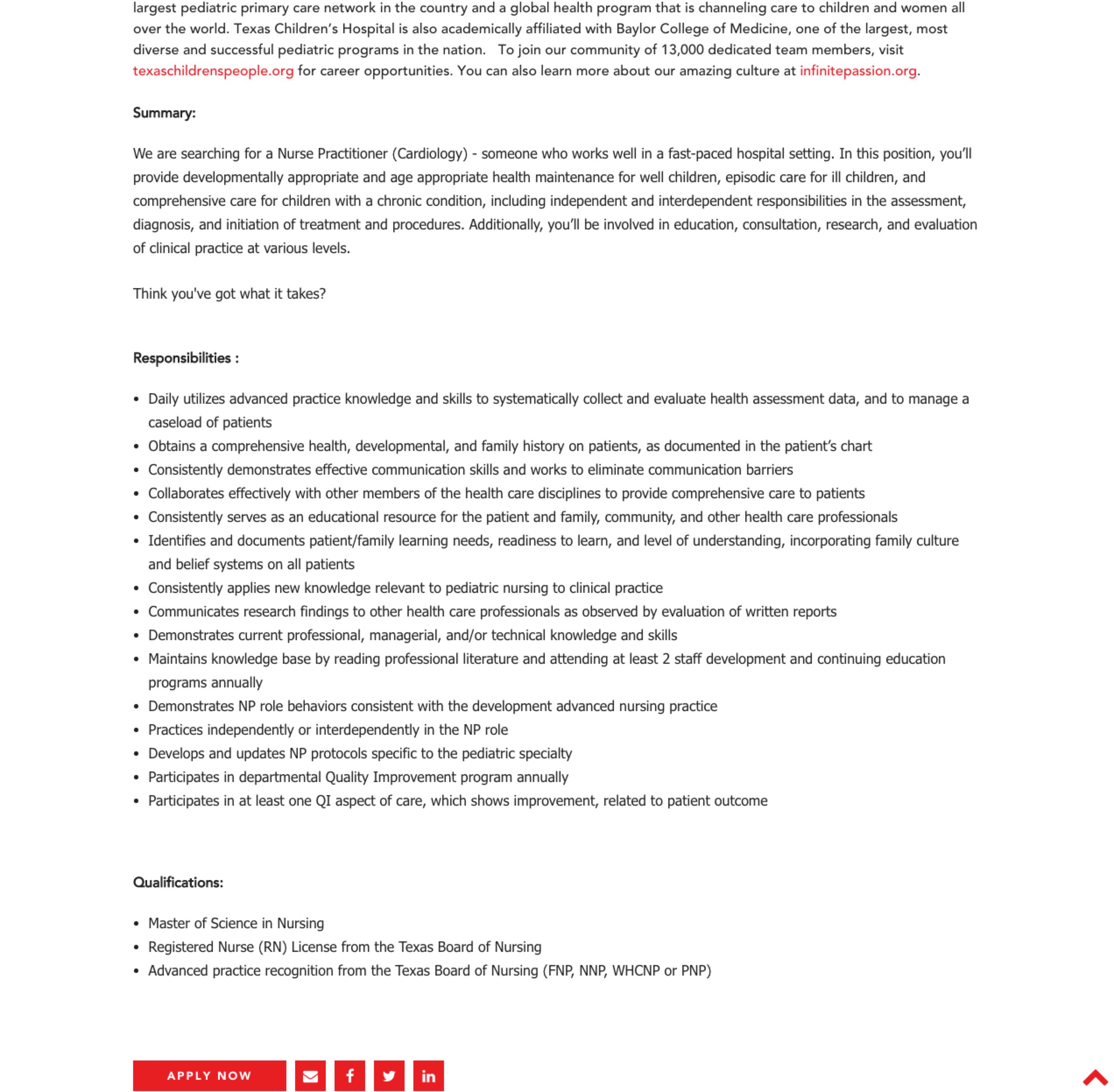 Always watch what good marketers do with their job descriptions. We last wrote about Red Bull in Look What Red Bull Did with their Taleo Job Postings to Make them Awesome — it's great to see them still innovating!
Hero Media — It's stunning. And they leverage all the brand equity put into Red Bull itself which is a cool logo and color scheme.
Job Title Headline — They treat the job title like a headline in terms of size and color.
Section Headings are Creative — Otherwise dull JD sections like location, experience, skills, etc. are highlighted more like you'd expect in an editorial piece (making ads look like editorial is effective!).
Strong Use of "You Statements" — It's always better to refer to the candidate as "you"(e.g. "Your Experience Includes" below) than it is to write "we"-type statements (e.g. "We are looking for experience in …").

Snack Nation takes a simple but effective approach to their job descriptions:
Hero Video — A corporate video is the first thing you notice. They look like they're having fun, right — that's a key Snack Nation value.
Strong "You Statements" — They use a lot of you-statements ("You" have the unique opportunity, "You" love to code, "You" have a firm grasp of…, etc.).
Reporting To — They include who the position reports to. Do you do that? Why not? What's more important to quality candidates than who their boss/leader will be (yet few do it)?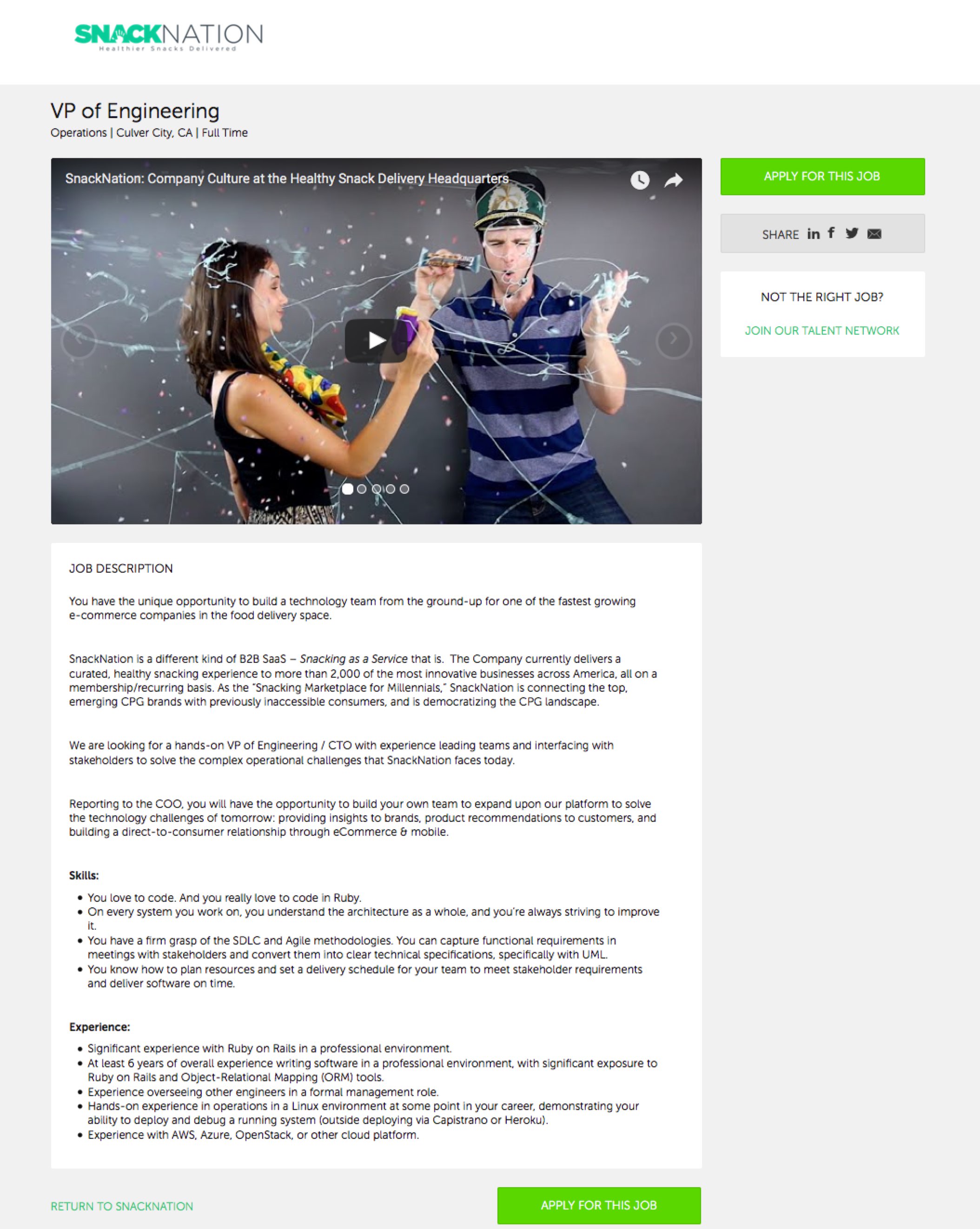 Do you have a favorite job description we missed?
Did we miss any great job descriptions? If you know of a job description that you feel is awesome, we'll be glad to mention it.
Why I wrote this?
Ongig is on a mission to give you the best job descriptions. Check out Ongig's Branded Candidate Experience software to see how we transform your job descriptions with visuals and engaging recruiting widgets. Please check out Ongig's Text Analyzer software if you'd like to transform the text of your job descriptions. Ongig also offers both in one complete solution. Please click the request demo link if you'd like to learn more!
[starbox]