"Social media coordinator job description" is so popular on Google search, I thought you might want help to write one of your own. In this post, you'll find:
Note: I ran them through Ongig's Text Analyzer software to ensure they score 80% or more (out of 100), are gender-neutral, AND have no other exclusionary language (based on race, age, disability, sexual orientation & more).
What is a Social Media Coordinator?
A social media coordinator works with the social media team to write content for various social media channels. They also interact with fans or followers and measure social media engagement. Other duties of a social media coordinator are:
staying up to date on the latest social media platforms and trends
sharing social media data with senior management
building a social community to elevates the brand
Now, on to the examples. Here are 5 companies' Social Media Coordinator JDs:
Activision — Job Description for Social Media Coordinator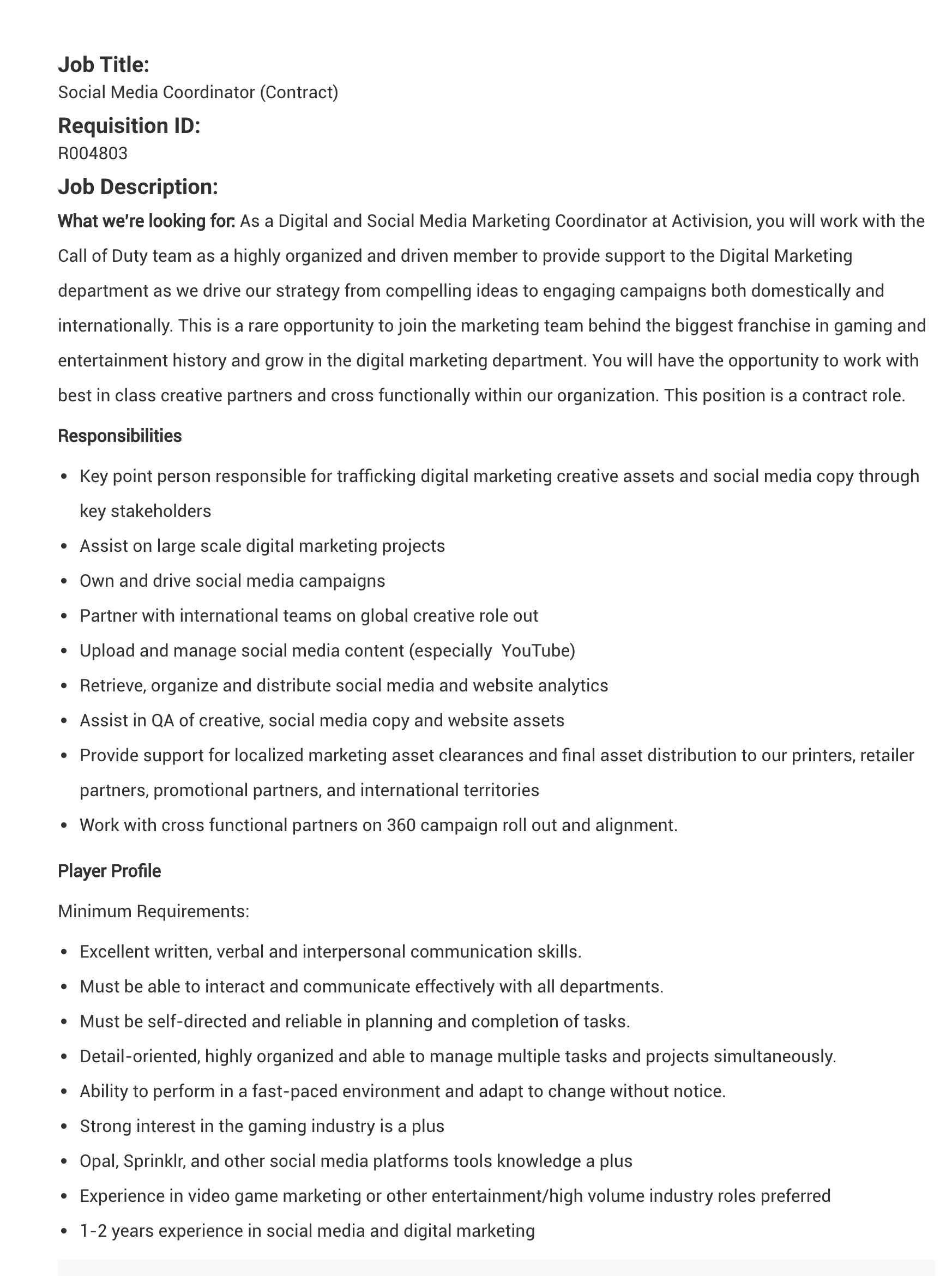 Apple — Social Media Coordinator Job Description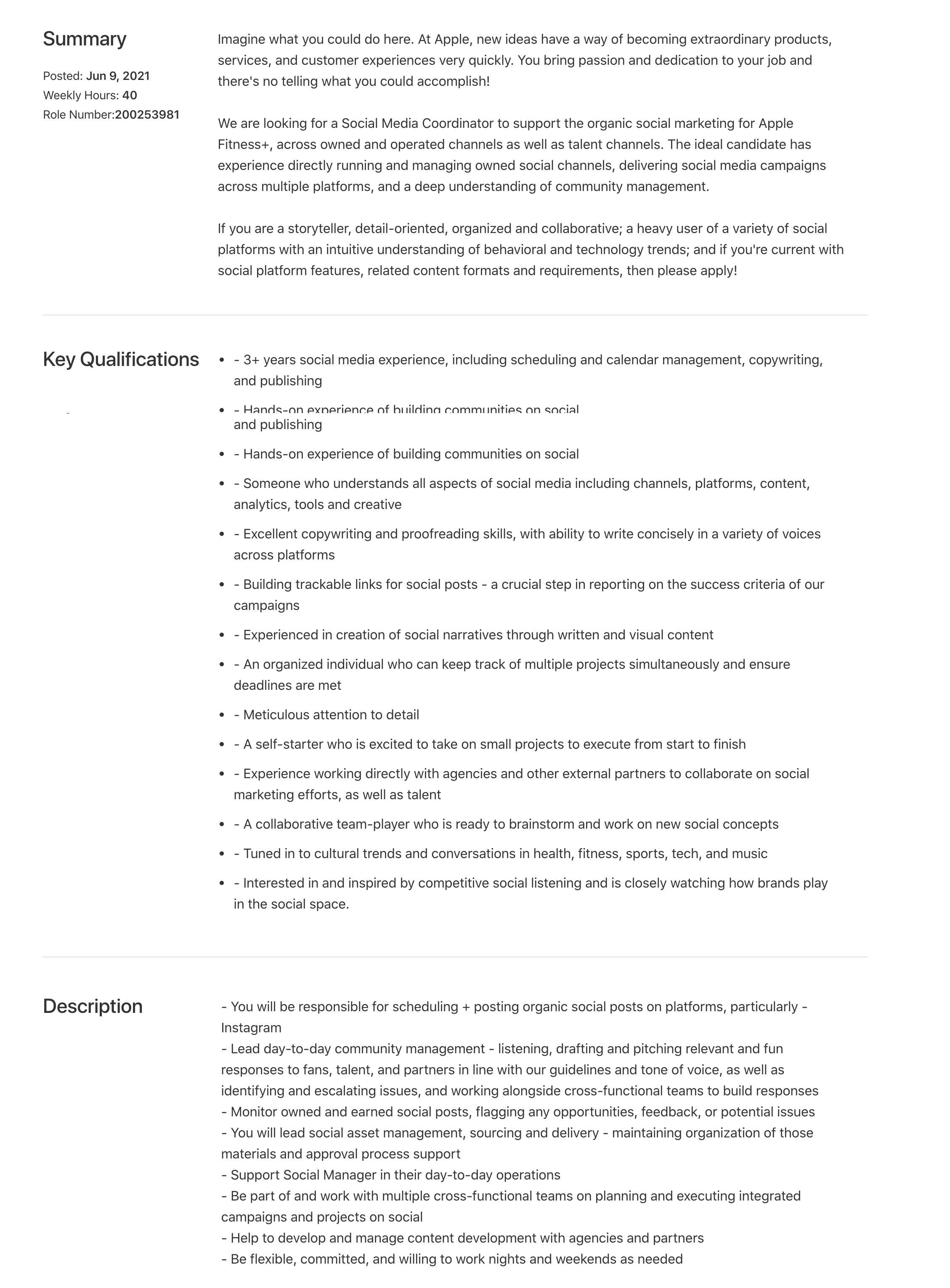 Cart.com — Social Media Coordinator Job Description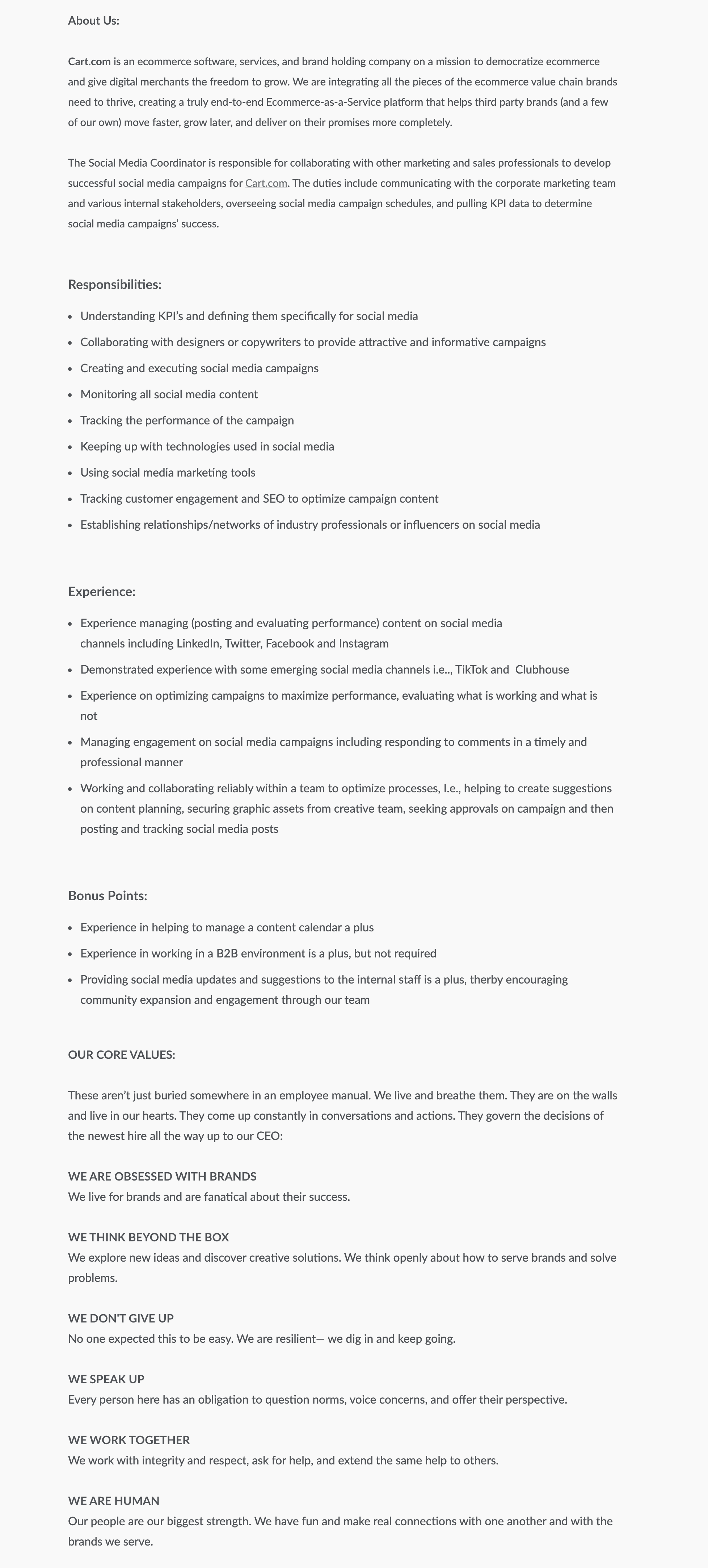 Faire — Social Media Coordinator Job Description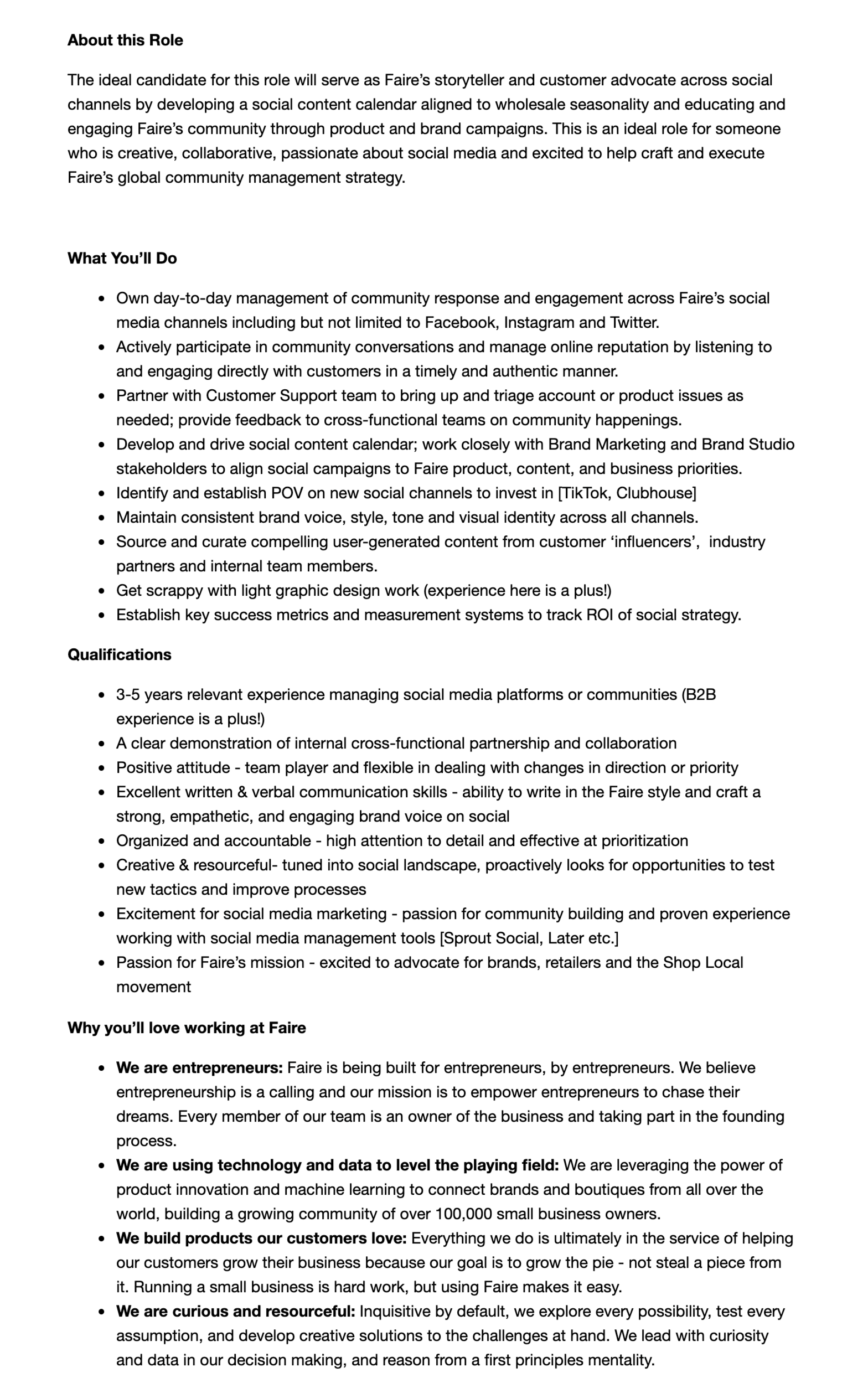 NBCUniversal — Job Description for Social Media Coordinator
Free Template for a Social Media Coordinator [just copy & paste this!]
The sample JDs above are a great place to start — or try using this template for a social media coordinator as your guide. I've listed examples so you can easily copy and paste.
Job Title
[Here, you can use "Social Media Coordinator," or there are other options that might fit your biz better. I list 7 title alternatives later in this post.]
Tip: Keep your job titles between 1-3 words and 20 syllables or less. This helps with SEO and makes them easier to read. For example, "Engineering Manager" is a better title than "Software Engineering Manager – Growth & Remote Support."
About You
[This is where you talk about your social media coordinator role.]
Include a sentence on:
what the social media coordinator does
some goals they will reach for
how they work with the team (or other teams)
Tip: Look at other companies for inspiration. Activision's "What we're looking for" section is a great example! Here's what they want in a social media coordinator:
"…you will work with the Call of Duty team as a highly organized and driven member to provide support to the Digital Marketing department as we drive our strategy from compelling ideas to engaging campaigns both domestically and internationally. This is a rare opportunity to join the marketing team behind the biggest franchise in gaming and entertainment history and grow in the digital marketing department. You will have the opportunity to work with best in class creative partners and cross functionally within our organization."
What You'll Do
[Here is where you can list more detail about the day-to-day of the role.]
Some examples:
Monitor social media accounts (e.g., Instagram or TikTok)
Collaborate with designers and content writers on campaigns
Track campagin performance
Establish an influencer network
Manage a content calendar
Maintain brand image across social media channels
Tip: Keep your "responsibilities" lists short. Using more than 7 bullets might make candidates feel underqualified or overwhelmed.
Your Requirements
[This section is where you list basic qualifications and experience.]
For example:
a degree in communications or marketing
experience with social media platforms (e.g., Twitter or Clubhouse)
knowledge of an industry or topic (e.g., sports, fashion, politics, tech, etc.)
experience with social media management tools (e.g., Sprout Social)
excellent communication skills
solid copywriting and editing skills
Tip: Leave out "years of experience" if you can, you might exclude candidates based on their age.
Salary & Benefits
[List any perks your social media coordinator will get if they join the team. And include salary information if you can.]
Here are some examples:
starting salary range of $75,000-$90,000
family health insurance
employee wellness programs
parental leave
gym and spa memberships
a 4-day work week
Tip: Even if it's a range, list salary details. Candidates spend more time looking at it than anything else. This heatmap of what candidates look at on a job description (by Content Marketer Greg Lewis of LinkedIn) show's how important it is.
Optional Sections
[These are some optional sections you might use in your social media coordinator job description template.]
travel requirements
remote work policies
disability accomodations
how to apply
About Us
[Here you can talk about yourself!]
Some ideas to include:
what type of business you are in
how great the company is
your core values
Tip: I like to save the "About Us" section for the end (even though about 50% of JDs start with About Us). Instead, end your JD with the About Us. That way, you can START your JD about the candidate/role, making them feel valued.
Diversity Statement
[Most companies have an EEO or diversity statement. You can put yours here.]
Tip: You'll find more examples in our blog 25 Examples of Awesome Diversity Statements.
What is a title for a Social Media Coordinator?
Here are 7 other common titles for a social media coordinator, or check out The Top 20 Social Media Job Titles [by Popularity] for a more complete list:
| Job Titles | Queries/mo. on Google | Brands that use this title |
| --- | --- | --- |
| Social Media Specialist | 350 | Vistaprint |
| Social Media Consultant | 250 | Concentrix |
| Social Media Strategist | 150 | IBM |
| Social Media Brand Ambassador | 150 | Habitat for Humanity |
| Social Media Analyst | 100 | Booz Allen Hamilton |
| Social Media Marketer | 80 | Accenture |
| Social Media Content Creator | 40 | Crate and Barrel |
Why I wrote this?
Ongig's mission is to transform job descriptions. If you'd like to see how Ongig can help you optimize your JDs and job titles, please request a demo of Ongig's Text Analyzer.