A recently published CNBC Technology Executive Council (TEC) survey shows companies are at risk of a talent shortage over the next year.
The TEC comprises 100 top tech executives from various companies, including start-ups, enterprises, non-profits, and government organizations. In the TEC survey:
"44% of respondents said that finding enough qualified employees to fill open positions is the biggest risk they face over the coming year."

source: Cyber threats, ongoing war for talent, biggest concerns for tech leaders (by Susan Caminiti)
These execs (and their organizations) are managing this risk in a few ways:
creating flexible, on-the-job training opportunities — 61%
creating apprenticeships — 39%
rewriting job descriptions or job titles — 42%
eliminating academic degree and job description requirements — 24%
The last 2 on the list, really got my attention. Here's why:
Ongig's mission is to provide job descriptions that candidates and employers love. Candidates love our client's job descriptions because they are attention-grabbing, highly engaging, and easy to find. Employers love our job descriptions because they boost the number of quality candidate applications.
Rewriting job descriptions/job titles and eliminating bias are at the core of our mission. And, fun fact, Ongig CEO Rob Kelly recently joined the RecTech Podcast to talk about 7 Things that Will Go Extinct in Job Descriptions. Can you guess what was on the list?
asking for elite schools
years of experience
requirements and responsibilities
Here's more on why we think these TEC executives are headed in the right direction with their talent strategies and how Ongig might be able to help.
Rewriting job descriptions
Writing job descriptions is a key part of any company's hiring strategy. Based on the TEC survey, it seems like many companies see the need for rewriting job descriptions to attract top talent.
Ongig's Text Analyzer software helps eliminate bias in your JD's and optimizes your text to get more engagement with potential candidates.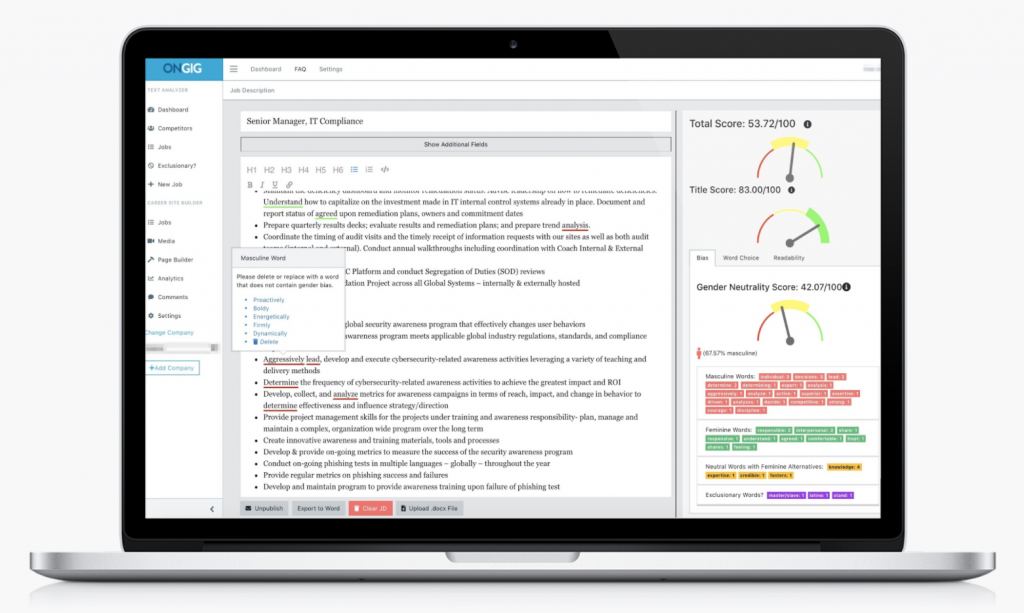 The software, pictured above:
scores for gender bias
flags other types of bias and gives inclusive replacements (race, age, sexual orientation, disability, and more)
flags long sentences and lists
measures readability
underlines complex words and phrases
flags and defines abbreviations or acronyms
Analyzing all of these items really gives you a boost when rewriting job descriptions.
Writing job titles
Job titles are equally as important and are the foundation of a job description. Text Analyzer can help you with writing job titles too! The software optimizes job titles for apply rate and search engine optimization (SEO).
Here's an example of title scoring and job title ideas for a sales consultant job posting: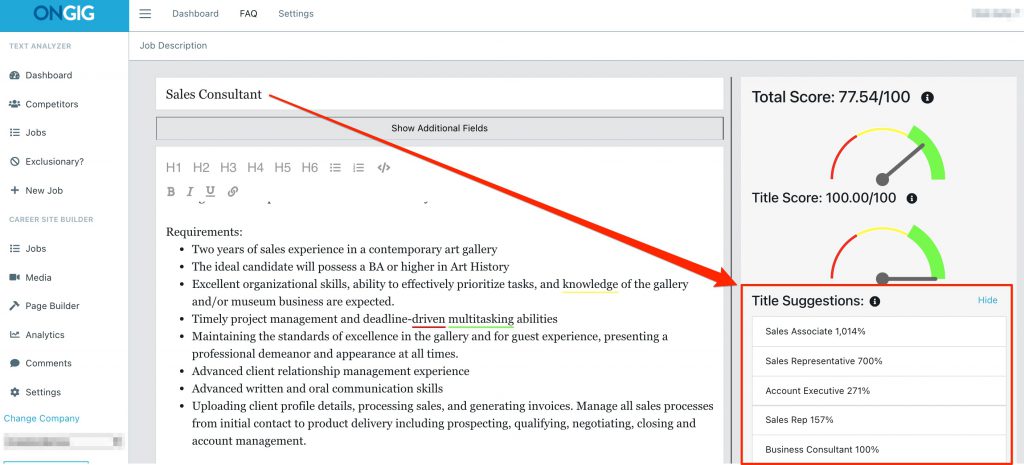 The title score uses job description best practices based on the number of syllables and words in a job title. The job title ideas are based on the number of queries per month each job title gets on Google. Even though the job title score is 100% for "Sales Consultant," there are more SEO-friendly titles that might perform better.
Funny job titles are…funny, but writing job titles that top talent actually search for can help you find more qualified candidates. Check out our research on the best job titles, by department, in Job Titles: The Definitive Guide.
Job description requirements & eliminating elitism
More companies are moving away from only hiring candidates:
with a "degree from a top tier university"
with 10+ years of experience
using a long list of job description requirements
The new trend when writing job descriptions, is towards:
hiring qualified graduates from any school (or with no degree at all)
skills-based hiring over years of experience
sharing more value instead of long lists of duties — what candidates will achieve or who they will work with
Removing elitism bias and long lists of job description requirements have been proven to attract more candidates from even more diverse groups. You can read more about removing elitism in job descriptions in our blog Elitism in Hiring: Who Needs Harvard?
Text Analyzer flags phrases that might be "elite biased" and highlights long lists to help cut down on over-asking for requirements.
For more tips on writing job descriptions, check out How to Write a Job Description — Best Practices & Examples.
Why I wrote this?
We at Ongig are on a mission to transform your JDs. Check out our Text Analyzer software if you'd like help rewriting job descriptions to help attract top talent. Click the "Request Demo" button to learn more.