Despite growing pay equity and transparency developments, many employers still hesitate to show their job postings with salary info.
According to Payscale's 2022 Compensation Best Practices, 68% of organizations share pay ranges with employees, but only 22% do so in the job ad. Many studies reveal that Gen Z and millennials are more interested in career advancement and work-life balance.
But that's not entirely true because candidates still consider salary the biggest factor when evaluating potential job opportunities, especially in tight markets (like the tech industry).
With that in mind, here are 7 things you need to know about job postings with salary (and those without):
1. Why some employers withhold salary information
Some employers are hesitant to share job postings with salary details. Here's why:
They want to avert conflict between new hires and existing staff.
They want to avoid competition with other companies in the same industry.
They fear being overlooked by many candidates.
But, websites like Payscale, Indeed, and Talent.com offer employee compensation data, so candidates know if the salary you offer is fair and just.
A top goal for Indeed in 2022 is to include salary ranges in all job ads. If you use Indeed to post jobs (and include salary info), they highlight the details so job seekers can easily find them. And according to SHRM:
"When salary information is not included, Indeed intends to add a salary estimate to the post, based on a variety of factors, including job title, experience qualifications, education requirements and job location. Employers can modify the estimate."
2. Salary info increases applications & boosts employer brand
Candidates look at salary information to decide if they'll apply for the role or just ignore the job posting and move on to the next.
Multiple studies are showing the value of job postings with salary information:
In 2018, LinkedIn found salary is the #1 part of a job ad that is:
"helpful", "appealing", and makes candidates "more likely to apply."

source: Vision Critical Heatmap Study of 450 LinkedIn Members
And a 2022 Willis Tower Watson (WTW) study found 16% of employers are also seeing an increased number of candidate applications when they include pay details in their job postings.
Displaying pay details is a good way to build trust and confidence with applicants during the hiring process. It also creates a sense of fairness and equity, which benefits your employer brand.
3. Job postings with salary are mandated by pay equity laws
Some states have pay equity laws where employers must list salary ranges in job postings or disclose them during the hiring process. And it seems more will follow suit.
Here are the states currently requiring some form of salary info in job postings (by law):
California
Colorado
New York
Nevada
Ohio
Washington
Employers who fail to comply face various fines or imprisonment.
4. Salary information eliminates unsuitable talent
Including pay information will only attract candidates willing to work for your company at the salary you can afford. This optimizes your hiring process by eliminating salary discussion and negotiation during the interview process.
Even if you just include a salary range in your job postings, this gives talent an idea of what to expect. A salary range indicates the minimum to maximum salary an employer can offer the applicant during the hiring process. Especially if you use a job board to hire new candidates…this will make your company look more professional.
When you post a range from lowest to highest, you can reach more job seekers of varying skills and years of experience. You attract top talent with the highest range, while the lowest range gives people with less experience more comfort in applying.
Salary ranges are also beneficial when an applicant counters your first offer during the negotiation process.
5. You can position your salary information at the top (or the bottom) of your job posts
When you want to highlight your salary, list it at the beginning of your job posting just beneath the job title. It will surely attract the attention of the most discerning and qualified candidates, especially if you're recruiting for a hard-to-fill position.
Below is an example from Firefish. They display salary information in their SQL Developer job posting right after the job title. They even included they offer "Work from Anywhere and other Great Benefits" to sweeten the deal: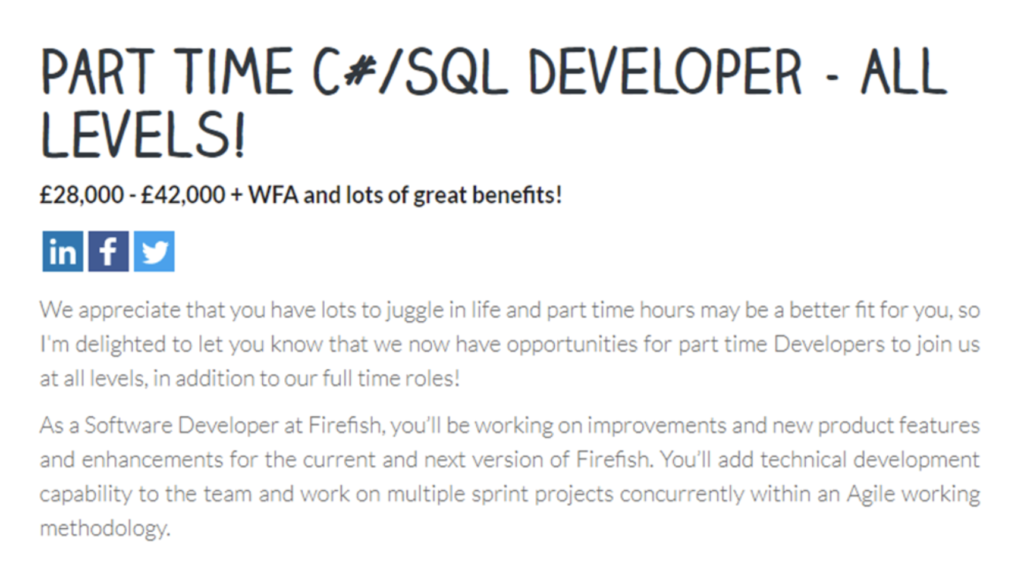 If you want to be transparent with your pay but underemphasize it, putting it at the bottom of your job ad is a good idea (ideally before the application instructions).
This placement is wise if you want candidates to focus on other aspects like your benefits (remote work, WFA, health insurance, unlimited PTO) if you feel your offer might be lower than what candidates expect.
6. If you can't disclose salary info, list perks and benefits
Let's face it. Not everyone can afford to give their employees top-notch salaries, so they don't post that information. But, you can still attract top talent by offering them work perks and benefits that are just as valuable as a paycheck.
In fact, the most valuable benefit in SHRM's 2022 Employee Benefits Survey is flexible working hours.
Other benefits included in the list are:
leaving early on Fridays
a 4-day workweek
paid self-care days
time off for mental health
miscarriage leave
Insurances like company-sponsored retirement plans, pensions, and family, health, and dental insurance are also essential.
Bonuses are also a popular way of enticing job seekers.
Appcast's research shows regular incremental bonuses in job ads impact candidate attraction in the construction, customer service, science and engineering, and technology industries.
So as an employer or recruiter, what you can do is develop a salary career path in your job posting. For example, if you're hiring a sales specialist, mention what top sales professionals can earn in their position. Tell candidates their projected income and help them understand what they can get for performing well.
7. Include compensation philosophy, if you can
If you have a "compensation philosophy," you can include it in your job ads. Doing this shows that you value candidates' skills and are committed to their satisfaction and growth.
Communicating that you recognize and reward high performance (and tenure) also boosts your chances of attracting highly-talented people who know their worth. And employ people who are meant to stay with your company for the long term and contribute to your company's successes.
OpenComp posts the salary range for their Director of Marketing Science plus a detailed overview of their compensation philosophy. It also included explanations about their equity and compensation decisions: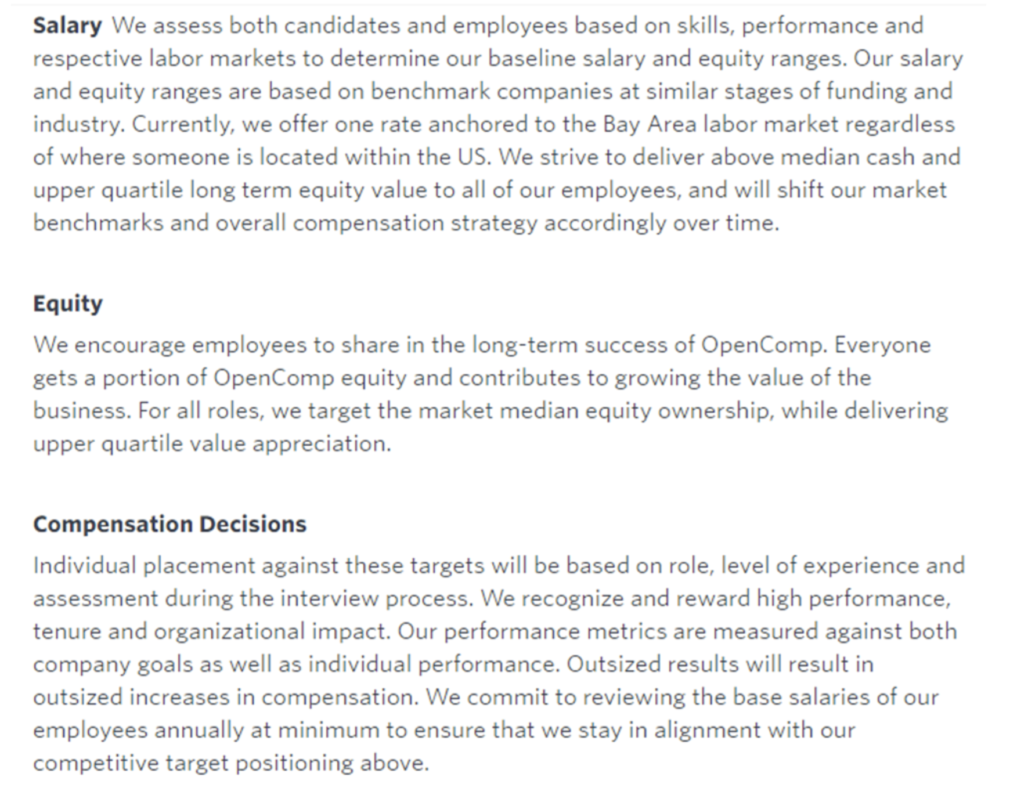 Why I wrote this:
Ongig mission is to help you create the most effective job postings on the planet. Part of that is crafting job postings with salary information to build trust and transparency in your hiring process (and attract more candidates). Kindly click the demo request button to learn more.
Shout-outs: