"HR business partner job description" is a popular Google search (900 queries per month!), I found these 5 examples to use as a guide to help you create your own. In this post, you'll find:
What is an HR Business Partner? — a quick definition
HRBP vs HR Manager — are they the same?
5 examples of an HR Business Partner job description — from Splunk, Amazon, Target, Google & Southwest Airlines
a free Human Resource Business Partner job description template — just copy and paste!
Note: I ran them through Ongig's Text Analyzer software to ensure they score 80% or more (out of 100), are gender-neutral, AND have no other exclusionary language (based on race, age, disability, sexual orientation & more).
What is an HR Business Partner?
An HR business partner (HRBP) is the link between HR and an organization. The HRBP focuses on helping a company succeed. According to SHRM:
"The position formulates partnerships across the HR function to deliver value-added service to management and employees that reflects the business objectives of the organization. The HRBP maintains an effective level of business literacy about the business unit's financial position, its midrange plans, its culture and its competition."
HRBP vs HR Manager
Is an HRBP the same as an HR manager? There might be overlap (depending on the size of a biz), but they focus on different tasks. Here are some differences:
| HR Business Partner | Human Resources Manager |
| --- | --- |
| helps managers set goals for open positions | enforces HR policies |
| develops strategic plans for recruitment & retention | signs off on hiring candidates for a role |
| identifies coaching needs for all levels of the team | manages day-to-day HR admin tasks |
| partners with sr. managers to set diversity hiring goals | develops hiring plans |
| provides guidance on workforce planning and restructures | handles disciplinary issues based on HR policies |
| manages training programs and evaluations | supports training and growth opportunities for the team |
| develops strategies for compliance | ensures regulatory compliance |
| drives HR initiatives | measures employee productivity |
Now, on to the 5 examples of an HRBP job description:
Splunk Senior HR Business Partner Job Description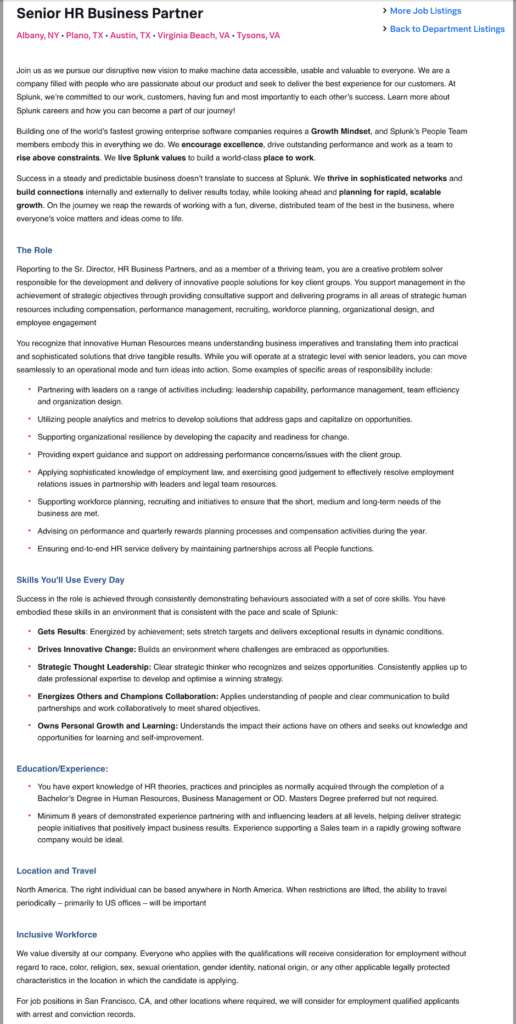 Amazon HR Business Partner Job Description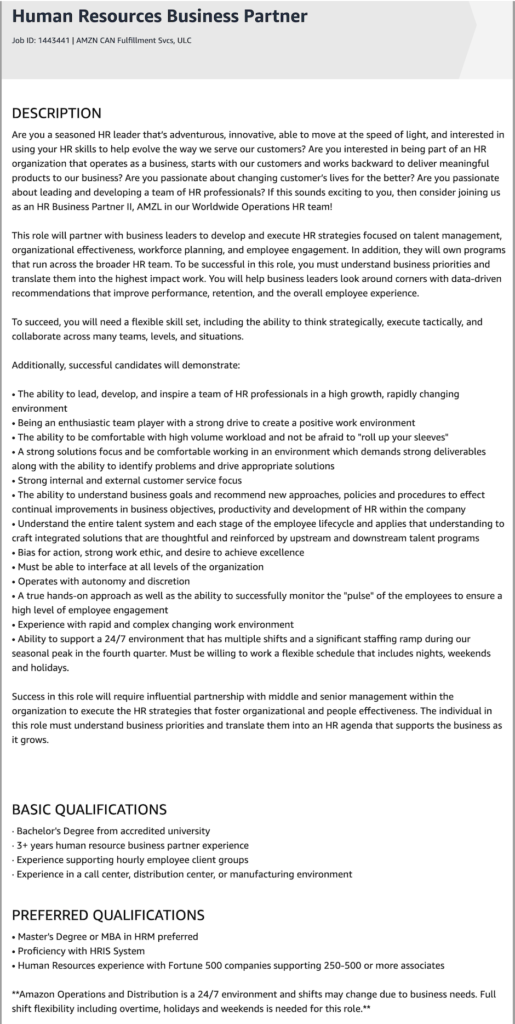 Target HR Business Partner Job Description

Google HR Business Partner Job Description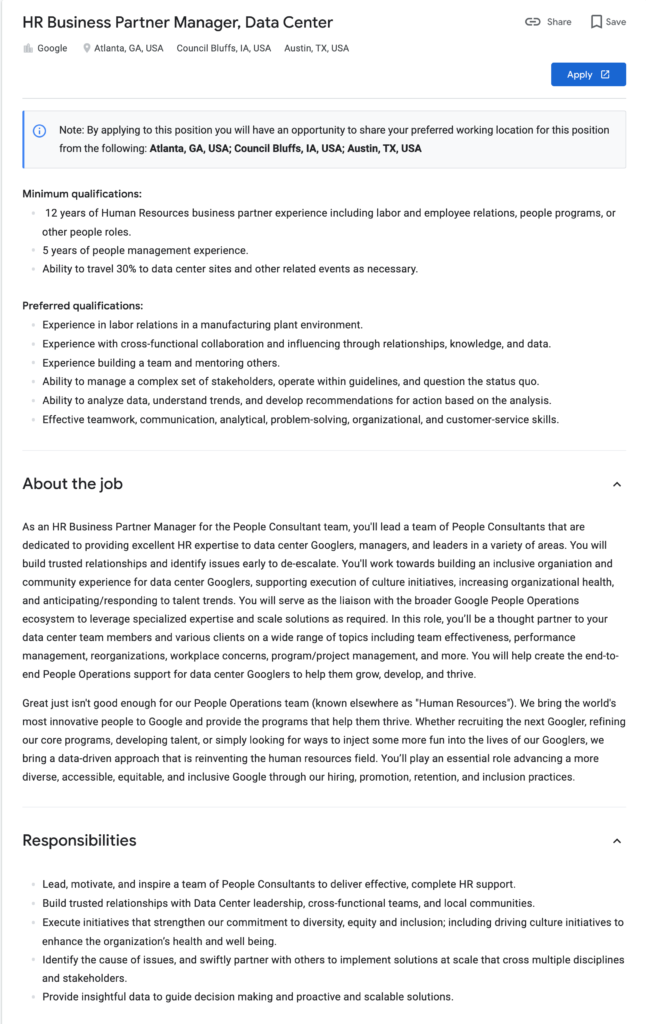 Southwest Airlines HR Business Partner Job Description

Free Template for an HRBP Job Description [just copy & paste!]
The sample JDs above are a great place to start — or try using this human resources business partner job description template as your guide. I've listed ideas so you can easily copy and paste.
JOB TITLE
[Here, you can use "HR Business Partner" or there are other options that might fit your biz better.]
Tip: Try to keep your job titles between 1-3 words and 20 syllables or less. This makes them easier to read and helps with SEO. For example, "HR Business Partner" is a better title than "Human Resources Business Partner – Global Solutions Business Sector."
ABOUT YOU
[This is where you talk about your human resources business partner role.]
Include a sentence on:
what the HRBP does
some goals to reach for
how they work with their team (or across teams)
Tip: Look at other companies for inspiration and give it your own spin (be unique!).
WHAT YOU'LL DO
[Here is where you can list more detail about the day-to-day of the role.]
Some examples:
Provide coaching and performance management support
Develop and support career planning systems
Monitor data to improve HR processes
Manage employee recognition and development programs
Partner with senior management on team efficiency
Advise teams on organizational structure
Tip: Keep your "responsibilities" lists short. Using more than 7 bullets might overwhelm candidates or make them feel underqualified.
YOUR REQUIREMENTS
[This section is where you list basic HR business partner responsibilities, qualifications, and experience.]
For example:
knowledge of HR theories and practices
a degree in human resources or business management
experience building and managing a team
SHRM Certified (SHRM-CP) or (SHRM-SCP) or ability to obtain certification
Tip: Leave out "years of experience" if you can, you might exclude candidates based on age.
Salary & Benefits
[List any perks your human resource business partner will get if they join the team. And include salary information if you can.]
Here are some examples:
salary range of $55k-120k per year
family health insurance
employee wellness programs
parental leave
spa and gym memberships
4-day work week
Tip: What is an HR business partner salary? See above. Even if it's a range, list salary details. Candidates spend more time looking at it than anything else. This heatmap of what candidates look at on a job description (by Content Marketer Greg Lewis of LinkedIn) show's how important it is.
OPTIONAL SECTIONS
[These are some optional sections you might use in your HRBP job description template.]
travel requirements
remote work policies
disability accomodations
how to apply
ABOUT US
[Here, you can talk about yourself!]
Some ideas to include:
what type of business you are in
how great the company is
your core values
Tip: Save the "About Us" section for the end (even though about 50% of JDs start with About Us). Instead, end your JD with the About Us. That way, you can START your JD about the candidate/role, making them feel valued.
DIVERSITY STATEMENT
[Many companies have an EEO or diversity statement. You can add yours here.]
Tip: Find examples in our blog 25 Examples of Awesome Diversity Statements.
Why I Wrote This?
Ongig's mission is to transform job descriptions. If you'd like to see how Ongig can help you optimize yours, please request a demo of Ongig's Text Analyzer.
Shout-Outs: