You've probably heard how important it is to make JDs engaging and inclusive. It's a proven way to attract top talent without restricting your search and harming your reputation. But did you know the length of your JD matters too?
The best-performing job descriptions are usually between 300-700 words.
In most cases, "less is more." You don't want to make people feel like they're reading a legal document while browsing your career site. You want to find a sweet spot where your JDs have enough detail to make an impact while avoiding chunks of text that put job seekers to sleep (instead of hitting "apply.")
The good news is there's a method to fine-tune your JDs. Here are some tips on what to include and what to trim. Note: You can always use software to help you automate the JD writing process.
Optimize your job titles
Your job title is like the name on the bright marquee sign in old Hollywood. It immediately garners attention. Choose short job titles between 1-3 words (and less than 20 characters) to make the most impact. Also, use titles people actually search for. 36% of job seekers search for their next role based on job titles. And:
"specific job titles like "Customer Service Representative" and "Senior Software Engineer" are more effective than titles people are less likely to look for, such as "Customer Service Ninja" or "Software Engineer VI.""

source: Indeed
It's best to avoid internal jargon or vague terms that affect readability. Instead, consider doing keyword research to find job search trends. Ongig's Job Titles: The Definitive Guide will give you a head start on this. The guide has best practices on job titles, including lists of the most-searched titles by hierarchy and departments.
Give a clear job summary
Job seekers appreciate a concise and attention-grabbing paragraph in a "TL;DR" (too long; didn't read) digital world.
The job summary is where you present the unique benefits of working in your company and why someone would want to join your team. Consider including the role's location in this section, or mention if it's remote/hybrid. In a post-COVID world, location matters.
Consider allocating no more than 100-150 words for your summary. Keep it to 2-3 sentences, and try to trim the details by giving a concise view of what the role does. Reserve detailed information (like play-by-play career advancement structure or a list of daily duties) for the rest of the JD or for the interview process.
Fill out the details of your JD
Once you've created a polished summary, it's time to expand on some informative sections to give candidates a reason to apply for the role. Consider dedicating around 100-150 words to each of the following sub-sections.
Responsibilities and Requirements
It's essential to narrow down the relevant requirements and responsibilities for a role. But try to not create extra-long lists of either.
A shorter version (7 bullets or less) will help you find a better fit. For responsibilities, list the top daily duties for the role so job seekers can picture what their day might look like.
And you can break your requirements into sections for easier reading too. List "must-have" and "nice-to-haves" separately, so job seekers feel less stressed (and more confident) about applying for a role.
Here's a great example of a nicely formatted, easy-to-read requirements section: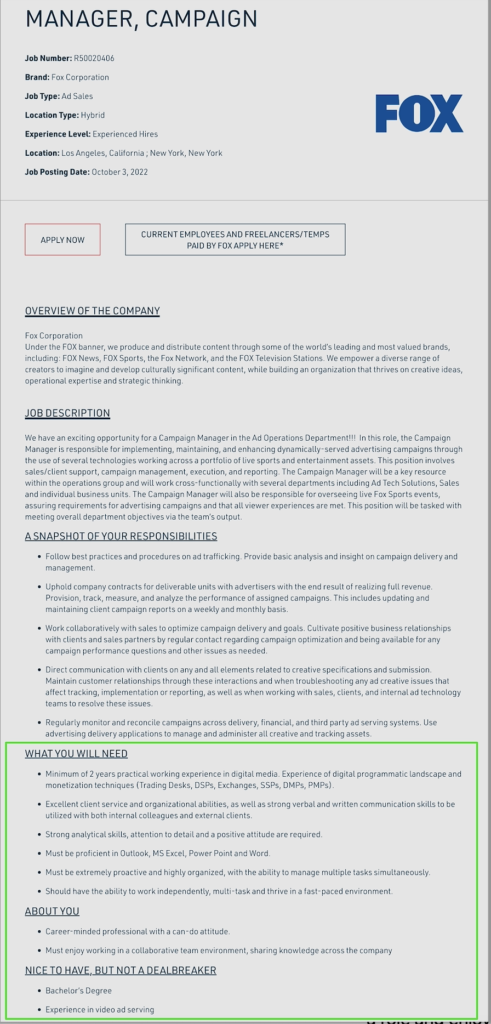 Salary and Benefits
Listing salary and benefits in your JDs gives candidates the transparency often associated with a positive workplace. According to a Gallup poll, 64% of talents prioritize a significant increase in income and benefits when seeking employment.
Adding salary info, even if it's just a range, makes your job ad stand out. And it might also be required depending on the state you are hiring in.
Listing benefits also boosts apply rates. Each benefit you include in a job ad increases the apply rate by 1% to 5%. And the benefits with the most positive impact on apply rate are:
Regular Incremental Bonus (+155.1%)
Pet Insurance (+37%)
Health Insurance (+29.8%)
Stock Options/Employee Stock Purchase Plan (+27.5%)
401(k) (+20.5%)
Other creative employee benefits like sleep/nap pods and paid sabbaticals could also shift the most eligible talent in your favor.
Once you're done listing the top items candidates care about, don't forget to include a diversity and inclusion statement and a short "About Us" blurb at the end of your JDs.
Why I Wrote This?
Our team at Ongig believes that raising awareness around the best JD practices (like writing punchier JDs) alongside our automated job description software will help optimize your hiring processes, so you attract the best talent for your roles.
Shout-Outs: