Executives are the face of your company. An executive job description template summarizes the scope of work, expectations, and benefits change-makers in your company can expect when filling a role.
An accurate and inclusive job description helps you attract the best execs capable of driving your organizational goals. Here are 5 examples of an executive JD template to help you write your own. Plus, a free copy/paste template!
Note: I ran these examples through Ongig's Text Analyzer software to ensure they score over 80% or more (out of 100), are gender-neutral, AND have no other exclusionary language (based on race, age, disability, sexual orientation & more).
1. CEO Job Description Template — HCA Healthcare

Things to include in a CEO job description template
The chief executive officer (CEO) is one of the top leaders in an organization. CEOs oversee an organization's ongoing operations across business strategies, employment decisions, and other major aspects to maximize ROI.
Modern CEO job description templates usually include a detailed breakdown of the domains managed by the candidate (e.g., budget and finance, or decision-making). This gives CEO candidates a clear grasp of what to expect in the role.
CEO candidates usually require a demonstrated role model mentality, enabling them to lead and guide external staff while reporting to the external board of trustees.
2. CFO Job Description Template — vcfo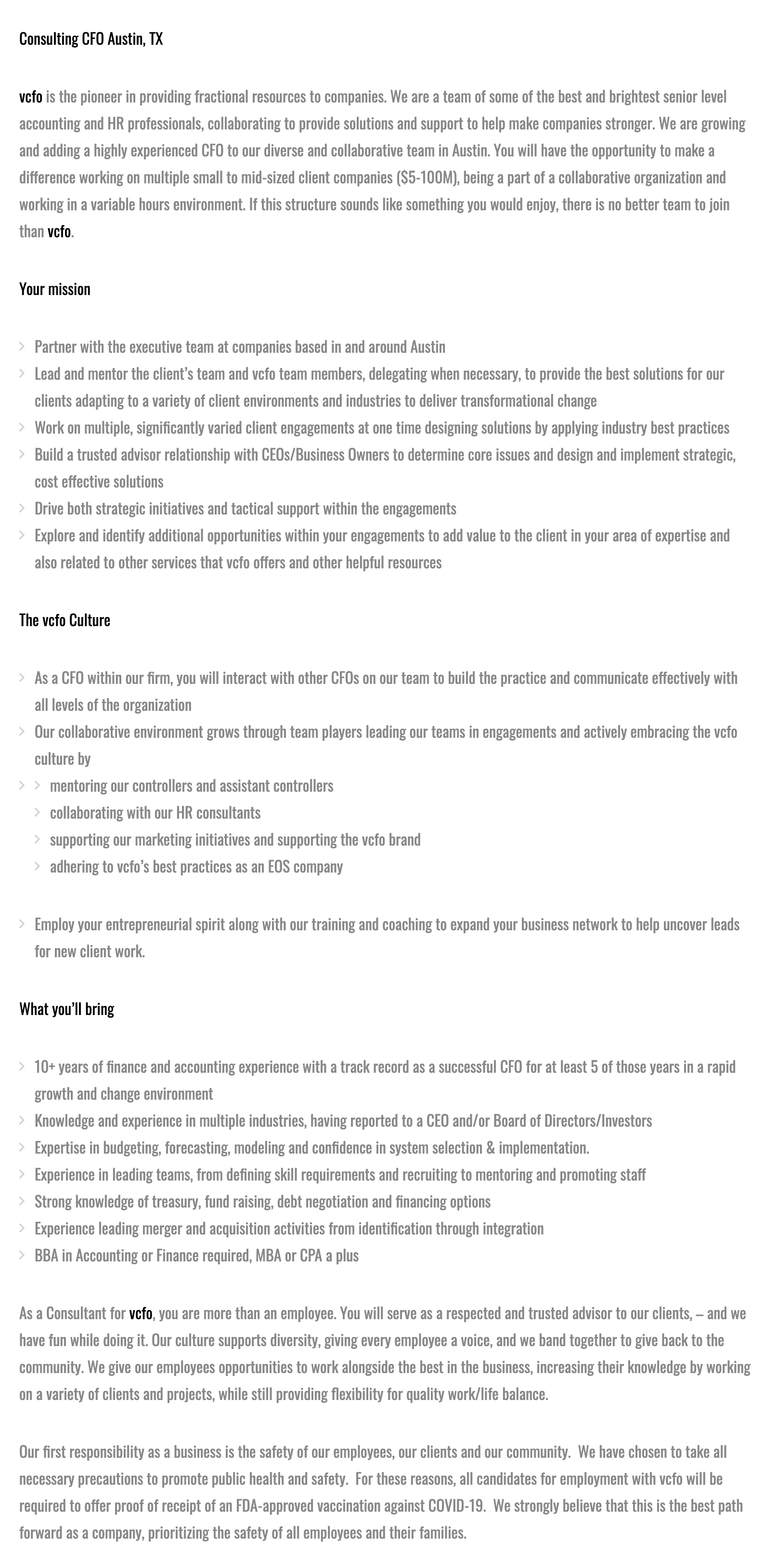 Things to include in a CFO job description template
The chief financial officer (CFO) monitors every financial aspect of your company. Typical tasks include:
budget planning and forecasting
manage regulatory compliance and governance
developing relationships between management, stakeholders, and partners
You might want to highlight the vital collaboration between the CFO and CEO in driving major financial decisions for the organization across annual budgets.
3. CIO Job Description Template — The Kennedy Center

Things to include in a CIO job description template
Chief information officers (CIOs) handle the IT aspect of your organization. A more popular title is Chief technology officer (CTO). I include a CTO job description template in the next section.
CIO candidates should have a deep understanding of your company's technologies and IT security. Plus, the expertise to integrate various teams and platforms to advance organizational targets. For example, you might hire a CIO to develop IT solutions based on new company (or client) requirements.
Most modern CIOs possess the industry insights to tools that help spearhead your company's digital transformation.
4. CTO Job Description Template — Understood

Things to include in a CTO job description template
A chief technology officer (CTO) serves as the highest-ranking executive in charge of technology usage and strategy in the company. Your CTO job description should focus on operational efficiencies and the deployment of suitable tech solutions.
Our sample CTO description highlights the daily duties like:
protectiung privacy and security
identifying risks
communicating long and short-term tecnology plans
manage and coach the tech team
5. Chief Commercial Officer Job Description Template — APR Energy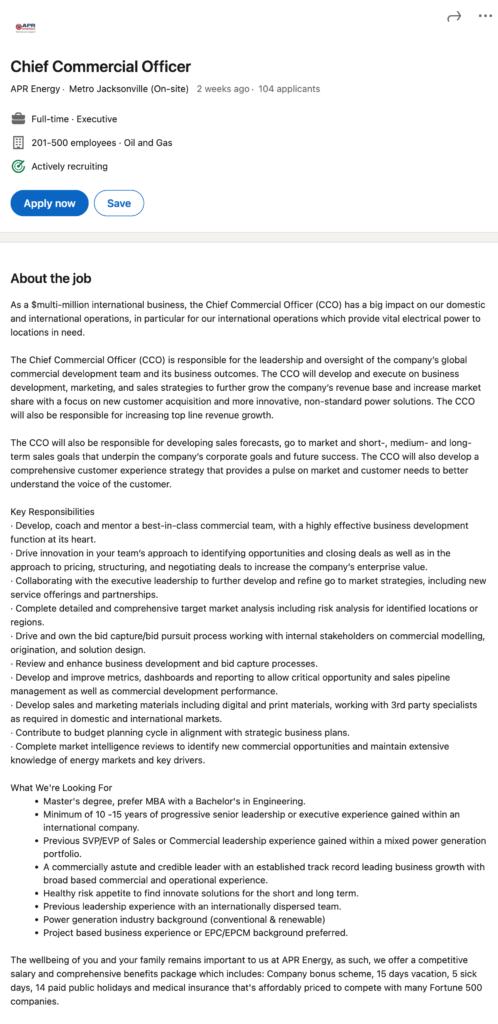 Things to include in a CCO job description template
A chief commercial officer (CCO) is a relatively new term compared to other more notable C-suite positions. CCOs oversee every stage of a company's commercial pipeline.
In most cases, they're focused on marketing too. And depending on the industry, the role combines the responsibilities of the chief marketing officer (CMO) and CEO.
A CCO should have deep knowledge of organizational products and services. Plus, a proven passion for understanding and fulfilling the needs of clients and customers. CCOs might report directly to the CEO, so you can list this in your job ad.
Free Executive Job Description Template [just copy & paste!]
The 5 exec JD templates above are great for inspiration. Or try using this executive job description template as your guide to writing your own. There are tips and examples so you can easily copy/paste.
JOB TITLE
[Here, include the word "executive" or "chief" and any other important part of the position, e.g., "operations"]
Tip: Keep your job titles between 1-3 words and 20 syllables or less. This helps with SEO and makes them easier to read. For example, "Executive Director" is better than "Executive Director, Remote Full Time."
JOB SUMMARY
[This is where you write a paragraph about the role.]
Tip: A executive job summary should concisely explain the role. Remember to include who they'll supervise and any other executive-level responsibilities. This often increases job satisfaction.
Here's an example for inspiration:
"As the Chief Financial Officer – you will be responsible for owning and enhancing our Adaptive Planning instance. You will lead finance leads, accounting, and financial platform teams in implementing new models, expanding our current reporting capabilities, and building new data connections to systems including Workday, Netsuite, and Snowflake."
ABOUT YOU
[This is where you talk about your executive candidate.]
Include a sentence on:
what the executive will do
some goals they will reach for
how they work with or supervise the team (or other teams)
Tip: You can use the executive job descriptions above for inspiration.
WHAT YOU'LL DO
[Here is where you list the day-to-day executive (i.e., CFO) job duties.]
Job duties may include:
Maintain organizational cash flow
Allocate budget for human capital management
Select the ideal candidates for the finance team
Approve and Implement finance technology
Compile financial data to guide the decisions of the CEO 
Tip: Keep your "responsibilities" and "executive job duties" lists short. Using more than 7 bullets might make candidates feel underqualified or overwhelmed.
YOUR REQUIREMENTS
[This section is where you list basic executive qualifications and experience.]
Tip: Include your preferred requirements here or create a "Preferred Requirements" section if there are more than two.
SALARY
[List the salary or hourly rate for the role here. Candidates spend more time looking at it than anything else.]
Tip: Even if it's a range, list salary details. Salary is the #1 part of a job ad that is "helpful," "appealing," and makes candidates "more likely to apply."
source: Vision Critical Heatmap Study of 450 LinkedIn Members, June 2018
BENEFITS
[List any perks your executive will get if they join the team.]
Tip: Each benefit you include in a job ad increases the apply rate by 1% to 5%. The benefits with the most positive impact on apply rate are: Regular Incremental Bonus (+155.1%); Pet Insurance (+37%); Health Insurance (+29.8%); Stock Options/Employee Stock Purchase Plan (+27.5%); and 401(k) (+20.5%).
source: Appcast and Behavioral Scientist Ashley Whillans, PhD, Harvard Business School, 2018
OPTIONAL SECTIONS
[These are some optional sections you might use in your job description for an executive.]
travel requirements
remote work policies
disability accommodations
how to apply
ABOUT US
[Here, you talk about yourself!]
Some ideas to include:
how great the company is
your core values
Tip: I like to save the "About Us" section for the end (even though about 50% of JDs start with About Us). Instead, end your JD with the About Us. That way, you can START your JD about the candidate/role, making them feel valued.
DIVERSITY STATEMENT
[Most companies have an EEO or diversity statement. You can put yours here.]
Tip: Most candidates value seeing a D&I commitment. A diverse population of 764 LinkedIn members in the U.S. said, "even a generic statement is still better than no statement."
source: LinkedIn Study of 764 members on Diversity Statements, June 2021.
In our blog 25 Examples of Awesome Diversity Statements, you'll find more examples.
Why I Wrote This?
Ongig is on a mission to help create effective and inclusive JDs (for all levels of your company). Request a demo if you'd like to learn more.
Shout-Outs: