Job posting wording has a direct impact on your quality applications. Here are 7 tips that should help you nail your wording.
Job Posting Wording Tip #1: Keep Your Job Title Simple
The most important first words of your job posting are those in its job title. The job title affects whether a candidate opens up the job posting and keeps reading.
A couple of tips:
Length — Keep it to 1 to 3 Words and 10 to 20 characters. That's what we've seen as the job title length (see How Long Should a Job Title Be? for more details) that currently gets the highest apply rate. Job titles with 1 to 3 words got double the apply rate versus those with 12+ words
Don't be Clever — Candidates need to quickly comprehend what you're hiring for. Try to avoid using acronyms, symbols, levels ("Engineer – Level 2").  Check out 5 Things to Avoid in Your Job Titles.
Check out Docusign's job title below: "Payroll Specialist" is short and sweet and leaves no room for confusion

Job Posting Wording Tip #2: How to Introduce a Job Posting
What wording do you use to introduce a job posting? 2 tips:
Be Conversational
Tell the Candidate What's In it for Them (Immediately)
Be Conversational
A good job posting is a job advertisement. And in ads and marketing it helps to be conversational.
One way to start a job ad is with questions…being conversational, when done right, is a proven winner in marketing.
Check out wording of the opening of ADP's job posting below: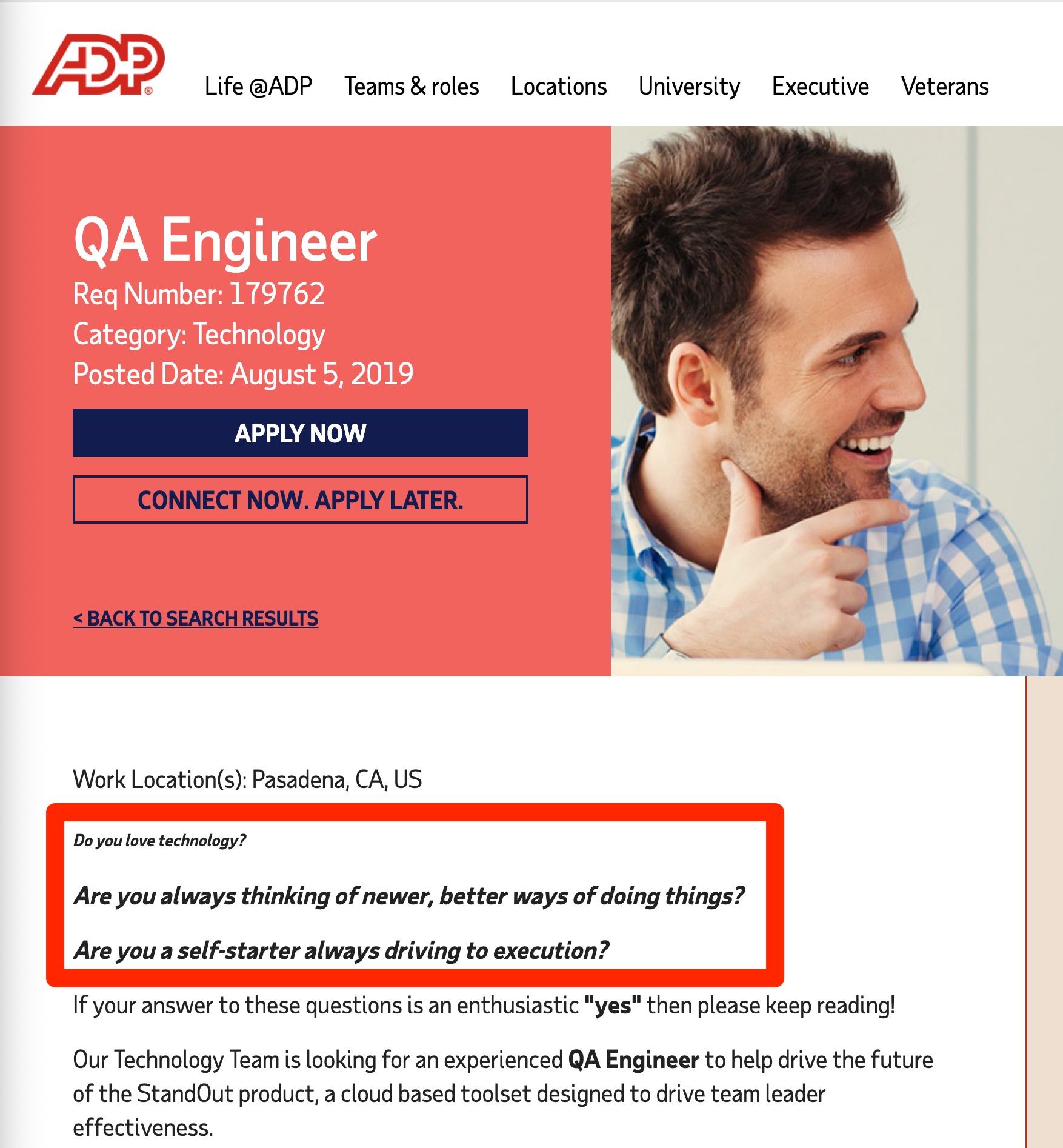 Asking questions at the start of your job posting is conversational. That's a good thing because:
Your candidates (customers) like to be engaged and questions get the candidate thinking about an answer (suddenly you're both in a conversation).
It shows the candidate you're focused on them (notice that ADP mentions you 3 times in the first 3 sentences above.
It helps to write in the 1st person/2nd person point of view (you, your, we, our, etc.) to be more conversational.
Tell the Candidate What's In it for Them (Immediately)
When you introduce a job posting, it also helps to immediately tell candidates (customers) what's in it for them.
Check out Dynamic Signal's effective 2nd sentence in the job posting below: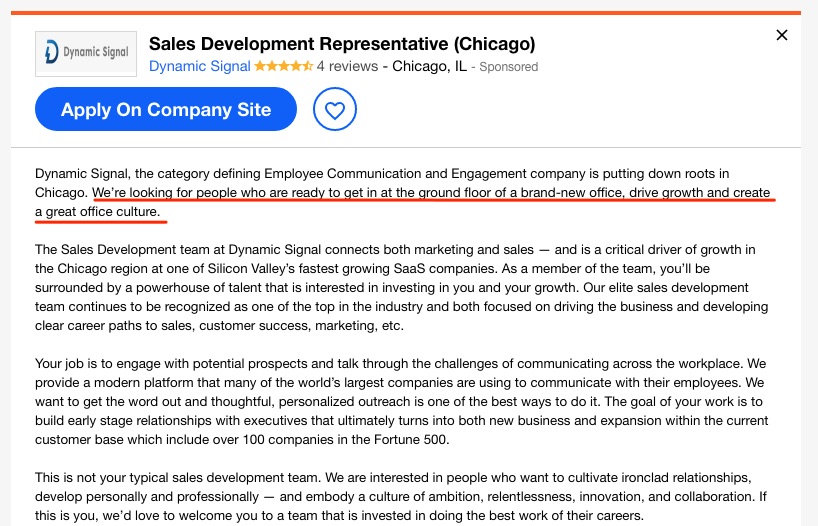 Dynamic Signal immediately emphasizes 2 things the candidate receives:
they "get in on the ground floor of a brand new office" and
can "create a great office culture"
How long does it take your job postings to answer the question:
"What's in it for the candidate?"
I recommend you get to candidate value in the opening paragraph. Check out Maslow's Hierarchy of Candidate Needs (for Job Ads) for more examples of what candidates care about.
If you're wondering where your About Us section should go, it should be close to the end.
Job Posting Wording Tip #3: Compensation & Benefits
The first thing on a job ad that candidates look at is your compensation and benefits (if you include them), according to this Job Description Heatmap.
The more benefits you list (in your job posting the higher your apply rate. For example,, according to Appcast, here are the apply rates of job postings based on the # of benefits each had:
7.4% for 0 benefits
8% for 1+ benefits
11.5% for 2+ benefits
17.1% for 3+ benefits and
22.5% for 4+ benefits
So what wording do you use for compensation in a job posting?
Check out the Terminix job ad below for one simple example: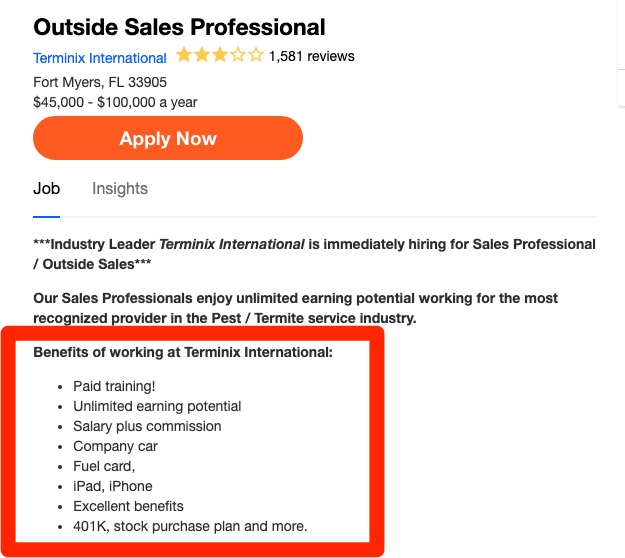 Salary is usually the main component of your compensation information. You can use general wording about salary (like Terminix above) or do one of the following:
Give the actual salary
Give a range
Say "competitive salary"
Another option for providing salary info is to let a 3rd party do the wording for you. Check out Elastic's job posting below. It includes an embeddable Glassdoor widget that gives the candidate some estimates of how much salary they might make. Ongig provides employers with the Glassdoor widget for job postings.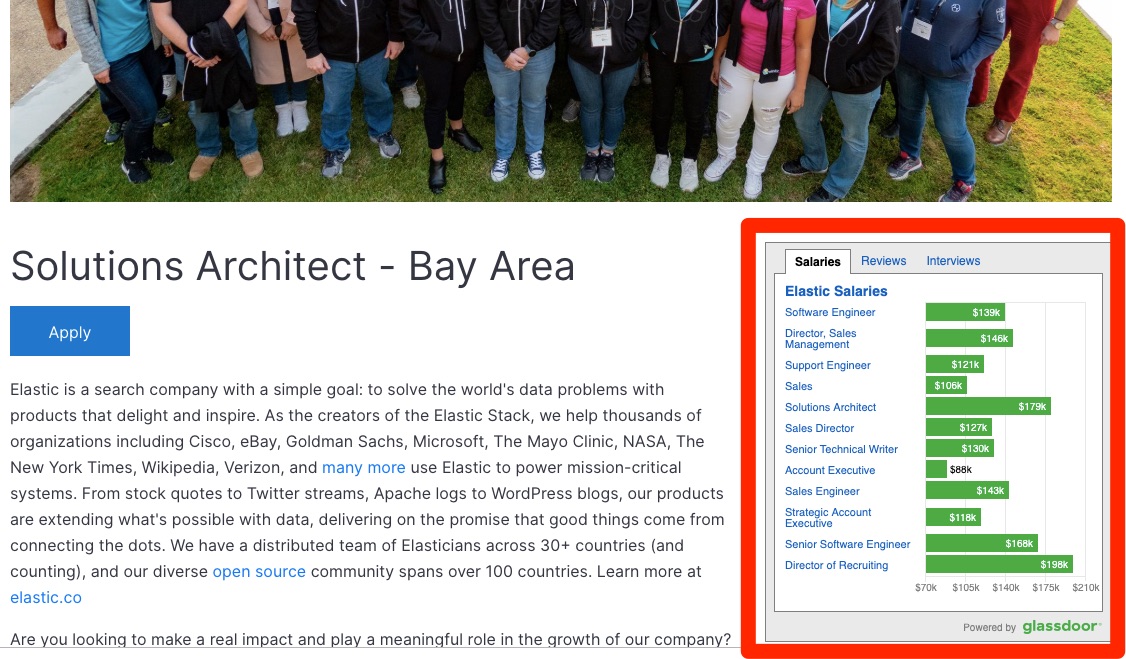 Job Posting Wording Tip #4: Years of Experience
The main rule on the "years of experience" wording in your job posting is to make sure you need it.
Facebook CEO Mark Zuckerberg is clear on this via Mark Zuckerberg's 7 Recruiting Tips:
"You can hire someone who's a software engineer who's been doing it for 10 years…that's cool…but if you find someone whose raw intelligence exceeds theirs but has 10 years less experience…they could probably adapt and learn way quicker and in a short amount of time do a lot of things the (the more experienced person could never do)."
I agree. You don't want to demand "10 years of experience" in your job posting if someone with fewer years of experience can do the job or quickly learn the skills needed to do the job.
Also, some women might not apply if you require X# of years of experience in your job posting.
One HP study showed that men apply for a job if they meet 60% of the qualifications, but women only apply if they meet 100% of them.
Job Posting Wording Tip #5: Diversity
When you word your diversity statement, you might want to review 10 Examples of Awesome Diversity Statements for tips.
Godaddy has a good one here:
"A Culture of Creativity is life at GoDaddy. We hire the best, give them first-class training and set them loose. If you're driven to perform, you'll fit right in. We approach our work fearlessly, learn quickly, improve constantly, and celebrate our wins at every turn. Everyone is welcome—as an inclusive workplace, our employees are comfortable bringing their authentic whole selves to work."
Others, like Off the Grid, combine their diversity statement and EEO statement. Here it is:
"Off the Grid is committed to creating an inclusive environment that welcomes and values differences among our associates, customers, vendors, and the communities in which we live and conduct business. Our continued success and growth is enhanced through initiatives that promote diversity throughout the company and our communities. Off the Grid is an equal opportunity employer and considers qualified applicants for employment without regard to race, color, religion, sex, national origin, sexual orientation, gender identity, disability or protected veteran status."
The key is to be truthful and say you're inclusive (if you are).
Job Posting Wording Tip #6:  EEO Statement
Your EEO statement wording depends on your situation.
If you're working with the government or going public, you need to have an EEO statement to comply with the EEOC.
If you want to use the fewest EEO words and still likely be in compliance to work as a contractor or sub-contractor with the U.S. government (see Section 60-1.41 of the EEOC law on job advertisements), you can do what the Gallo wine company does in their job postings — they simply insert these 3 words at the bottom of every job:
"Equal Opportunity Employer"
If you'd like to use a bit more EEO wording for job postings that still mentions the magic 3 words (Equal Opportunity Employer), then check out what financial giant UBS does in their job posting EEO statement:
"UBS is an Equal Opportunity Employer. We respect and seek to empower each individual and support the diverse cultures, perspectives, skills and experiences within our workforce."
There are great additional examples in 10 Samples of an Effective EEO Statement.
Job Posting Wording Tip #7: Wording to Attract Women Applicants in Tech Roles
A number of psychology journals and artificial intelligence tests prove wording in job postings impacts a woman's likelihood of clicking apply.
Check out the below job posting for Senior Software Engineer at PEAK6 (analyzed by Ongig's Text Analyzer software). It has a healthy percentage of its words proven to attract women applicants, such as collaborate, responsible and support.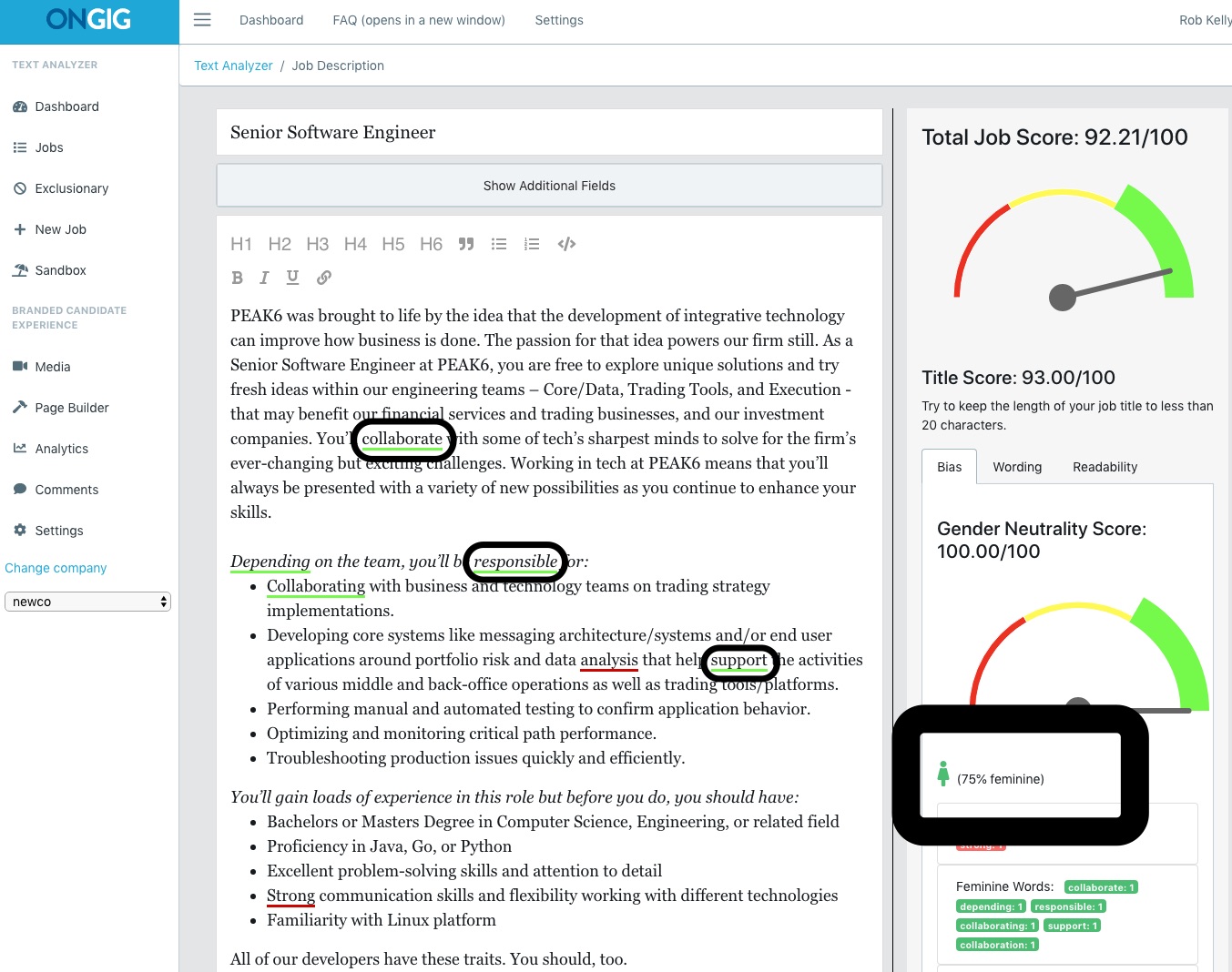 Here are the top 10 feminine words used in tech job postings:
support
share
responsible
understand (or understanding)
together
committed
interpersonal
feel
collaborate (or collaboration)
connect
Source: Top 10 Feminine-Biased Words Used in Job Descriptions
If you want effective wording to attract women applicants for tech roles, you should steer clear of overly masculine-coded words such as ninja and rock star.
Here are the top 10 masculine words used in tech job postings:
strong
drive
lead
analysis
analytical
driving
individuals
proven
workforce
decisions
Source: The Top 10 Masculine Biased Words Used in Job Descriptions
Examples of Wording for ADA compliance for a Job Posting
If you're looking for the best wording for ADA job postings and to be more inclusive to people with physical disabilities, check out:
Why I wrote this?
Job posting wording is at the heart of Ongig's mission ("to transform job postings"). Our Text Analyzer job description software optimizes wording to attract top-tier talent and eliminate bias. Please click the demo request button if you'd like to get a demo.