Here are 10 examples of job ads worth looking at, whether you are revamping your own…or just looking for creative job ad ideas.
Last year Ongig published 10 Awesome Job Descriptions and we are already seeing many companies (big and small) making vast improvements to their job ads which show you just how fast they are evolving.
Some features of these great job ads are must-haves (consistent color-scheme, clear call-to-actions, email job alerts, purpose-driven language such including mission statement, video and pictures etc.) while others are ideas for you to get creative.
And most features below can be enabled through Ongig's Candidate Experience Software. If you want to optimize your job ad text, make sure to check out Text Analyzer. And, for tips on writing job descriptions, check out How to Write a Job Description — Best Practices & Examples.
Macy's
Unique videos for need-to-fill job ads in-line with the job description text
Consistent Macy's red color on the 2 call-to-action buttons
Their right-hand rail objects amplify their values and employer brand
Job ad details (location, category, schedule-type) clear and front and center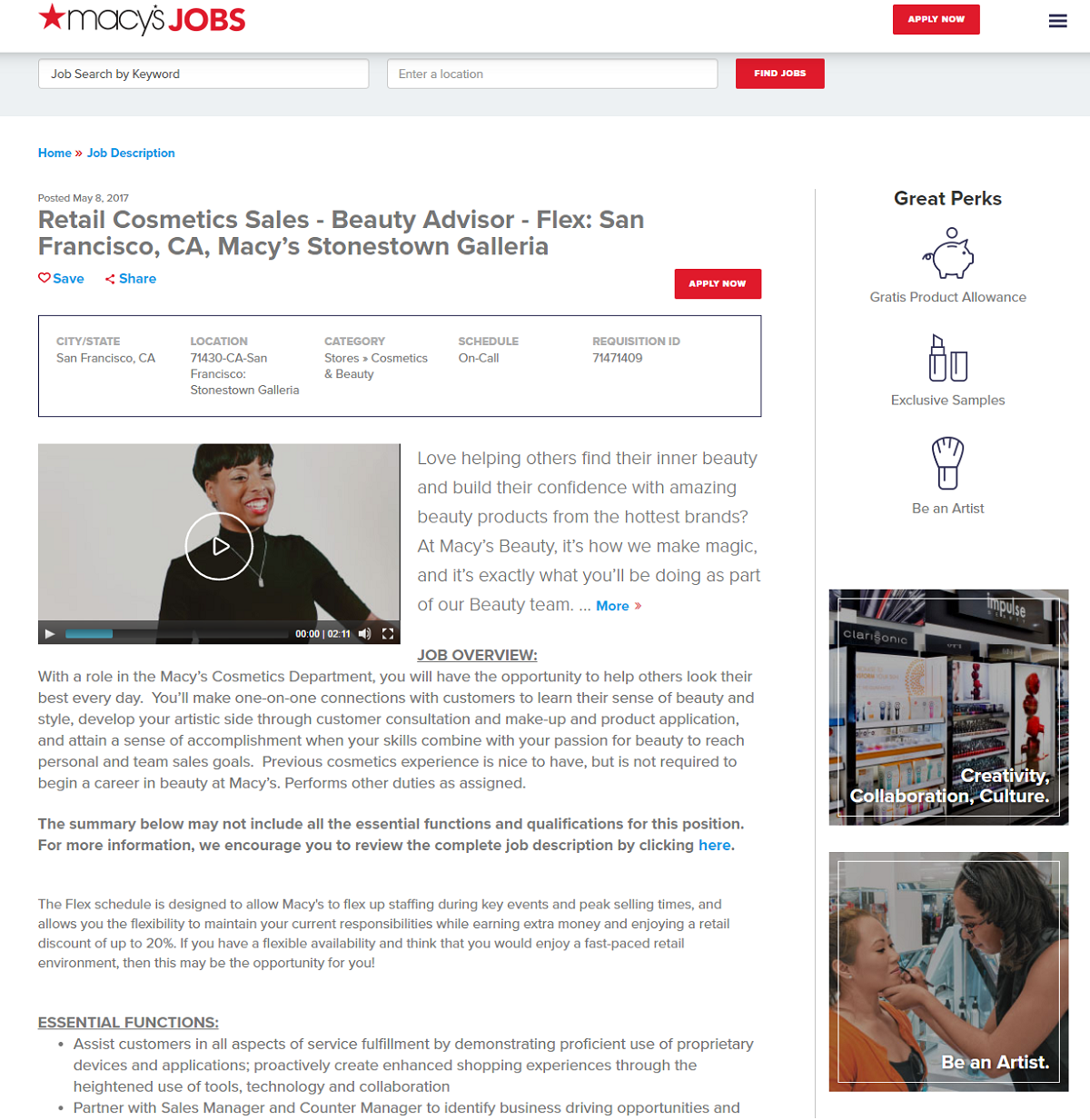 T-Mobile
Their color scheme of pink/dark and white is omnipresent — you know you're in T-Mobile's world on these job ads
Very engaging benefits section
'What to expect when applying" recruitment video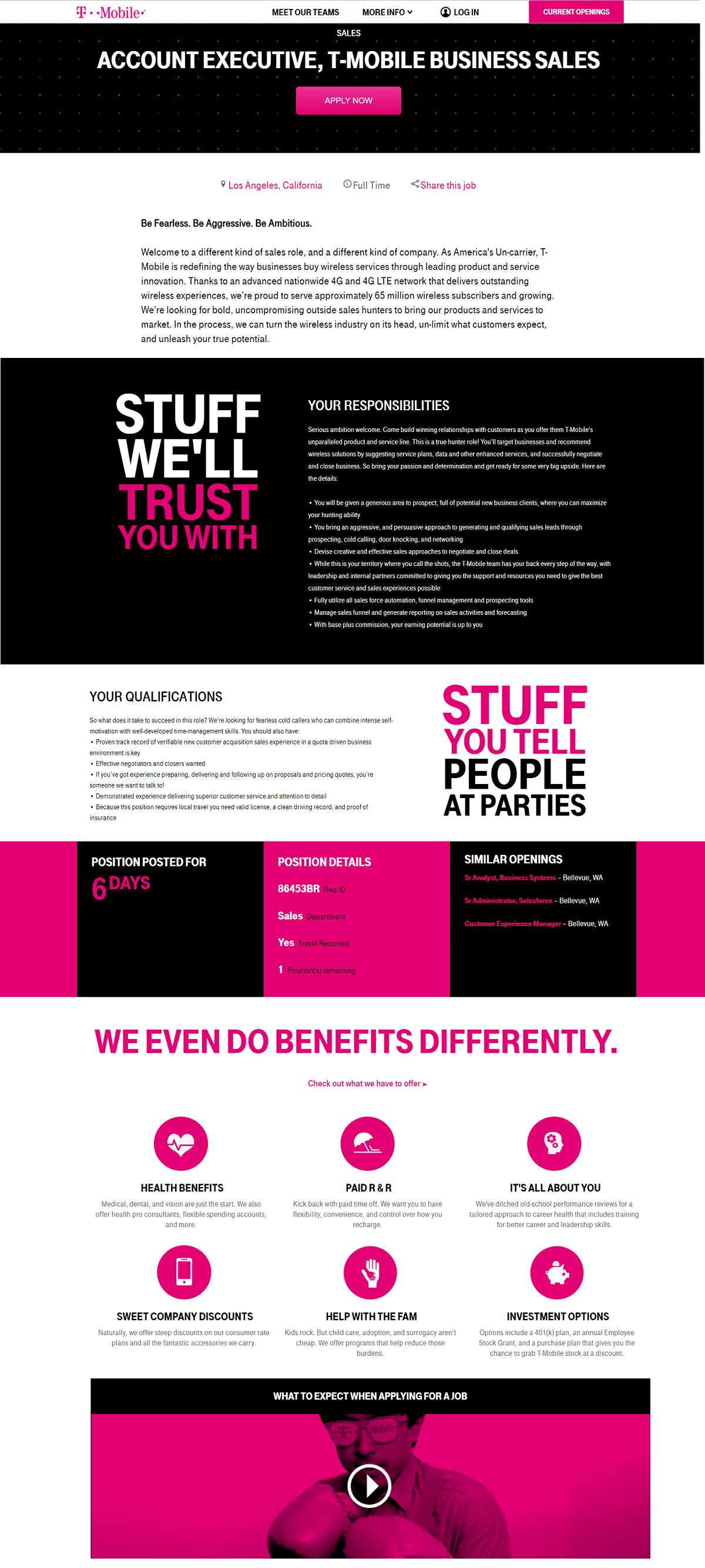 Domino's
Employer branding video on every job ad
"Related Jobs" widget
2 "Because…" statements (the best candidates want to know why they should join you!)
Great employer branding — The color scheme of red white and blue is consistent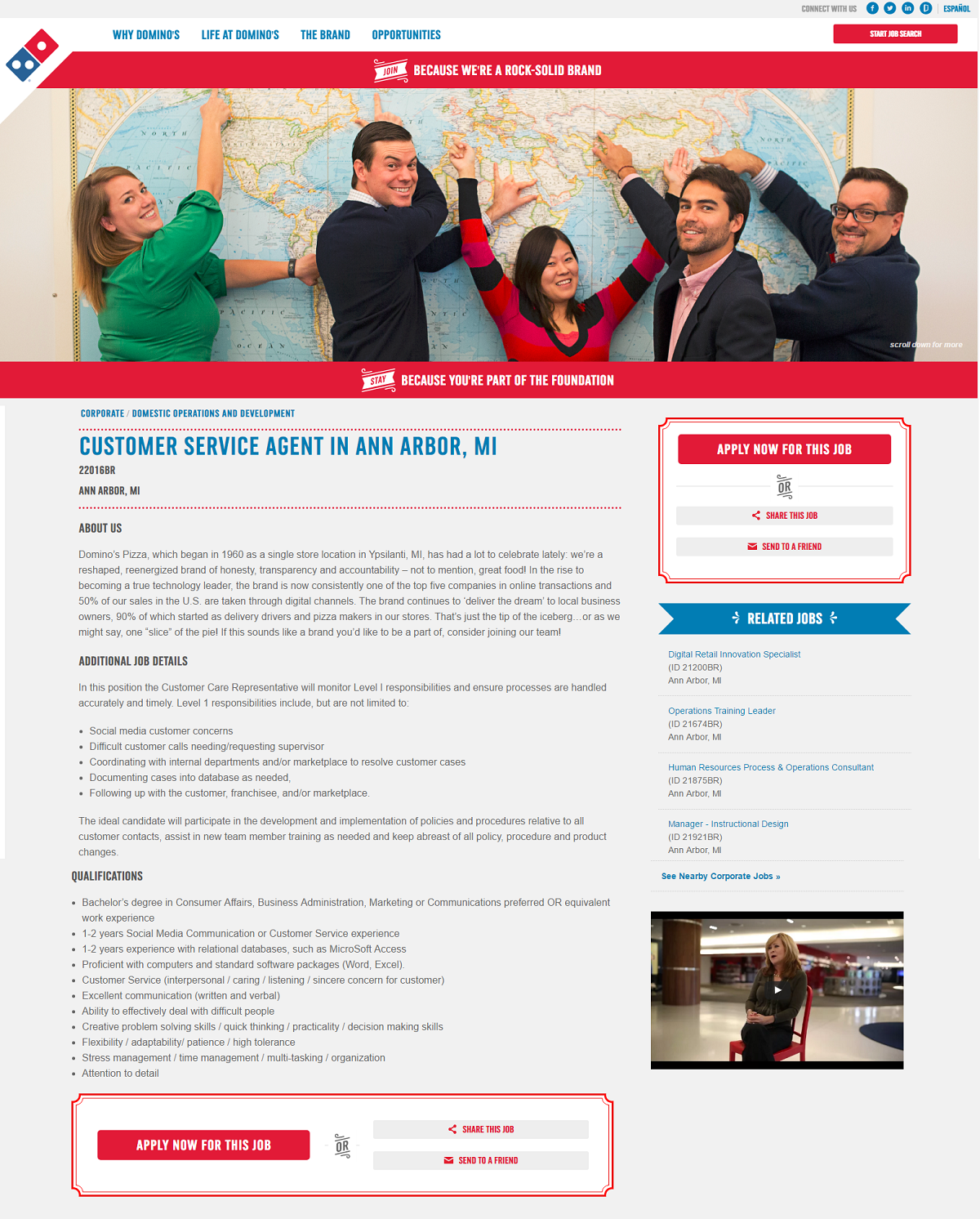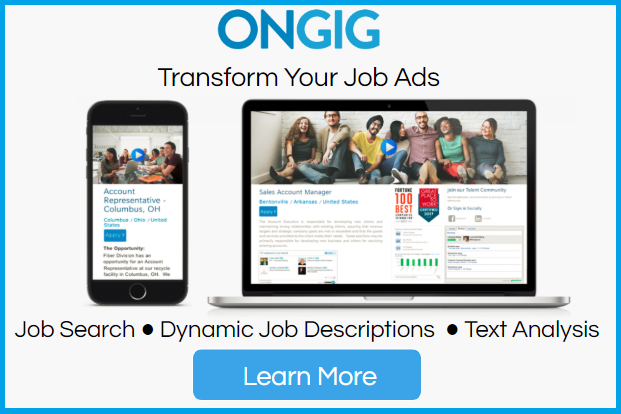 Hearst Magazines
Employee testimonial hover-overs (with actual names and positions of employees!) on every job ad
Carousel of employer branding and recruitment videos
Strong sidebar/rail with perks and features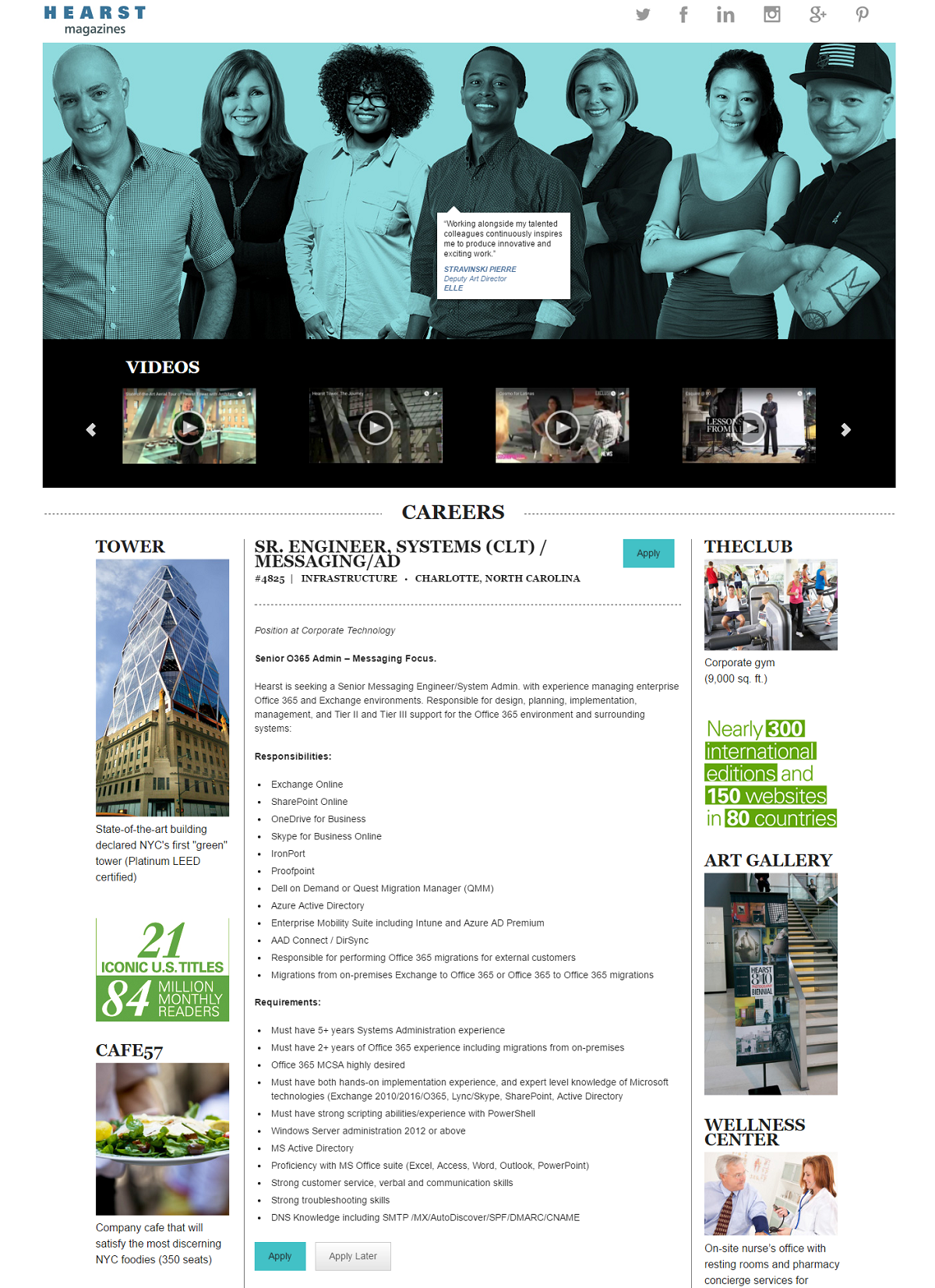 Baystate Health
Mission Statement — Putting the "Together we deliver a higher state of caring" mission statement on the picture acts as an effective headline for each job ad
Maps — Each job ad has a "Check out our [city, state] with a map and nearby Airport, Schools, Restaurants, Gyms and directions
An email job alert on every job ad
Rotating Videos — Show different videos in the job ad such as "A Day in the Life" and a video about them winning the awards
A killer rainbow-colored "Our Beliefs | Diversity" (footer)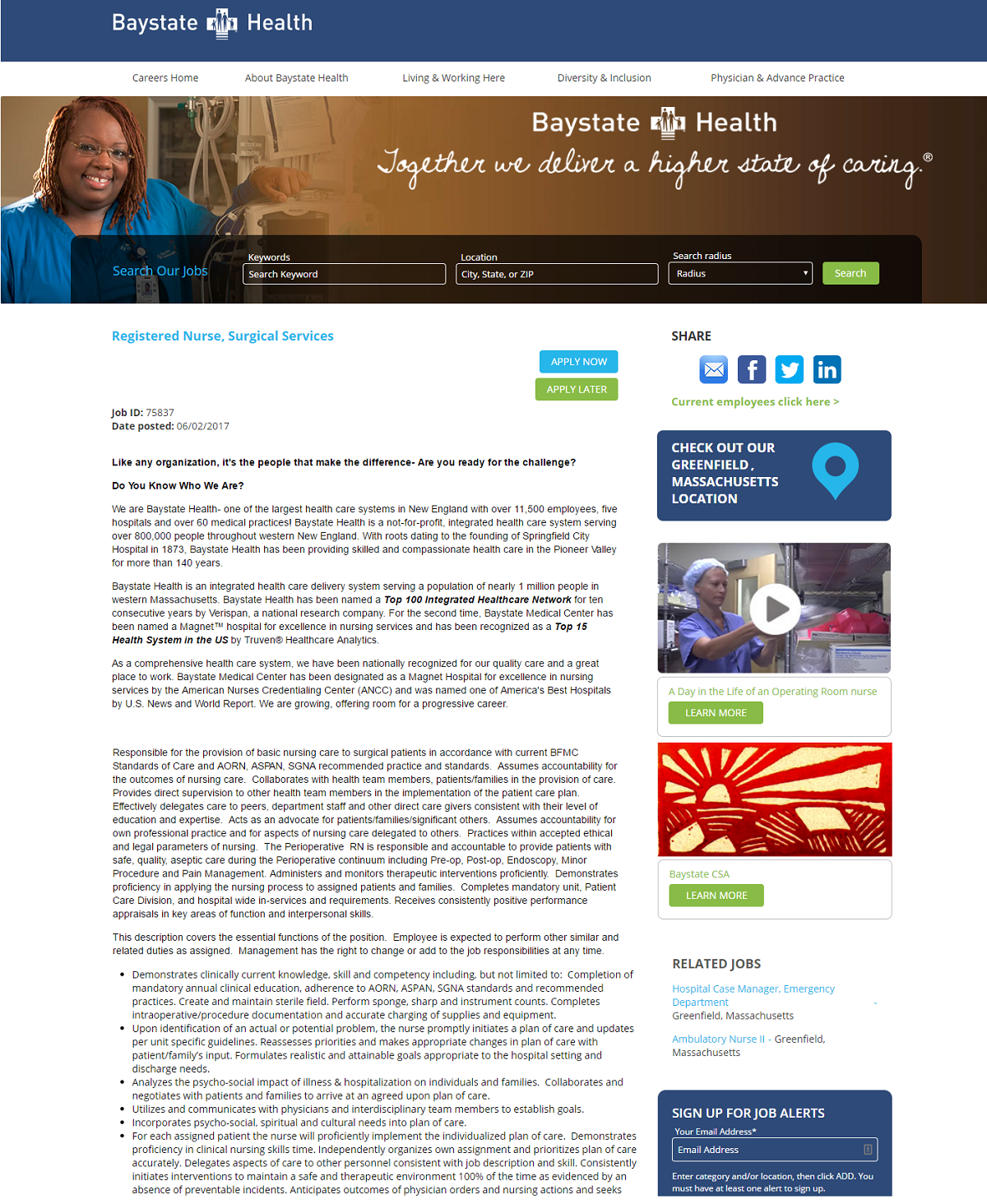 Continental
Consistent branding with color scheme
A unique "Next job ad" link that lets you easily see the next search result
A clear mission statement ("Let your ideas shape the future") in upper right of every job ad
Easy-to-read text of the job description with excerpts and isolated sections
Good use of right-hand rail with map, name of recruiter, icons for Benefits and link to a "video portal" with dozens of videos
Key facts widget with map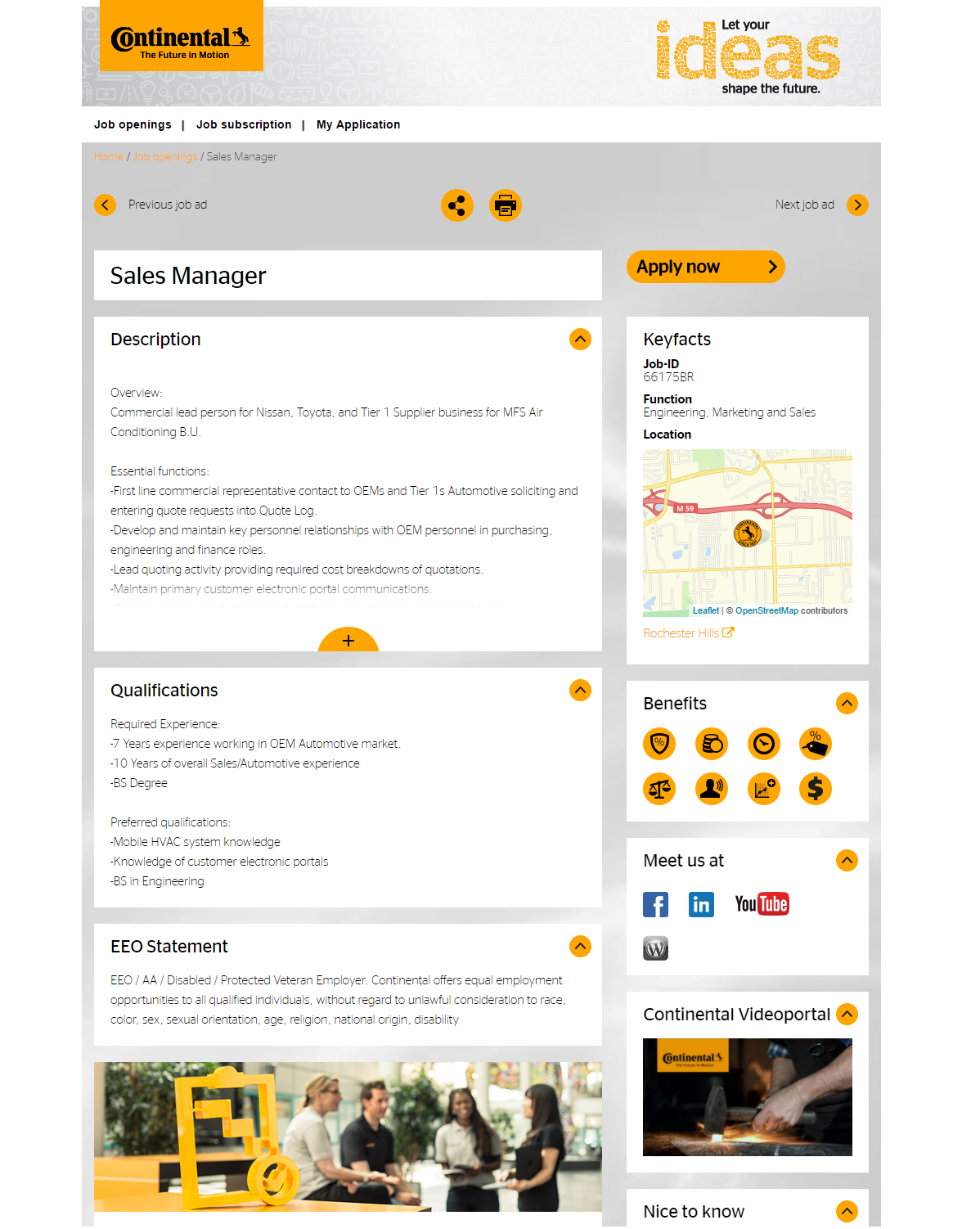 VMware
Rotating pictures on each job ad (Depending on location and department)
3 ways to apply
Creative name for their talent community ("CareerHub") — feels more warm and fuzzy than "Join our Talent Community/Network")
An emphasis on their corporate values (called "EPIC2") in right-hand rail
Email job alerts on every job ad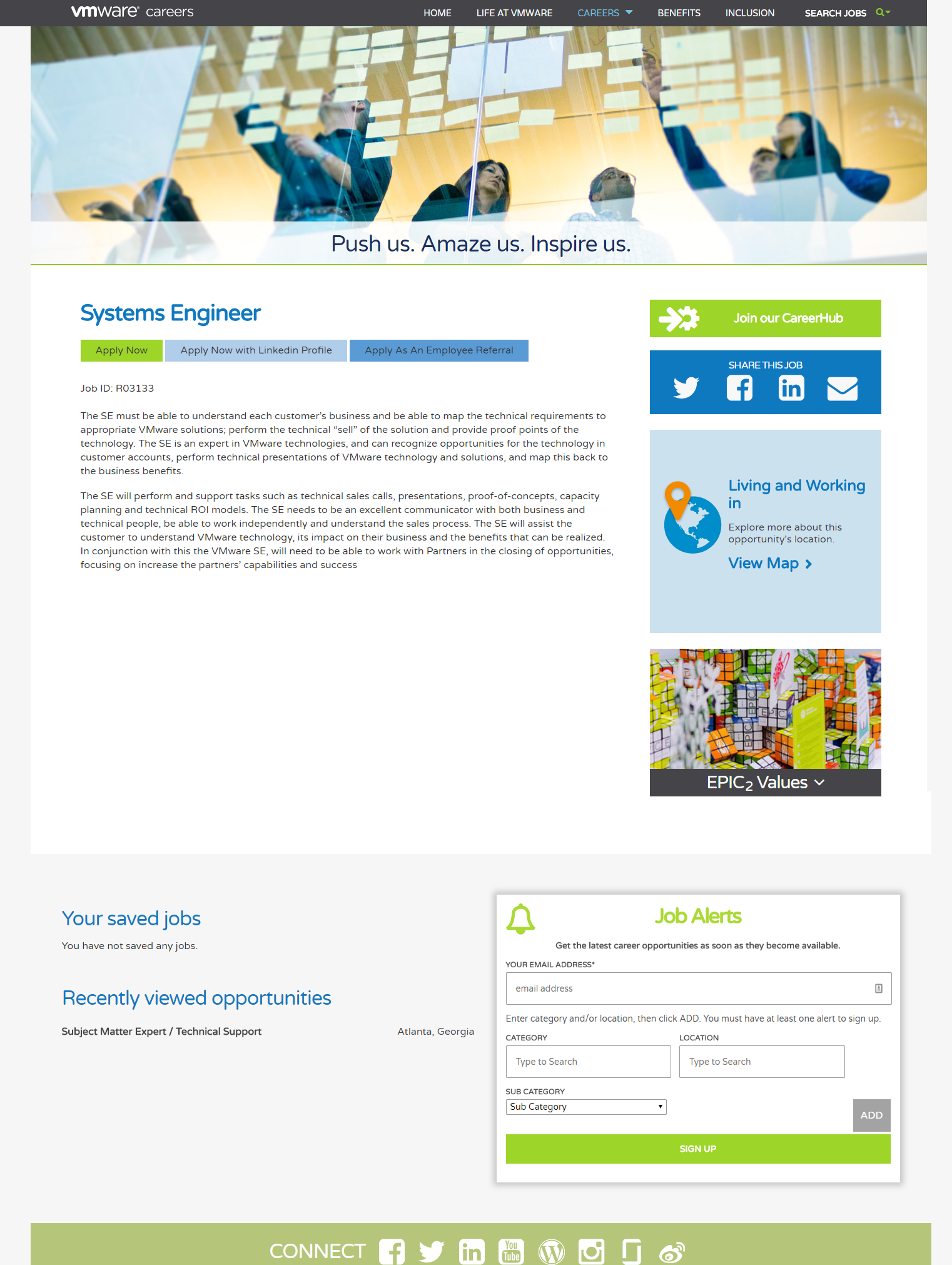 Northwell Health
Video on every job ad
Upcoming recruiting events (creative and smart with Registered Nurse candidate pool depleted).
The 2 tabs (Qualifications and Requirements) allow more efficient use of space
Consistent color scheme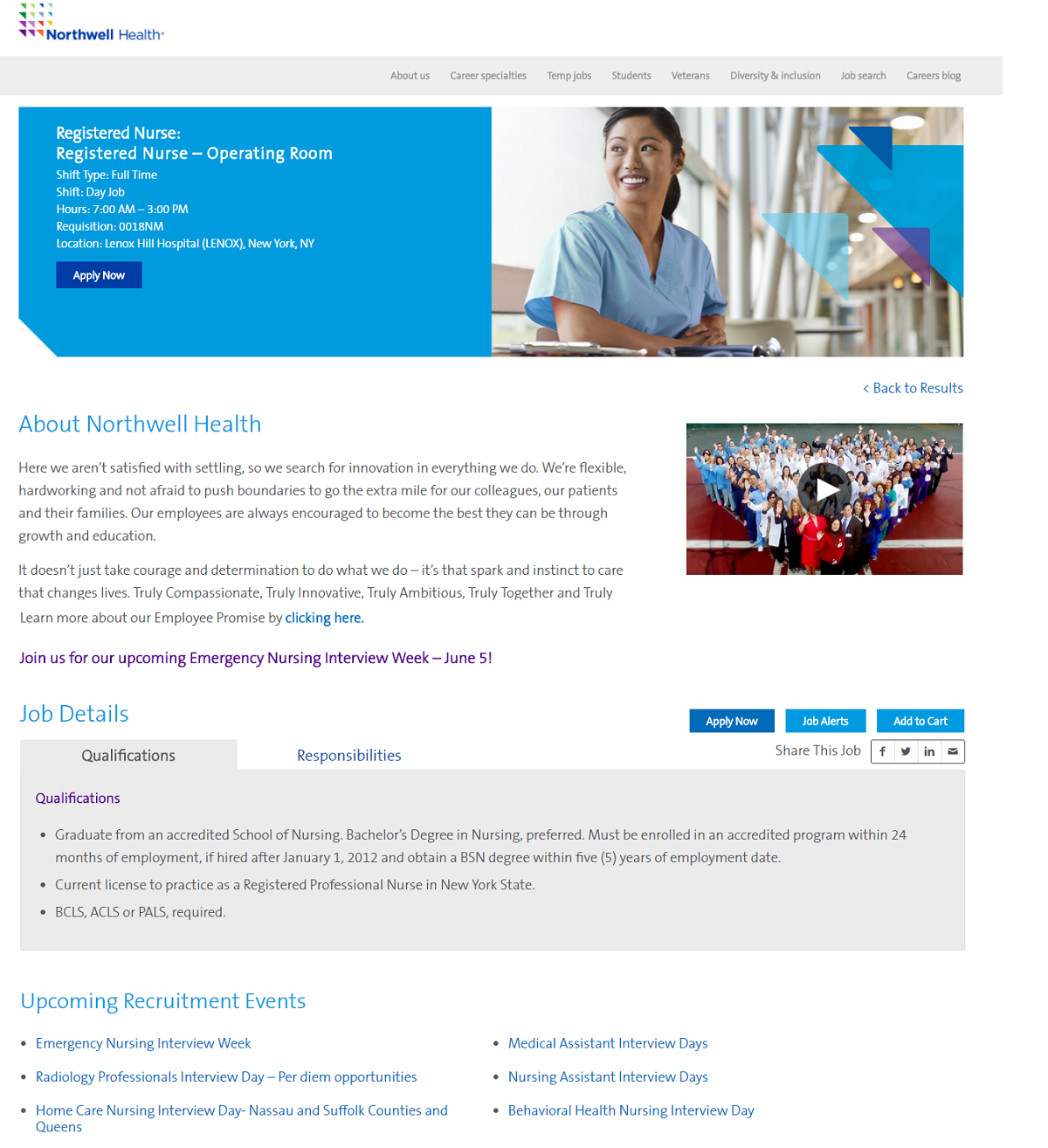 Parexel
Creative timeline-based hero media based on a real employee
A map on every job ad
Career focused footer with video and other recruiting resources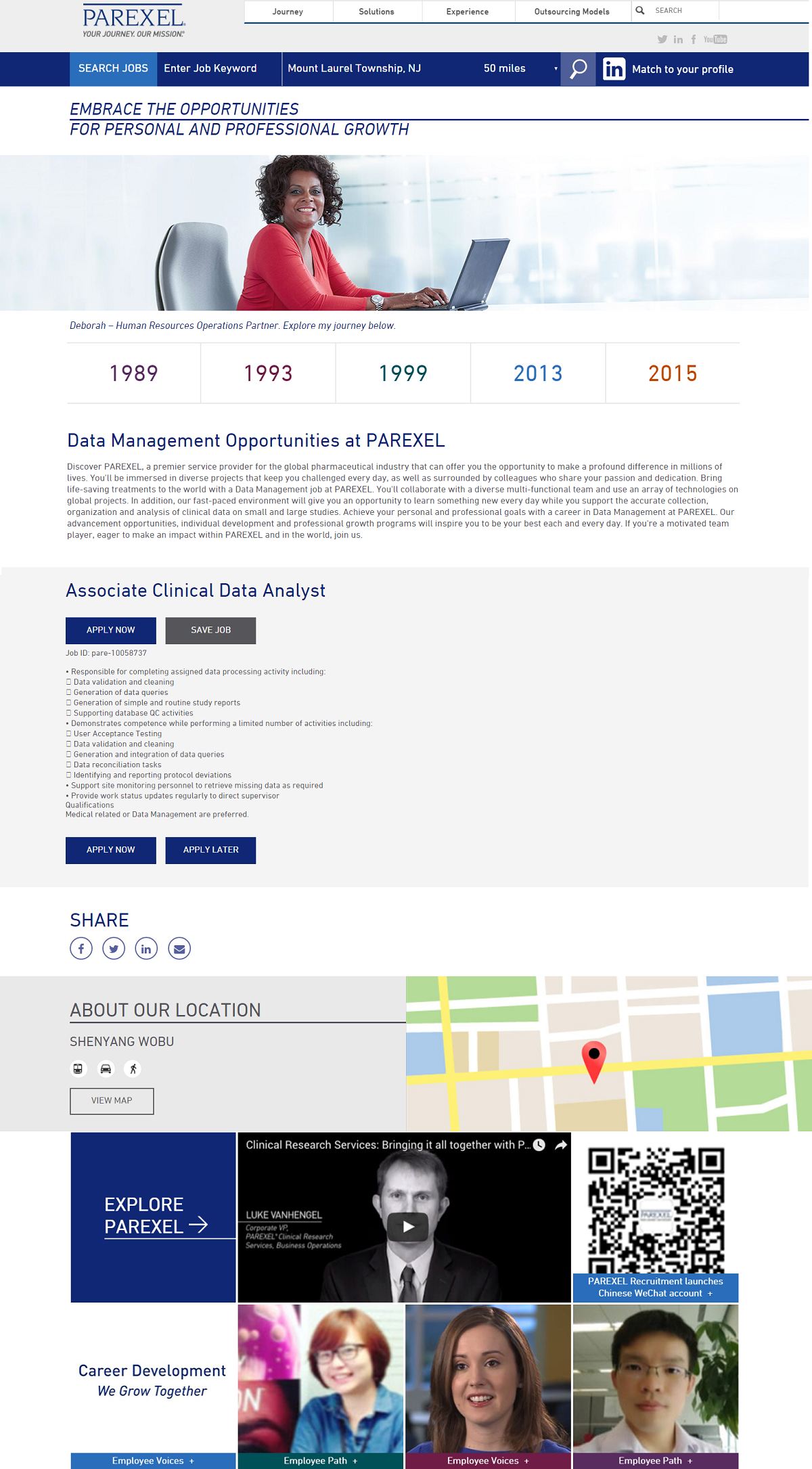 Select Comfort
Solid Headline — Every one of their job ads has their passion statement ("improving lives") and their market positioning ("smarter sleep")
Email Job Alerts on every job ad
Job search is easy to find (on every job ad)