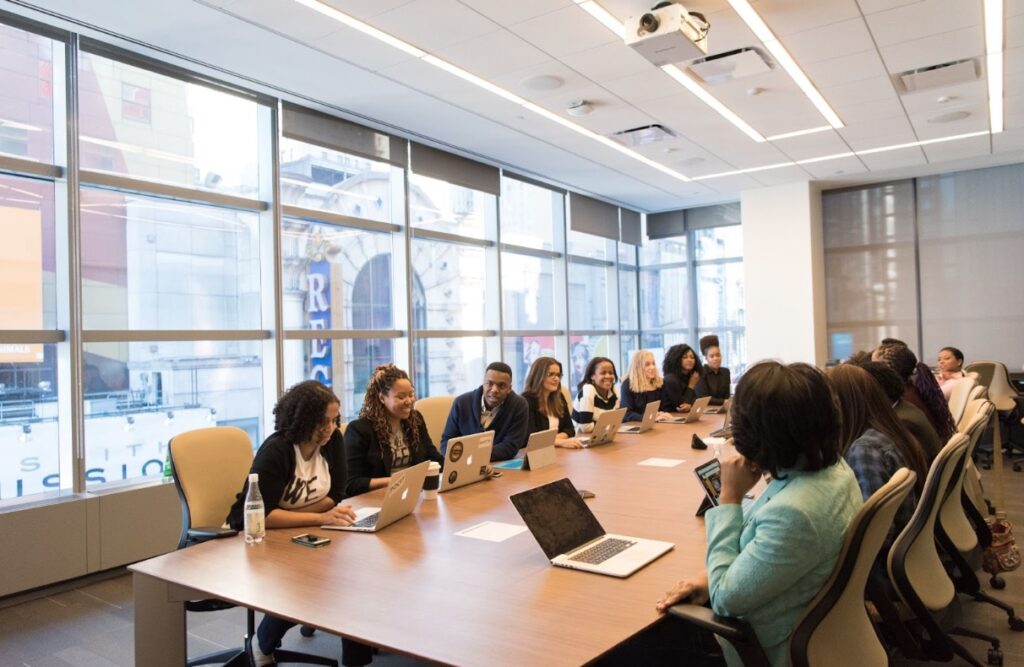 Every year in March, people from all over the globe celebrate International Women's Day. It's a day to observe women's economic, social, cultural, and political achievements.
It's also a time to recognize how far the world has come in trying to achieve a gender-equal world. In this post, we'll explain the history of International Women's Day and share 10 ways to celebrate women's history month at work.
The History of International Women's Day
In 1909, 15,000 women organized protests in New York City for the first Women's Day celebration. Their concern was to fight for voting and labor rights.
International Women's Day got approved unanimously by the International Conference of Working Women in 1910.
The first International Women's Day got celebrated in March 1911. Two years later, the date got fixed at March 8.
In 1975, the United Nations celebrated International Women's Day for the first time.
International Women's Day celebrated its 100th anniversary in 2011. Celebrations happened in Germany, Switzerland, Denmark, and Austria.
10 Fun ways to celebrate women's history month
Now let's dig into 10 ways to celebrate women's history month in your biz:
1. Reward and recognize
Do you have women leaders on your executive team? Most executive teams are dominated by men. And considering organizations with women leadership are likely to be more profitable, aim to create a diverse leadership, and ensure everyone gets recognized.
You can reward your women workers with:
Wellness packages
Professional development stipends
A personalized handwritten note
Linkedin social media shout outs
Gift boxes
Grant Polacheck, Head of Marketing and Operations at Squadhelp.com, says:
"At Squadhelp, we ask our employees to nominate a female colleague for the "Woman of the Year" award and celebrate the recognition by inviting a female keynote speaker from our industry to share words of inspiration and wisdom.

The ceremony is all virtual, and we ask everyone to give words of praise to all women at work paired with food and drinks from the comfort of our homes bought by the company. At the party, we ask our female employees the gifts they would love to receive and we offer that to them."
It's not enough to reward your female workers on Women's Day. Make it a 365-day effort.
2. Create a mentorship program
Mentorship for women in any business setting is important. And it can help them move up the corporate ladder. Effective mentorship helps improve the representation of underrepresented groups in executive roles.
I talked to Jess Rodley, Director of Operations at Dialed Labs, to get her thoughts on mentorship programs and why they provide them for their female employees. She said:
"Hosting a mentorship program for women isn't just our way of honoring the achievements of women throughout history, but also investing in the future of women in our own company.

Because that's what it comes down to — not only celebrating the progress that women have made but also acknowledging the work that still needs to be done to create a more equitable and inclusive workplace.

What this looks like is women in leadership or managerial roles sharing their knowledge and expertise with those who are just starting out, providing guidance and support along the way. It's also a great opportunity for women to network, learn from each other, build a stronger bond with one another, and create an uplifting environment."
3. Do a DEI culture audit
Women's history month allows you to examine your equity and inclusion practices. Take time to check your data:
How many women employees make up your executive team?
How often are women promoted?
What is the total representation of female employees?
Do female team members get recognized and awarded?
These are hard questions, but if you have an equitable company culture, you shouldn't worry.
Take a look at your people operations systems to get accurate data. You can even use a rewards and recognition platform to see who gets rewarded and recognized most.
Using the right recruiting technology also helps you prevent unconscious bias in your job ads and helps you write gender-neutral job descriptions.
Pro tip: You can use Ongig's Text Analyzer to easily find biased words in your job descriptions and replace them with more inclusive synonyms: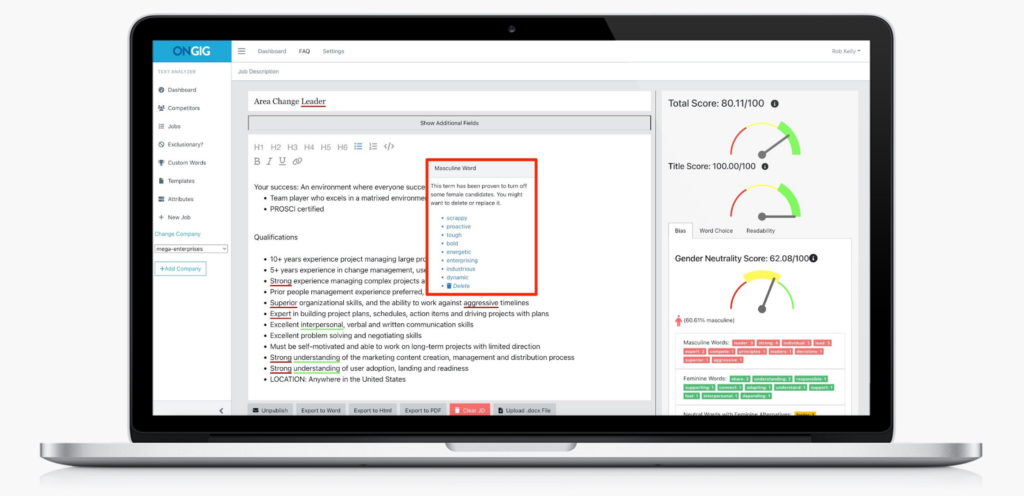 4. Take your women employees out for a meal
This should be on top of your list of ways to celebrate women's history month. It might seem like a small idea, but it's the best time to bond with your female employees, learn, and explore ideas.
To plan an ideal lunch date, do this:
Decide on a time and date.
Create a theme for the lunch date.
Find the right platform or venue.
Send invitations to all your female employees.
A day before the lunch date, remind your employees about it.
And, ensure your female workers feel welcome on arrival (e.g., decorate with flowers or other giveaways).
5. Create care packages
Care packages are a thoughtful way to celebrate women's history month at work. One idea is to buy goods from women-owned businesses. This supports women as a whole while also appreciating your female employees.
You can put mugs, water bottles, snacks, wall art, cocktail kits, gourmet foods, craft kits, and candles in the packages. Provide information about each business, the website, social media pages, and online stores. Here are more employee gift ideas for inspiration.
6. Organize a virtual museum tour
Giving your female employees an opportunity to learn about past female trailblazers is inspiring.
You and your women employees can learn about women past and present through virtual photographs, video clips, documents, and exhibits offered by museum organizations like the National Women's History Museum.
The museum covers topics concerning women's history, including women in social justice, women of NASA, women's involvement in wars, women in STEM, and more.
They have an exhibit titled, "Standing up for Change: African American Women and the Civil Rights Movement," and another one titled "First But Not the Last," which covers the stories of women who vied for the presidency.
7. Capture your team celebrating the occasion
Ask your employees to dress in support of international women's history month on International Women's Day (IWD). Like other co.s worldwide, encourage your employees to strike a pose and share it on your social media pages with the hashtag #EmbraceEquity and #IWD2023.
Along with pictures, you can also post blogs, videos, and other resources to showcase your workplace as a supportive and inclusive organization.
8. Help your female employees find work-life balance
Research from the Institute for Gender and the Economy finds women struggle to achieve a work-life balance. The stress of managing households often affects women's work-life too.
As an organization, you can support work-life balance for your female employees by:
Being sympathetic when they need to leave early to attend to their kids.
Offering flexible working hours.
Offering remote or hybrid work options.
Creating a community where working mothers get support.
Another idea is to provide your female colleagues a monthly stress and meditation session or exercise classes like yoga.
9. Listen to your women employees
Create a forum where your female employees have their voices heard. Research shows women don't often advocate for themselves in the workplace. Women workers rarely talk about pay raises and promotions.
You can reduce this problem by:
Examining how you do your performance reviews.
Performing an audit of salaries to ensure both men and women employees get the same pay for their work.
Inviting reputable women in the society to train your female workers on how to speak up against discrimination and encourage all employees to embrace gender-inclusive language.
Scheduling workshops to train your employees about sexual harassment in the workplace.
10. Support women-led organizations
Consider volunteering or donating to women-led organizations in honor of women's history month. Women's organizations are underfunded. Your support will be appreciated.
Here are a few to consider:
I talked to Sam Tabak, co-founder of Rabbi Meir Baal Haness Charities, to learn how they honor International Women's Day and women's history month. This is what he had to say:
"With the help of our generous donors, we provide access to quality education and training opportunities to women in our locality. These include vocational training, job readiness programs, and business development courses. Education and training are critical for women's economic empowerment, eventually allowing them to acquire essential knowledge and skills to find employment or establish a business.

Our organization offers various support services for women, which include counseling, legal assistance, and healthcare. For instance, we partner with lawyers to offer counseling services to help women recover from trauma or provide legal aid to help women understand the legal system. By providing these types of services, we can support women to overcome life obstacles and achieve their full potential."
WHY I WROTE THIS:
Ongig's mission is to support your commitment to creating an inclusive workplace with our Text Analyzer software. Book a demo today to learn more about how the software can help you attract more diverse and happier employees, women included!
SHOUT-OUTS: