In an era of increasing demands for accountability and transparency in all aspects of the business, employers want to know that their employees are trustworthy and reliable. As a result, many of them are reluctant to hire people with criminal backgrounds.
Second chance hiring encourages businesses to consider candidates with criminal backgrounds and make them employable. It focuses on helping employers evaluate their overall value to the company instead of directly rejecting them because of their criminal record.
Here are 6 tools (and programs) for second chance hiring.
Workforce Development Programs
Hiring felons is a challenge. Former felons have often been excluded from the workforce due to their criminal history and represent an untapped talent pool. But when you hire people with criminal records, you open yourself up to risks that can lead to litigation, employee turnover, and increased costs.
The best way to mitigate these risks is by using a workforce development program to screen applicants for criminal records and provide job readiness training before hiring them. Some states have programs that match employers with people who've been convicted of minor offenses and need training or job experience to get back on track.
And companies like Walmart, Starbucks, Home Depot, and JPMorgan Chase are updating their hiring practices to include people with criminal records.
Another example is Nehemiah Manufacturing, where second chance hiring is the norm. Nehemiah has created a Second Chance program that includes a social-service team, housing and drug treatment support, and an assigned job coach.
In a 2020 interview about Second Chance Companies, Co-Founder of Nehemiah, Richard Palmer, said:
"We found that the population we were hiring who had criminal backgrounds were our most loyal people. When we were looking for people to work overtime, come in on Saturday or go that extra mile, it was the second-chance population that was saying, 'I'm in.'"

source: NAM.org
SHRM's Getting Talent Back to Work Program
It's been proven that people with criminal backgrounds are good employees. They tend to be more loyal and dedicated to the company as a sign of gratitude for being given a second chance.
But, many managers aren't willing to hire employees with a criminal background. Programs, like Getting Talent Back to Work, aim to shift this mentality and encourage second chance hiring.
Getting Talent Back to Work is an initiative by the SHRM Foundation to help employers open up to hiring people with criminal records. People who are disproportionately affected by unemployment. This program focuses on reducing employment barriers through education, change management, and cultural transformation.
Here are some benefits for employers and some second chance hiring barriers highlighted by SHRM: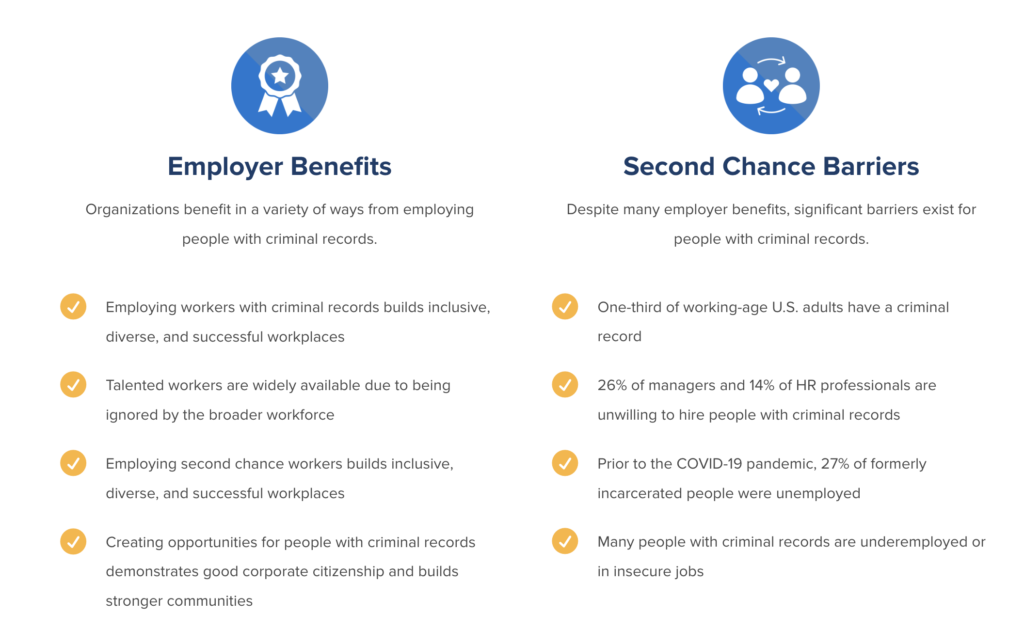 Ongig's Text Analyzer Software
When hiring formerly convicted employees, Ongig's software helps you create more inclusive job descriptions. Recruitment stats show the language used in a job posting can attract (or deter) relevant candidates. So, it's crucial to create job postings that make former felons feel welcome and encouraged to work at your company.
Ongig is an automated tool that helps employers create effective and inclusive job postings. The software flags words and phrases that might turn off people with a criminal history from applying to your job posting, like "criminal background check," "convicted felon," or "ex-felon." And it offers more inclusive replacements.
Here's an example of "criminal background check" flagged in Ongig with a pop-up showing a more inclusive replacement: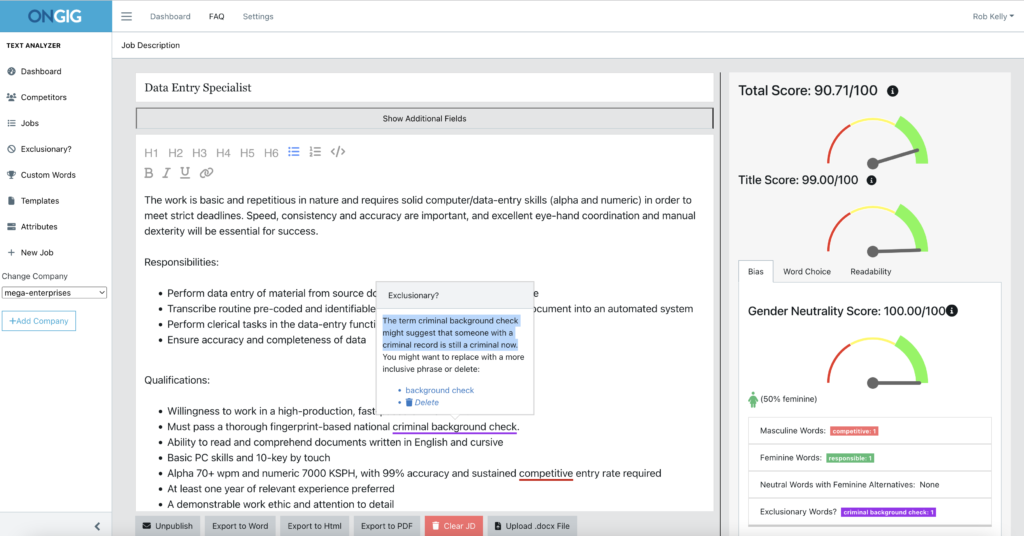 HRIS Systems
A Human Resources Information System (HRIS) is a powerful tool for hiring people with criminal backgrounds. ​​A good HRIS system helps you easily keep track of information about employees (and applicants), including their criminal history.
This includes everything from arrest dates and charges to conviction dates and sentences. So, you'll be able to make more informed decisions about who gets hired and who doesn't.
HRIS systems are useful through all stages of the hiring process — from applications to background checks. They also make it easier for you to manage your business by providing data entry, reporting, and analysis tools.
Background Check Tools
Employers use background check tools to uncover criminal records, credit history, and other information that might affect a candidate's ability to do the job. Background checks also give you an idea of how well a potential employee performs in a position (and if they'll add to your workplace culture).
There are loads of helpful background check tools to find out if someone has a criminal record. But, before using one, try to do a quick check on your candidate using People Finder. This platform has an extensive database of people who may have served time in prison. 
Tools to Handle Sensitive Information
Handling sensitive information is one of the main concerns for employers hiring people with a criminal record. Sharing details about someone's criminal history via video conference software or other communication tools might be necessary, but it also carries the risk of a privacy breach.
Good news! There are some tools to make the hiring process more secure and efficient. Using VoIP software ensures any sensitive information you're handling, like criminal records of your potential candidates, is securely communicated with the hiring team.
Another thing you can do to avoid the risk of privacy breach is to sign an NDA – non-disclosure agreement. There are many tools you can use to find templates and generate NDAs automatically. Some mutual NDAs are created to protect the "secret sauce" of a business and to protect confidential criminal history details of new hires.
Why I wrote this:
Second chance hiring opens up your talent pool and give former felons the opportunity to start a new chapter of their life. Learn more about how Ongig helps you create effective and inclusive job descriptions for second chance hires and other underrepresented groups.
This is a guest post from Georgi Todorov.
Georgi is the founder of ThriveMyWay, a website dedicated to teaching successful digital marketing strategies. Georgi is regularly called upon by companies seeking to develop and enhance their SEO and link-building strategies in order to achieve hockey stick growth. When Georgi isn't working, you can find him getting close to nature, learning online, or traveling.
Shout-outs: