A key focus for companies is on how to recruit people of color. We found 10 easy tips for recruiting people of color (POC) or Black Indigenous People of Color (BIPOC).

1. Create diversity goals to recruit applicants of color
Diversity and inclusion goals, especially for hiring people of color, can be documented and shared publicly to get more visibility for your organization. Here are a few examples we found and added to our list of 25+ Examples of Awesome Diversity Goals:
Facebook commits to a 30% increase in the number of people of color in leadership positions over the next five years.
Levi Strauss & Co. strives to have 50% of candidates interviewing for jobs be people of color.
RBC is donating millions of dollars to BIPOC, committing 40% of summer opportunities to BIPOC youth, establishing and measuring internship and new hire goals, and increasing Black and indigenous executive representation by 10%.
If you are committed to recruiting people of color, create specific goals that support hiring from the BIPOC community.

2. Create a diversity program that focuses on how to recruit people of color
Creating a diversity program is a great way to kickstart support POC hiring. Here are a few ideas on how to recruit and retain people of color:
Gather data — assess diversity in your current workforce related to people of color
Identify areas of concern — find areas of underrepresentation that need to be addressed
Create objectives — outline areas of focus for recruiting women and people of color
Create and support ERGs — collaborate with your workforce to create new, or partner with existing, BIPOC Employee Resource Groups (ERGs)
Get support from BIPOC leaders — have BIPOC leaders help drive diversity efforts that are focused on hiring POC
Implement inclusive hiring — identify and use tools that help support POC hiring
Invest in social invents — hold events that allow employees from all levels to interact and feel included
3. Create a diversity report
After creating a diversity program, you might find specific needs related to recruiting people of color in your organization. To act on these needs, you can create a diversity report as a benchmark.
A diversity report helps your organization become more transparent about diversity and can help attract more Black Indigenous People of Color. Earlier this year, we found 10 Examples of an Awesome Diversity Report. You can use these as a guide.
Both Target and Uber share data on the percentage of their employees who identify as people of color. Gathering similar data and creating comparison charts can help you identify which departments might need more focus on recruiting people of color.

4. Use diversity job boards & diversity recruiting websites for POC hiring
There are loads of job boards and diversity recruiting websites that help support recruiting people of color. These websites have diversity blog content, information on diversity job fairs, and list job openings for people of color. Here are just a few we listed in 5 Great Diversity Recruiting Websites:
If your goal is recruiting people of color, listing your job postings on these job boards could increase visibility in the BIPOC community. Diversity job fairs also are a great way to reach potential POC candidates.

5. Create an EEO statement for job postings to recruit applicants of color
Creating an EEO statement that mentions people of color (POC) or Black Indigenous People of Color (BIPOC) will not only keep you in compliance with the Equal Employment Opportunity Commission (EEOC), but it will make sure job postings stand out to diverse groups. Knowing your company supports diversity and underrepresented groups could increase your applicant pool.
Code for America mentions People of Color in their EEO Statement:
"Code for America values a diverse workplace and strongly encourages women, people of color, LGBT individuals, people with disabilities, members of ethnic minorities, foreign-born residents, and veterans to apply. Code for America is an equal opportunity employer. Applicants will not be discriminated against because of race, color, creed, sex, sexual orientation, gender identity or expression, age, religion, national origin, citizenship status, disability, ancestry, marital status, veteran status, medical condition or any protected category prohibited by local, state or federal laws."
Along with an EEO statement that supports POC hiring, you can list benefits in your job postings that support Black, Indigenous, and/or People of Color (BIPOC). Like BIPOC ERGs, mental health services, or other company programs that support people of color.
(Note: For other examples of EEO statement samples that support diversity as a whole, check out our blog 10 Samples of an Effective EEO Statement.)

6. Invest in internships for students of color
Ongig client Peak6 partners with the Greenwood project to create financial internships for people of color.
"Greenwood Project introduces Black and Latinx students to careers within the financial industry via paid summer internships, educational field trips and our summer financial institute for high school students. In many cases, our programming gives young people strong motivation to succeed in their remaining high school tenure and also a compelling reason to attend college." (source: https://greenwoodproject.org/about/)
The initiative is growing each year. More firms are coming on board leading to more opportunities for students of color to get involved.
7. Eliminate racial bias for hiring POC
Another focus of POC recruiting techniques is to use tools that eliminate racial bias in hiring and interviews. These types of tools:
create blind hiring assessments to avoid racial bias against people of color
send pop-reminders about removing bias during hiring
remove candidate information from resumes that could trigger racial bias
We think these 10 Tools for Eliminating Racial Bias will increase your chances of hiring more people of color.

8. Create a "Leadership Accelerator"
Launching a program promoting leadership for BIPOC is another idea. DoorDash does this with their program called "Elevate." Elevate focuses on women of color who want to move into management roles. Here's what Harvard Business review says about the program:
"Participants, known as "fellows," engage in a six-month cohort experience, which includes the following monthly activities:
One-on-one coaching sessions with an external executive coach

Executive sponsor meetings with company directors and C-suite members

Career workshops

Attendance at leadership team meetings"
9. Implement a diversity training program
Creating programs to promote inclusion and belonging for all employees helps build the framework for hiring POC. In Netflix's 2021 Inclusion Report, there's mention of this type of training:
"The inclusion recruiting programs team built a training curriculum to do this more inclusively, with topics like: spotting bias in the interview process, sourcing candidates in non-traditional ways, and helping hiring managers identify the perspectives missing on their teams. More than 200 people on our recruiting team have completed one or more courses in the program."
10. Remove racial bias from job postings
Bias in hiring POC starts with job descriptions. Using a tool like Text Analyzer removes JD language that might exclude people of color (and BIPOC). Here's an example of a job posting using the phrase "culture fit":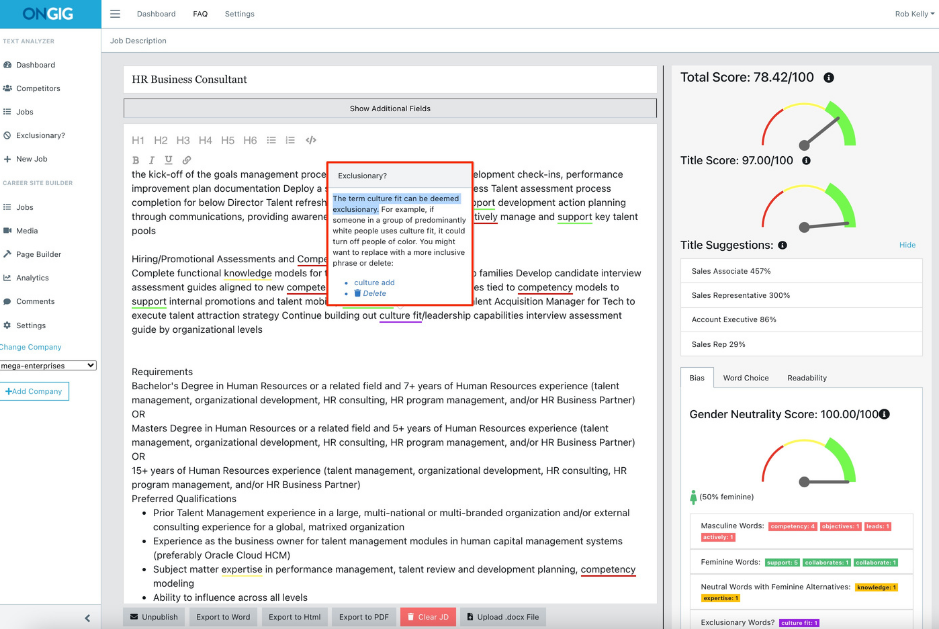 You can see how this phrase might exclude people of color AND there is a more inclusive replacement phrase.

WHY I WROTE THIS
Ongig is on a mission to help eliminate boring and biased job content. With Diversity and Inclusion in the spotlight, there is a growing focus on recruiting People of Color. Ongig's Text Analyzer enables employers to write more inclusive job content which can help attract more diverse candidates.
Shout-Outs