Malicious misgendering has been making headlines for years. But what is it? And how can we stop it?
This blog digs into:
what misgendering is [hostile, malicious, and unintentonal]
who's weighing in on misgendering as a topic
why misgendering in the workplace should be addressed
10 examples of misgendering in the news
What is "hostile misgendering"?
Misgendering happens accidentally, but when someone "misgenders" a person on purpose, this is malicious or hostile misgendering.
"Misgender" means:
"To refer to someone using a word (especially a pronoun or form of address) that does not correctly reflect the gender with which they identify."

source: The Diversity & Inclusion Glossary — Ongig
This type of misgendering has adverse effects on people from the LBGTQIA+ community. For transgender, nonbinary, or gender non-conforming people, asking others to acknowledge their gender identity is a big step.
A report from the National Center for Transgender Equality showed 33% of transgender people had at least one negative experience related to being trans, especially when the misgendering is intentional (and malicious).
Another example of hostile misgendering is:
"referring to a woman as "he" or calling her a "guy" on purpose"

source: What Does It Mean to Misgender Someone? — Healthline
Can you sue someone for "misgendering" you?
Depending on where the offense takes place, the answer may be "yes." In New York, laws against misgendering fall under The New York City Human Rights Law. Under Canadian law, misgendering is a human rights violation.
Even in locations with protective laws, it's likely to be difficult to get a conviction for misgendering, and in California, laws have been reversed based on Freedom of Speech "infringements."
Why you should address "misgendering" at work
Organizations that stand up against misgendering at work and take inclusion seriously reap the rewards.
One DEI study shows:
"companies with a high degree of leadership focus on inclusion are 3-4 times more profitable and financially successful than their peers."
Referring to a person by their chosen gender pronouns and insisting other employees do so too is key for creating a sense of belonging and inclusion at work.
Some co.s make it a point to include this in the foundation of their company culture. And, LinkedIn makes it easier to find people's pronouns if you are unsure: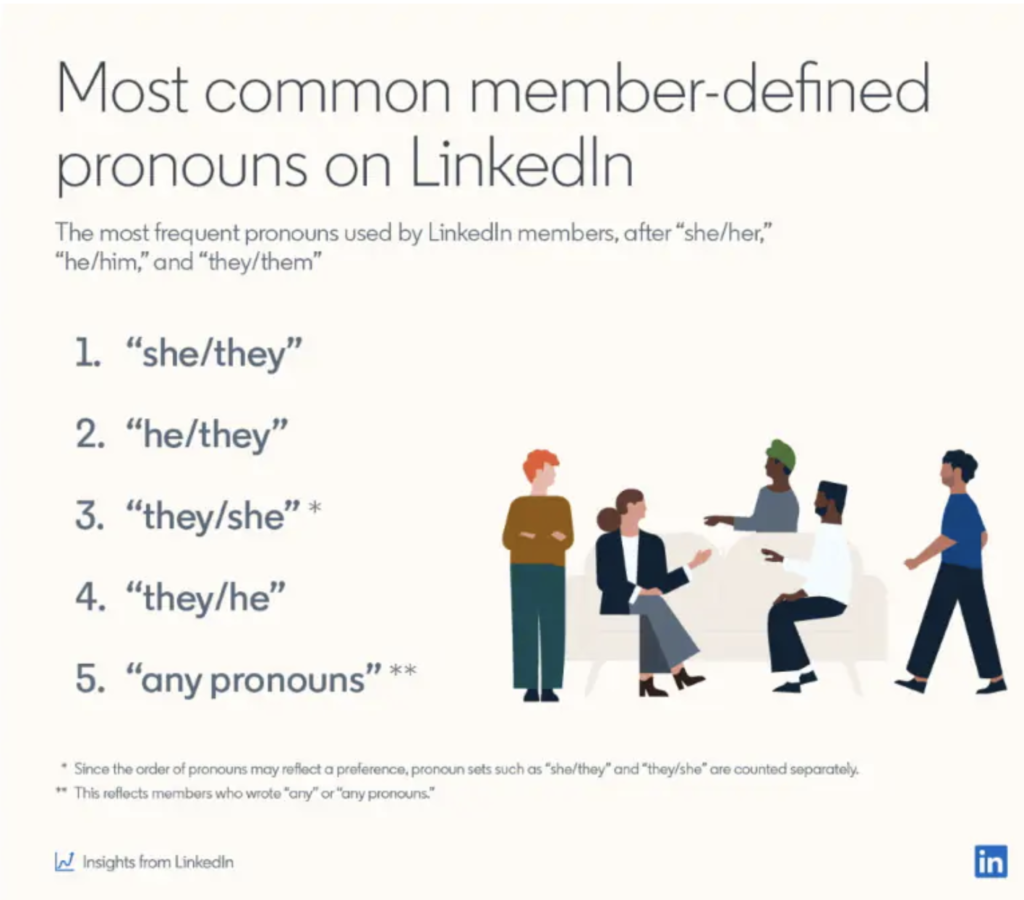 Who's highlighting "misgendering" as a topic?
1.6% of U.S. adults are transgender or nonbinary, meaning there is a growing need to acknowledge (and understand) issues like misgendering. Here are some celebrities and supportive orgs talking about the topic.
Demi Lovato tweets about "misgendering"
Demi Lovato has spoken out on public platforms, requesting effort instead of perfection. This highlights the difference between accidental and hostile misgendering.
In July 2021, Demi tweeted:
Laverne Cox calls "misgendering" an act of violence
Malicious misgendering is a form of bullying. Even though some say it's not "violence," actress and activist Laverne Cox disagrees:

"I have been saying for years that misgendering a trans person is an act of violence. When I say that I am referring to cultural and structural violence. The police misgendering and deadnaming trans murder victims as a matter of policy feels like a really good example of that cultural and structural violence."

source: Laverne Cox wrote a powerful post about how deadnaming and misgendering trans people is an "act of violence" by Anna Sheffer
Mermaids UK says there's a "misgendering" crisis
UK group, Mermaids, claims there's a misgendering crisis with very little awareness or understanding of the topic:

Gearbox Software bans misgendering from game
In 2019, Gearbox Software announced that misgendering their Borderlands 3 character FL4K (who uses pronouns "they/them") could result in a ban from using the game.
"Honest mistakes will not result in a ban, the moderator said, but intentional misgendering of the character will have consequences."

source: Intentionally misgendering a character could get you banned from Borderlands 3 by Brooke Sjoberg
10 examples of "misgendering" in the news
I found 10 examples of newsworthy misgendering (starting from 2015 through this year). Here they are from newest to oldest:
1. Fairfax county misgendering – June 2022
Fairfax County Public Schools updated their regulations to prevent misgendering and deadnaming in their schools after backlash from some parents who feel it is an infringement of their children's First Amendments rights as a form of compelled speech.
2. Auntie Diaries misgendering – May 2022
The eagerly awaited new album from Kendrick Lamar, "Mr. Morale & The Big Steppers," was released in May 2022, and one track has been heavily discussed. "Auntie Diaries" is a biopic of Lamar's experiences with his transgender uncle and cousin.
There is discord as some are revering the track as pro-LGBTQ in the black hip-hop genre, while others highlight the track's use of homophobic and transphobic slurs. The track repeatedly misgenders his uncle and deadnames his cousin (using a previously used name).
3. Wisconsin misgendering – May 2022
Three Wisconsin middle-schoolers accused of sexual harassment for misgendering because of continued refusals to use a fellow student's authentic pronouns escaped a full investigation amid bomb threats.
The Wisconsin Institute for Law and Liberty (WILL) took the case on, and the bomb threats followed their public appearances on the matter. The investigation was dropped due to safety concerns.
4. Rachel Levine hostile misgendering – March 2022
Texas Attorney General Ken Paxton intentionally misgendered Assistant Health Secretary Rachel Levine on Twitter in early 2022, calling her "a man." Rachel Levine is one of the US's few openly transgender government officials.
Rachel Levine misgendering occurrences are becoming common. She had been in the public eye around misgendering in early 2021 when a fake news meme circulated claiming she would make hostile misgendering a mental illness under new health guidelines. All sources confirmed this to be false.
In October 2021, Twitter suspended the account of Rep. Jim Banks, R-Ind. for intentionally misgendering the official. Again in March 2022, Levine was the victim of Babylon Bee misgendering when they released a Rachel Levine Tweet saying, "The Babylon Bee's Man Of The Year is Rachel Levine," – Babylon Bee was suspended from Twitter for this "hostile misgendering."
5. Lia Thomas misgendering – March 2022
Swimmer Lia Thomas has been the subject of misgendering due to her being a successful competing transgender swimmer. One protest for "Save Women's Sports" led to comments like:
"I know a man when I see one."

source: SwimSwam
6. Father arrested for misgendering child – March 2021
Rob Hoogland, a Canadian dad, was arrested for misgendering in March 2021 for continued public use of his son's birth pronouns and publicly referring to his son as his "daughter." Hoogland claimed the teenager's wishes were a delusion with irrevocable consequences once the bubble popped.
7. Misgendering by police in Florida – February & June 2018
After 3 black transgender women were killed in Jacksonville, Florida, in separate incidents, the police continually referred to the deceased as "men" (and by their birth names). This created concern and outcry from the LGBTQ+ community (and many others), who recognized the police's decision as hostile misgendering.
A survey by ProPublica found that across the US:
"in 74 of 85 cases, victims were identified by names or genders they had abandoned in their daily lives."

source: Deadnamed
8. UK woman arrested for misgendering – December 2018
Kate Scottow, who, in her own words:
"was arrested for harassment and malicious communications because I called someone out and misgendered them on Twitter."

source: Pink News
She was initially convicted, but an appeal later overturned the ruling.
9. Virginia teacher fired for misgendering – December 2018
A school teacher was fired for misgendering a student due to the teacher's religious beliefs. Although teacher Peter Vlaming was willing to use the student's affirmed name, he was unwilling to use the student's masculine pronouns and refrained from using pronouns entirely about the student.
10. Ben Shapiro misgendering trans woman – July 2015
While appearing on the TV show "Dr. Drew on Call," Ben Shapiro misgendered Caitlyn Jenner, claiming:
"How he feels on the inside is irrelevant to the question of his biological self."

source: Los Angeles Times
He then went on to misgender fellow panelist Zoey Tur, referring to her as "sir," and in response, received a threat he later reported to the police.
Why we wrote this:
Ongig is on a mission to support HR pros like you with software to create effective job descriptions to support inclusive culture. Understanding topics that exclude (or offend) underrepresented groups (like misgendering) is tied to our mission.
Thanks to our sources: