April is Autism Acceptance Month, and the theme for 2021 is "Celebrate Differences." In the spirit of celebrating differences in the workplace, I found 7 tips for hiring autistic workers:
1. Eliminate bias against neurodiverse/autistic candidates in your job descriptions
The first tip, you can use tools in your organization to create more inclusive job descriptions. JDs are the first thing candidates see when looking for jobs.
Ongig's Text Analyzer flags complex language, extra-long sentences or lists, and any biased language that might exclude people with autism (or another neurodiversity).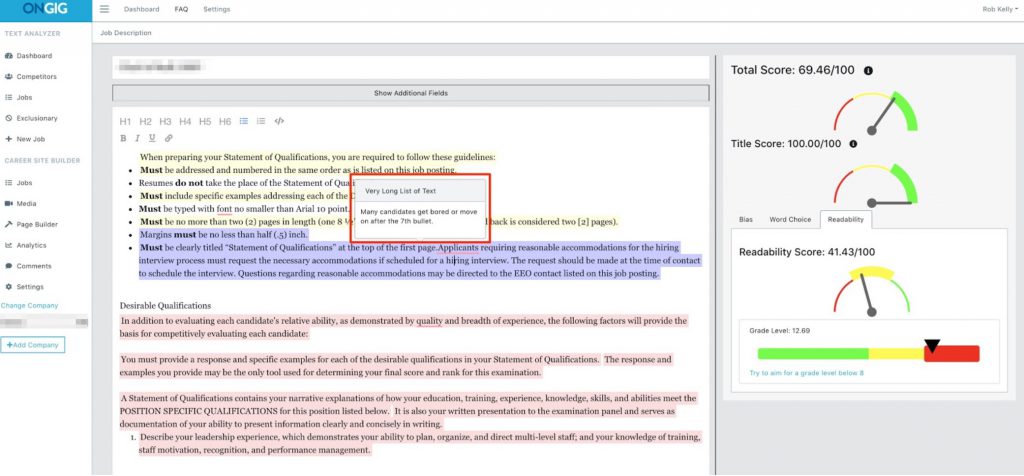 Text Analyzer users also receive training on making their job descriptions more inclusive for hiring autistic workers.
Removing confusing acronyms & abbreviations from your job ads
Using confusing acronyms and abbreviations in your job ads might turn off autistic workers too.
Bank of America recently overhauled its job postings with a "neurodiverse lens." Not only did they simplify complex language and remove business buzzwords, they also dropped bank acronyms. The result:
"a higher number of applicants than before and a more diverse pool of applicants."

source: Fintech Zoom News
Some companies use different acronyms in each department that even confuse employees internally. Imagine how that translates to external applicants. Confusing acronyms can creep their way into your job descriptions and your job titles. Our team recently launched a new feature in Text Analyzer that flags acronyms and abbreviations that you might want to spell out: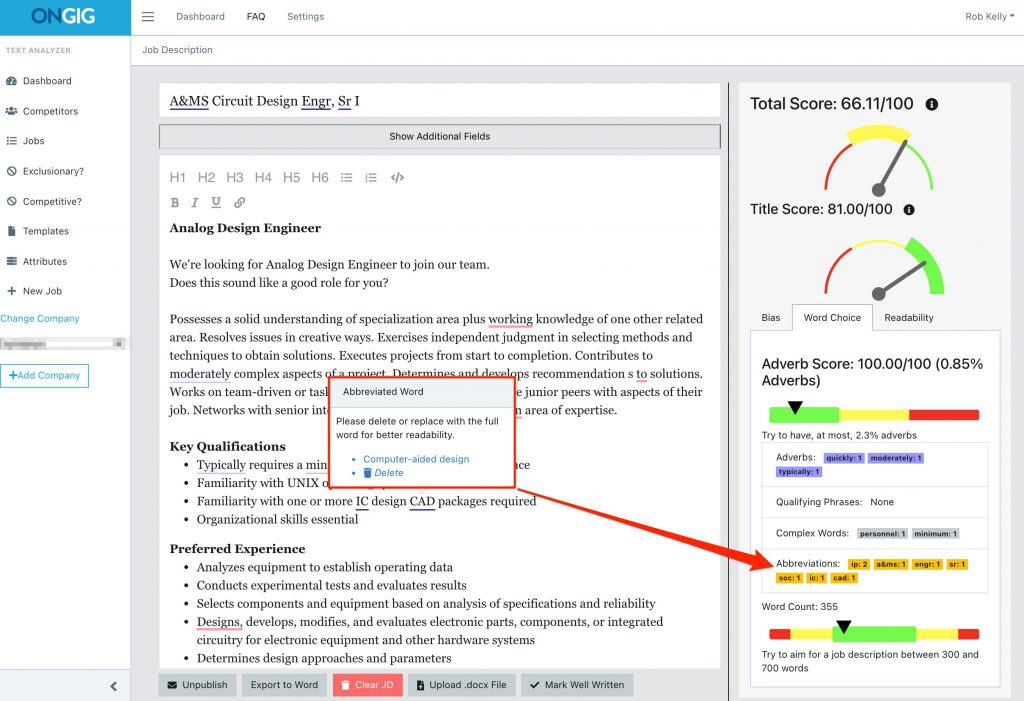 You can use our blog, A List of 200 Business Abbreviations & Acronyms [includes Job Titles], as another resource too.
2. Create an Autism at Work program [or other autism hiring program]
Creating an autism hiring program like Autism at Work (SAP, Ford, HP, and others) is a great way to hire more neurodiverse employees. The Autism at Work program was created by SAP in 2016 with a goal to:
"raise awareness of autism in the workplace, and both promote autistic talent and support workplace transitions"
Autism at Work:
helps people with autism find jobs
showcases the talent of neurodiverse people as an "untapped resource"
educates companies hiring autistic people on neurodiverse hiring practices and programs
raises awareness about the benefits of a diverse workforce
Here are some companies who are celebrating differences with an Autism at Work program or neurodiversity hiring program:
Ingram Micro's Ryan Roudebush said the ADVANCE+ program has been successful in other companies:
"Where it's been piloted before, the autistic employees have proven to be very adept at working in the recycling field, which involves a lot of repetition. They're very productive and very loyal workers when they come on board. In fact, one study showed they are 98% productive when they're on the clock and the average employee is closer to about 60%."

source: Inside Indiana Business
The Autism at Work movement is not limited to people with autism, it focuses on all neurodiverse employees.
You can find even more examples of programs for hiring autistic workers in the Applied Behavior Analysis Program Guide blog 30 Best Employers for People With Autism 2020.
3. Use skills-based hiring strategies
Skills-based hiring is a talent acquisition method that removes bias by focusing on candidate skills and competencies. Implementing skill-based hiring into your neurodiversity hiring strategy can increase your candidate pool.
"Autistic adults are, in general, dependable, routinized, focused, detail-oriented, and passionate about their work. Many have outstanding technical and/or math skills. And quite a few are able to find unique solutions to problems that have eluded their more conventional colleagues.

source: Verywell Health, Top 10 Autism Friendly Employers
Using skills-based hiring tools can give people with autism a better chance at being hired. When you focus on technical skills and abilities instead of educational or past work experience, the door is opened for people with autism.
There are diversity tools that can assist with this. For example, Toggl Hire allows you to screen candidates using skills-based quizzes related to the role before the interview stage.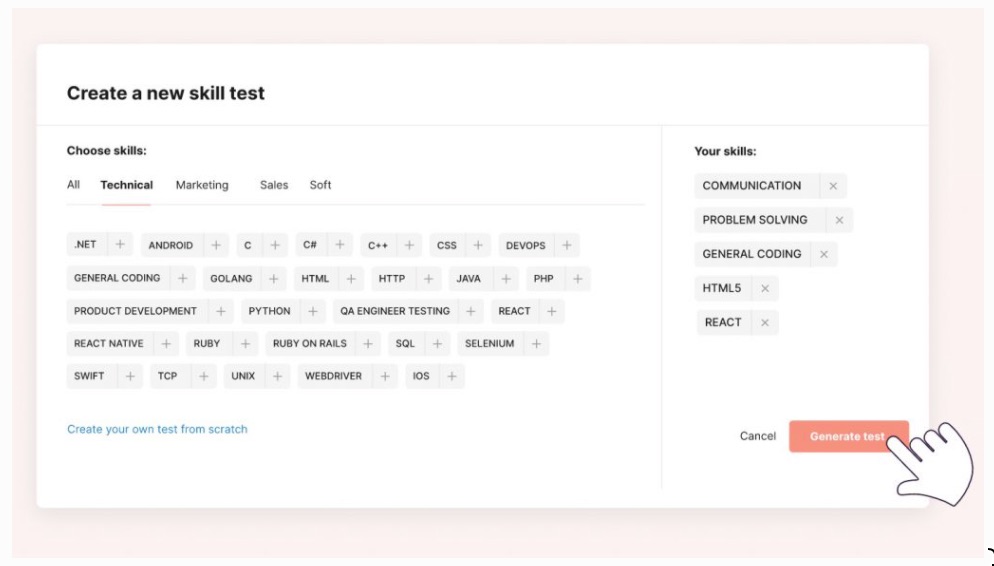 Bonus… skills-based hiring tools and strategies help remove other types of bias too (e.g., race bias, age bias, gender bias, and more).
4. Host an autism job fair
Hosting an autism job fair is another way to reach more neurodiverse employees. Autism job fairs might be virtual or in-person. Many companies even partner together to host larger autism job fairs to reach larger audiences.
Venture Vancouver recently reported on a virtual autism job fair in Canada called Spectrum Works. Companies like TD, Rogers, Compugen, Salesforce, Auticon, and IBM partnered with Autism Speaks Canada (ASC) to host the event on April 8, 2021.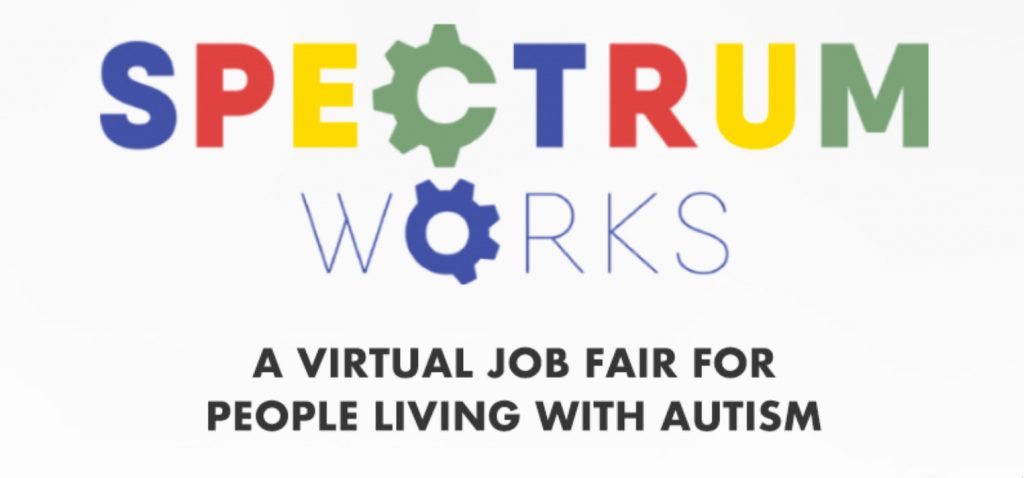 At the event, participants:
participated in skills workshops
signed up for interviews
received resume and employment consulting
consulted with community service providers
Neil Forester, co-owner of Substance Cares, helped organize the 2021 autism job fair. Forester said:
"Hosting a virtual event allows us to reach more communities across the country. It also means we can mitigate in-person crowds and situations that may be stressful for folks who experience social anxiety or sensory overload"
5. Post on autism job boards
Companies hiring autistic people often use neurodiversity or autism job boards to hire autistic workers.
If you want to increase your neurodiversity hiring, here are a few job boards specifically for neurodivergent people: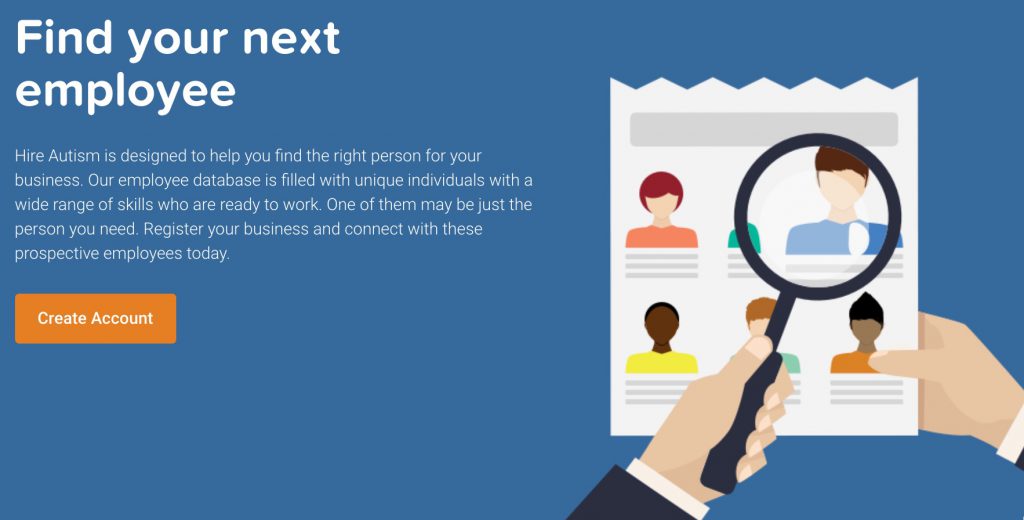 These autism job boards help companies reach diversity goals for hiring autistic employees.
Note: For a list of other diversity job boards, check out our blog 30 Top Diversity Job Boards for Employers [hiring POC, LGBTQ, Latinx & more].
6. Provide internal neurodiversity training
Internal diversity training is another option for companies hiring autistic people.
The Neurodiversity Network and other groups like Hire Autism, Autism at Work, or the Neurodiversity Network have loads of helpful resources to help companies with:
hiring autistic workers
training autistic employees once they are hired
creating a neurodiverse-friendly workplace
Companies building autism hiring programs are having great success filling roles internally and externally. BHP for example:
"In partnership with the Autism Academy of Software Quality Assurance (AASQA), we have welcomed just under 20 interns to BHP since 2017. They have completed placements in fields including data science, software development and testing, engineering and environmental safety. Each possesses highly developed problem-solving skills and attention to detail which are invaluable attributes in roles of this nature. "
Shout-Outs
Why I wrote this?
Hiring autistic employees and other diverse candidates doesn't have to be difficult. Part of Ongig's mission is to help remove bias from your job descriptions so you can be more inclusive to neurodiverse candidates. Check out Ongig's Text Analyzer if you'd like a cloud-based software tool to write more inclusive job content.