We found many famous transgender people as part of our research on successful diverse people; this list of 150 famous transgender celebrities includes models, athletes, actors, entrepreneurs, activists, musicians, authors, and more. Many of them might be celebrities you didn't know were transgender.
Famous Transgender Models
We found quite a few famous transgender models known as "trans celebs". Many of them have been very successful despite some adversity. Here are all the most famous trans models I found in my research.
Hari Nef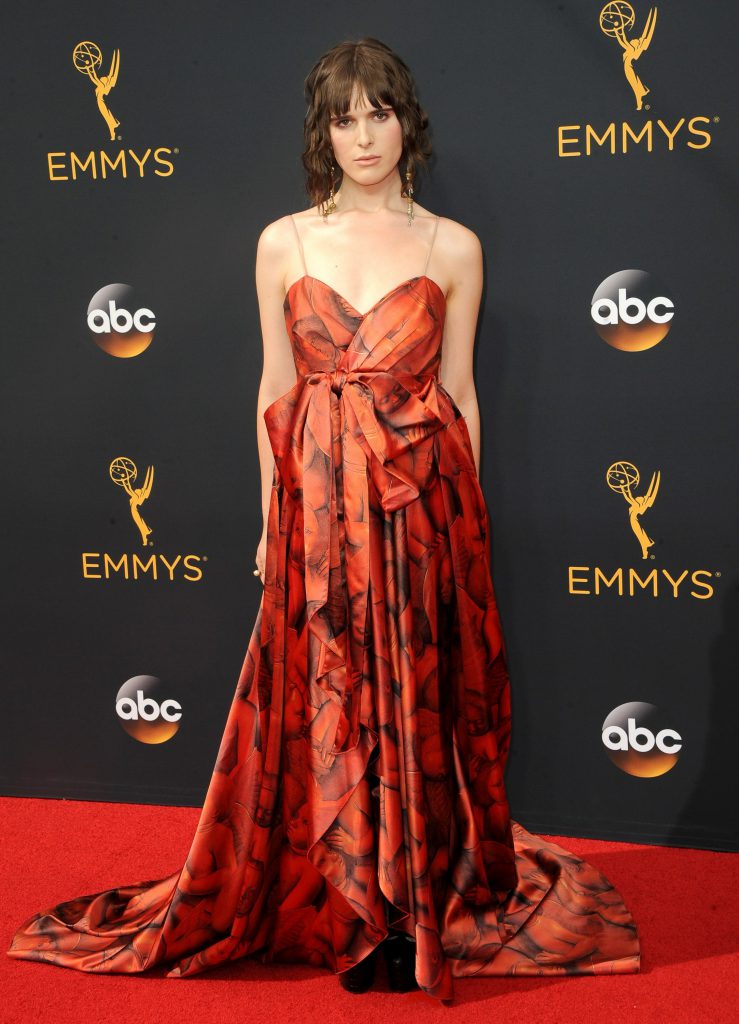 Famous Transgender Models
These famous trans celebrities walk the runway or are top designers:
April Ashley (British model)
Laith Ashley (famous transgender model and actor)
Leyna Bloom (famous transgender model and actress)
Carmen Carrera (famous transgender model)
Caroline Cossey (model and Bond Girl)
Valentijn De Hingh (famous transgender model)
Kenny Ethan Jones (famous transgender model and activist)
Isis King (famous transgender model and fashion designer)
Loiza Lamers (Holland's top model)
May Simón Lifschitz (famous transgender model and actress)
Chella Man (famous transgender model and YouTube star)
Shay Neary (plus-size model)
Hari Nef (famous transgender model)
Tracey "Africa" Norman (1st prominent African American Trans model)
Andreja Pejic (supermodel)
Teddy Quinlivan (fashion model)
Ines Rau (famous transgender model)
Geena Rocero (famous transgender model)
Valentina Sampaio (Victoria's Secret model)
Hunter Schafer (famous transgender model and actress)
Lea T (famous transgender model)
MiMi Tao (America's top model)
Arisce Wanzer (famous transgender model)
Nathan Westling (fashion model)
Famous Transgender Actors (and other TV/Media Personalities)
We also found a long list of famous transgender people who are actors, actresses, or other media personalities. These famous transgender celebrities are listed below.
Lavern Cox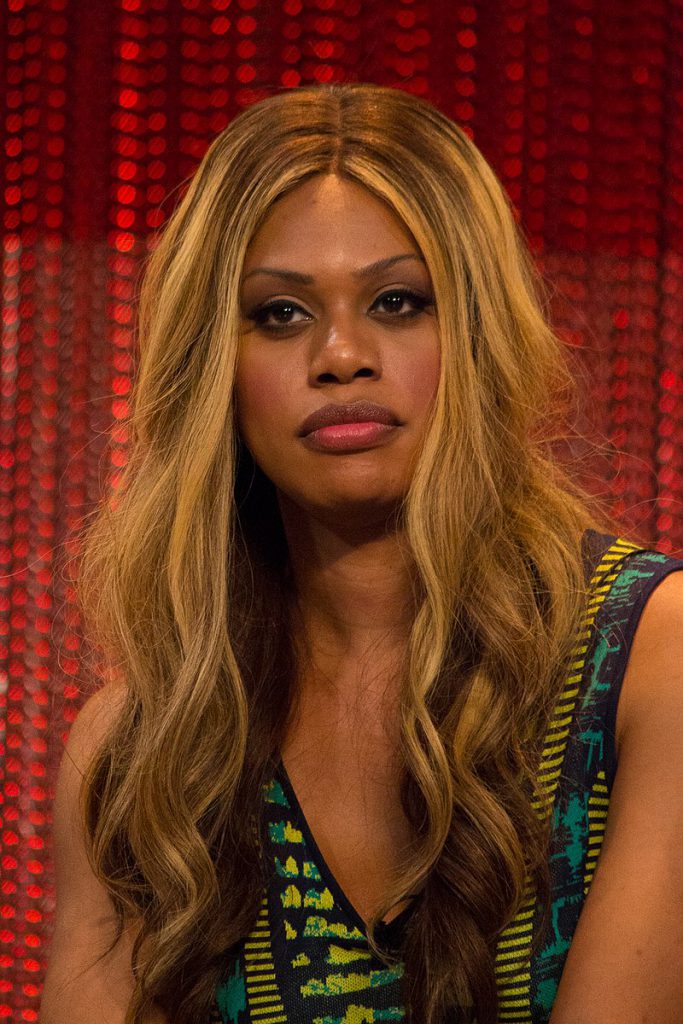 In May 2022, Mattel announced Laverne Cox is getting her own Barbie doll. Here's what Cox had to say about the new addition:
"I hope that people can look at this Barbie and dream big like I have in my career. The space of dreaming and manifesting is such a powerful source and leads you to achieve more than what you originally thought was possible."

source: Click2Houston
Famous Transgender Actors (& TV, Media Personalities, Influencers)
Here's the list of transgender celebrities and transgender actors we keep adding to as we find them. These transgender Hollywood stars have been seen on the big screen, in TV, or on YouTube:
Nadia Almada (reality TV star)
Carmen Carerra (reality TV star)
Chris Crocker (media figure and creator of Leave Britney Alone)
Gigi Gorgeous (YouTube personality)
Gia Gunn (reality TV star)
Lauren Harries (media personality)
Here's a YouTube video of Lauren discussing transgender:
Ian Harvie (comedian and actor)
Evan Ifekoya (performer)
Eddie Izzard (comedian)
Dominique Jackson (Black trans actress)
Sir Lady Java (comedian and singer)
Jazz Jennings (YouTube personality)
Hetty King (actor and male impersonator)
Kellie Maloney (sports promoter and TV personality)
Indya Moore (actor and model)
Fay Presto (magician)
MJ Rodriguez (Black trans actress)
Terri Rogers (magician and ventriloquist)
Jeanette Schmid (professional whistler)
Patrick Staff (performer)
Zoey Tur (famous Trans broadcaster)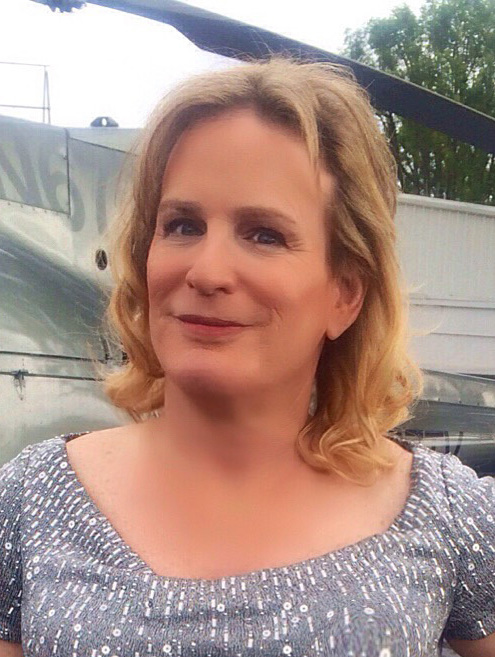 Zoey Tur also has some famous children. According to the LA Times:
"Katy (now an MSNBC anchor married to "CBS This Morning" co-host Tony Dokoupil) and Jamie (now a doctor), grew up in front of a video camera."
And…a Zoey Tur documentary titled Whirlybird tells all, positioning "Zoey Tur as a news pioneer — and toxic male — before her transition" — source, LA Times
Famous Trans Actresses
Jamie Clayton (actress and model)
Ria Cooper (Britain's youngest transgender star at 15)
Laverne Cox (actress and activist)
Jackie Curtis (actress and Warhol superstar)
Candy Darling (actress and Warhol superstar)
Erika Ervin "Amazon Eve" (actress and fitness trainer)
Nicole Maines (actress and activist)
Jen Richards (transgender woman actress)
Josie Totah (actress)
Daniela Vega (actress and opera singer)
Famous Transgender Influencers
ALOK @alokvmenon (Trans influencer and performer)
Courtney Act @courtneyact (Trans influencer, drag queen, and TV Persnonality)
AJ Clementine @ajclementine_ (Trans Tik Tok, YouTube, and Instagram Influencer)
Erin Eden @transending7 (Trans Instagram Influencer)
Grace Hyland @grace.hylandd (Trans Tik Tok Influencer)
Jamie Raines @jammi.dodger (Trans YouTube Influencer)
Shakiro (Trans YouTube Influencer)
After a brutal beating on August 9, 2021 in Cameroon, Shakiro said this:
"I will leave the country this… God is my strength. After the prison, it's hospital and then it will be the USA…"

source: Journal Du Cameroun
Pınar Yaku Sinopoulos-Lloyd, @queerquechua (Trans Instagram Influencer)
Is comedian DJ Qualls transgender?
A question I found a lot while creating this list is "Is DJ Qualls transgender?". He replied to the query on Twitter saying he is gay but not transgender:
Netflix Transgender Firestorm over Dave Chappelle Comments
People are speaking out about Dave Chappelle's "offensive anti-trans" comments during his latest show "The Closer". Some like transgender producer Janet Mock, and gay Australian comedian Hannah Gasdby, are calling for Netflix to do something about it.
On October 6, 2021, GLAAD responded with their thoughts on Twitter:
On October 8, 2021, CNN reported that "Jaclyn Moore of 'Dear White People' boycotts Netflix over Dave Chappelle's anti-transgender jokes"
On October 13, 2021, The Wall Street Journal reported that:
"A Netflix transgender-employee group is encouraging staff to stage a walkout next Wednesday to protest Co-Chief Executive and Chief Content Officer Ted Sarandos's recent defense of Mr. Chappelle's special."
Famous Transgender Athletes
Our list of famous transgender athletes includes both famous transgender men and famous transgender women. Many of these famous trans people faced struggles during their athletic careers but still became successful.
Patricio Manuel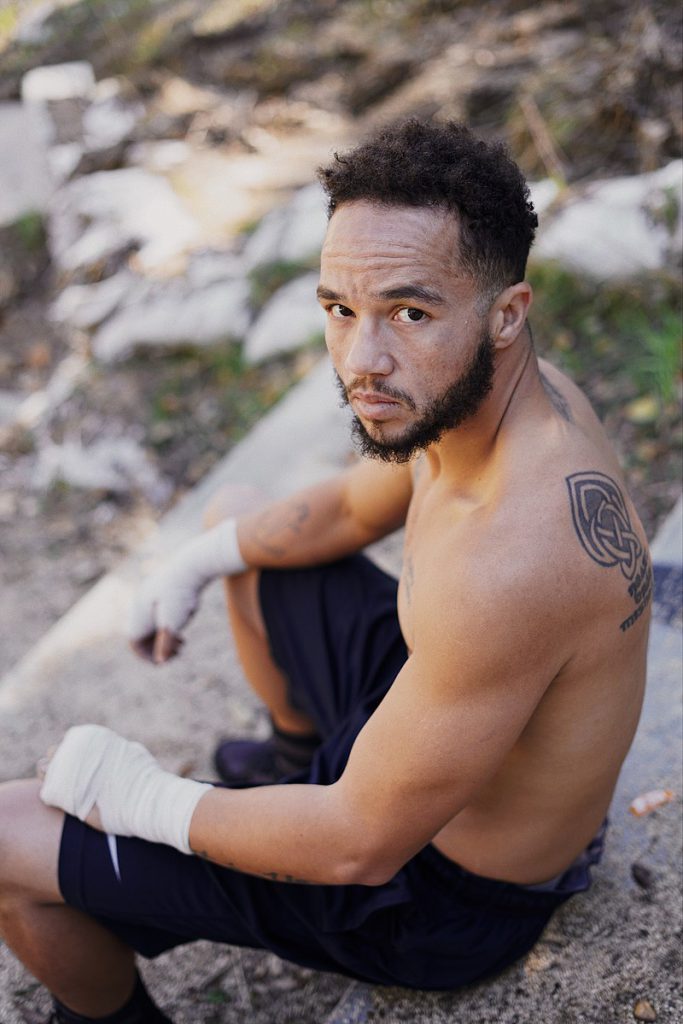 Famous Transgender Athletes
These famous trans celebrities competed and excelled in their sport:
Chloe Anderson (volleyball player)
Harrison Browne (hockey player)
Balian Buschbaum (pole vaulter)
Hailey Davidson (1st known transgender woman to win a professional golf match)
Donna de Varona (Olympic swimmer)
Fallon Fox (MMA fighter)
Caitlyn Jenner (Olympic decathlete)
Kyle Allums (basketball player)
Mianne Bagger (professional golfer)
Michelle Dumaresq (mountain biker)
Keelin Godsey (track and field champion)
Joanna Harper (runner)
Laurel Hubbard (weightlifter)
Veronica Ivy (cyclist)
Andreas Krieger (shot putter)
Dr. Bobbi Lancaster (golfer)
Lana Lawless (professional golfer)
Patricio Manuel (professional boxer)
Hannah Mouncey (handball player)
Chris Mosier (triathlete)
Dr. Renée Richards (tennis player)
Nyla Rose (1st transgender wrestler for AEW)
Erik Schinegger (world champion skier)
Jiraiya Saelua (soccer player)
Caster Semenya (runner)
CeCe Tefler (hurdler)
Rebecca Quinn (soccer payer)
Anne Veriato (MMA fighter)
Famous Transgender Singers (and other Musicians)
We also found some famous transgender singers and musicians. This list includes famous trans men and famous trans women who have paved the way for future transgender musicians.
Teddy Geiger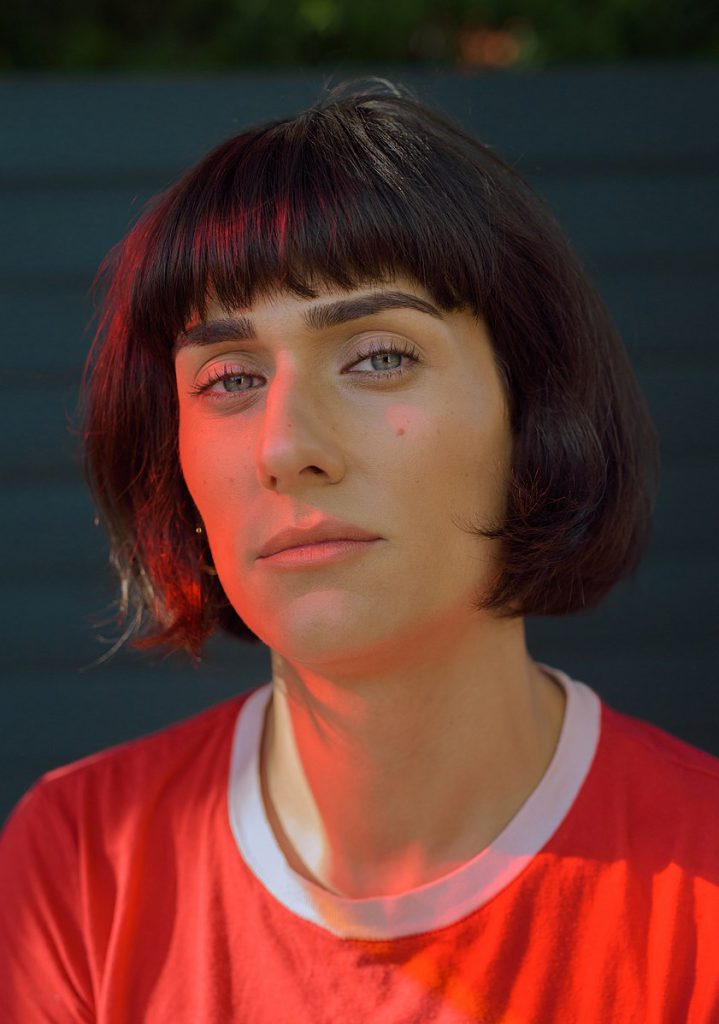 Famous Transgender Singers (& Musicians)
This list of trans celebrities are excellent singers or other types of musicians:
Ah-Mer-Ah-Su (singer)
Cidny Bullins (singer and songwriter)
Ryan Cassata (musician)
Shea Diamond (pop and soul musician)
Teddy Geiger (musician and songwriter)
Laura Jane Grace (rock singer)
According to The Wrap:
"Miley Cyrus teamed up with Jett and transgender Against Me! singer Grace for a cover of the Replacements song "Androgynous" for a video benefiting Cyrus recently launched Happy Hippie Foundation, which seeks to rally young people to fight injustice facing homeless youth, LGBT youth and other vulnerable populations."
Grey Gritt (singer and songwriter)
Skylar Kergil (folk musician and YouTube star)
Lady – Sinae, Sahara, Binu, and Yuna (K-pop Transgender band)
Kylie "Sonique" Love (singer and dancer)
Dee Palmer (composer and keyboardist)
Kim Petras (pop star)
Lucas Silveira (singer)
SOPHIE (mechanical musician)
Famous Transgender Artists
Here is a list of famous transgender artists. This list includes famous transgender people who are painters, photographers, sculptors, and video artists.
Vaginal Davis
Famous Transgender Artists
These famous trans people are well-known for their artistic abilities:
Justin Vivian Bond (painter)
Loren Cameron (photographer)
Micha Cárdenas (digital artist)
Heather Cassils (body sculpture artist)
Vaginal Davis (performance artist)
Zackary Drucker (visual artist)
Rhys Ernst (photographer)
Yishay Garbasz (photographer and installations)
Juliana Huxtable (visual artist)
Jeffrey Catherine Jones (fine artist)
Greer Lankton (doll crafter)
Amos Mac (photographer)
Tuesday Smillie (mixed media artist)
Wu Tsang (video artist and performer)
Famous Transgender Authors (and other Writers)
There are some really creative famous transgender authors who write everything from novels to short stories, to poetry, and personal memoirs. Here is a list of some famous trans people who write.
Chaz Bono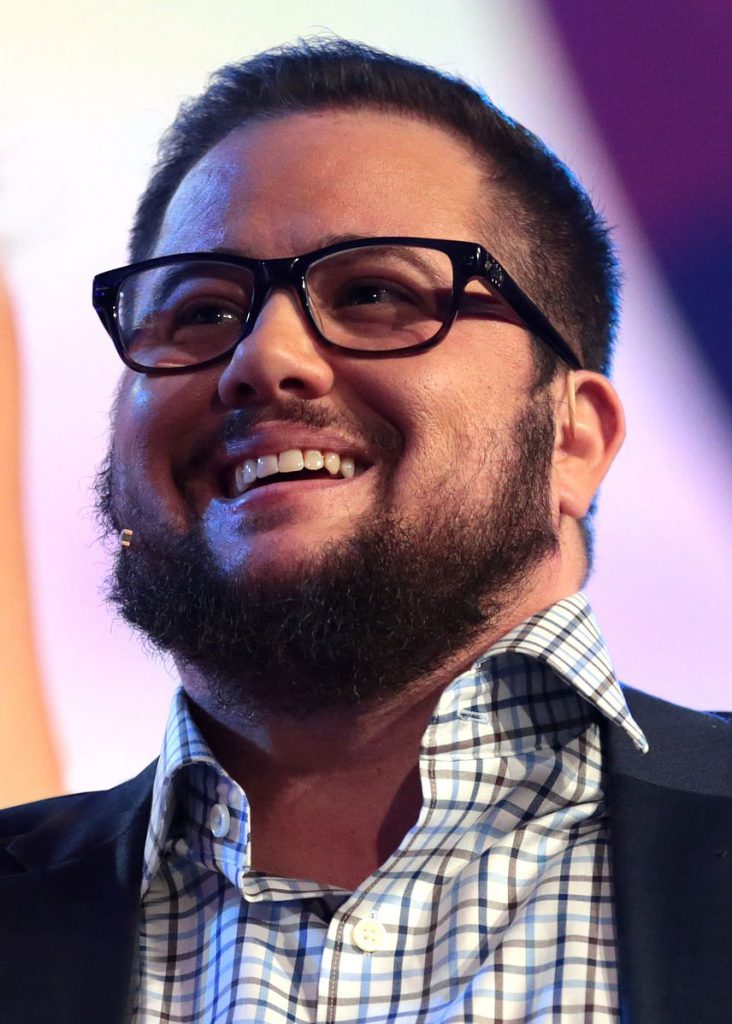 Famous Transgender Authors & Writers
These famous trans women, men, and NB authors have made their mark:
Charlie Jane Anders (novel and short story writer)
Valerie Arkell-Smith (Writer and entertainer)
S. Bear Bergman (poet and playwright)
Imogen Binnie (author and podcast host)
Chaz Bono (writer and actor)
Kate Bornstein (author and gender theorist)
Patrick Califia (gender studies writer)
Jennifer Finney Boylan (memoir author)
Stephanie Burt (poet)
Jay Dodd (poet and essayist)
Eli Erlick (writer)
Juliet Jacques (freelance writer)
Andrea James (blogger)
Christina Kahrl (sportswriter)
Thomas Page McBee (author and journalist)
Janet Mock (memoir author)
Daniel Ortberg (author and editor)
Casey Plett (short story writer)
Jordan Rosenberg (writer and professor)
Julia Serano (non-fiction author)
Vivek Shraya (non-fiction author)
Abby Stein (author and blogger)
Susan Stryker (history writer)
Most Famous Trans Leaders, Politicians, Activists, and Entrepreneurs
This list of famous trans people include activists, business owners, and politicians. Many of these famous trans men and famous transgender women fight for civil rights for the transgender community.
Elle Hearns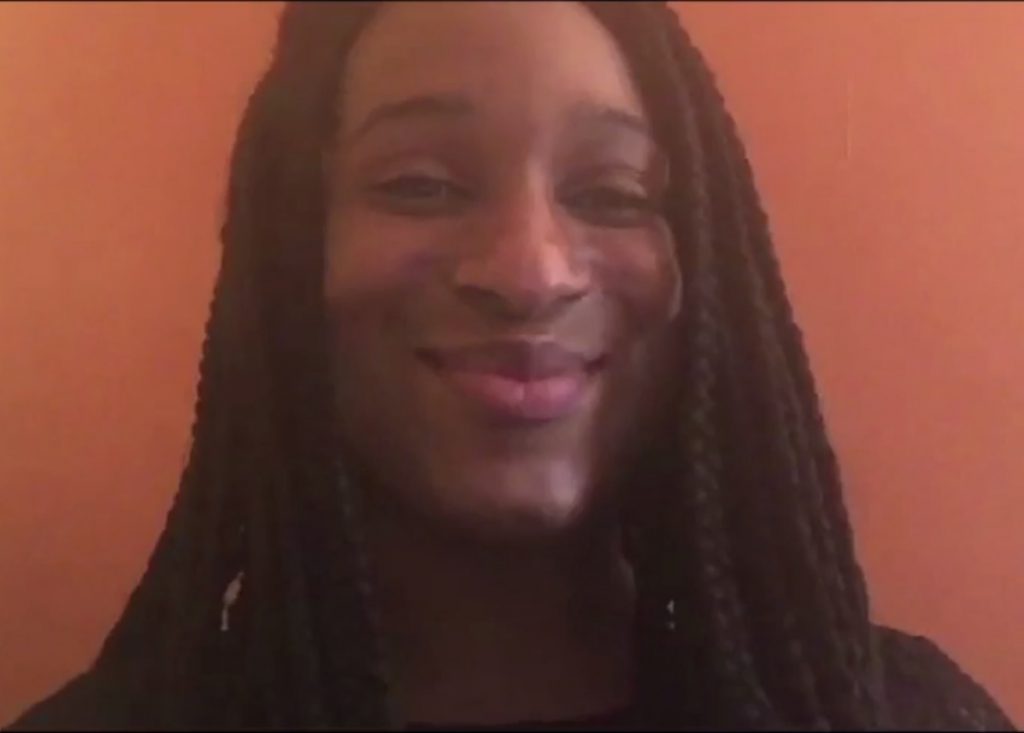 Dr. Rachel Levine
Famous transgender Dr. Levine is the first transgender person to hold office that required a Senate confirmation. She is one of only a few openly transgender government officials in the United States.
Abel Liu
Abel Liu is the 1st openly transgender and 1st Chinese-American student to be elected as Student Council president. Liu Captured 81.2 Percent of Votes in Landslide Student Election Win at the University of Virginia in March 2021. Liu said: "I facilitate change at the university level that centers on empowerment, radical compassion, and the redress of historical injustices. These themes align with our national conversation, so I hope to champion a model of student government that can drive equitable reform across the country. I'm proud to be part of this change, to get things done, and to make a real impact in people's lives." Source: press release sent by Donna Michaels, LMGPR
Famous Transgender Leaders, Activists, Politicians and Entrepreneurs
Here's the full list of Famous transgender people in politics and business:
Dr. Rebecca Allison (cardiologist and Transgender activist)
Lucy Hicks Anderson (entrepreneur, socialite, and chef)
Nisha Ayub (Transgender activist)
Jenny Bailey (politician)
Thomas Baty (lawyer for the Imperial Japanese government)
Thomas Beatie (public speaker, author, and Transgender activist)
Danielle Bunten Berry (game design entrepreneur)
Lynda Cash (Royal Navy officer)
Sister Mary Elizabeth Clark (creator of AIDS Education and GIS database)
Angela Clayton (Transgender activist)
Joanne Conte (American politician)
Elagabalus (Roman Emporer)
Alexander John Goodrum (African-American Transgender civil rights activist)
Julia Grant (Transgender activist)
Miss Major Griffin-Gracy (Transgender activist)
Alan L Hart (Physician and researcher)
Elle Hearns (Transgender activist and Black Lives Matter Co-founder)
Jennel Jaquays (game design entrepreneur)
Victoria Kolakowski (judge)
Rachel Levine (U.S.'s Assistant Secretary of Health; also former Pennsylvania Health Secretary) (first openly transgender federal official to win Senate confirmation)
Sarah McBride (First openly transgender state senator — Delaware)
Evan Minton (Minton was turned away from a Dignity Healthcare hopsital for being transgender. Minton is suing based on sex discrimination in violation of California's Unruh Civil Rights Act)
Charley Parkhurst (farming entrepreneur)
Jennifer Pritzker (investor and philanthropist)
Stu Rasmussen (politician)
Sylvia Rivera (Latina American Transgender rights activist)
Rev. Megan Rohrer (first openly transgender bishop in the Evangelical Lutheran Church in America)
Angelica Ross (entrepreneur, Transgender activist, and Black trans actress)
Gwendolyn Ann Smith (Transgender Day of Remembrance founder)
Theresa Sparks (politician)
Karen Frances Ulane (pilot and civil rights legislation activist)
Dr. Penny Whetton (Climatology expert)
Sophie Wilson (IT entrepreneur)
Sgt. Major Joanne Wingate (British Army)
Kate Craig Wood (IT entrepreneur)
More Famous Trans People?
My list is by no means complete. Please let me know if you find other successful trans people and transgender stars, I will be glad to add them! Just ping me at Heather@Ongig.com.
If you find a famous trans person and send it to me, please include a source link for it. That way I can give that source a shout-out in the "Sources" section below!
Sources for my Research on Famous Trans Women and Famous Trans Men
These pros helped me source the article on successful transgender people — thank you!
Why I wrote this?
Ongig is on a mission to eliminate boring and biased job descriptions. As part of this, we try to share best practices on all aspects of diversity. For example, Ongig's Text Analyzer helps you avoid words that are exclusionary to famous (or non-famous) people based on sexual orientation. Please visit Ongig if you'd like to learn more.