To support Ongig's mission of celebrating everyone, I started this list of famous adopted people. They're successful celebrities, athletes, writers, singers, former presidents & more…plus I list celebrities with adopted children.
Actresses and Actors who were Adopted [+ TV Personalities and Comedians]
Dean Cain. This TV personality best known for playing the role of Clark Kent/Superman was adopted by his stepfather, Christopher Cain, at 3-years-old.
Kristin Chenoweth. If you are wondering, "Was Kristen Chenoweth adopted?" The answer is yes. Broadway and Hollywood singer and actress Kristine Chenoweth was adopted when she was five years old. Her biological mother, who was very young when Kristine was born, gave her up for adoption because she couldn't take care of her.
Gary Coleman. One of the most famous adopted people who were child stars. Coleman was one of the highest-paid child actors in the late 1970s and early 1980s.
Lana Condor. Star of To All the Boys movies and one of the youngest famous people who are adopted on this list. Condor was adopted from a Vietnamese orphanage as a baby.
Andy Dick. Dick is an adoptee and comedian from Charleston, South Carolina.
Jamie Foxx. Let's answer the burning question of "Is Jamie Foxx adopted?" Celebrity Jamie Foxx is one of the actors who were adopted in infancy. His maternal grandmother Esther took him in when he was seven months old when his biological parents could not care for him.
Melissa Gilbert. Melissa is most well-known as Laura Ingalls Wilder from Little House on the Prairie from 1974 to 1984.
Keegan-Michael Key. A comedian and TV personality who is another famous adopted celebrities. He was adopted as a child by social workers.
Ray Liotta. One of the big screen's most famous adoptees. Liota was adopted by a couple from New Jersey when he was 6 months old.
George Lopez. Lopez was adopted and raised by his maternal grandmother and her husband after his parents abandoned him at an early age.
Frances McDormand. This Fargo actress was born in Chicago and adopted by a Canadian couple. Her adoptive father was a pastor.
Marilyn Monroe. Marilyn Monroe tops the list of celebrities that were adopted. She spent most of her childhood in foster care because her mentally ill mother abandoned her. She eventually stayed with her mother's best friend until she married at the early age of 16 to escape her living conditions. She got divorced and went on to become the Marilyn Monroe we know today.
Jack Nicholson. One of Hollywood's most famous people that were adopted. Nicholson's mother had him when she was 16 and he was adopted by her mother. he found out after their deaths that his sister was his biological mother.
Nicole "Snooki" Polizzi. Snooki one of reality TV's most famous adopted celebrities. She was born in Chile and adopted at 6 months old by a couple from New Jersey.
Nicole Richie. Nicole is one of the most famous adopted celebrities in the world. Lionel Richie adopted Nicole from age three, and her parents gave up custody of her when she was nine. After that, the Richies legally adopted her.
Ruth Westheimer. Known as "Dr. Ruth", is a sex therapist, media personality, author, talk show host, and Holocaust survivor who was adopted after growing up in an orphanage.
Famous Adopted People who are Musicians
JC Chase. Former NSYNC member and one of the most famous adopetd celebrities of the pop era. He was officially adopted by his birth mother's former foster parents at age 5.
Keyshia Cole. One of musics most famous celebrities that were adopted. Cole was adopted at age 2 by family friends. Her biological father is a well-known boxing trainer, Virgil Hunter.
Trace Cyrus. Adopted son of Billy Ray Cyrus and sister of Miley Cyrus. He is a vocalist and guitarist for the band Metro Station.
Debbie Harry. Another of the most famous adopted celebrities and star singer from Blondie. She was born in Miami and adopted by a New Jersey couple.
Faith Hill. This country singer is on the list of famous adoptees. She was adopted at birth on September 21, 1967.
John Lennon. Google the phrase 'Famous Adopted People UK' and John Lennon will be one first to pop up. I bet you didn't know Beatles member John Lennon is one of those celebrities who are adopted. He was taken in by his Uncle George and Aunt Mimi when his parents separated.
D.M.C. (Darryl McDaniels). American rapper who was told about his adoption when he was 35.
Tim McGraw. One of Country music's most famous adopted people. McGraw was adopted and raised by his step-father. His biological father Tug mcGraw, a famous baseball player, denied him as his son until Tim was 18.
Sarah McLachlan. One of Canada's most famous adopted celebrities. This singer was born and aopted in Nova Scotia, Canada in 1968.
Liz Phair. One of rock music's famous people who were adopted. Phair was born in Connecticut and raised by her adoptive parents in Illinios.
Skrillex "Sonny John Moore". One of electronic music's famous adoptees. He was shocked to find out he was adopted at 16 and that he knew his biological mother as a family friend.
Ice T. After his parents both died from heart attacks, and before becoming one of rap music and TV's famous adoptees, Ice T was adopted and raised by his aunts.
Famous Adopted Athletes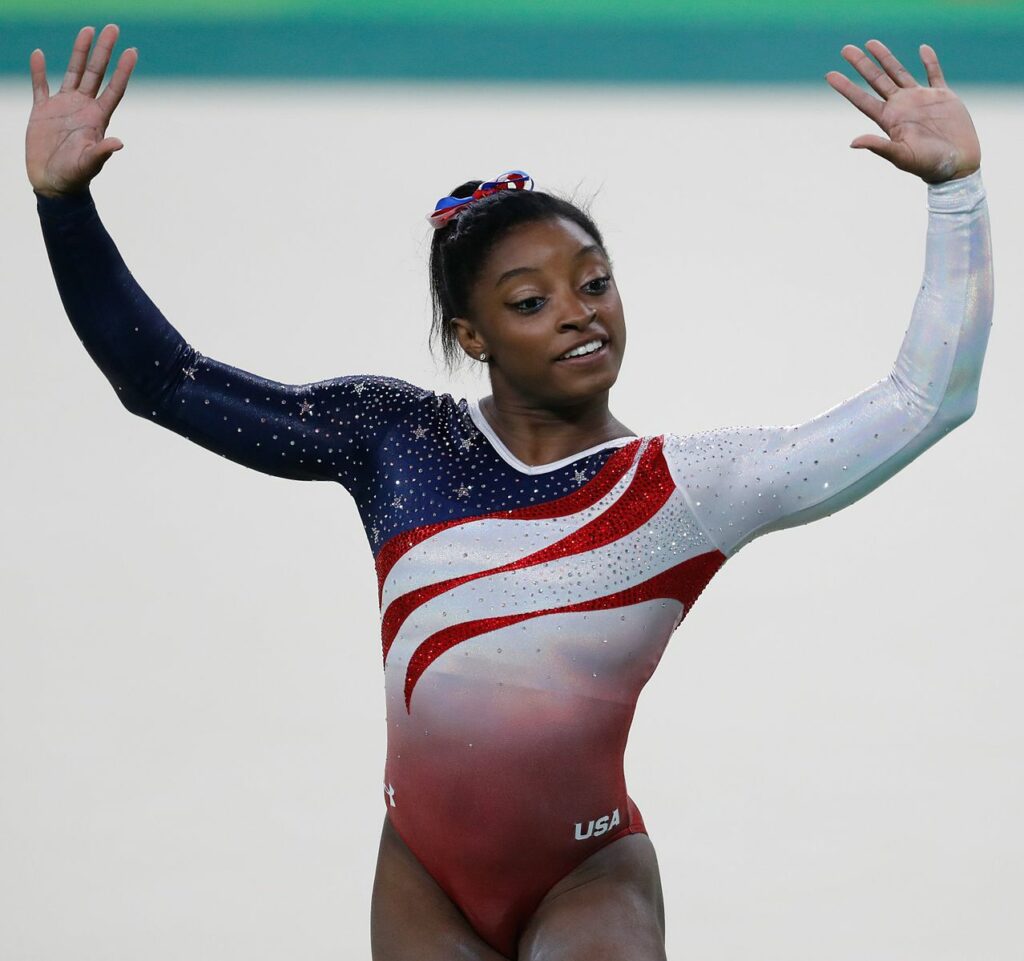 Lance Armstrong. Olympian, cyclist, and one of sports' most famous adoptees. Armstrong was adopted by his step-father at age 3.
Simone Biles. Simone is one of the most famous gymnasts in the world today. Simone Biles adopted parents, who were her grandparents, adopted her when her biological mother couldn't care for her because of drug and alcohol abuse.
Daunte Culpepper. A former quarterback who played in the NFL for 11 seasons, mostly with the Minnesota Vikings. He was adopted at 1 day old by a correctional officer where his biological mother was being held at his birth.
Ric Flair. One of WWE's most famous adopted people and pro wrestler. Flair was adopted at birth.
Scott Hamilton. Olympic gold-winning figure skater who is adopted who has 2 adopted children and 2 biological children.
Colin Kaepernick. one of the NFL's most famous adoptees. Kaepernick was adopted by a couple who lost their 2 other sons to birth defects.
Alonzo Mourning. NBA star from Virginia. Mourning was raised and adopted by his foster parents from 10 years old.
Michael Oher. Oher was adopted at age 17 before becoming one of the most famous adoptees. His story was told through the movie The Blind Side, showing him become a football star at Ole miss and being a #1 draft pick for the Baltimore Ravens in 2009.
Babe Ruth. Babe Ruth was (and still is) one of the worlds' famous adopted athletes. At a young age, he and his sister were orphans, but he met Brother Matthias, a talent scout who encouraged him to play baseball and later became his legal guardian.
Famous Adopted Politicians, Entrepreneurs, and Writers
Michael Bay. American film director who was born and adopted in Los Angeles, CA. He is best know for his work on the Transformers movie series.
Jeff Bezos. Was Jeff Bezos adopted? When Jeff was 4, his mother married Miguel Bezos, a man from Cuba and who adopted Jeff and gave him his last name.
Bill Clinton. The 42nd U.S. President, and one of America's most famous adopted people. Clinton was raised by his grandparents after his father died in an accident before he was born. His mother returned from nursing school when he was 4 and he was adopted by his stepfather.
Larry Ellison. The Oracle founder and CEO was adopted at 9 months old by his mother's aunt and uncle, Lillian and Louis Ellison, when he came down with pneumonia.
Gerald Ford. The 38th President of the U.S. Ford's name before becoming one of America's most famous adoptees was Leslie Lynch King Jr. He was renamed post-adoption after his step-father.
Newt Gingrich. Former Speaker of the U.S. House of Representatives who was adopted at 3-years-old by his step-father.
John Hancock. Hancock was adopted by extended family after his father's death. He makes this list of famous people that are adopted because his signature is so well-known from the Declaration of Independence. People use his name synonymously for "signature" in the U.S.
Jesse Jackson. Former U.S. senator who was adopted at 1 year old by his mother's new husband Charles Henry Jackson.
Steve Jobs. Famous Apple Founder Steve Jobs adopted parents took over his care when he was born, as his biological parents were unable to care for him. Steve Job's adoptive parents, Paul and Clara Jobs, instilled in him a love for technology, and all was history after that.
Nelson Mandela. President Nelson Mandela was one of the world's famous people who were adopted.
Edgar Allan Poe. His father abandoned the family in 1810, and his mother died the following year. He was sent to live with the Allan family in Virginia, who he called his family.
Nancy Reagan. First Lady of the U.S. and one of the most famous people who were adopted. She started the "Just Say No" drug campaign during her husbands presidency.
Eleanor Roosevelt. Another of the world's famous people adopted, Eleanor Roosevelt, was conferred the title of the "First Lady of The World" because of her humanitarian achievements. Her parents died when she was 15, and her grandmother adopted her.
Dave Thomas. Thomas, the founder of Wendy's fast food chain, is one of the most famous people that were adopted. His success with Wendy's spilled over into founding the Dave Thomas Foundation for Adoption that helps foster kids find adopted families.
Leo Tolstoy. The writer of the classic novel Ana Karenina, Tolstoy's extended family raised him when his parents died.
MalcomX. Known as one of the most influential and famous adoptees of all time. Before becoming a minister and civil rights activitst, MalcomX grew up in an orphanage and foster care.
Famous Celebrities who Adopted
Now that you've read our list of famous people that were adopted, here's a list of celebrities who have adopted children. I searched 'celebrities with adopted child' and came up with this list of famous people who have adopted children, and some even became famous for simply being adopted celebrities' kids.
Connie Britton. Connie Britton has made a name for herself as one of the most famous people who adopted children. She adopted her son Yoby as a single mother in 2011.
Sandra Bullock. Oscar-winner Sandra Bullock is one of the celebrities who adopted children from foster care. She has two adopted children — Louis Bardo, who she adopted in 2010, and she adopted a three-year-old baby girl Laila in 2015.
Ty Burrel. Ty Burrel is one of the famous people who adopted children. Known for his role as Phil Dunphy in Modern Family, Ty Burrel and his wife Holly adopted Greta and Frances.​​
Jim Cavaizel. The actor and his wife Kerri adopted 3 children from China who had cancer. The kids are now 18,16, and 7 years old.
Tom Cruise and Nicole Kidman. The star couple who split up in 2001 are celebrities who adopted from foster care in the early 90s.
Kristen Davis. Sex and the City star an dof the most famous celebrites who adopted a daughter as a single mom. She was aolso adopted by her step-father at age 3.
Viola Davis. The Oscar-winning actress adopted her daughter Genesis as a baby in 2011.
Walt Disney. The Disney creator and his wife Lillian adopted their daughter Sharon mae after the birth of their first daughter Diabne Marie due to several miscarriages.
Mariska Hargitay and Peter Hermann. After having their first son biologically, these famous celebrities adopted 2 more kids, a boy and a girl.
Katherine Heigl. One of the most well-known celebrities who have adopted internationally. Heigl and her husband Josh Kelley adopted 1 daughter from South Korea and 1 from the U.S. Heigl's sister is also adopted from South Korea.
Hugh Jackman. Hugh Jackman is also one of the famous people who adopted children. In addition to being a father, Hugh Jackman is the co-founder of Hopeland, an organization helping orphaned and abandoned children worldwide.
Angelina Jolie and Brad Pitt. Jolie and Pitt are A-list celebrities who adopted internationally. They have six children, of which they adopted three. Angelina adopted Maddox, her first child from Cambodia in 2002, Zahara from Ethiopia in 2005, and Pax from Vietnam in 2006. Their children are growing up to be the most recognizable famous adoptees.
Madonna. Madonna joined the club of celebrities who adopted children when she adopted David Banda in 2006 and Mercy in 2007 from Malawi. In addition to her adopted children, she has two biological children Lourdes and Rocco Ritchie.
Ewan McGregor. This Scottish actor adopted 2 young girls, Jamyan and Anouk. He also has 2 bioligical daughters, Clara and Esther.
Mary Louise Parker. This actress from Weeds is also on the list of celebrities who have adopted internationally. She has an adopted daughter from Africa.
Ronald Reagan. This U.S. President adopted a son named Michael in 1945 with his first wife, Jane Wyman.
Denise Richards. After her divorce from Charlie Sheen, Richards added an adopted daughter to her family. She had 2 daughters with Sheen before adopting.
Meg Ryan. This famous actress makes the list of celebrities who have adopted internationally. Ryan adopted her daughter Daisy True from China in 2007.
Sharon Stone. Stone adopted 3 children. 1 son in 2000 with then husband, newspaper publisher Phil Bronstein. Then 2 more sons in 2005 and 2006.
Charlize Theron. Oscar-winner and one of the most well-know celebrities who have adopted. Theron has 2 adopted children.
Which Jonas brother is adopted?
There are questions around some celebrities being adopted that haven't been proven to be true. For example, there's chatter online around the questions "Which Jonas brother is adopted?" and "Is Nick Jonas adopted?". Here's what I found:
"Nick Jonas is not an adopted child, and neither are his brother. There are no records suggesting that they were adopted apart from rumors on gossip blogs…"

source: Heightline
"There is no evidence to suggest that Nick Jonas is adopted, except entirely fictitious articles. He's the son of Denise Miller and Paul Kevin Jonas…"

source: Answers to All
Do you know of more celebrities who were adopted?
This list is not exhaustive, but it proves one thing: adoption can be a gift of being able to choose your family. Adopting and being adopted can be a complicated process but, the list of celebrities who have adopted children to famous adoptees proves that adoption can be a blessing to both parents and children. If we missed any famous adoptees, please email Heather@ongig.com to get them added to the list!
Why I Wrote This?
Ongig's mission is to eliminate boring and biased job descriptions. As part of this, we try to share best practices on everything diversity — and Ongig's Text Analyzer helps you avoid words that are exclusionary to people who are different and still great!
Shout-Outs