How do you ensure the content you create doesn't deter or offend anyone who reads it?
A content bias scanner can help you write…bias-free. Content bias scanners are great for any modern-day organization, but there's no standard solution. So we've created a list of 8 top content bias scanners to help you find the best fit for your biz.
Let's dive in.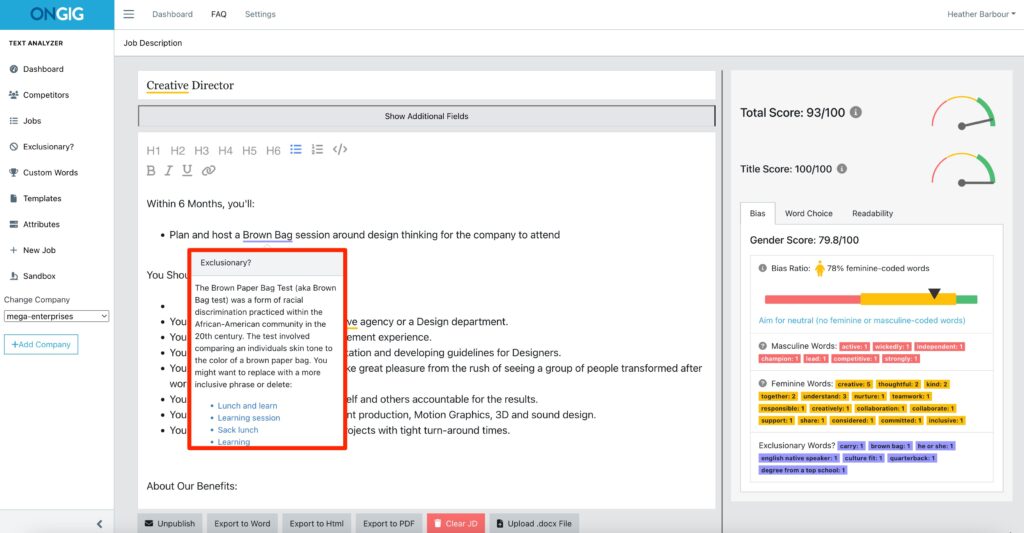 Ongig's Text Analyzer content bias scanner applies an advanced (and ever-improving) algorithm to track 12+ biases that affect your hiring process and your employer brand.
Ongig's Text Analyzer helps you write job descriptions (and other content) without unintentional bias. The tool detects common biases like gender, disability, LGBTQ+, and race/ethnicity bias that may discourage top talent from applying.
This content bias scanner offers visual feedback on the bias in your content and flags exclusionary words that may negatively impact your apply rates.
To save time, you can also create approved (and bias-free) templates for your job descriptions, interview guides, social media posts, and more.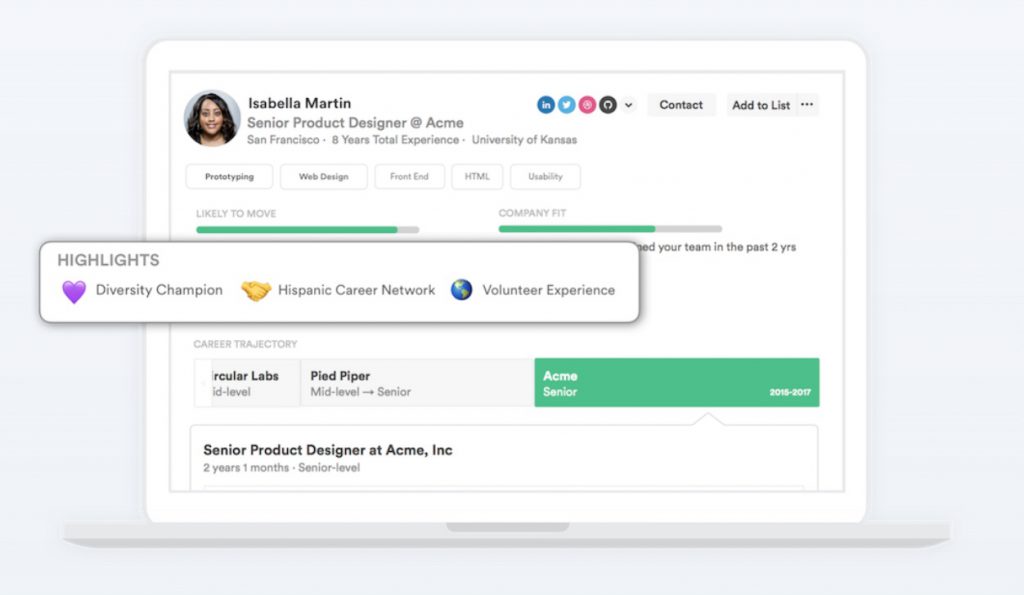 Underrepresentation remains a problem in the workforce. And in many cases, it's due to how job ads are phrased — skewed to attract a specific crowd while sidelining other groups.
The folks at Entelo developed a content bias scanner program that helps eliminate bias to attract underrepresented talent.
According to Entelo, you'll attract a diverse crowd in minutes, and not the usual hours with no end in sight.
You can rally your multi-talented team via one-click diversity filters based on gender, race, ethnicity, and veteran status. This tool also has an advanced pipeline reporting feature.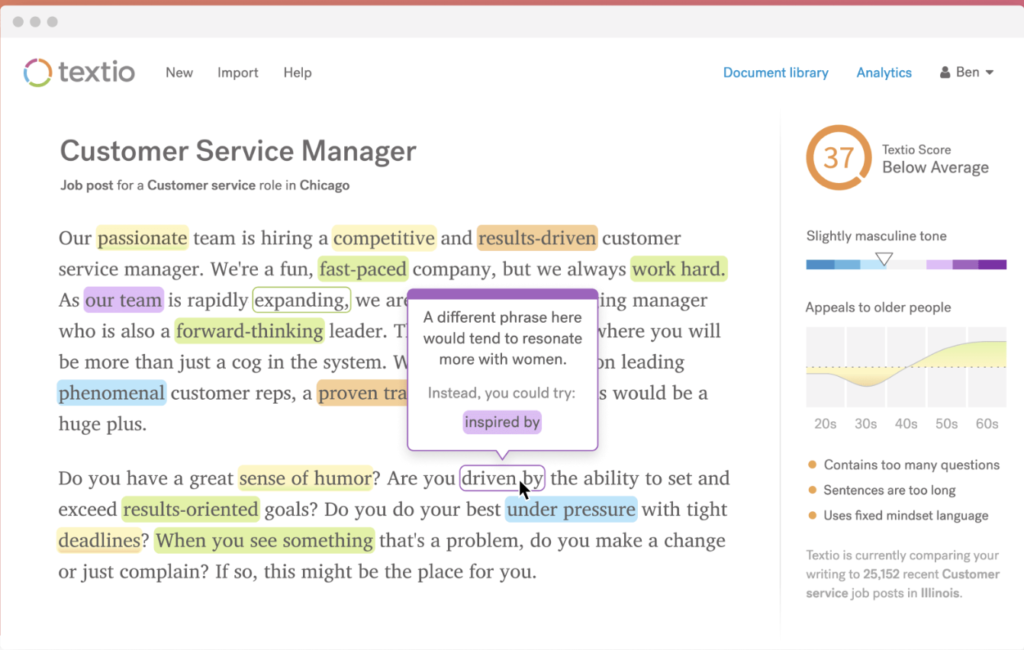 Feedback can drive organizations to function at their best. And when it comes to performance management, it's necessary to avoid biases at all costs. Textio's software allows you to provide non-biased and actionable feedback to your employees writing job descriptions.
Textio's program identifies and eliminates hidden biases to optimize employee engagement through inclusive and on-brand language. This content bias scanner helps you remove bias and present a consistent brand value that wins trust through talent acquisition and employee retention to scale.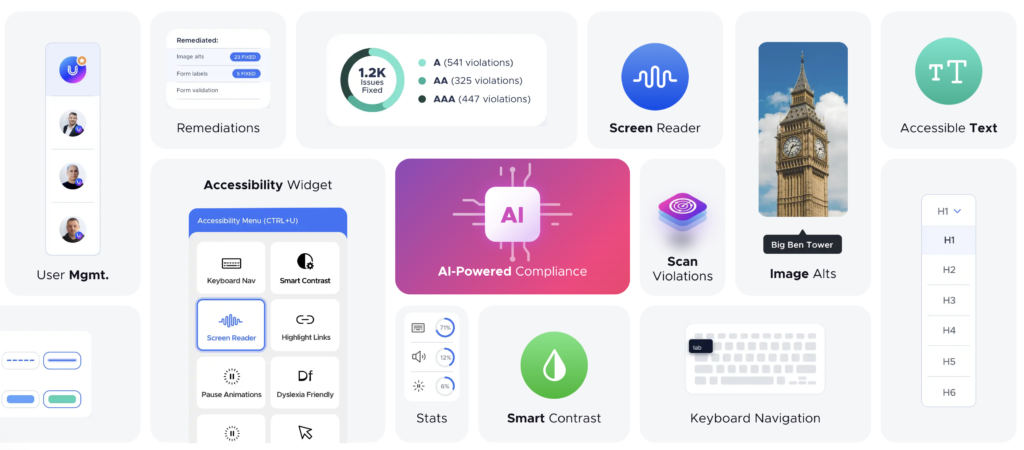 Userway is an AI-powered solution that analyzes discriminatory language that often lurks on the internet. The company provides fully managed accessibility features to make websites practical for every user.
Userway conducted research on over 500,000 websites, discovering that 22% of the sites scanned contained some form of biased, racially charged, or offensive language. With Userway, you can avoid hidden bias while meeting the latest web accessibility standards.
This content bias scanner searches all types of files and documents for potential accessibility violations before they're uploaded to your website. Plus, the team keeps a close watch on your site in real time, monitoring and updating your content when needed to keep it bias-free.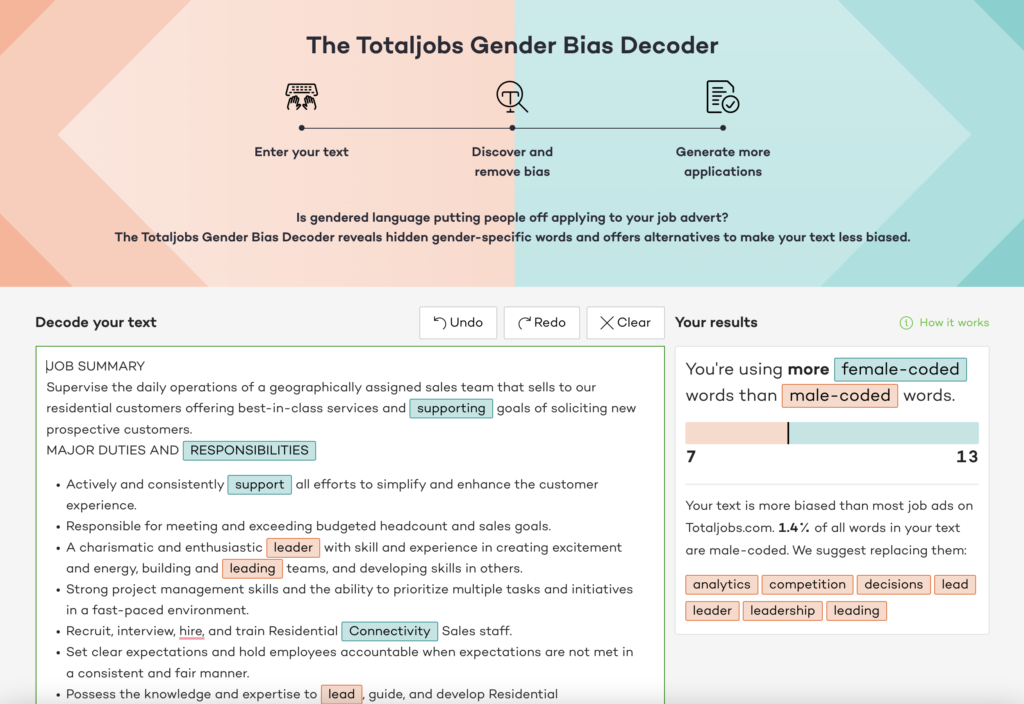 Totaljobs' Gender Decoder tool helps detect and eliminate hidden gender biases that may put off top talent. The tool identifies gender-coded words in your content, highlights them, and offers neutral alternatives.
So the Gender Decoder can really come in handy to make your job description content stand out from the competition. It's especially useful in collaborative hiring, which has become increasingly popular in recent times.
GapJumpers is a content bias scanner that supports blind hiring practices. The platform guides you through a 2-step process: diagnosis and blind hiring. GapJumper's blind hiring service assesses biases in your internal and external communications.
Once you have gathered the data, the platform recommends blind hiring solutions to fix the biases. You can also connect the software with an applicant tracking system (ATS) to streamline recruitment processes.
According to the GapJumpers team, they base their hiring approach on the findings of the Symphony Orchestra research. The original study involved "blind" auditions with screens that concealed the identity and gender of the musician from the jury. Results showed the effectiveness of the practice, with a spike of female musicians from 6 percent in 1970 to 21 percent in 1993.
Amazon Comprehend is a versatile NLP (natural language processing) tool that can serve as a powerful content bias scanner.
You can refine all types of content, like emails, blog articles, and whitepapers, through the platform. The system extracts the key insights from your content based on your needs, including keywords and sentiments (e.g., hidden biases).
Users can begin with Comprehend by uploading their text to the platform, which accepts multiple formats like JSON and HTML. The platform analyzes the content and extracts insights through a machine-learning algorithm. Comprehend completes the process by generating a detailed report to help you make informed changes to eliminate bias and other concerns.
Plus, since Comprehend is a part of the AWS services family, you can conveniently integrate the feature across documents on the Amazon cloud.
It's hard not to include ChatGPT in this list, considering its massive hype among modern internet users.
While ChatGPT isn't technically a content bias scanner, it runs on sophisticated AI technology that can help detect implicit biases in the content you create.
Specifically, ChatGPT runs on a transformer-based language model with a deep learning algorithm. The system studies human conversations and gradually picks up nuances, including hidden biases, to mimic natural dialogues.
but, it is important to note that ChatGPT is still in its developmental phase and shouldn't be relied on as a comprehensive content bias scanner. In fact, the Ongig team has put ChatGPT to the test, discovering a number of incompetencies where biases remained undetected.
In some instances, the program even turned up inaccuracies and omissions that could compromise your content. For example, a content bias-scanned JD from ChatGPT lacked diversity & inclusion, flex location, and mission statements, which are highlights for many job seekers.
What ChatGPT can do, is give you a starting point via a quick content scan. Users should then follow up by reviewing the information using an official scanning tool.
Why I Wrote This:
Ongig's mission is to create more effective and inclusive job descriptions. With our Text Analyzer, you can avoid using incorrect terms and "no-no" words that may cause bias-related issues. Please request a demo from the Ongig team to discover how our content bias scanner helps optimize talent acquisition and engagement.
Shout-Outs: