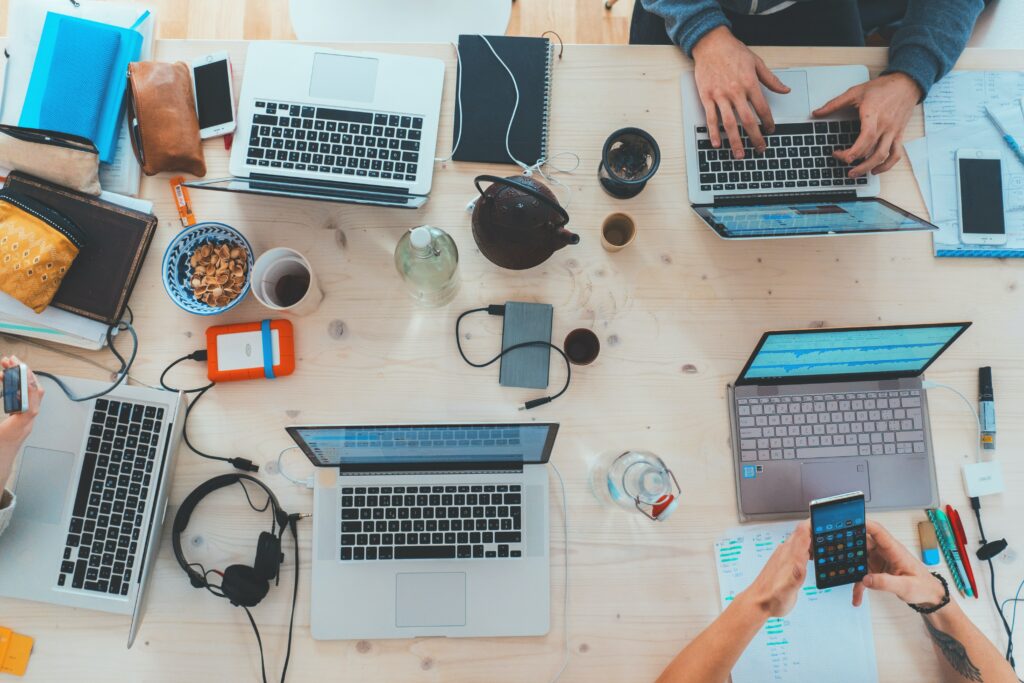 Collaborative hiring is changing the way companies recruit new staff. Its benefits include:
making better choices when selecting candidates
better integration for new staff
more engagement in the hiring process for your existing team
But what exactly is it, and how can you implement it in your business?
What is Collaborative Hiring?
Collaborative hiring is a team-based way of assessing candidates, spotting talent, and deciding on the perfect match.
A collaborative recruitment process takes decision-making beyond the HR department and brings in team members whose input positively contributes to choosing new hires.
This team approach to recruitment has huge benefits. It's a way of choosing the right candidates and empowering existing employees.
Not only will they feel heard and valued, but current employees will be prepared for new staff intake, giving them a sense of stability and control in the workplace. This boosts employee well-being, job satisfaction, and staff retention.
How Does Collaborative Hiring Work?
So, how does collaborative hiring work? Here are 5 tips for success:
1. Allocate time and resources
In collaborative hiring, you need time and resources. So, a consensus on resources and commitment is key from the start.
Consider:
What will your hiring team need? How will you make space in their schedules?
What kind of space and tech is required? Meeting spaces should be set up to include remote workers. It's a great idea to check out conference room solutions well in advance.
Will team members need training? Non-HR team members may not be familiar with hiring processes.
2. Plan for success
First, assemble your team. Evaluate the skill sets and daily job requirements to decide who's best suited. And ask who might be interested! Defining each team member's role and responsibilities from the start is vital.
Consider:
Who will look at the resumés and narrow down the list?
Who will be in the interviews?
Who will choose the technical questions?
Which team member will ask the interview questions?
When it comes to finding candidates, involve your team from the start. Ask them to research recruitment platforms, track similar job ads, and suggest looking at website personalization examples for creative ways to reach potential applicants.
Work as a team. Get everyone involved in defining and describing the person needed to fill the role. By giving them access to job description building tools, you can create the perfect job ad. Their knowledge of their own work and responsibilities will provide a unique take on what's needed in a colleague.
A collaborative hiring process works best when it's visible and clear. Make each stage accessible and trackable. Keeping everyone on board is easier if you have a clear, unified vision of the outcome. A road map and timetable of the journey are also helpful.
Let team members know what's happening, but don't overwhelm them with unnecessary details. Rather than constant back-and-forth rounds of emails, use a centralized, cloud-based platform that allows the team to track candidates' progress easily. And be sure to build a solid remote culture, so hiring team members who are remote or on a hybrid pattern stay in the loop.
3. Managing Meetings
There will be points during the collaborative hiring process when your team needs to meet physically or virtually. This is where hiring managers reap the benefits of the group's combined views on candidates. But meetings need to be managed to avoid certain pitfalls.
Avoid Groupthink
It's important to know how to avoid groupthink — the tendency for people in a group to be so focused on reaching a unanimous decision that they suppress their own thoughts and feelings.
Team members holding back on their views is the opposite of what you want to achieve. There is little point in gathering a group of people (because you value their input), for them to be afraid to give an opinion.
Set Ground Rules
Lay down rules before the meeting, emphasizing that everyone's contribution is welcome. During the meeting, draw out the quieter members, making time to pause the group chat and ask them individually for their views (especially on areas where they have expertise).
And, always give people a way to privately communicate any concerns or observations they feel unsure about discussing in the meeting.
Manage Time
Running engaging meetings means not letting things drag out. It's important to make good use of time. If your meeting stalls, bring the group back to the candidate criteria or rewatch candidate video interviews.
You might want to split the group into sub-teams, asking each smaller group to assess and discuss the different skills of the candidate, before getting back to the whole group. Make sure your team has a chance to discuss soft skills and the more overt attributes of candidates.
4. Address the Challenges
When implemented correctly, collaborative hiring reduces your HR department's workload. It also shares skills and expertise from across the workforce.
But it's not without its challenges. To succeed, you need to face this head-on.
Lack of Specialist Knowledge
While collaborative hiring brings in a wealth of experience from across your business, it sometimes lacks specialist knowledge. Your software design team won't have HR experience, for instance! Look out for problems like subtle bias in job descriptions and ensure you have at least one HR specialist involved at every stage of the process.
Data Protection
Maintaining confidentiality can be an issue with groups. Safeguarding candidates' personal information must be prioritized. It's important to bring the team up to speed on best practices around data protection at the preparation stage of the hiring process.
The Time Factor
Collaborative hiring might extend the length of time the recruitment process takes. When one person is in charge, things will move more quickly than with a team. But there are ways to reduce the impact this has.
Try scheduling interviews and meetings for a single day, and rely on technology to help everyone take part. Ensure colleagues who aren't directly involved remain flexible and helpful to those who need to shift gears and work on recruitment.
Attracting and Keeping Candidates
Of course, the delay in making a final decision has another potential drawback. Top candidates can drift away or get hired elsewhere if you take too long to get back to them, especially if they receive multiple offers.
But, showing candidates collaboration is how your company works is also a real draw. You should already have things like diversity and inclusion statements, so do the same for the collaborative process. Talk about your hiring process and the collaboration aspect on your career site, or in job descriptions.
If people know what is happening and when they will be informed, they are far more likely to stay on board.
5. Onboarding
Giving your new team members a smooth landing is vital. The hiring team's work doesn't end when someone new arrives at the office. The team can also contribute their thoughts on what a new staff member might need to settle in and get started.
Getting the team to research staff onboarding experiences across your sector and even asking them to look at customer onboarding templates to get some inspiration, is a great idea.
The shared journey of the collaborative recruitment process means each hiring team member feels a sense of investment in welcoming new hires. Also, as part of the hiring process, new hires meet multiple team members and should be familiar with the company culture and dynamics well before their first day on the job.
Getting Collaborative Hiring Right
A collaborative hiring process takes work, but the benefits are clear. It's not a new trend or fad. It's established in many co.s already. It's here to stay, and when implemented well, it delivers the best result…great new hires.
This is a guest post from Jenna Bunnell – Senior Manager, Content Marketing, Dialpad
Jenna Bunnell is the Senior Manager for Content Marketing at Dialpad, an AI-incorporated cloud-hosted unified communications system with cloud PBX services that provides valuable call details for business owners and sales representatives. She is driven and passionate about communicating a brand's design sensibility and visualizing how content can be presented creatively and comprehensively. Check out her LinkedIn profile. She has also written for Trans4Mind and Spiralytics.