On the heels of 7 Controversial Stories About Job Descriptions, here's another cautionary tale of poor wording in job postings.
It was discovered by Wendy Lu, a self-prolaimed "Proud Disabled Woman" (vocal cord paralysis).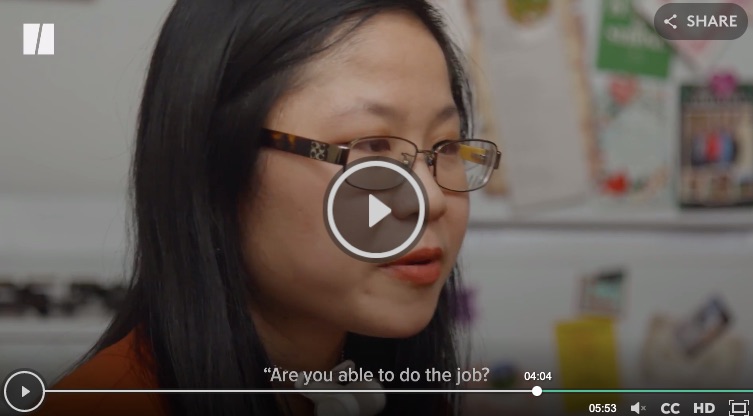 Wendy found a job ad posted by Newsday, the Long Island-based newspaper in New York, for a general assignment reporter. It included these "Essential Job Knowledge & Skills":
Desk jobs are largely sedentary roles that would require one's ability to sit for extended period of time up to full 8 hour shift may occasionally lift up to 25 lbs for files and supplies, ability to reach, bend.
Ability to type a minimum of 50 wpm
Wendy tweeted this to Newsday:
I have nothing but good memories of my 2016 internship @amNewYork. So tell me @Newsday, why do your job postings have ableist requirements that discriminate against #disabled applicants based on mobility, strength, weight, size, etc.? This is unacceptable.https://t.co/OJY6SZs7vb

— Wendy Lu (@wendyluwrites) June 10, 2019
Wendy interned at Newsday a couple of years ago.
Her tweet caused a twitterstorm including readers of Newsday who were offended:
Come on, @Newsday. As a lifelong reader of your paper and as someone who's been profiled by the paper specifically for my disability activism work, this is a disappointing step in the wrong direction. You're shutting out an entire population's worth of talent. https://t.co/E3eIItO1mo

— Emily Ladau (@emily_ladau) June 10, 2019
Newsday quickly took the job ad (and others with similar language) down.
This Type of Job Ad is Exclusionary to People with Disabilities
Wendy was so "shocked" about this "egregious" Newsday job ad that she wrote deeper about it. Here's her article about the "exclusionary" job ad in the Huffington Post:
This Is How Employers Weed Out Disabled People From Their Hiring Pools.
She points out:
"When I saw that listing online, I couldn't help but think of the journalism students and aspiring reporters with disabilities who might have seen it and decided not to apply."
Wendy points out that job listings that discourage candidates with disabilities from applying are not limited to Newsday. She found that ZipRecruiter has nearly 300 job postings with the "ability to type" language, even though voice-recognition software is often considered a reasonable accommodation.
And there are 950+ job postings on ZipRecruiter mentioning "25 pounds", including for a finance director, secretary and sales representative.
If Your Job Posting Does Require Physical Demands, Use this Language Instead:
If you ever have a job description that truly does require such physical demands, you should be careful about the type of language Newsday used in this job posting.
For instance, in the case of this Newsday job ad, they used the word "lift" (lift up to 25 lbs). Examples of more inclusive synonyms for "lift" might be:
"move" up to 25 lbs
"raise" up to 25 lbs.
"transfer up to 25 lbs"
"transport" up to 25 lbs
And instead of "ability to reach, bend", use words like
…and be precise about what you need (e.g. "ability to place a package on a 6-foot shelf").
Instead of "bend", try using:
"Lower oneself" or
"Drop"
Instead of using "Ability to type 50 wpm, use", try using:
Write 50 wpm
Input 50 wpm
Enter 50 wpm
I wrote about some best practices on more inclusive words for people with disabilities here: physical demands and the more inclusive words to use.
Thanks, Wendy Lu, for catching this job ad. It was both breaking news and the right thing to do. Newsday quickly pulled multiple job postings that had this language in it and I bet others will too.
For more tips on writing job descriptions, check out our How to Write a Job Description — Best Practices & Examples.
Why I wrote this?
My team and I at Ongig are on a mission to help employers create job ads that both attract top-tier talent AND are inclusive. Check out Ongig's new Text Analyzer software which helps our job postings be inclusive and gives you much-needed insurance against gaffes like Newsday.
If you're interested in learning more, please click the demo request button on this page. Together, we can be more inclusive!