Whether you're an in-house or external recruiter, you have to stay up-to-date to set yourself up for success. Recruitment blogs are one of the best resources to learn the latest and hone your skills.
But which ones should you follow? We've compiled a list of 20 blogs on recruitment you should check out.
Let's dive in.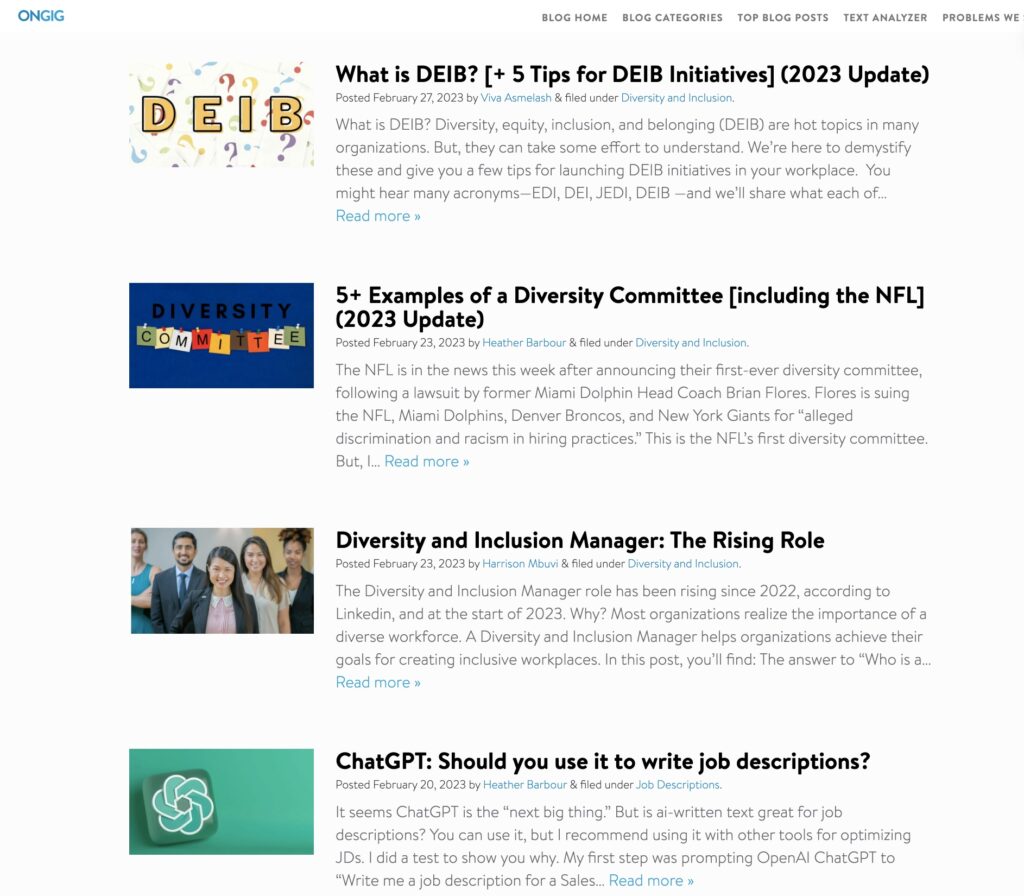 This is our blog, and we've heard it's a great one! We write about the latest resources to help HR pros like you improve your hiring process and diversity hiring strategies.
And, we interview experienced heads of talent acquisition, recruiters, and DEI managers to add value to our content. Here are some blog categories you might find useful:
Diversity and inclusion
Writing job descriptions
Employer branding
Recruitment marketing
Recruiting strategies
Here are some of our most-read recruitment blog posts: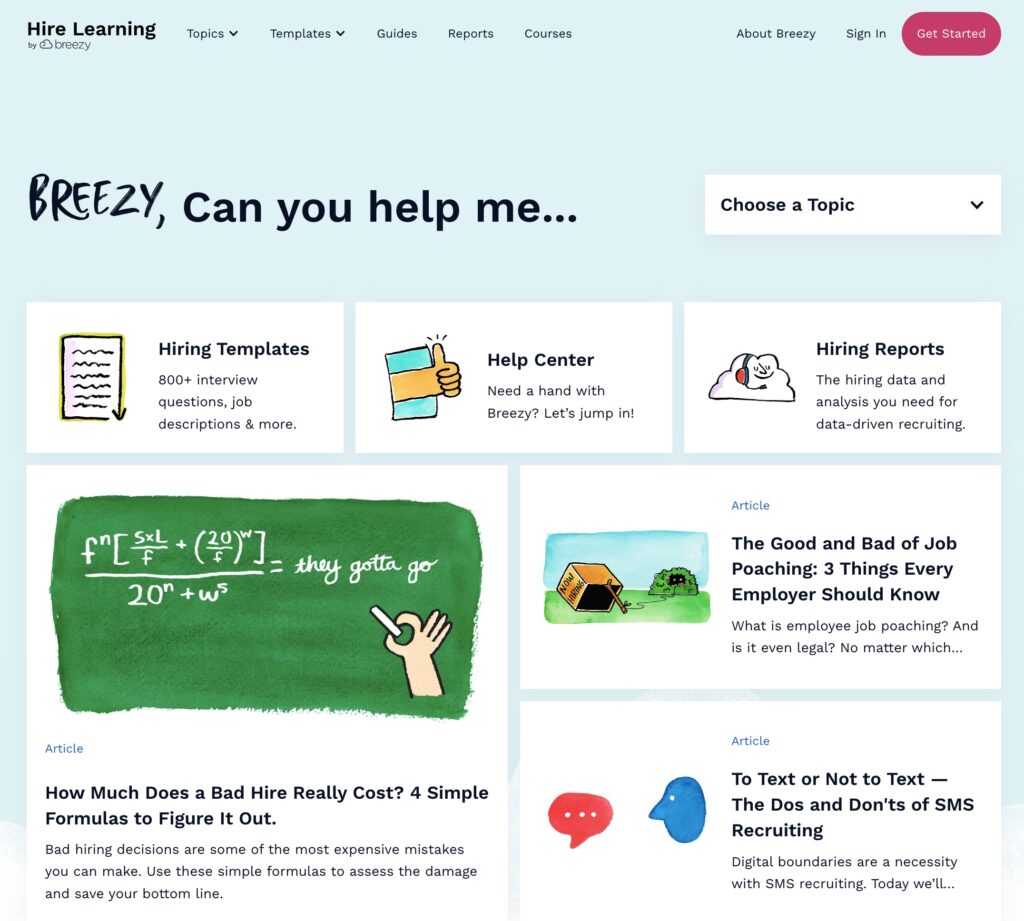 Breezy HR is a modern hiring and applicant tracking software. From their recruitment blog "Hire Learning," you'll find a goldmine of recruiting knowledge. This recruitment blog has:
Hiring templates with 800+ interview questions, job descriptions, and more.
Recruiting and hiring reports and statistics.
Recruitment guides and ebooks.
and a host of other topics on recruiting strategy & candidate experience
They also produce talent acquisition reports each year. Here's their most recent report on navigating Hiring Hurdles in 2023.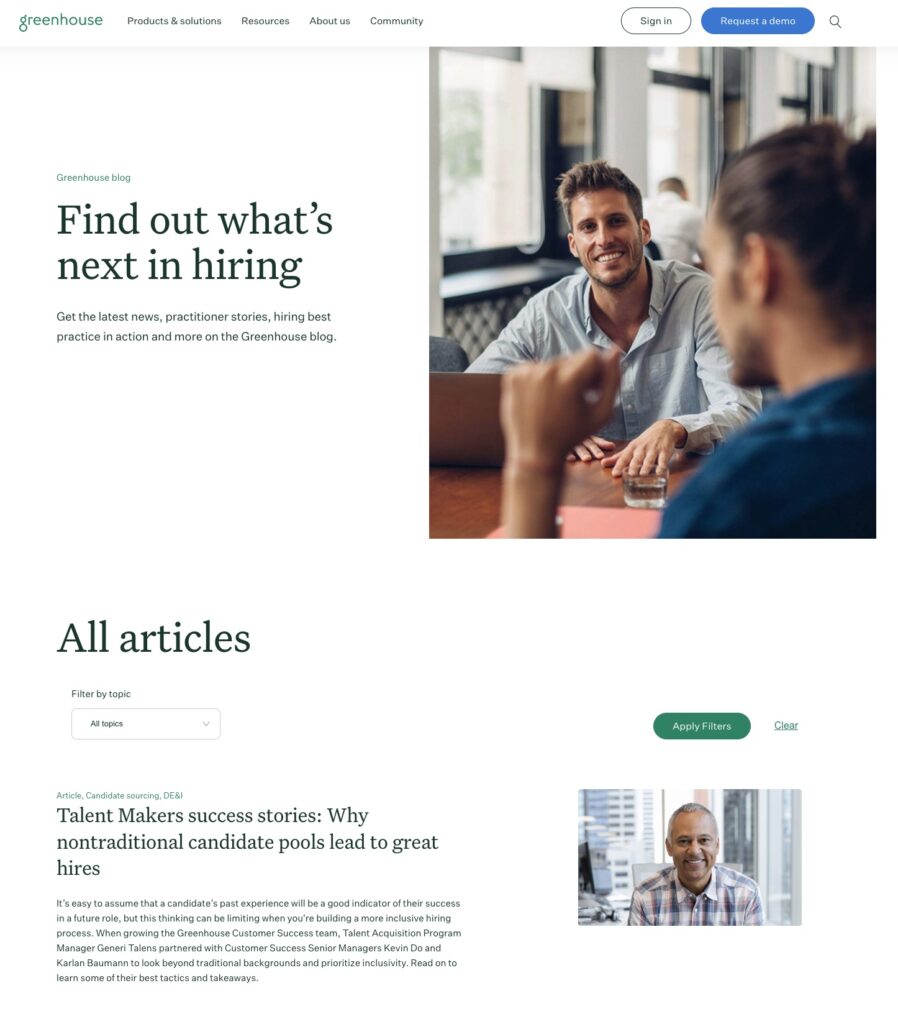 The Greenhouse blog offers tips on everything you might need to thrive in today's competitive hiring landscape. They cover a whole range of subjects on:
Structured hiring
Hiring tech stack
The recruitment industry
Talent acquisition
Interviewing
Diversity, equity, and inclusion
They feature interviews from recruiters at top companies focusing on topics like inclusivity, unconscious bias, and more. And they also have a customer stories section that has real cases that show you how you can hire top talent.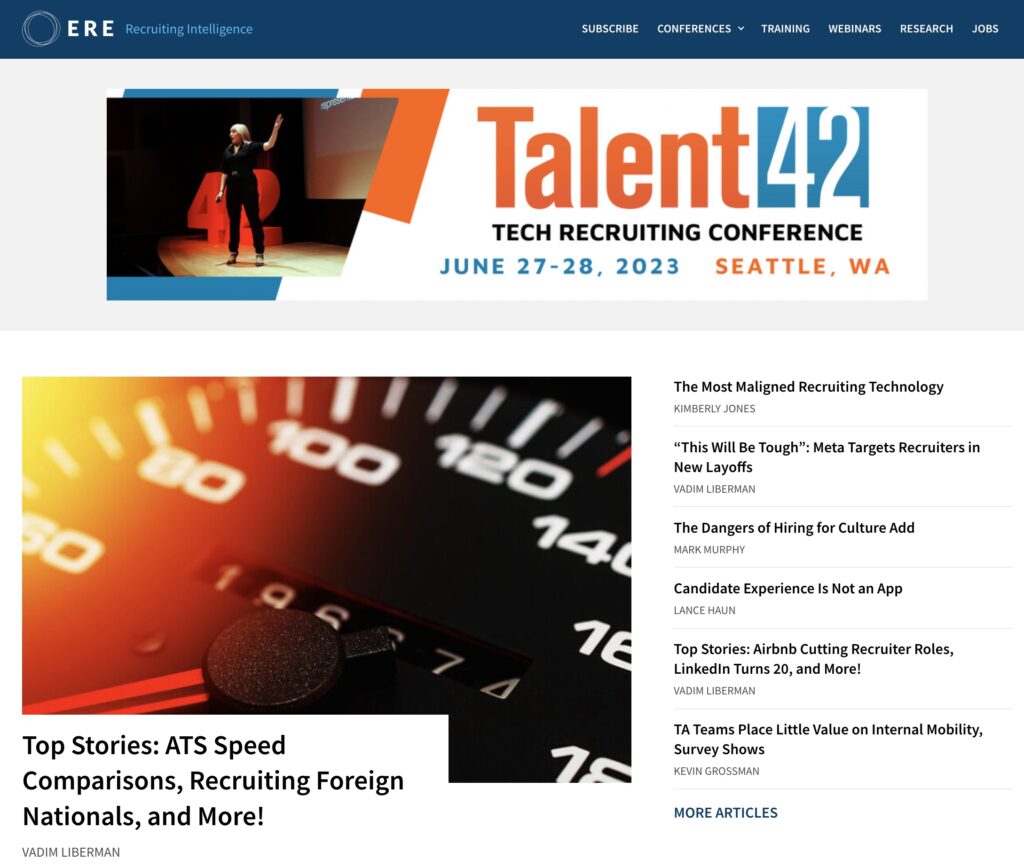 The ERE blog brings together recruitment pros who offer advice on different topics in the recruitment space. They update their blog on a weekly basis and cover:
Internal recruiting
DEI
The hiring process
Other trending topics in the recruitment space
ERE also offers webinars sponsored by top recruitment companies like Lever and Gem.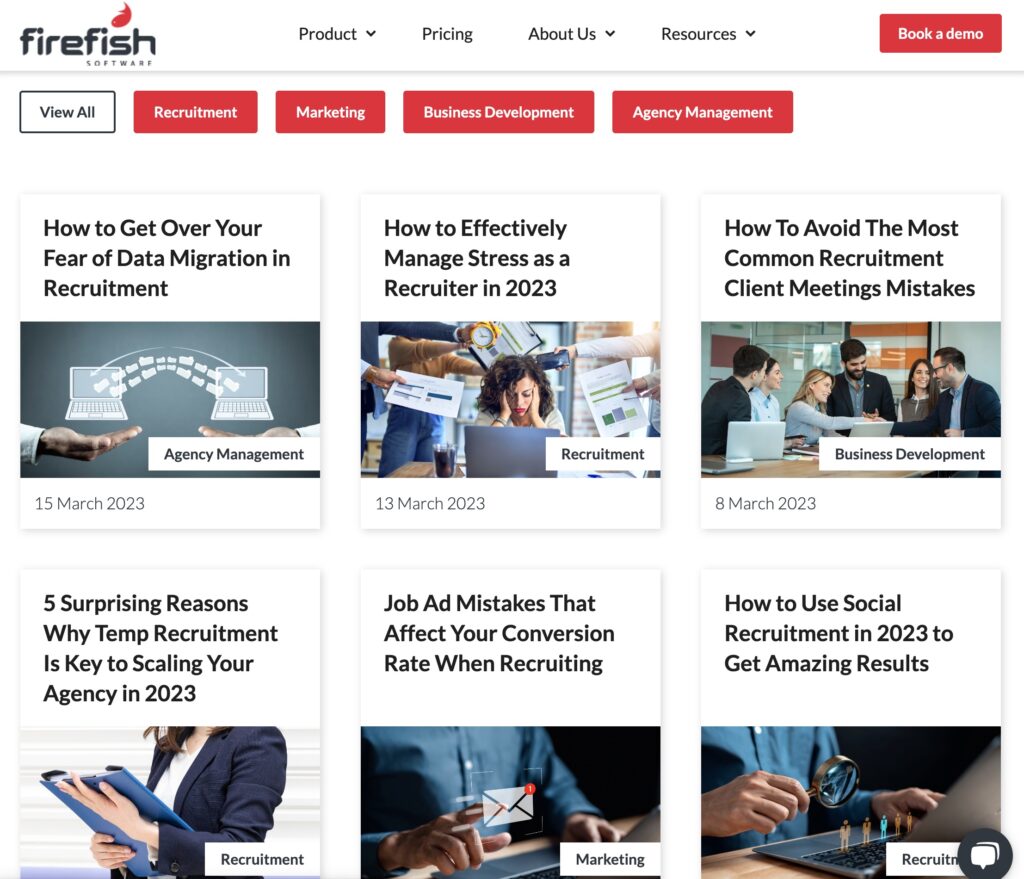 The Firefish blog has been for 10+ years and is read by over 15,000 recruiters. A team of ex-recruiters manages the blog. They focus on different recruitment topics like:
Social recruitment
Candidate outreach
Data-driven recruiting
Recruitment marketing
and more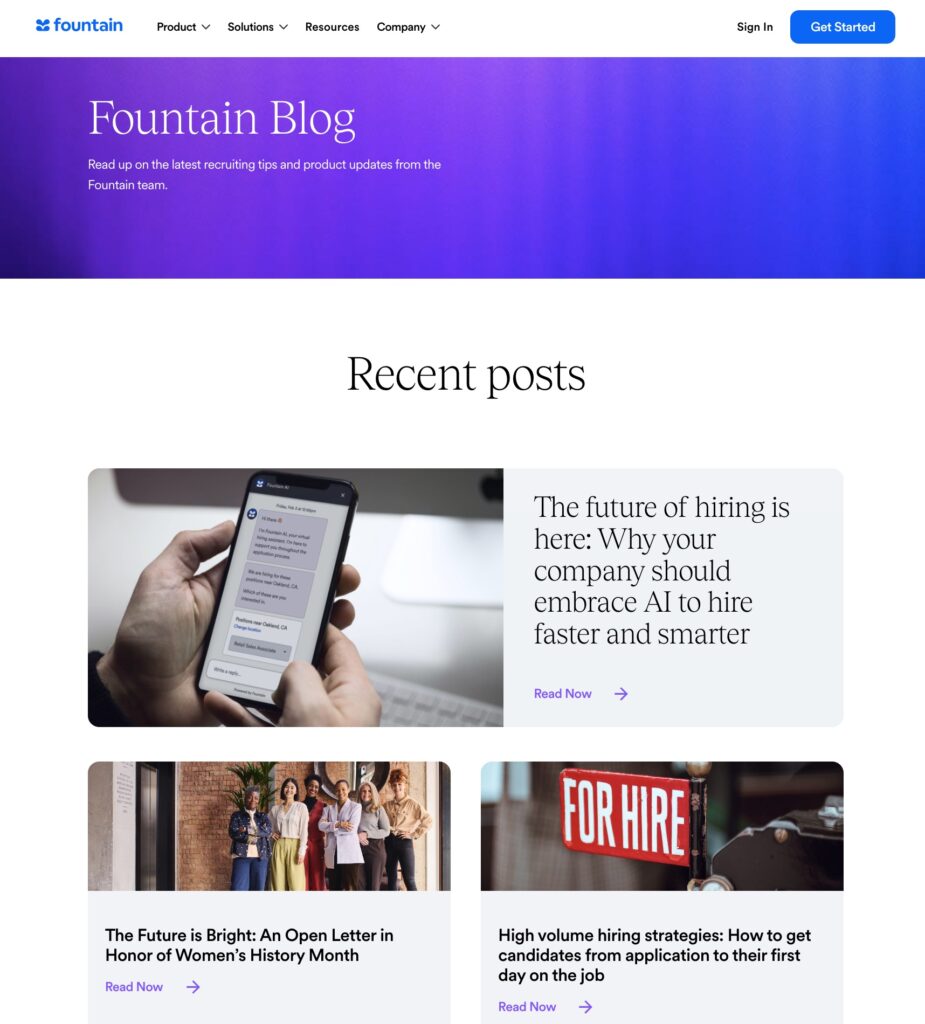 The Fountain blog is packed with tips for volume hourly hiring, covering sectors like manufacturing and retail.
They also produce content about:
DEIB
Employer branding
Sourcing
Screening
Fountain also offers whitepapers, videos, guides, case studies, and webinars for a deeper dive into the topics.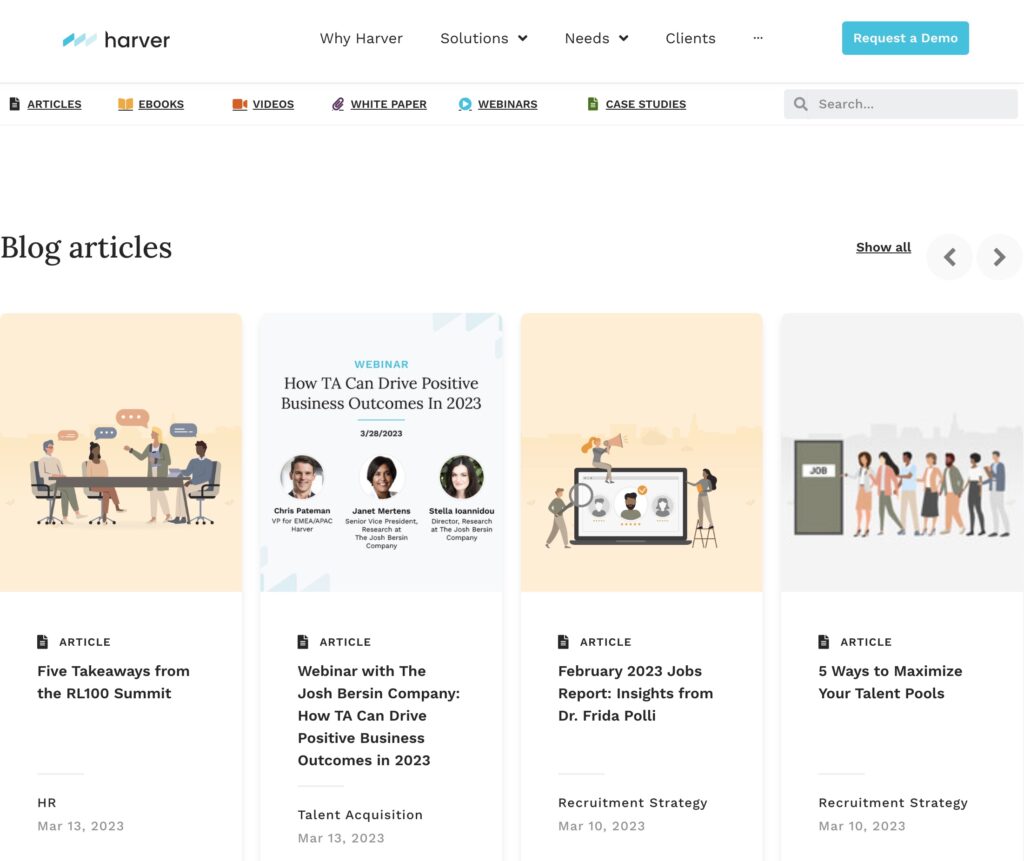 Harver's blog is helpful if you're looking for tips on hourly hiring, volume recruiting, data-driven recruitment, or cost per hire. Their content comes in different formats:
Books
eBooks
Podcasts
Whitepapers
Guides
Case studies
They also cover hiring tips for different industries, including retail and healthcare.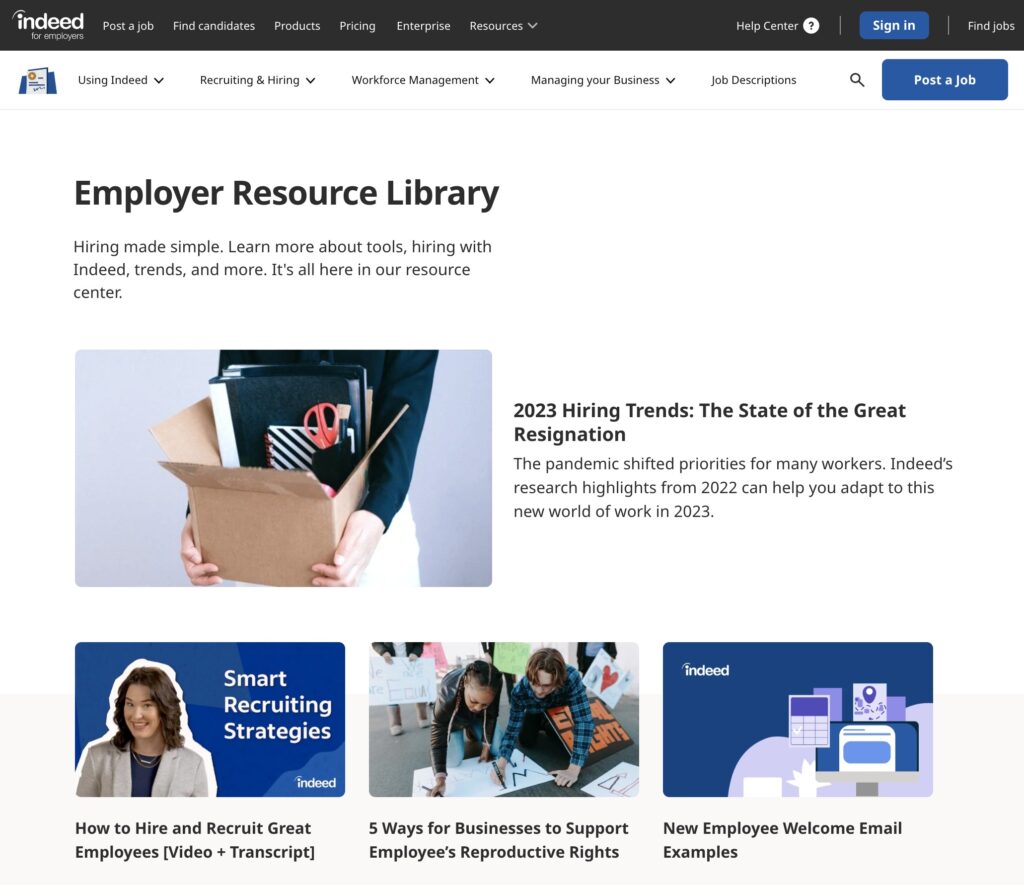 Indeed's blog has a mix of short and long-form content. They also upload videos on the most asked hiring questions. Here are some of the top topics you'll find in this recruitment blog:
Job descriptions
Sourcing employees
Conducting interviews
Employee onboarding
The latest hiring trends
Smart recruiting strategies
With hiring tips from the Indeed recruitment blog, you'll learn how to become a better recruiter.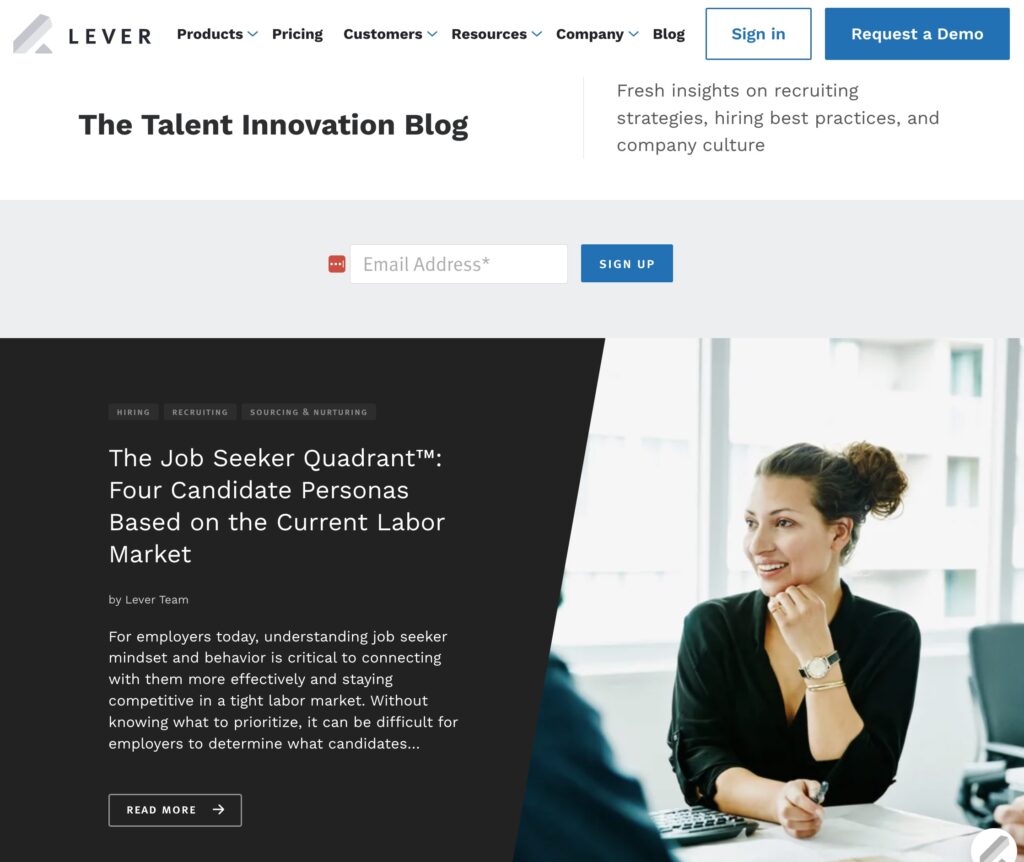 The Lever blog offers new insights on:
Recruiting strategies
Company culture
Leadership
Interviewing
DEI
Hiring best practices
Lever also interviews HR subject matter experts to add authority to their blog content and provide value for their readers. And they focus on the latest trends in the recruitment space, like quiet quitting and employee ghosting.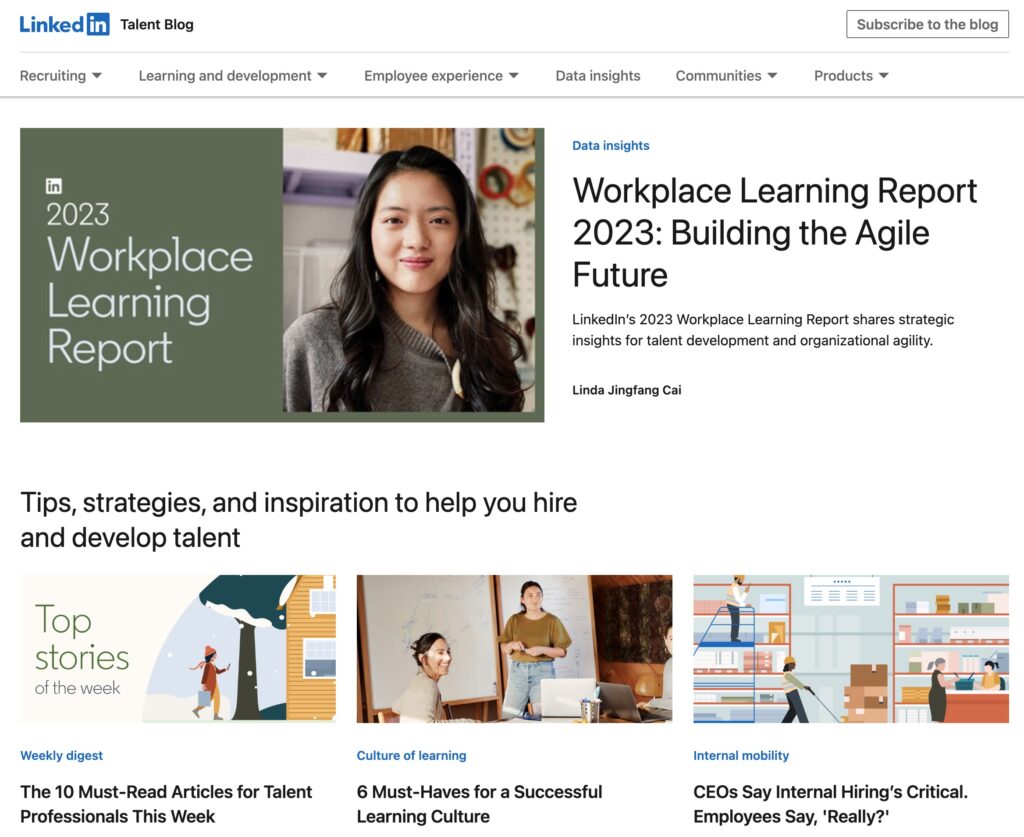 The LinkedIn Talent blog is your source for strategies, inspiration, and tips for better hiring. Contributors and recruiters in different parts of the world offer recruitment insights from their experiences.
The blog focuses on subjects like:
Recruiting tips
Job descriptions
Diversity
Interview tips
Work flexibility
They also list weekly top must-read articles that resonate well with other talent specialists.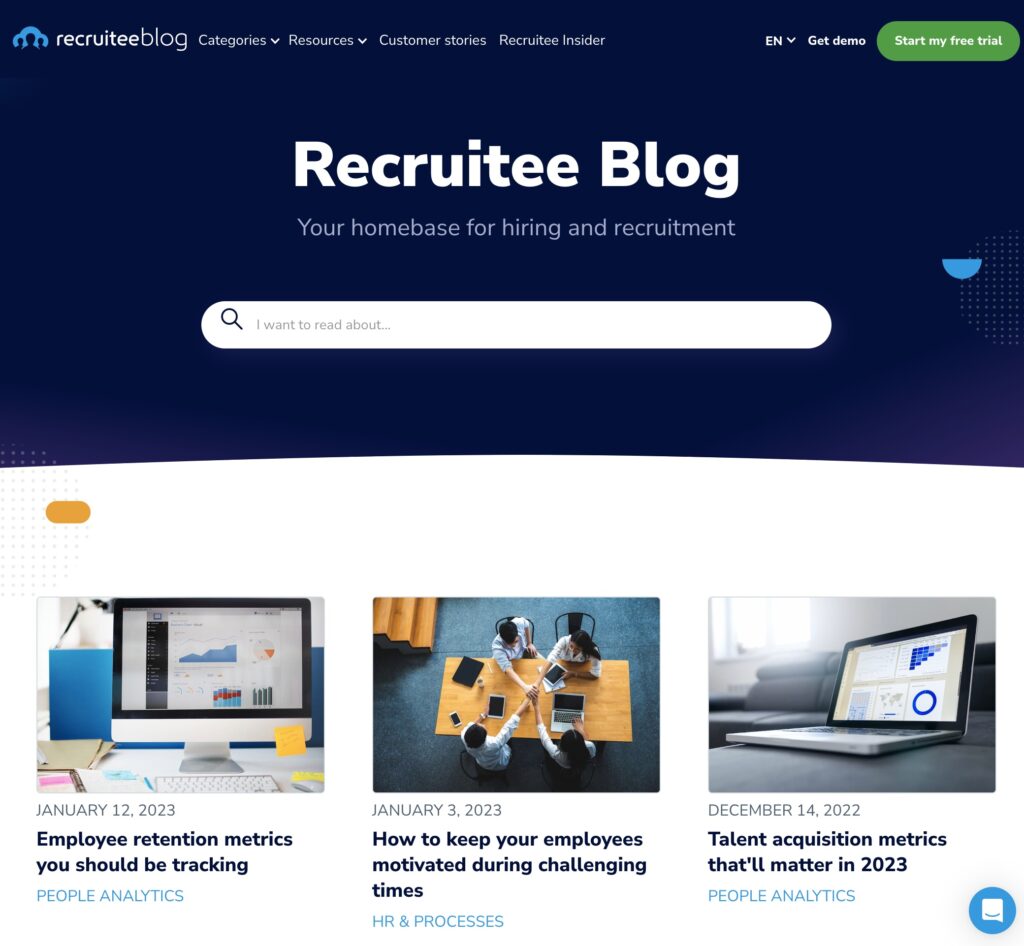 The Recruitee blog is a must-read if you're on the search for actionable recruitment strategies. They write tons of content on candidate experience, data-driven recruitment, talent acquisition, employer branding, D&I, and other related topics.
Recruitee also offers webinars, podcasts, and templates to dive more into the above topics. And they have a Facebook group to help you connect with other recruiters.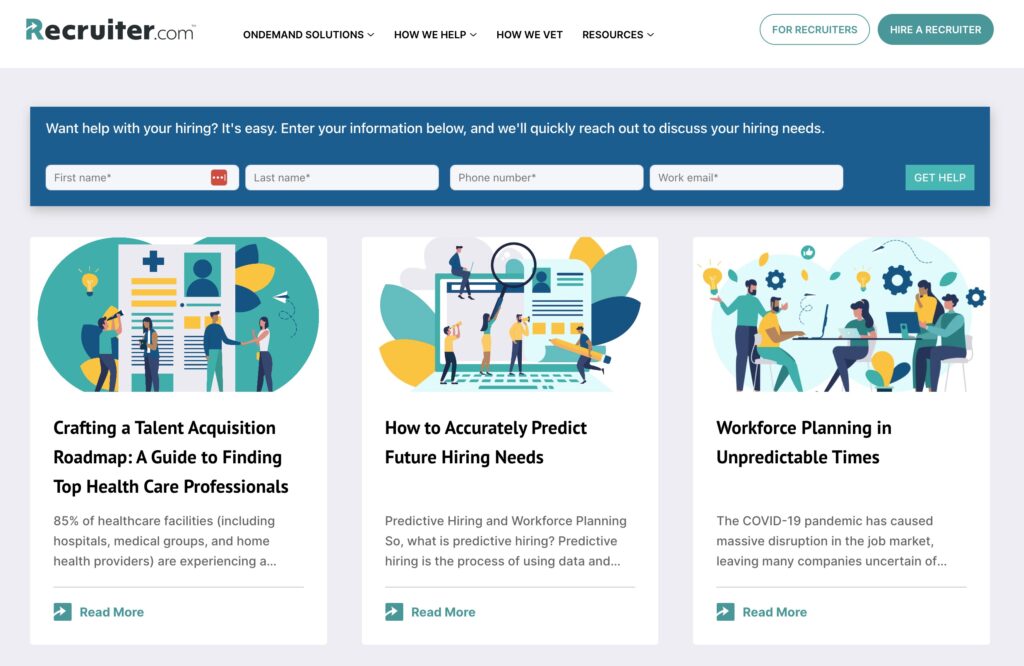 Recruiter Today publishes recruiting trends and tips for talent specialists. They cover a wide range of subjects like:
Modern interviewing
Candidate experience
The future of talent acquisition
Skills-based hiring
Data-driven recruiting
Hiring trends
From their blog posts, you'll learn how to humanize your talent acquisition process and hire qualified candidates.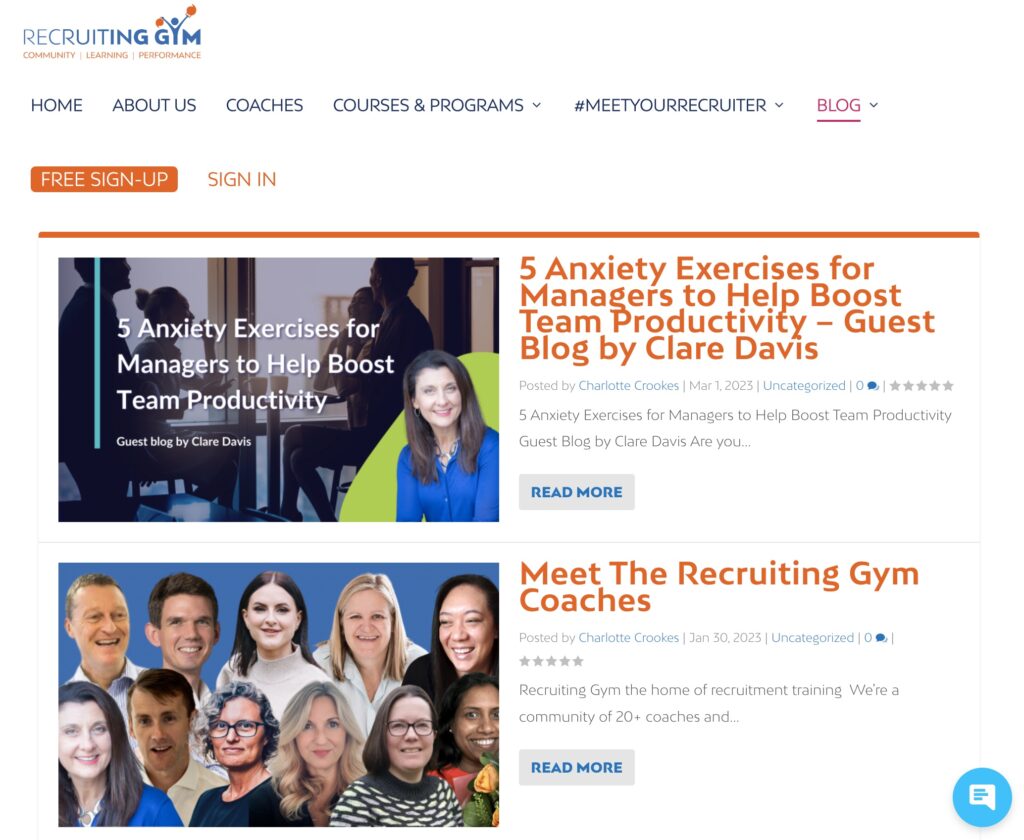 The Recruiting Gym blog focuses on tips and tricks for recruiters to improve hiring performance. Recruiting Gym is a learning, training, and performance platform for new and experienced recruiters to help them improve their hiring skills.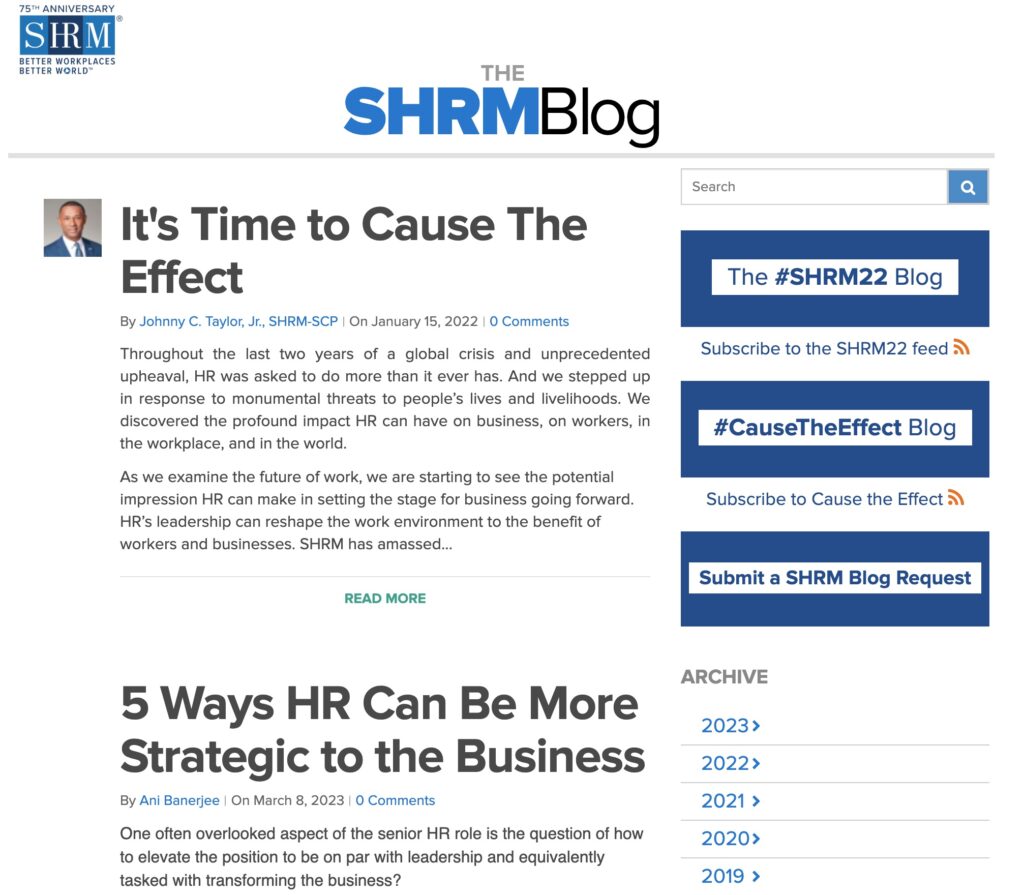 The SHRM blog is a leading authority in HR. This blog has resources for heads of talent acquisition and recruiters written by HR pros and guest authors. They offer a mix of content like guides, handbooks, podcasts, and webinars.
Here are some recruiting topics covered in SHRM's blog:
Hiring trends
DEI
Candidate experience
Interviewing
Recruitment process and strategy
Candidate attraction and sourcing
Candidate evaluation
Recruitment metrics and data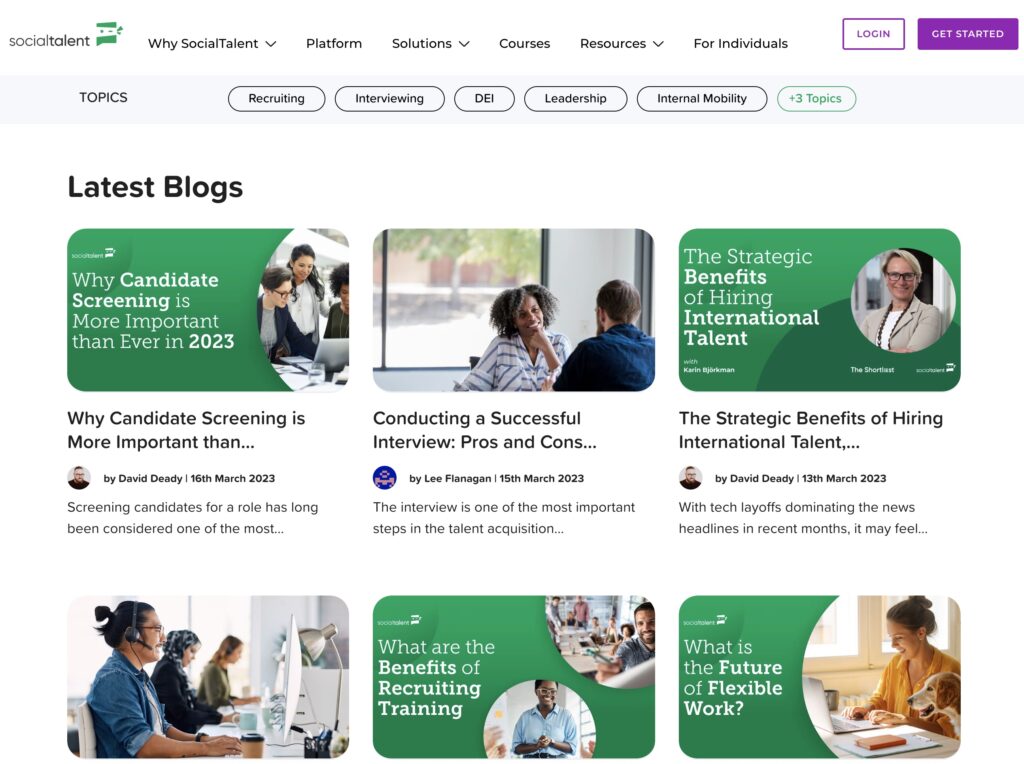 The SocialTalent blog focuses on:
Recruitment
Interviewing
Leadership
Internal mobility
Retention
Diversity and inclusion
They also offer other formats of content like webinars, customer stories, and ebooks that dive deep into the topics listed above.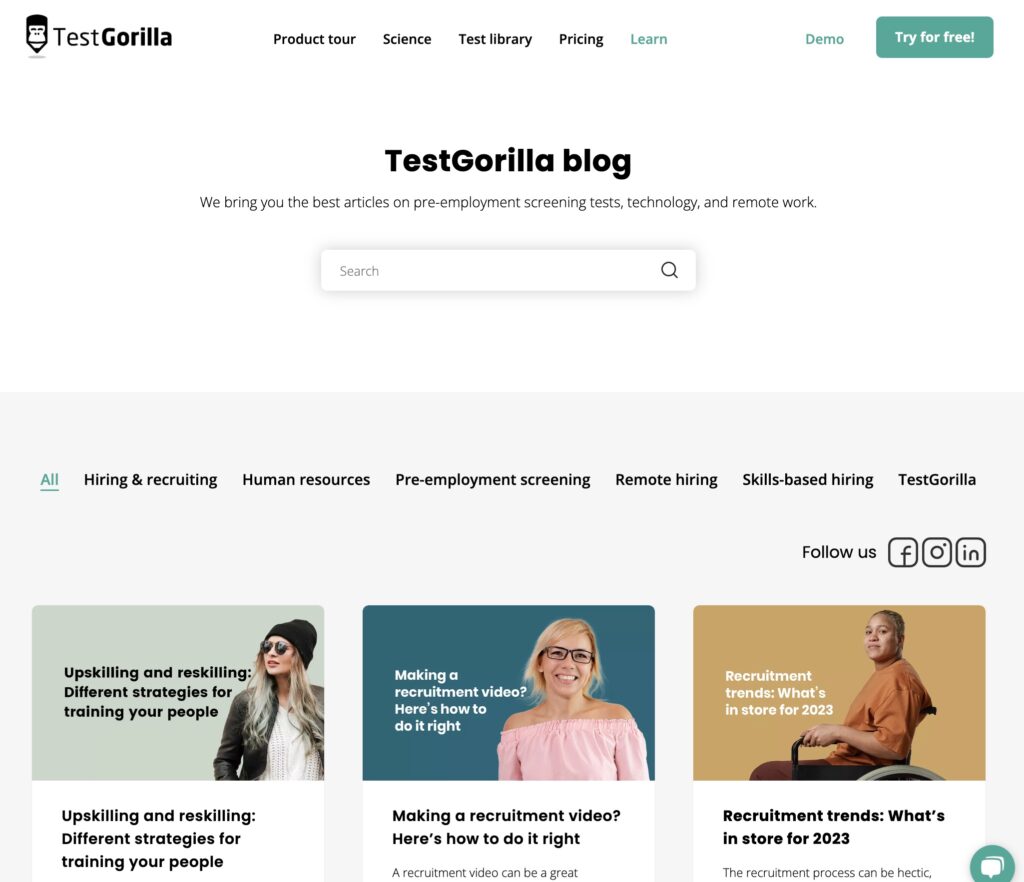 TestGorilla is a pre-employment screening tests and assessments software company. Expect to learn how to give your candidates a smooth application process from their blog posts. And they publish content weekly.
Here are some subjects this blog covers:
Skills-based hiring
Remote hiring
Hiring and recruiting
Pre-employment screening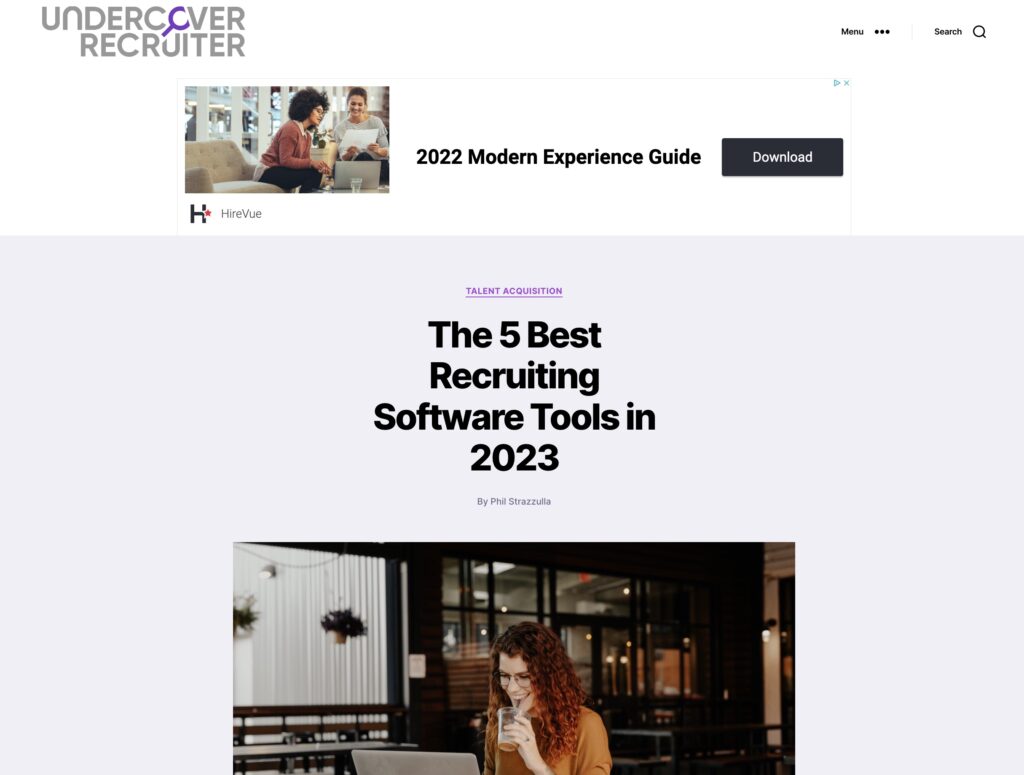 Undercover Recruiter is a talent acquisition and employer branding blog. This blog covers topics related to recruitment like:
Employer branding
Data-driven recruiting
DEI
Workplace culture
Candidate experience
They also have an employer branding podcast that hosts top recruiters and HR professionals.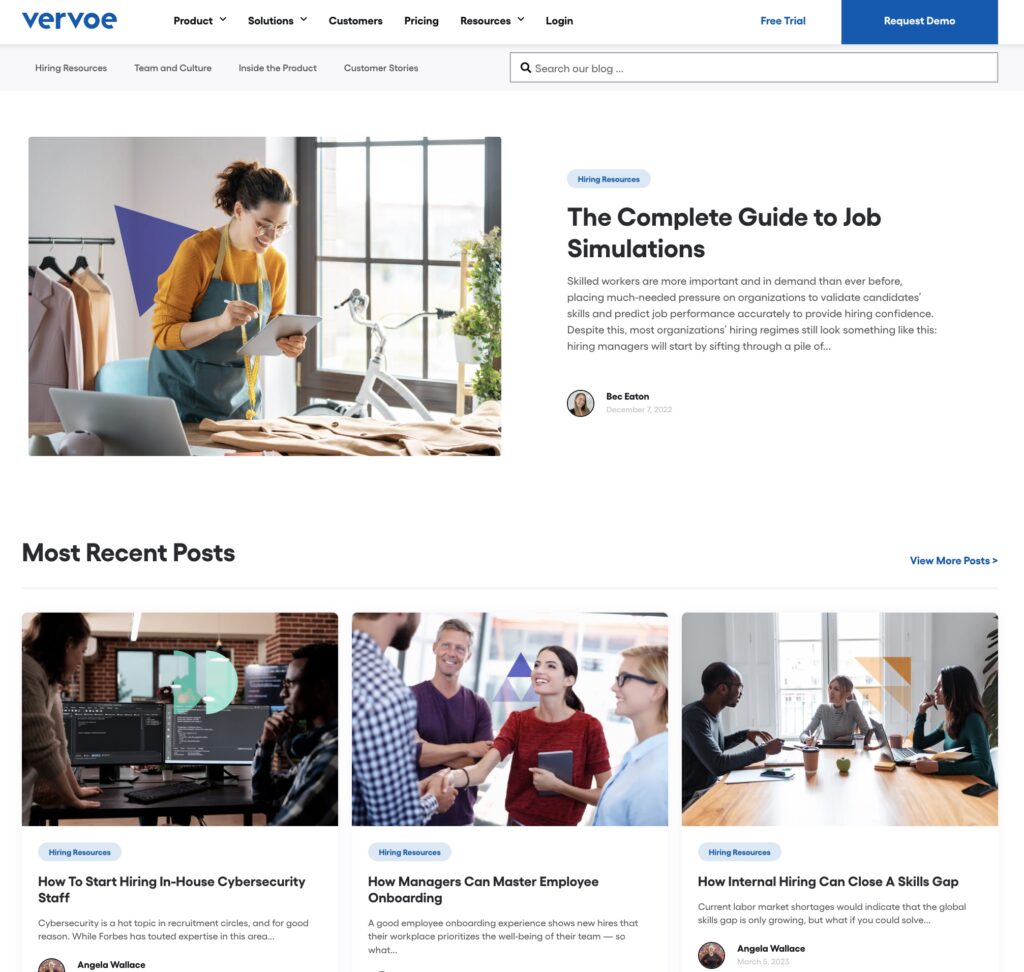 Vervoe is an AI-based skills testing platform. They specialize in producing weekly in-depth guides on skills-based recruitment. They cover topics like:
Job descriptions
Candidate experience
Guide to skill testing
AI recruiting
Diversity recruiting
They also offer ebooks, whitepapers, and webinars.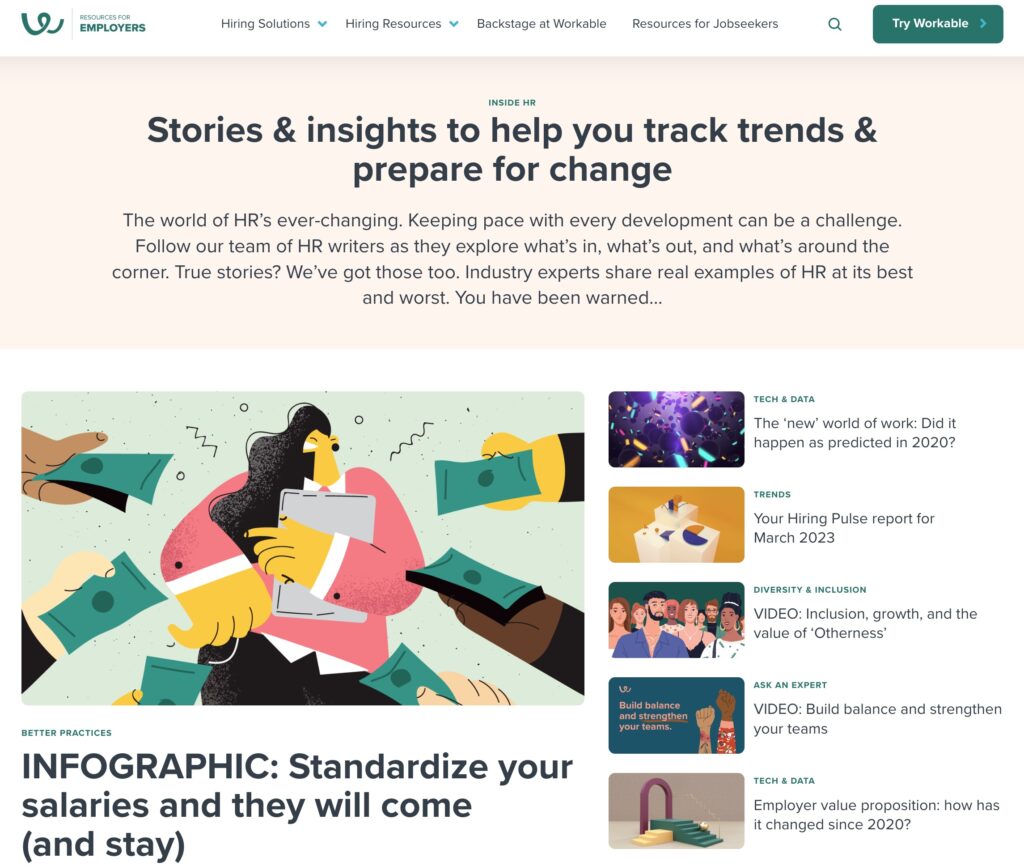 The Workable blog has some of the most useful and actionable content for recruiters to improve the talent acquisition process. You'll not only learn how to be a better recruiter but also how to sell your vacancies to top talent.
Their blog covers topics like:
Candidate experience
Candidate sourcing and attraction
Candidate evaluation
Recruitment metrics and data
Recruitment process and strategy
Digital transformation and hiring tech
Diversity, equity, and inclusion
You'll also find a podcast, webinars, and 1000+ hiring templates on their page.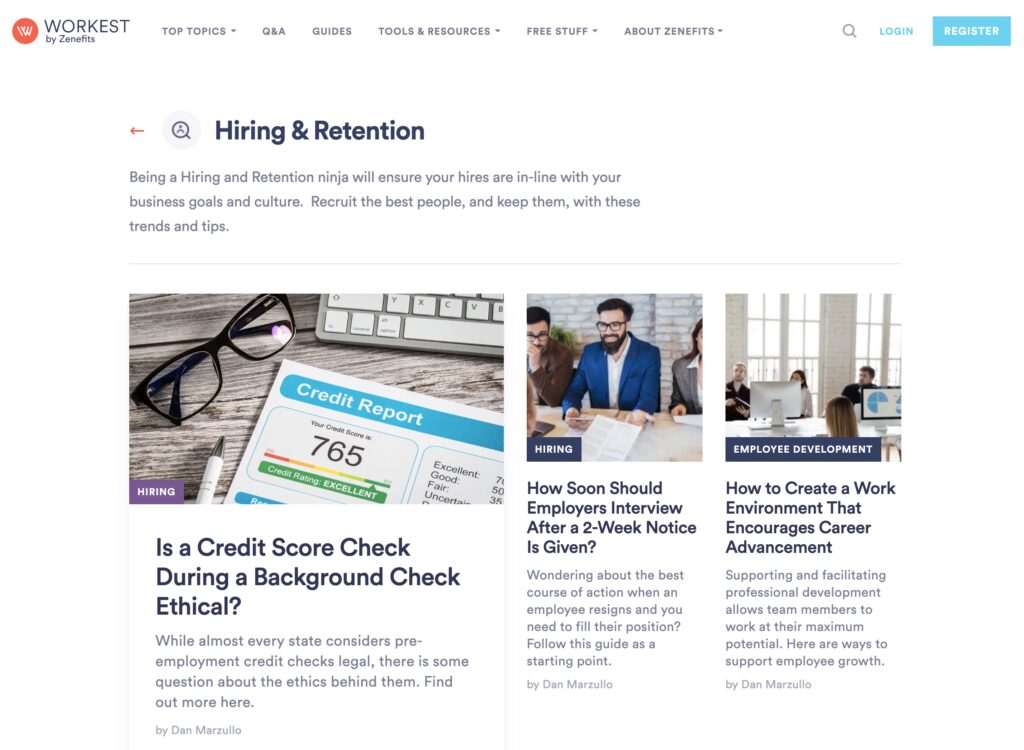 Workest by Zenefits blog covers recruiting and retention tips weekly. They cover talent acquisition topics like:
Candidate evaluation
Candidate sourcing and attraction
Candidate experience
Recruitment metrics
Recruitment process and strategy
DEI
Hiring trends
From their blog posts, you'll learn how to hire top talent and keep them.
WHY I WROTE THIS:
Ongig's mission is to support your commitment to writing inclusive job descriptions. Book a demo today to learn how you can achieve your recruitment goals with our Text Analyzer software.
SHOUT-OUTS: