There are many different online tools to help you write job postings. But, how do you choose which one to use? Or should you use a combination of them?
Here are 5 job posting software tools to help you write with confidence:
Creating effective and inclusive job postings helps you reach top talent and enhance your workforce's range of skills.
Ongig:
flags words and phrases in your job postings that might keep applicants from underrepresented groups from applying.
scores your job postings for readability by flagging extra-long sentences, long lists of requirements, and complex words that deter many candidates.
uses AI to flag missing sections candidates look for (e.g., salary, benefits, and a diversity statement).
creates custom job postings templates to keep you consistent and help you write at scale.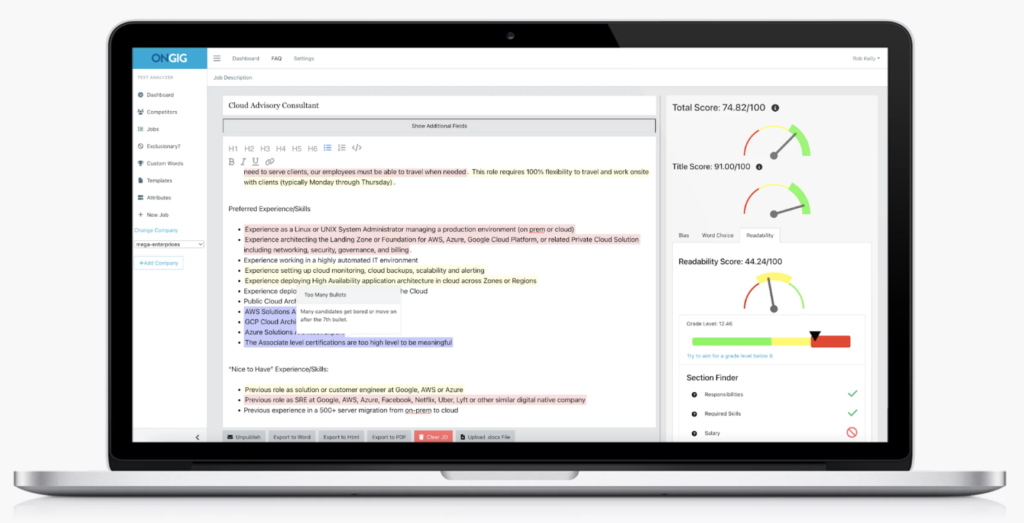 So you've written your job posting. But does it accurately tell you the kind of person who will succeed in that role?
Predictive Index (PI) has a feature called Job Assessment. It identifies the exact needs for a position by creating job targets before you write your job postings.
Job Assessment helps you review each job and decide on traits that predict success in each position. When you're done, the tool generates a job target that guides you in making successful hiring decisions.
Source: Predictive Index
Another powerful feature of PI is Job Ad Analyzer (currently in beta). It tells whether your job postings are working or not.
It shows the "Reference Profiles" (behavioral maps for different types of people) your job posting will attract and the details of the role it highlights.
After analyzing your job postings, you'll get a "Job Target Profile" to help match candidates to your roles.
A poorly-written job posting can hurt your company's reputation. Grammarly helps you write polished and professional content to convey a positive image for your company. And, the browser extension works alongside other job posting software tools.
Grammarly is an AI-powered writing assistant. It gives writing suggestions and snippets to speed up your writing process. It also has a brand voice feature that helps amplify your employer brand.
Most importantly, it eliminates grammar errors and removes spelling mistakes and punctuation errors.
Most applicants start their job search on Google. So, it's critical to use the right keywords in your job postings to make they rank high in the SERP (search engine results page).
Google Keyword Planner is a tool intended for running Google Ads. But it's also a powerful SEO job posting software tool to help you find keywords you can rank for.
To use it, you start by listing all keywords and terms relevant to your open roles (like job title, candidate skills, and location). Then click "Get search volume and forecast" to get results.
Here's a snapshot of what you'll find for "Automotive Technician" and "Automotive Mechanic."
Average monthly searches show the average number of searches. You can use this information to see how popular your keywords are during different times of the year.
Competition shows how competitive the keyword is. The level of competition (low, medium, or high) is determined by the number of advertisers bidding on each keyword across Google.
Based on the data above, you might use "Automotive Mechanic" as your job title because more candidates are searching for this keyword vs. "Automotive Technician."
You can still use "Automotive Technician" too, just in the body of your job posting for added SEO benefits.
Why I wrote this:
Ongig's mission is to create effective and inclusive job description content so you attract top talent. You don't need to spend countless hours creating content for your roles. With the right job posting software, posting high-quality content is quick and easy.