Only 20% of candidates click apply on your job postings (see the "Hiring Funnel" section of this ERE article. for the full funnel).
So what about the other 80% who did not apply? How many great candidates simply "got away"?
One reason the 80% don't apply is that you didn't show the right job to them. Or they clicked the wrong job or you just have a better job than the one they landed on!
What if you did have the right job for them and could show it to that candidate right then? Automatically!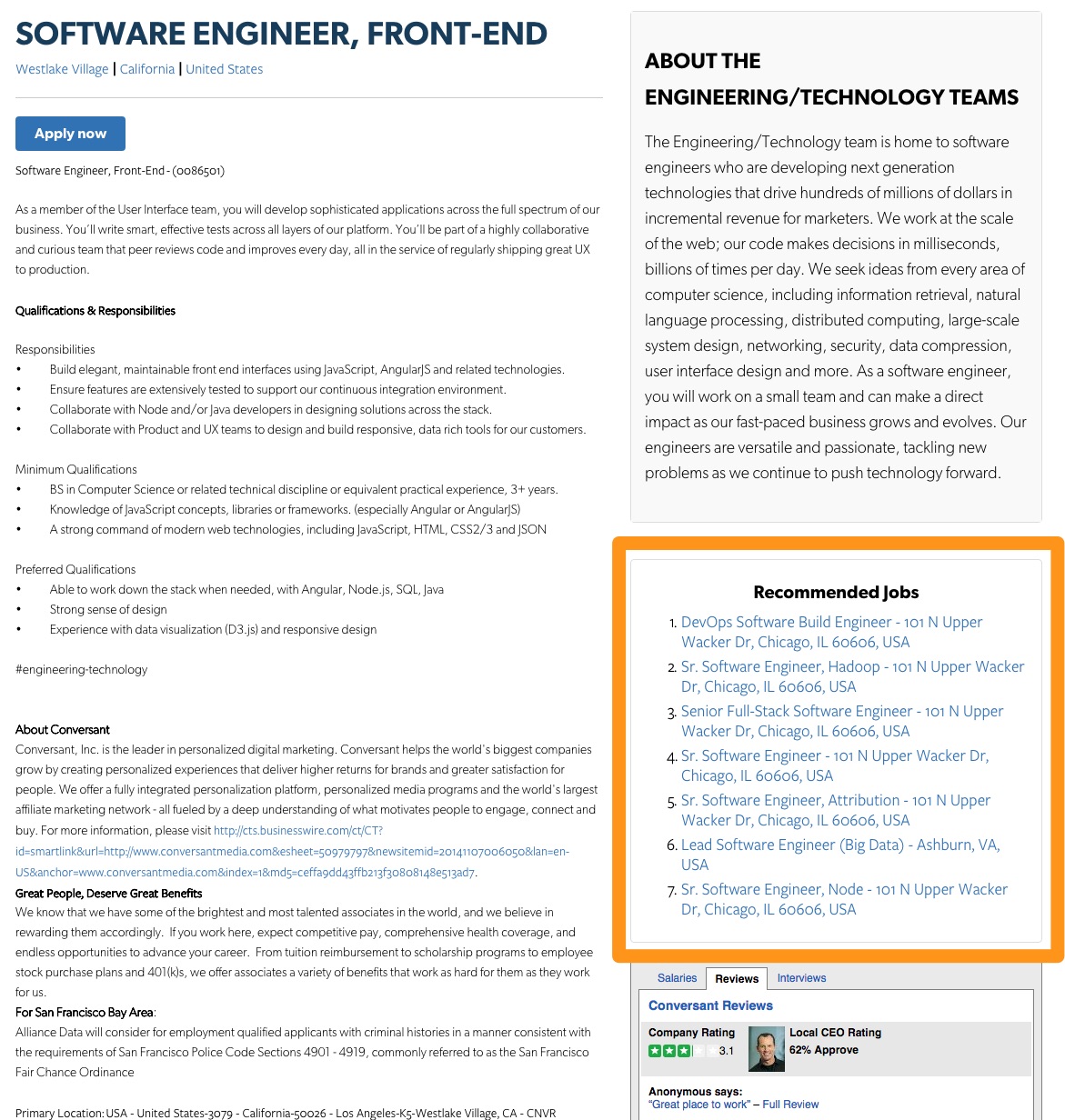 That would be right at their point of purchase (apply)!?

Ongig Announces A.I.-Powered "Recommended Jobs"
Enter Ongig's newest job description recruiting widget: A.I.-based Recommended Jobs.
In the example above, Ongig is recommending 7 other jobs for the software developer candidate to consider. We leverage machine learning that recommends those 7 jobs most similar to the one the candidate is looking at.
The recommendations are based on content such as:
Job Title/function
Location
Skills
Other keywords within the job description
And Recommended Jobs is very selective. If the widget doesn't see any jobs similar enough to the one the candidate is looking at, it won't show any.
You don't want to mislead candidates with BS suggestions, right?
Note: Check out our free Job Descriptions Guide — it tells you everything we know about JDs, job ads and the like!
The A.I. Part: "Smarter with every click"
The A.I. is the best part.
The Recommended Jobs gets smarter with every click. Isn't that what software should do?
For example, if a developer clicks the #5 "Recommended Jobs" link above then that job gets a bit more juice for the next candidate visiting that job posting.
If enough candidates click the #7 link then that would eventually become the #1 Recommended Job.
Even software can be wrong at first, but it can correct itself.
That's true machine learning. It's similar to the AI technology used in Ongig's Company Career Site Job Search (see Ongig | Google Cloud Job Discovery partnership). In that case, the job search gets smarter with every search!
Recommended Jobs is one of the features of Ongig's Job Description Platform.
Note to Ongig clients: you get this for free as part of your Ongig SAAS subscription!
For tips on writing job descriptions, check out How to Write a Job Description — Best Practices & Examples.