I saw that 150 peopled Googled "intern job description sample" last month. This tells me you might need help writing an intern JD of your own.
In this post, you'll find:
6 intern job description samples
a FREE intern job description template to copy/paste
Note: I ran all 6 examples through Ongig's Text Analyzer software to ensure they score 85% or more (out of 100), are gender-neutral, AND have no other exclusionary language (based on race, age, disability, sexual orientation & more).
6 samples of an intern job description
Here are 6 versions of an intern job description sample from brands like Disney, Amazon, HPE, EA, U.S. Bank, and the PGA Tour:
The Walt Disney Company — Marketing intern job description sample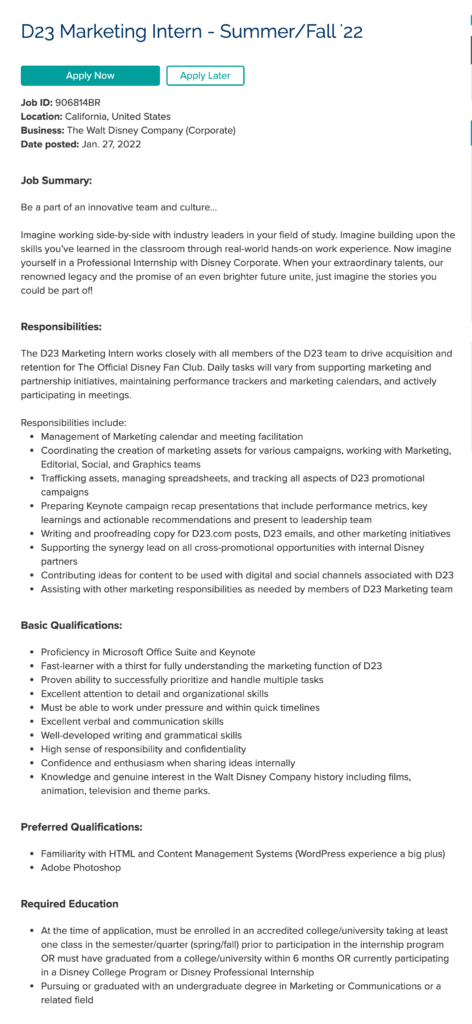 Amazon — HR intern job description sample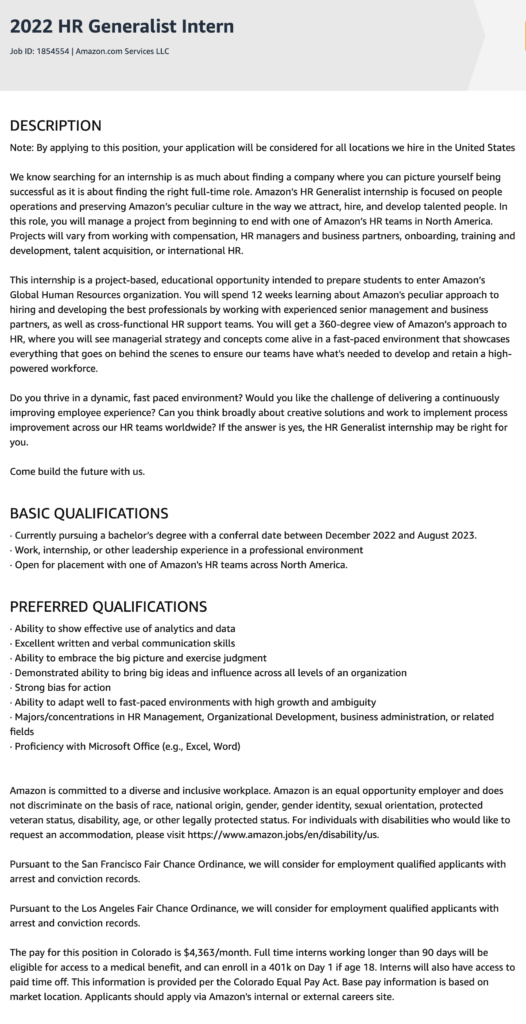 HPE — Engineering intern job description sample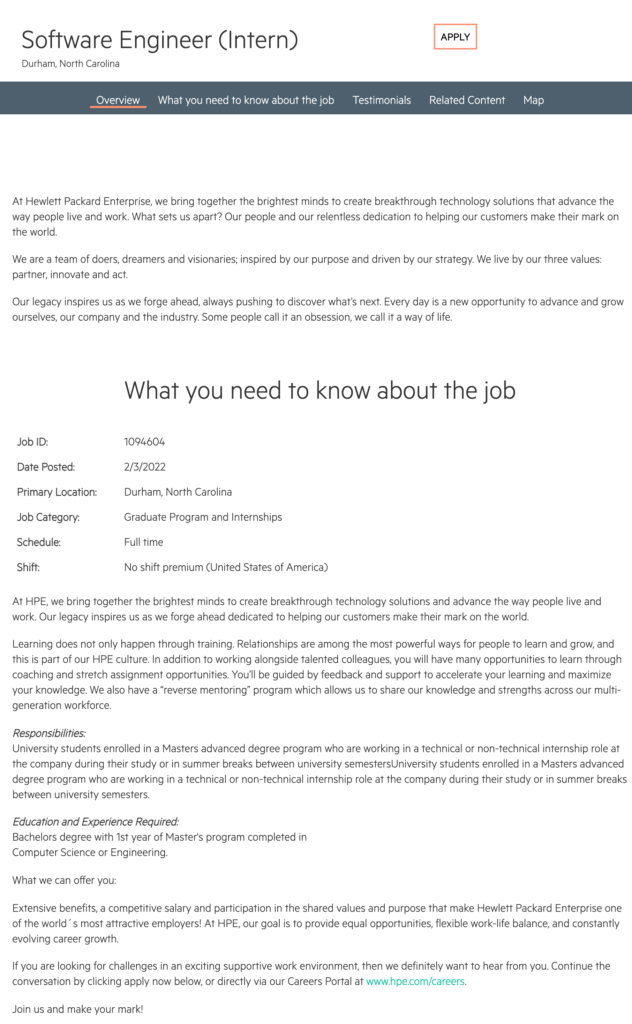 EA — Sample intern design job description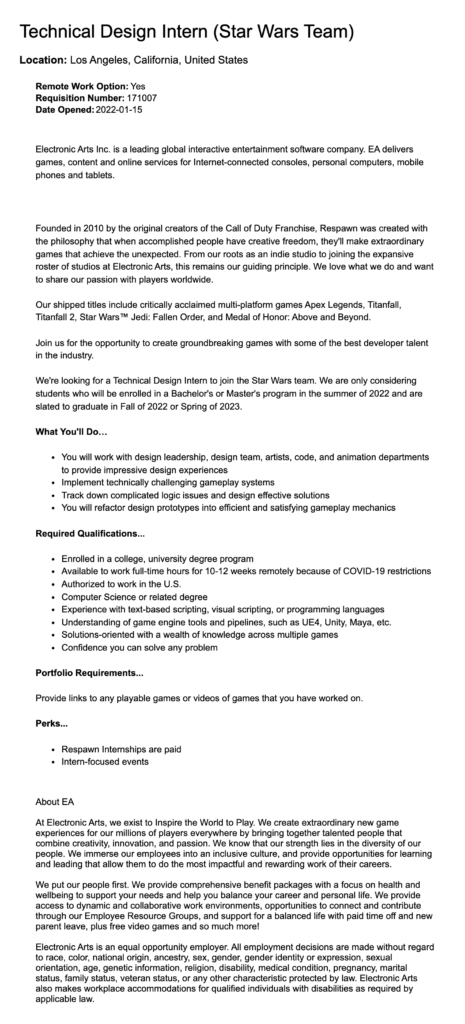 U.S Bank — Finance intern job description sample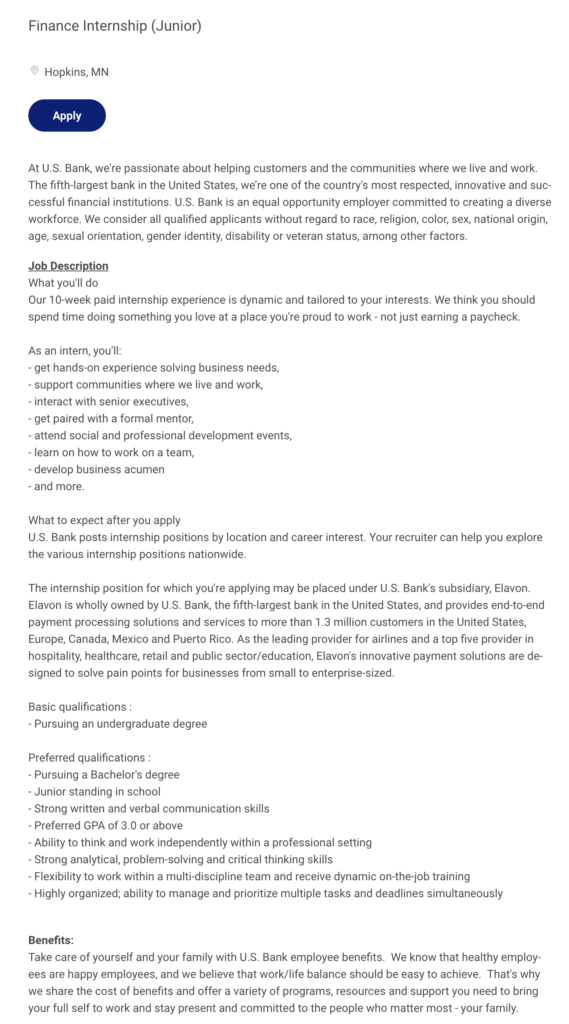 PGA Tour — Sample project intern job description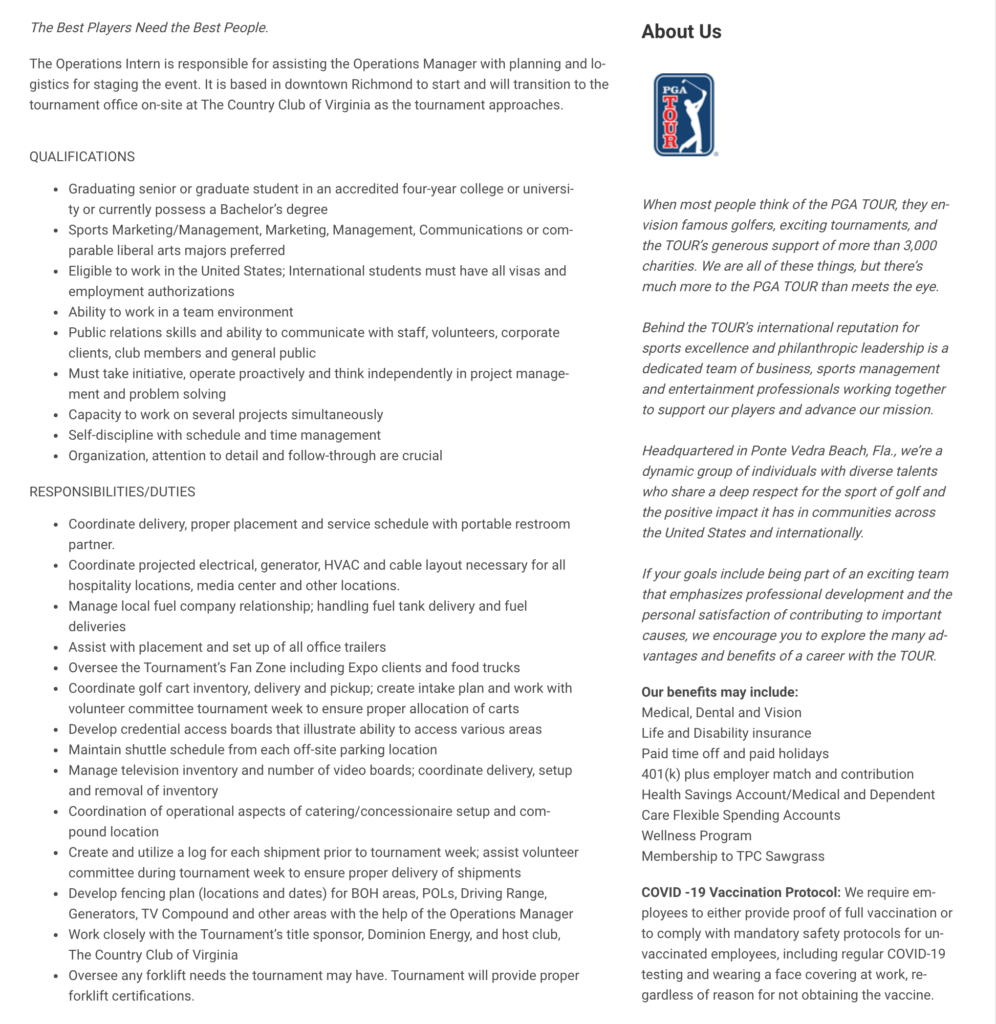 Free Intern Job Description Template [just copy & paste!]
Ready to start writing? The 6 intern job descriptions above are a great place to start — or try using this intern job description template as your guide. I've listed examples so you can easily copy and paste.
JOB TITLE
[Here, include the word 'intern' and the role's job title, just like in the intern job description sample screenshots above.]
Tip: Keep your job titles between 1-3 words and 20 syllables or less. This helps with SEO and makes them easier to read. For example, "Software Engineering Intern" is better than "Backend Software Engineering Intern – Remote Support."
JOB SUMMARY
[This is where you write a paragraph about the role.]
Tip: The intern job summary should concisely explain the role. Remember you want to attract candidates interested in learning from experienced professionals in a real-life setting…the summary should sound exciting.
Here's an example from PEAK6 InsurTech:
ABOUT YOU
[This is where you talk about your intern candidate.]
Include a sentence on:
what the intern will do
some goals they will reach for
how they work with the team (or other teams)
Tip: Look at the intern job descriptions above for inspiration.
WHAT YOU'LL DO
[Here is where you can list the day-to-day intern job duties.]
interact with clients and senior executives
learn how to work with a project team
prepare presentations
track and manage spreadsheets
manage calendars and schedule meetings
Tip: Keep your "responsibilities" and "intern job duties" lists short. Using more than 7 bullets might make candidates feel underqualified or overwhelmed.
YOUR REQUIREMENTS
[This section is where you list basic intern qualifications and experience.]
Tip: Include your preferred requirements here or create a "Preferred Requirements" section if there are more than two.
SALARY & BENEFITS
[List any perks your intern will get if they join the team. And include the intern salary information if you can.]
Tip: Even if it's a range, list salary details. Candidates spend more time looking at it than anything else.
OPTIONAL SECTIONS
[These are some optional sections you might use in your job description for executive administrative assistant.]
travel requirements
remote work policies
disability accommodations
how to apply
ABOUT US
[Here, you can talk about yourself!]
Some ideas to include:
what type of business you are in
how great the company is
your core values
Tip: I like to save the "About Us" section for the end (even though about 50% of JDs start with About Us). Instead, end your JD with the About Us. That way, you can START your JD about the candidate/role, making them feel valued.
DIVERSITY STATEMENT
[Most companies have an EEO or diversity statement. You can put yours here.]
Tip: You'll find more examples in our blog 25 Examples of Awesome Diversity Statements.
WHY I WROTE THIS?
Our mission is to help you attract top talent. Ongig helps you create effective and inclusive job descriptions. Please request a demo to learn more.