Do you have a solid job description workflow?
Here are 7 steps to help you create consistent, bias-free JDs (at scale). The screenshots from the steps below are from the job description software Ongig.
1. Start a central repository
The first step in creating a job description workflow is having a central place to store JDs.
If your JDs are stored in different places (e.g., a shared drive, employee laptops, an ATS, etc.) and in different formats (.docx, .xls, .pdf, HTML, etc.) — Ongig helps you set up a "bulk fetch" to load them into a central repository: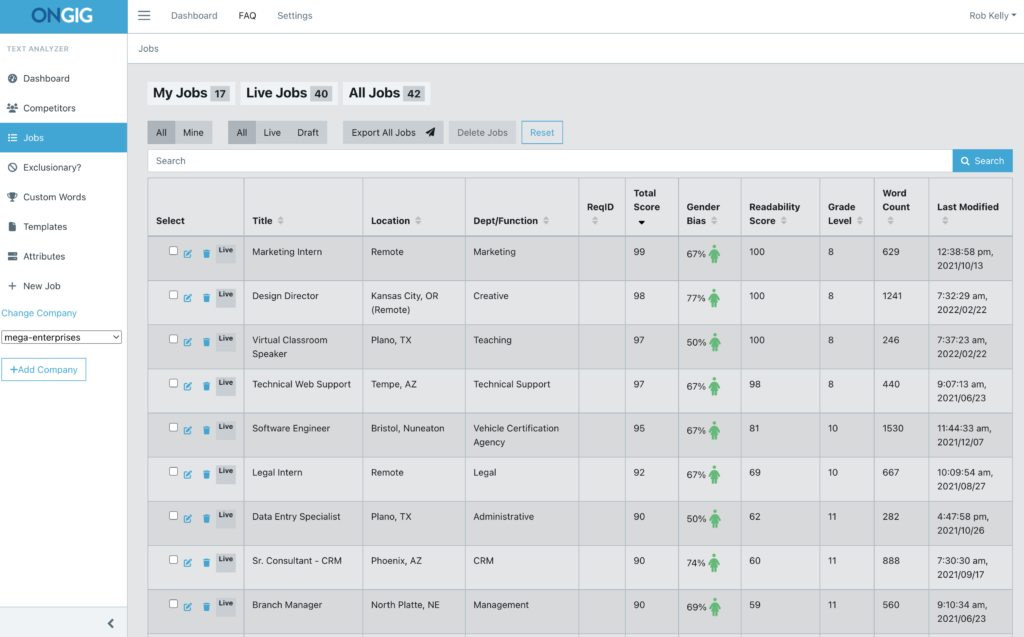 Or, you can load them one-by-one by typing into a "new job" window, uploading a file, or using a custom template:

Because Ongig's software is cloud-based, you can easily log in anywhere to access the JD library once it's live. If you don't have job description workflow software like Ongig — keep all your JDs in an HR Shared Drive or in your ATS.
2. Set scoring goals (overall, diversity, readability)
Creating a job description workflow also means setting goals for success. Ongig scores your job descriptions based on gender-neutrality and readability so you can make them more effective (and inclusive).
For example, if your goal is to hire more women, you can set a "gender-neutrality" goal to have a higher % of female-coded words.
Or, if your goal is to make your JDs easier to read, you might set your "readability" goal to an 8th or 9th-grade reading level. You can set an "overall" scoring goal too.
The "Success Metrics" are stored in Ongig for your reference. And, they can be coded in, so your JDs aren't "exportable" unless they meet all of your scoring goals:

If you don't use Ongig for setting success metrics, at least try to document your goals in Google Docs (or a similar tool) so you can revisit them later.
3. Review scores (by department, location, or team member)
After you create a central repository and set scoring goals, step 3 in your JD workflow is to review the scores.
In Ongig, your job description scores are sorted by:
location (city, state, country)
department/function (Accounting, Engineering, etc.)
recruiter/hiring manager (the writer assigned to edit the JDs)
the creator (the person who added the JD to Ongig)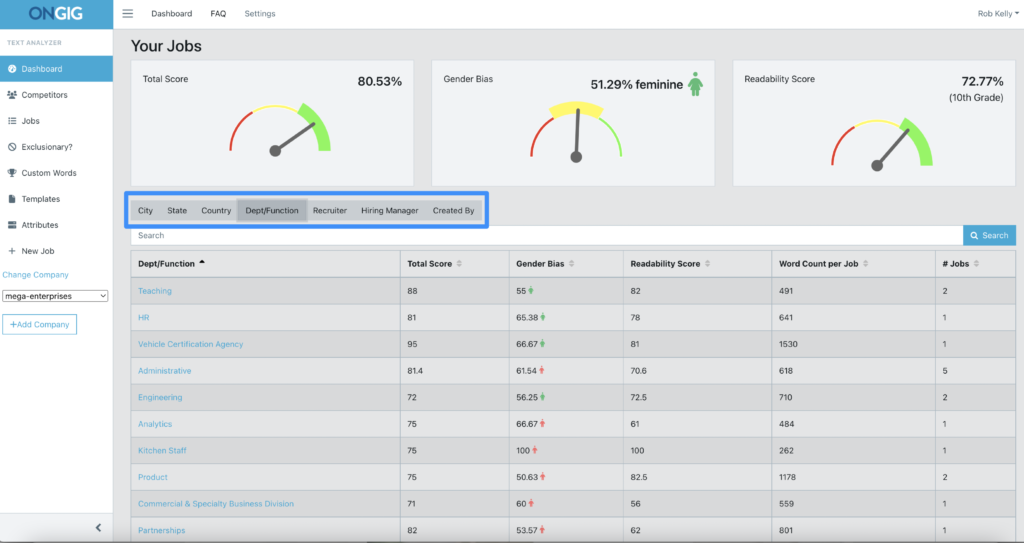 Reviewing your scores helps you find any areas for improvement.
For example, if the "Analytics" JDs are 67% masculine (meaning there are more male-coded words than female-coded words), you might spend more time editing those. Especially if your goal is to hire more women.
The scoring dashboard also shows you areas needing little to no edits (e.g., your JDs are gender-neutral with good readability scores).
If you don't use Ongig's scoring dashboard, you can use your ATS reporting to find which JDs are performing getting the most applicants vs. those that aren't. This way, you know which ones you might want to make changes to first.
4. Create consistent templates
The next job description workflow step is optional. But also helpful, especially if you are writing and posting JDs at scale. You can create custom templates in Ongig, so your content is consistent. And you can build them into your JD writing process:
Ongig allows you to choose which blocks of text you want to make editable and which blocks you want "locked."
For example, you might have standard compliance or DEI language you want to include across jobs, with no changes allowed. Or "Skills & Abilities" sections might vary by location or salary band.
All JD templates in Ongig are scanned for bias (gender, race, age, disability, etc.) and readability too!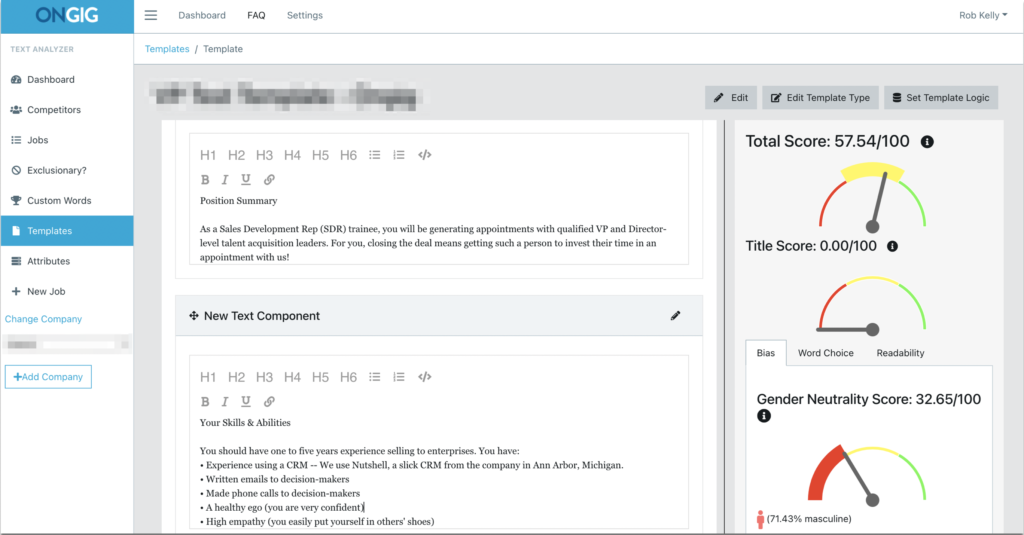 If you like to store your JD templates in a shared drive, instead of JD software like Ongig, here are 4 Free Job Description Templates for Word you might like.
5. Assign user roles for faster workflow
Depending on your company size, your job description workflow will include different types of "users." The most common user types are JD editors, reviewers, and approvers.
JD editors are often Recruiters or Hiring Managers. Reviewers and approvers might be Heads of Talent Acquisition, Compensation Managers, or Heads of D&I.
In Ongig, you can add unlimited users and assign permissions based on their role in the JD writing process. Some Ongig customers have only a few users. Others have thousands in their JD workflow:
Here are some common JD workflow scenarios to help you decide which users you might have in Ongig: Who Should Write Job Descriptions? [5 examples]. Or, you can use them for inspiration in creating a job description workflow using your ATS or HRIS.
6. Edit your job descriptions
After creating a central repository, setting goals and reviewing JD scores, creating templates, and assigning users — it's time to edit your JDs. This is an essential step in your job description workflow.
Ongig helps you edit job descriptions to be more inclusive and effective in your talent search. Each JD is scanned for:
gender neutrality (the % of male- and female-coded words)
"other" types of biased language (based on race, age, sexual orientation, etc.)
complex language ("in order to" and "in accordance with" legalese)
long lists of requirements (that might deter women or neurodiverse candidates)
job title traffic (suggestions for more SEO-friendly job titles)
extra long sentences (that affect readability)
missing sections candidates search for (e.g., salary, benefits, and DEI statements)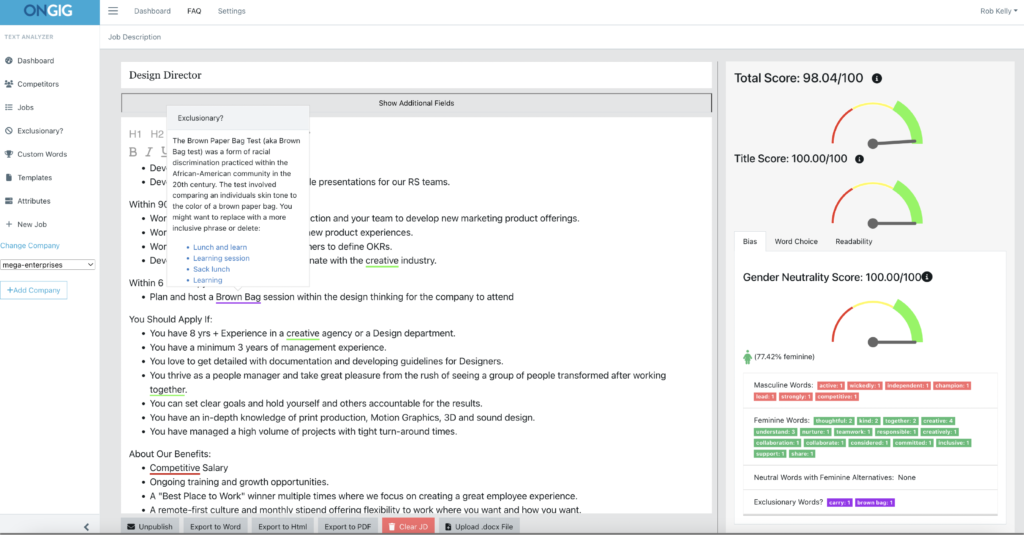 Plus, tips and best practices are built into Ongig so you can edit (and improve) your JDs with just a few clicks. The scoring updates in real-time as you make edits to keep track of progress.
Outside of Ongig, there are other free resources for editing job descriptions (e.g., Gender Decoder or bias-free language guides).
7. Export your jobs (or sync with your ATS)
The last step in your job description workflow is exporting your optimized JDs and publishing them to your career site.
Ongig gives you options on which format to use. You can:
Export to Word, Excel, or PDF if you want to keep a clean copy of your JDs.
Export to HTML to keep the formatting and easily copy/paste to your career site.
Sync directly to your ATS or HRIS through API integration (in real-time or a set # of times per day).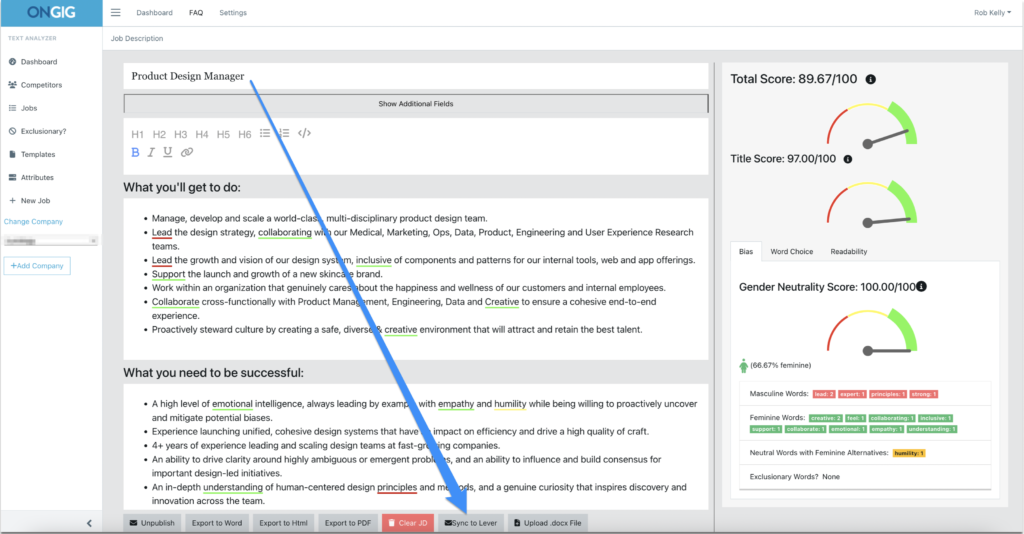 If you don't use Ongig to export/sync your approved JDs, you can copy/paste, make edits, and publish them inside your ATS, in many cases.
Why I wrote this?
Ongig's mission is to create effective and inclusive job descriptions. Helping you build a solid job description workflow is part of this mission. Please request a demo to learn more about how you can create a cloud-based JD workflow, to save you time and help you attract diverse talent.