A bias free language guide is an essential HR tool, especially if your goal is to create a more diverse and inclusive workplace. According to McKinsey & Co., more diverse companies are likely to outperform their less inclusive counterparts financially.
When searching for a bias-free language guide, comprehensiveness is key. A broader database, or a mix of different guides, helps you pave the way for effective communication across all types of HR scenarios. This way, you can reach candidates from all backgrounds without the risk of offending or excluding anyone based on their race, gender, age, disability, sexual orientation, and more.
What Is Bias Free Language?
Bias-free language refers to non-discriminatory language. You may, for example, swap out the term "spokesman" (a male-centric term) for "spokesperson" in an organizational context. In many instances, individuals face the challenge of substituting discriminatory terms with suitable neutral alternatives. A bias-free language guide functions as a quick reference in facilitating inclusive communication.
Here are 7 examples of bias free language guides you might find helpful:
Ongig Bias Free Language Guide — The Largest (and Ever-Expanding) Resource
Ongig specializes in helping you create D&I content for hiring. Ongig's free Diversity Glossary features over 200 useful terms to spruce up your job descriptions for maximum impact across all audiences. For example, you can use more inclusive words to create an effective EEO statement that market your company to a broader talent pool.
And…The Ongig team continues to develop a one-stop source of bias-free language with 1,000+ flagged terms. Ongig's bias-free language guide (built-into Text Analyzer— a paid SaaS solution for enterprises wanting to eliminate bias) ensures your job postings remain inclusive and consistent.
If you use "exclusionary words" in your job postings, Text Analyzer flags them, gives you a pop-up explaining why it might be excluding certain candidates, and offers inclusive replacements:
APA Bias-Free Language Guide — The Foremost Authority
The APA (American Psychological Association) bias-free language guide emphasizes the importance of respect and inclusivity in every communication. APA's bias free language guide spans various categories ranging from gender to historical context, age, and ethnic identity:
APA compiled the terms through an expert committee of bias-free language experts, creating a handy reference list to suit most communications. The association covers the subject of non-bias language in detail in Chapter 5 of the Publication Manual, the official source of the APA style.
Brandeis "Oppressive Language List" — The Student-Led Initiative
Brandeis University's Prevention, Advocacy and Resource Center (PARC) provides a list compiled by student staff impacted by violence. The team created a bias-free language guide that focuses on removing hurtful or potentially offensive words/terms.
PARC's list establishes identity-first and person-first language that eliminates labeling practices, limiting progress and expression in individuals. Similarly, the list outlines the subtle identity-based slurs that might ostracize individuals or groups through stereotyping.
This inclusive language guide made news more than once in 2021, for being "too woke". The New York Post reported that US Rep. Elise Stefanik, a Republican of New York, called the list:
"an all-out assault on our First Amendment" and an example of "the Far-Left cancel culture happening in our schools"
Brandeis University made a statement of their own, saying:
"These students have noted that many people who have experienced violence may be further harmed by the language others use in speaking with them, and they wished to educate others who want to understand the background of some terms, and to suggest more neutral language that can be used,"…"The list is in no way an accounting of terms that Brandeis students, faculty or staff are prohibited from using."

source: Patch
Other bias-free reference lists have also led to disputes among communities (e.g., the University of New Hampshire bias-free language guide).
CSU Inclusive Language Guide
Colorado State's inclusive language guide was created in 2019 by the Inclusive Communications Committee. The CSU inclusive language guide is not "official policy or required practice" but is meant to serve as a guide on phrases to avoid that are not inclusive (and suggestions for replacements).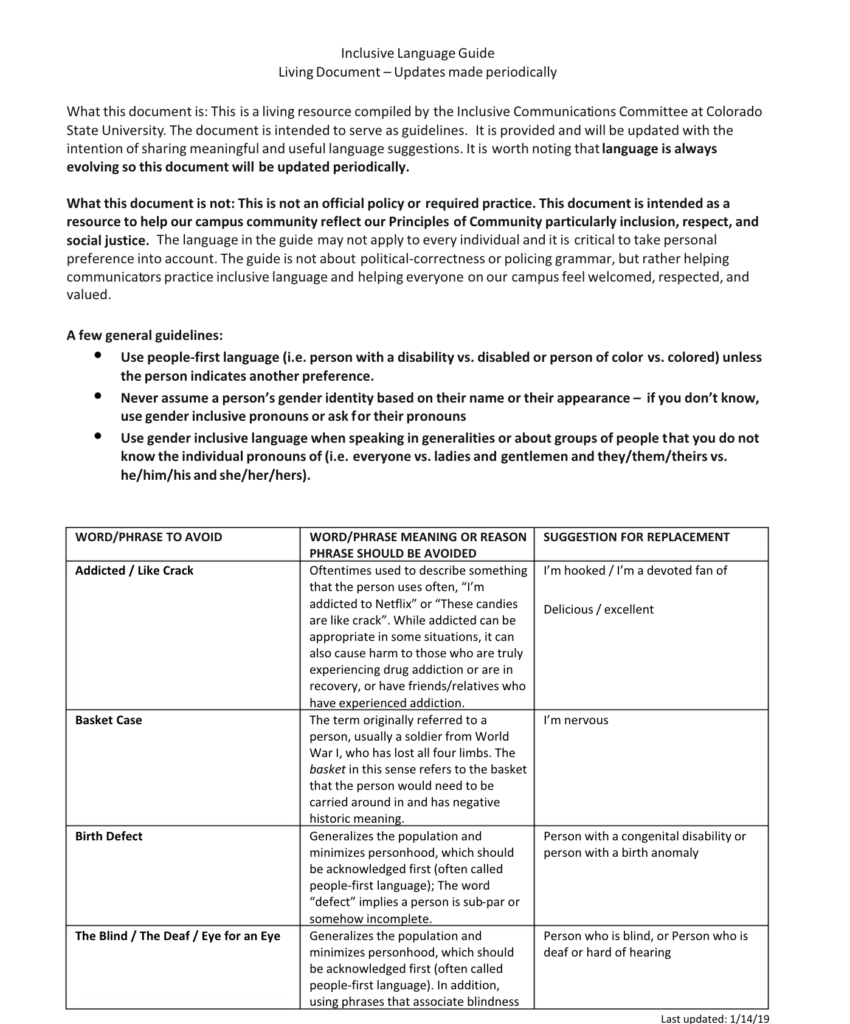 18F — The Governmental Bias-Free Language Guide
18F is a governmental agency dedicated to improving user experiences across all communication channels. The 18F bias-free language guide includes sections on age, disability, gender, and ethnicity. Through this comprehensive reference list, you can prepare gender-fair writing and promote positive connections with all readers.
And…18F identifies various biases connected with user experiences. These include research bias, where organizations assume their research covers every possible ground, or interviewer bias that drives one-sided sessions. These references can help your HR team create inclusive content catered to a broader community.
GLAAD — Bias Free Language for the LGBTQ+ Community
GLAAD was formed in 1985 in response to a defamatory article by the New York Post covering the subject of HIV and AIDS. The organization remains a leading force in navigating cultural change, providing bias-free language references for modern communicators. The GLAAD bias free language guide offers an all-inclusive glossary for terms used in the LGBTQ community for non-discriminatory and accurate content.
The guide includes terms to avoid and preferred terms like the examples here:
Ofcom — A Media-based Bias Free Language Guide
Ofcom (Office of Communications) is the government-approved regulatory body for broadcasting and telecommunications with the UK. The body's official bias-free language guide documents various discriminatory (targeted language) and non-discriminatory terms and acceptable alternatives.
The official Ofcom Quick guide contains word entries from data collection and extensive research involving 200+ participants. It's worth noting that the reference list comprises terms mainly catered to a UK audience.
University of Wisconsin — Bias Free Language Guide
University of Wisconsin's Gender Equity Task Force convened in 1990 to create a bias free language reference guide in preparing official publications for diverse communities. The comprehensive list includes key terms for gender, age, race and ethnicity, disabilities, and sexual orientation.
The university's educators note that it's challenging to seek word substitutes. The guide assists staff and students with creating inclusive content. The university continues to amend and update the guide according to modern times and openly welcomes contributors to the ongoing initiative.
Shout-Outs:
Why I Wrote This?
Ongig's mission is to help you discover the most effective way of attracting candidates through bias free language in JDs (and other hiring content). Please request a demo to learn more about how the Text Analyzer software can support your D&I goals.