4.7 billion people worldwide use social media. So, advertising jobs on social media is a no-brainer when it comes to job visibility, reach, and access to top talent.
But there's a caveat. The competition is fierce. According to Adweek, 92% of employers use social media as a recruitment tool. This means more employers are constantly competing to bring top talent on board.
Fortunately, there are ways to set yourself apart. Here are 3 practical strategies to advertise jobs on social media.
1. Choose the Best Social Media Channel for your Brand
This is your first decision-making point. Here, you'll answer questions like:
"Do my ideal candidates hang out here?"
"Is it worth my time to use this social media platform for job ads?"
"Is the channel suitable for relationship building?"
Consider creating your ideal candidate profile. This is essentially the same as a customer persona, except the profile does not visualize your ideal customers; it shows your ideal candidate.
So, you should ask yourself what the ideal candidate for the job looks like. What skills do they have? What about their interests? Are they willing to work remotely or in-office?
After creating the candidate profile, use it to decide which social media channel will get you the applicants you want. For example, from the interests section, you may know which social platforms your ideal candidate loves.
Demographic data like age might also be beneficial. For instance, if you're looking to onboard Millenials and Gen Zs, platforms like TikTok and Snapchat offer an easier path. Most of the people on these platforms are in that age group.
Meanwhile, Twitter, LinkedIn, and Facebook are great options for a more diverse candidate pool (and candidates of all ages).
You might also want to conduct quick research to know what your competitors use. For example, Marriott has an entire Instagram page dedicated to careers. The account is pretty active and gets decent engagements. This social media presence also helps with their employer branding efforts: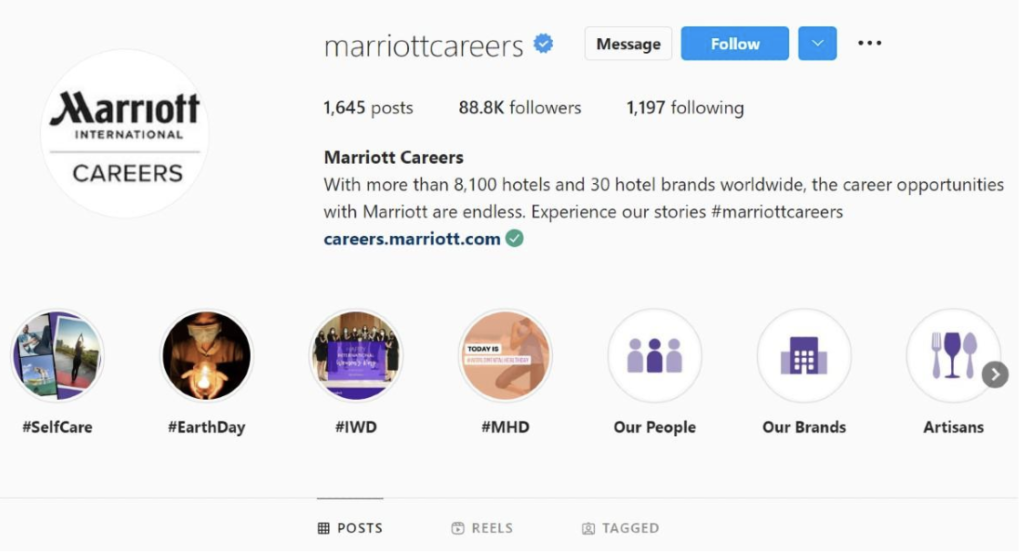 Finding the right social media platforms ensures your recruitment efforts are channeled in the right place. It helps you get a higher ROI by focusing on social networks likely to attract the best talent.
2. Sponsor Your Job Ads on Social Media Platforms
Algorithms on social media platforms are ever-changing. So, it's challenging to know what works organically and what doesn't for getting your social recruiting post to the right job candidates.
One surefire social media strategy to control your visibility is through sponsored ads. Social media advertising lets you expose your roles to the right people by entering your preferred criteria.
A LinkedIn study showed that jobseekers are 3X more likely to apply for sponsored job posts. This is because you're bringing the right opportunity to them at the right time.
LinkedIn lets you monitor real-time reach, conversions, clicks, and engagements. With this, you'll better understand what's working and what's not.
With Facebook ads manager, you can focus your sponsored ads on specific audiences. All you have to do is input your preferences, as the image below shows: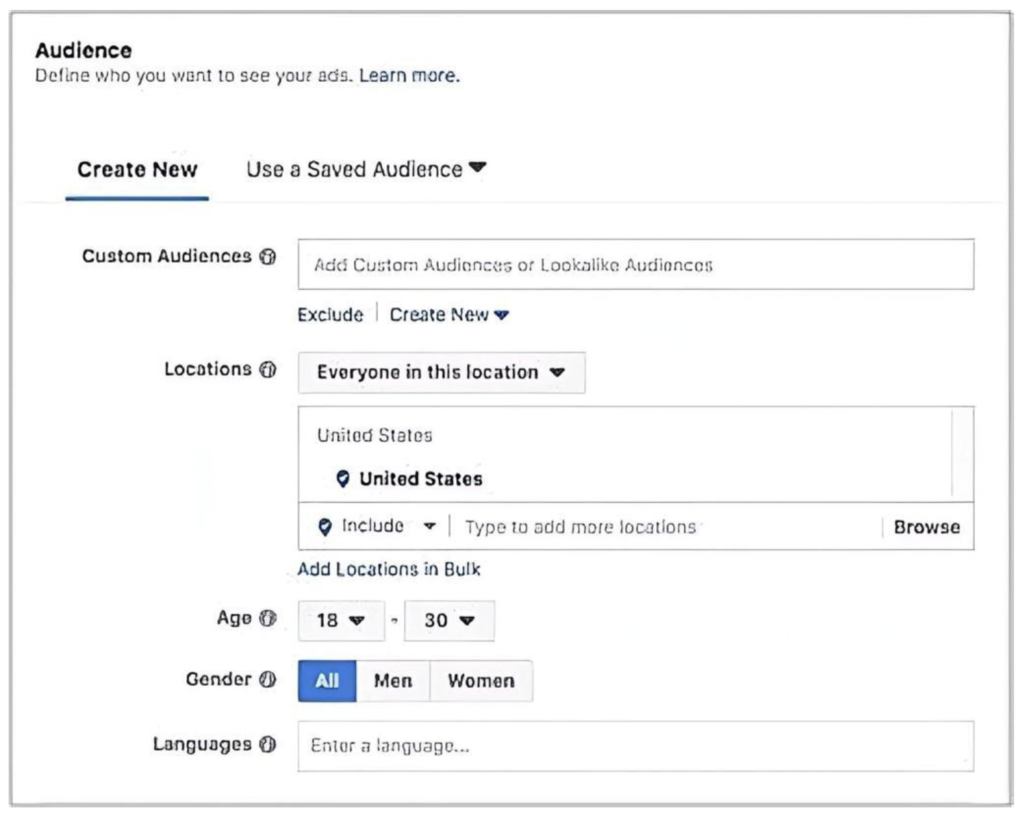 You'll be attracting only relevant and qualified candidates by inputting your preferences. This further streamlines your recruitment process. And, you can return to the candidate profile you created earlier to get targeting details for these ads.
Similarly, Twitter allows you to streamline your recruitment marketing campaign through the Twitter ads manager. It works like a Facebook ads manager, letting you input your ideal demographic (and other data points).
And with other tools, you can retrieve weekly social media reports for other platforms, plus get insights about your overall performance, engagement, etc.
3. Write a Clear Job Description
Before advertising jobs on social media, you want a job description that aligns with your company culture, values, and brand. So, work with your HR and marketing teams to identify your company's best qualities.
Make your job descriptions as clear as possible and bias-free. This is where you may want to invest in tools like Ongig to help you write effective and inclusive job descriptions.
Remember, clear job descriptions make it easier for interested candidates to know exactly what the job is asking for. This way, candidates will know if they're a good match…or not.
Pay close attention to everything—from your job titles to your call to action. For the titles, we recommend following the KUA framework. This means Keywords, Uniqueness, and Accuracy:
Use keywords that apply to your audience. For example, you'll be better off using "Java Developer" in your job ads than "Ninja IT Developer."
Be unique. "Chief Beverage Officer" sounds more appealing than "bartender." This will pique the interest of a job seeker.
Be specific and accurate. Instead of mentioning "campaign creation," using "digital campaign creation for XYZ channels" gives more information about the role.
You also need to factor in readability. Short social media posts with an active conversational tone are more readable. Let's consider this chart: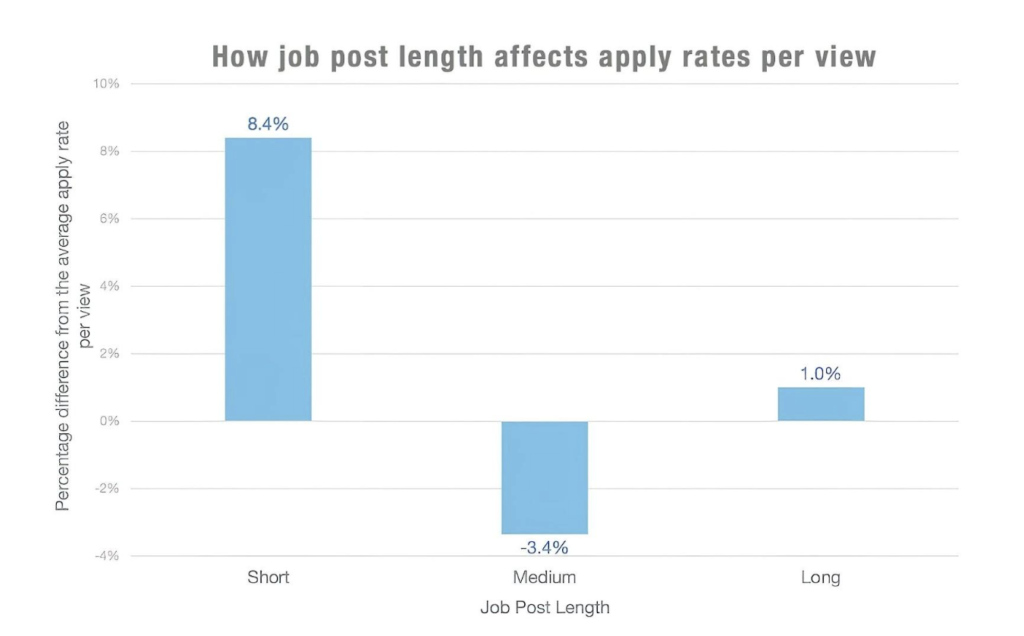 Put simply, length dictates conversion. People want something straight to the point and easy to read.
The average human attention span is just a few seconds. So, if you can't get their attention in that time frame, they move on to the next option. Here's a great example of a readable job ad from Uber on LinkedIn: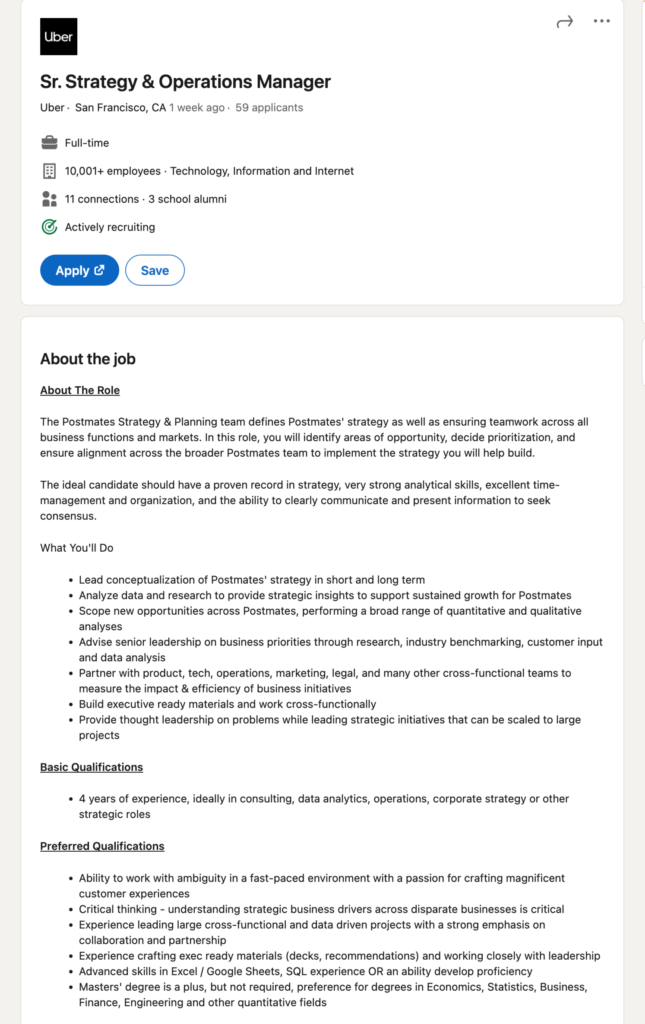 Note: Include things like work expectations, minimum wage or salary, perks, a diversity statement, and info about the application process in your job ads. And, communicate these like you're talking in person. Then, sit back and watch applications come in.
Why I wrote this:
3 things are essential when advertising jobs on social media. They are your choice of platform, using paid ads, and writing clear job descriptions to expand your reach. If you want to start writing effective (and inclusive) job ads, Ongig's software is a good first step. Please request a demo to learn more.
This is a guest post from Austin Andrukaitis — Entrepreneur Leadership Network Writer
Austin is the CEO of ChamberofCommerce.com. He's an experienced digital marketing strategist with many years of experience in creating successful online campaigns. Austin's approach to developing, optimizing, and delivering web-based technologies has helped businesses achieve higher profit, enhance productivity, and position organizations for accelerated sustained growth.
Shout-outs: