When it comes to your employer brand, there's a disconnect between what the candidate really cares about versus what you employers think they care about.
That's one finding from Hinge Research Institute's recently-released terrific Employer Brand Study where they surveyed 800+ employers and job seekers.
The study is full of great employer branding research but this one graphic below really stood out:  the green line shows what the candidate cares about and the blue line shows what employers think the candidates care about. There lies the employer branding disconnect!
Top Employer Branding Criteria (Candidates versus Employers)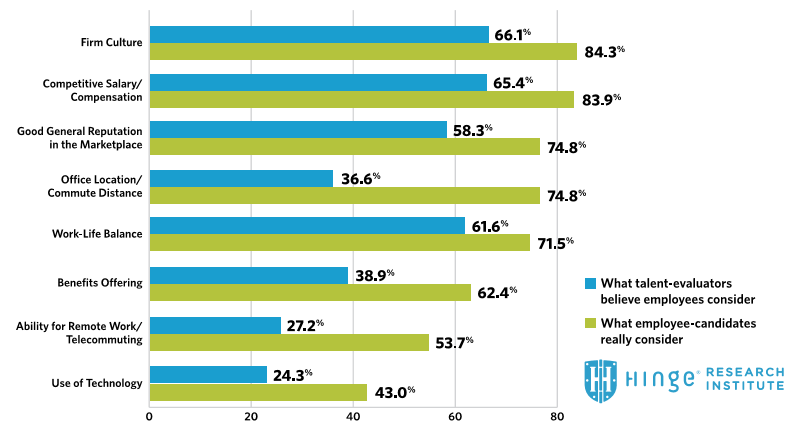 We recommend that you leverage these top 8 priorities into your employer branding strategy. Here is my read on some quick ideas on how to leverage the above survey input to enhance your employer value proposition to candidates!:
1. Firm Culture
Show off your company culture more. Make sure every job page of yours shows off your culture in some way. Since most of culture is people, you better have at least one picture or video in your job descriptions and we recommend you include the name of/link to the job owner (recruiter or hiring manager).
2.Competitive Salary/Compensation
You should include salary info for the job if you can. If not, you should embed the Glassdoor widget to show what others say the salaries are for your company. Candidates appreciate this honesty and are going to go visit Glassdoor otherwise.
3.Good General Reputation in the Marketplace
Consider embedding your employer of choice awards as badges into every one of your job descriptions; also include your Glassdoor rating (or a rating from any of The Top 5 Sites for Employer Ratings and Reviews) on your job descriptions.
4.Office Location/Commute Distance
Make sure to let candidates browse your jobs by location and also show a map of your office location on every job location (see Big Employers Using Maps on their Job Descriptions.
5. Work-Life Balance
Mention your philosophy on work-life balance within the text of the job description; mention the % of travel required; mention any work-life balance benefits (e.g. time off for Maternity/Paternity leave).
6. Benefits Offering
You should make it clear what your benefits are (either in each job description or on a separate Benefits page that's linked to from every JD).
7. Ability to Remote Work/Telecommuting
162,000 people per month search "work from home jobs" — If you have work-from-home jobs, you should consider a microsite landing page that shows only your work-from-home jobs — candidates will love this and you will get more traffic from Google SEO!
8. Use of Technology
Make sure to be list out any technologies that a candidate gets to use if they work for you. Your job descriptions should be chock full of these and they should be very detailed (e.g. the exact name of the technology).
Ongig automates these employer branding tips for you through our Ongig Cloud content management system for job descriptions. Give us a holler if you think we can help you.