Your company is growing fast. Congratulations! You're busy keeping up with new clients, establishing better processes, and hiring new talent. But unfortunately, company culture is falling off your plate.
Company culture is extremely important. But, if you're growing rapidly, culture might not be your top priority. So, how can you scale company culture…fast?
Glad you asked. Here are 7 steps to scale your culture to match your business growth. Plus, a breakdown of how culture helps your company grow.
Why Is Company Culture So Important?
If your company is quickly growing, maintaining a solid company culture might be the last thing on your mind. But it is more important than you might think.
What is company culture?
Company culture is an organization's shared values, beliefs, and characteristics — in other words, how you do what you do.
How does your company make decisions? How do you communicate with one another? How do you celebrate each other for a job well done?
The "how" is where you can find a company culture. Culture is built from things like:
Values. Your values are the principles and beliefs that connect your team.
Mission. A company's mission is why it exists — what you're trying to accomplish in the world.
Ethics. Ethics are the standards you use to define right and wrong.
Expectations. Each company has expectations for its employees to follow.
What does company culture look like in practice? Here's an example:
Online retailer Zappos helps its employees live by its 10 core values. Team members who pass skills tests get a raise. Plus, part of the Zappos budget is set aside for employee team building and culture promotion.
These are ways you can show you mean business when it comes to company culture.
Why company culture is important
Company culture is essential because it helps you get noticed in the crowd. Whether you're a software company, a salon, or a restaurant, your culture should shine through everything you do — including your online marketing.
The best restaurant websites, for example, showcase how those companies have next-level standards. Since many of your customers find you online, this is a prime spot to put your culture center stage and show how you're different (or better) than your competitors.
A solid company culture builds higher business performance and creates a better customer experience.
For example, one study showed employees at Great Place to Work-Certified™ workplaces (companies where employees rank the company culture highly) are 34% more likely to rate their customer service as "excellent." This correlation is one of the major benefits of having a robust and positive culture.
How company culture can help your growth
When a company sees massive growth, culture is often one of the first things to fall by the wayside. Leadership is distracted, and new people are coming on board every week.
But, as difficult as it can be to scale your culture, it will make a massive difference in your organization's future. A thriving company culture attracts more employees.
In one Glassdoor survey, 77% of respondents (essentially 3 out of 4 employees) said they would consider a company's culture before applying for a job.
Culture also helps with employee retention. A Columbia University study showed businesses with weak company cultures have a 48.4% likelihood of job turnover. Compared to organizations with strong company cultures — the number drops to just 13.9%.
Strong company culture helps your brand grow by attracting employees motivated to perform well.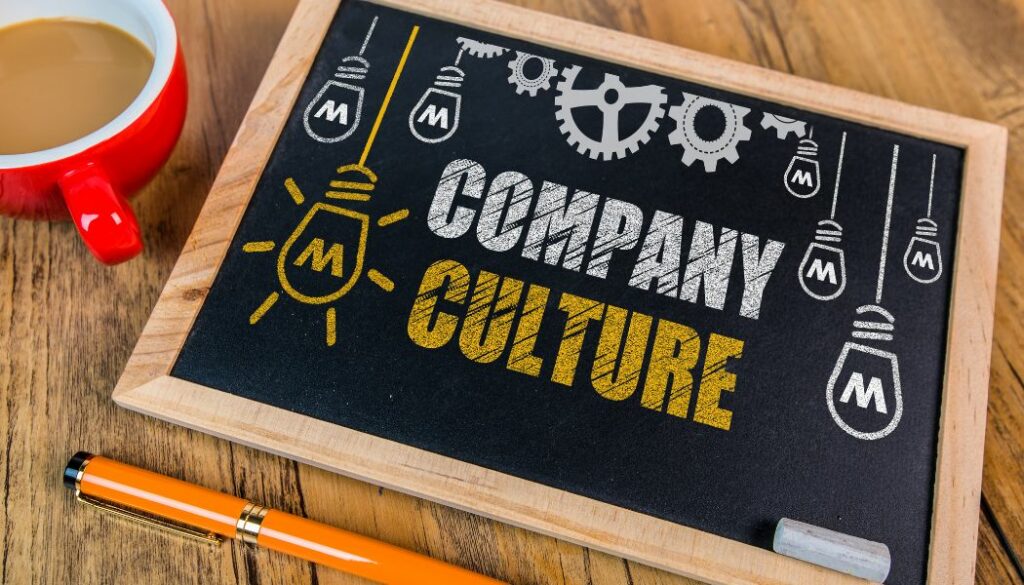 7 Ways to Scale Company Culture
Now we know why company culture is important. Is it possible to scale yours fast? Short answer: yes.
Here are 7 tips to help:
#1. Define culture the "right" way
The first step in scaling culture is simple. Before you can scale your company culture, you must ensure it's well-defined. If you're moving forward without a clear idea of your company culture, stop now and hash out the core.
No matter how many employees you have, now is the best time to pause and re-evaluate. Collect employee feedback on what your culture is like right now and what you want it to look like moving forward.
Just defining your culture isn't enough. You also need to make sure you're describing it the right way.
Explain Your "Why".
As you define your company culture, there are 2 things you need to do. The 1st is to explain "the why." Don't just share values or expectations without going into the heart of them. Share why each part of your culture matters; explaining "the why" will motivate people to follow along.
When people know why something matters, it's easier to get buy-in.
Be Specific
The 2nd focus when defining culture is being as specific as possible. Give your employees clear examples of your culture in practice. For instance, instead of saying your company values respect, define this value more clearly by saying :
"We don't say anything to team members or customers we wouldn't say to close friends or family."
Pair actions with the values of your company culture. This pairing helps employees know how you expect them to carry out each one practically.
Once you've figured out the values (or beliefs) that will guide your culture, make them easily accessible for everyone.
These guidelines might live on a dedicated page of your website, shared internally, or even posted on the wall in a brick-and-mortar office. You should also share them on your:
corporate blog
your social media accounts
the "careers" section of your website
everywhere else you have an online presence
These places are where potential employees and potential customers research your biz.
#2. Incorporate culture in onboarding
Incorporate your company culture in your onboarding process, so new team members know what to expect and how to act from the start.
The easiest way to have employees carry out your company culture, especially in a fast-growing company, is to immediately immerse them in your culture. New employees don't want to wait for someone else to show them what to do during the onboarding process. They want access to tools to do everything themselves.
Use this to your advantage by automating parts of the onboarding process.
For example, once an employee signs their contract:
a welcome email is sent
the IT department is notified to set up new accounts
the employee enters a 2-week roadmap with culture and other learning milestones
You can also make digital content accessible as another way to help new employees feel at home from day 1. Bottom line — automating onboarding leads all new employees down the same learning path.
#3. Offer blended learning programs
Give your employees culture training with both online and offline options. In-person training is hard to scale. But, blended learning programs are a great way to provide employee training (even for a fast-growing company).
A combination of in-person and online training should help employees understand your culture and how to practice it. Try sending digital content to employees on an ongoing basis to find what they need when they need it without the demand for constant mentoring. You can also use a coaching contract template to help guide you.
Your managers are the best place to start for culture training. Training them is especially important since they're implementing and modeling your culture. Invest time into developing managers so they know how to:
Communicate and demonstrate culture
Help team members understand how their day-to-day actions connect with the culture
Recognize and reward examples of employee actions that support your culture
Your managers and higher-ups bridge the gap, taking your values and transforming them into daily actions. So, develop blended learning programs they can learn and support.
#4. Give remote teams flexibility
Scaling culture might feel more difficult if your team is primarily or partially remote. But it's also extra important.
Allow remote offices (and employees) the flexibility to create their subsets of your company culture. Let them take ownership of company values to develop their traditions or expectations.
With remote employees, it's also a good idea to regularly schedule face-to-face time. These meetings don't have to be work-only. Maybe one of your company values is remembering to take time to play. If so, have team Jeopardy over Zoom once a month and give out prizes to the winners.
Whatever this looks like for you, find ways to gather your remote team to build connections, which will translate into a stronger culture.
#5. Reward employees who support culture
Rewarding employees who exemplify your company culture will motivate other team members to commit 100%. This helps with retention, too — over 91% of HR professionals think recognition and reward make employees more likely to stay.
Some ideas:
However you decide to reward your employees, be sure you mention specific things they did to support your company culture.
#6. Be willing to re-evaluate
As your company continues to grow, it will change and evolve. There's no way around that. That means your culture will need to adapt and change too. That's why you may need to revisit your culture from time to time.
Schedule a quarterly culture review to assess how well your team is carrying out your culture. Then make decisions about how you'd like to move forward.
Which of your values have changed (if any), and which ones are you genuinely committed to keeping around?
Your company's driving principles should stay the same regardless of your team size. But it's okay to revisit and tweak "smaller" aspects of your culture.
Don't be afraid to go back to the drawing board and make necessary changes to help your culture scale. You may even have new team members with new ideas for building a better, more inclusive culture.
#7. Bring in a third party
If you're struggling to scale your culture, consider bringing in help. This outside perspective might be a full culture audit completed by a third-party company. An audit will identify the values your company seems to follow, helping you assess whether your actions line up with what you say your culture is.
But getting an outside look at your company culture doesn't have to be complicated or expensive. It could also be as simple as relying on office visitors.
Ask them to observe what they find as they interact with your employees. Then have them fill out a brief survey. This data collection is easy to get an outsider's perspective, gauging how you're doing and what you might need to tweak.
Shout-outs:
Why I wrote this:
With the right combination of automation, digital content accessibility, and a supportive management team, you'll be able to grow and scale company culture (and reap the long-term benefits). Ongig's job description software supports one piece of your culture-building process…inclusive job descriptions. Please, request a demo to learn more.
This is a guest post from Katy Flatt. Katy works as a freelance marketing consultant for Stampli and other agencies, streamlining workflows and coordinating personnel while doing a little writing on the side. When she isn't digitally organizing, she can be found cuddling with her rescue and foster dogs.