20% of the adult population is neurodiverse, and 80% are unemployed.
Here are 5 companies using a neurodiversity hiring program to find (and employ) more neurodivergent talent.
1. Chevron
Name of neurodiversity hiring program: Chevron's Neurodiversity Program
The Gist: A 12 week paid internship program to match neurodiverse talent to appropriate job roles.
This internship program places neurodiverse participants in roles aligning with their capabilities and allows them to make valuable contributions.
Depending on the role, participants receive training on job requirements and technical skills from assigned mentors. Supervisors and mentors receive extensive training on working effectively with neurodiverse employees.
The inspiring video below shares the stories of Network Engineer Chris Fornesa and Machine Learning Engineer Steele Seeley, who took part in the mentorship program:
Pamela Carlsward (Cyber Chapter Risk Analyst) and Shawn Morgan (HR Data Science Manager) touch on the program's challenges due to the pandemic and the success stories. Since the start of Chevron's neurodiversity hiring program, 80% of interns have been hired as full-time employees.
source: Chevron
2. CAI
Name of neurodiversity hiring program: CAI Neurodiverse Solutions
The Gist: This new program (formerly Autism2Work) identifies neurodiverse talent and finds the best fit for long-term, satisfying careers.
Since its start in 2021, the program has increased the number of neurodivergent hires by 38%. The newly enhanced program creates more career opportunities for a broader range of neurodivergent individuals, including people with autism spectrum disorder (ASD).
CAI has adopted new screening and assessment tools through the program to support growth in neurodiversity hiring. And added globally recognized pioneers in neurodiversity.
Mike Park, Executive Vice President of CAI, sees value in the program:
"The increasing need for highly-skilled, top talent is a challenge facing nearly every industry. Our neurodiversity-certified recruiters, along with our Talent Discovery Session and assessment process allow us to tap into an underutilized, yet extremely talented workforce."
source: Business Wire
Note: If you want to create a hiring program focused on people with autism, you might find some good ideas here: 10 Examples of Companies with Autistic Hiring Programs.
3. Goldman Sachs
Name of neurodiversity hiring program: The Goldman Sachs Neurodiversity Hiring Initiative (NHI)
The Gist: This is an 8 week paid internship program for neurodivergent talent, with an opportunity to convert to full-time roles in Engineering, Operations, and Compliance.
The Goldman Sachs neurodiversity hiring program is for interns who identify as neurodivergent. It aims to empower and integrate neurodiverse people through a partnership with Specialisterne, a non-profit organization that focuses on integrating neurodiverse people into the workplace.
Interns are coached and mentored to create a foundation for a long-term career path. 100% of the 1st virtual class from 2020 got full-time offers…and accepted. Here are a few NHI alumni from 2020 and 2021: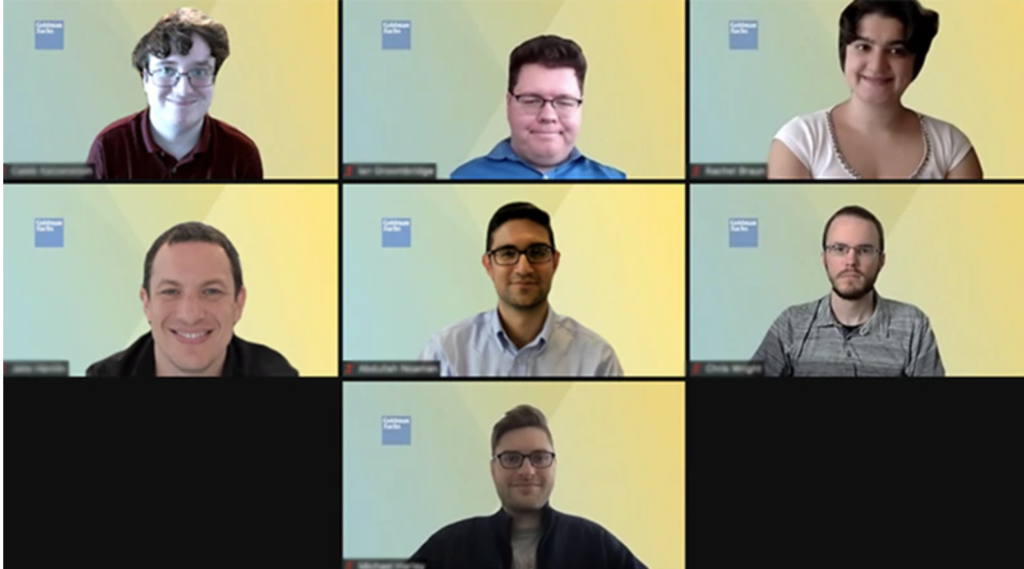 source: Goldman Sachs
4. Microsoft
Name of neurodiversity hiring program: Microsoft Neurodiversity Hiring Program
The Gist: The Microsoft neurodiversity hiring program centers around an inclusive application and interview process for neurodiverse talent, allowing them to showcase their unique abilities and suitability.
Microsoft's unique recruitment process takes applicants through an extended interview process focusing on workability, team projects, and skills assessments:
"Our process gives candidates the opportunity to showcase their unique talents while learning about Microsoft as an employer of choice."
Through the program, Microsoft has successfully hired neurodivergent talent for these roles:
Consulting
Content Writer
Customer Engineer
Data Analytics Manager
Data Scientist
Finance Analyst
IT Service Operations
Product Marketing Manager
Program Manager
Service Engineer
Software Engineer
Support Engineer
source: Microsoft
5. DXC Technology
Name of neurodiversity hiring program: DXC Dandelion Program
The Gist: A neurodiversity hiring program aiming to support and celebrate talents and skills of neurodiverse people. DXC helps people with Autism, ADHD, or Dyslexia build valuable skills for IT Careers.
The DXC Dandelion Program's goal is:
"to create the right environment, with the right support structure, to ensure that neurodiverse individuals are able to build valuable information technology, life, and executive functioning skills, and to learn and grow as employees and in society."
Since its launch in 2014, DXC has created partnerships with universities and research institutions to build 12+ neurodiversity hubs in Australia (for a constant stream of talent). And, customers have offered full-time roles to 100% off neurodiverse employees at the end of each program.
source: DXC Technology
Why I wrote this?
Here at Ongig, our mission is to help you create inclusive JDs to attract neurodiverse candidates (and talent from other underrepresented groups). Learn more at Ongig.
Shout-outs:
Tap into talent: Ending the underrepresentation of neurodiversity in the workplace (by Deanna Cuadra)
CAI Launches Neurodiverse Solutions to Expand Workplace Neurodiversity (by Business Wire)